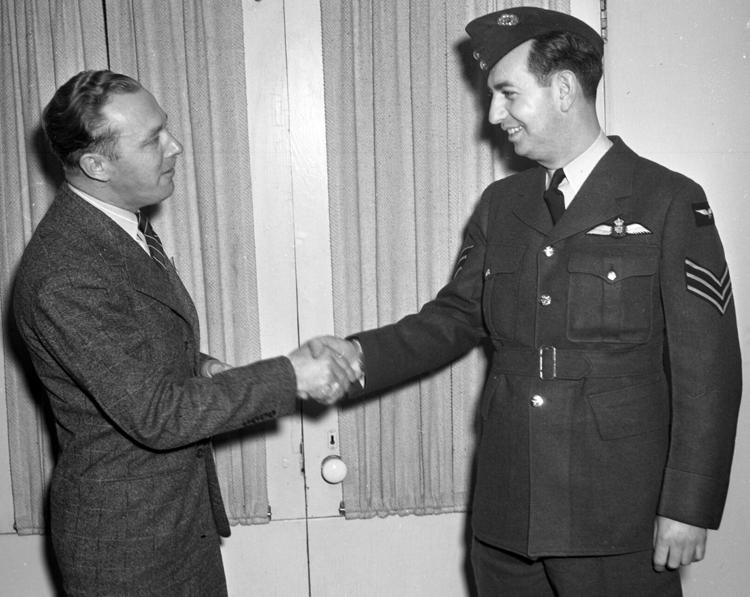 Seventy-five years later, in our "Looking backward" feature, Ray B. Martin had become just a name, associated with an intriguing fact during the waning days of World War II.
May 15, 1945: "Pilot Officer Ray B. Martin, 34, of the R.C.A.F., former parking meter collector for Watertown, is among those freed, from Nazi prison camps. Pilot Officer Martin was a prisoner for three-and-a-half years."
Sgt. Martin piqued my interest after Times archive librarian Kelly Burdick found that historic tidbit in our files. How did Ray go from being a Watertown parking meter jockey to riding in Wellington bombers in raids over Germany for a foreign country before the U.S. even entered the war and ending up a prisoner of war?
It turns out there was much more to Ray's life. It involved a conglomeration of activities and experiences. Among them: Ray was a champion pole vaulter, Western Union delivery clerk, an actor, newspaper reporter, law clerk, tap dancer, car salesman, assistant clerk of the Avon Theater, a wannabe politician and an urban renewal director.
One of the POW camps he was held at, Stalag Luft III, was where the book, "The Great Escape" was based upon, which later became a fictionalized film. As a POW, he was forced on a "death march" relocation out of Stalag Luft III. He also had a role in the 1941 British propaganda film, "Target for Tonight."
Ray B. Martin was Watertown's version of "Forrest Gump." Summon Hollywood.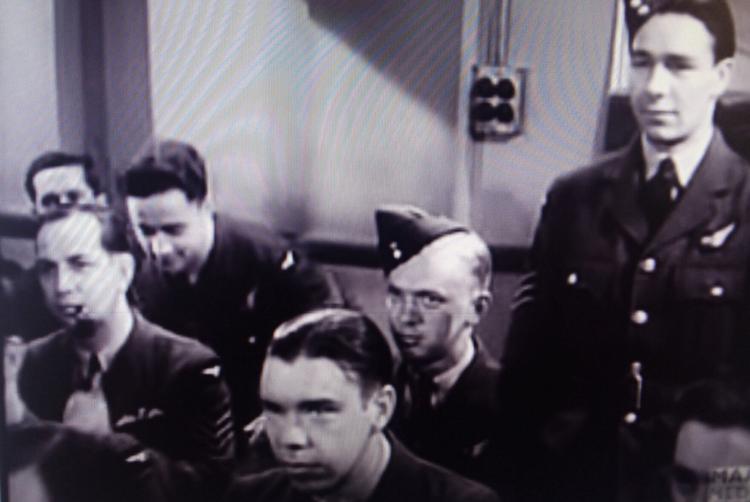 "It's just a lot of drama. His life was interesting with all the twists and turns it took," said Mary Martin, of Salem, Va., whose husband, retired Army Lt. Col. Robert Martin, was the nephew of Ray. Robert's father, Charles L., was one of three brothers of Ray; one brother, Kenneth, died shortly after his first birthday. Brother Paul C. Martin became an aviator in the American Army Air Corps. Paul had his own flying adventures.
"He said they only had one real close call," Mrs. Martin said. "They had to get over the Alps in a disabled plane that never flew again. They jettisoned everything and made it over the mountains."
Mr. and Mrs. Martin, interviewed together over speakerphone, became interested in genealogy about two decades ago when they stumbled over Ray's World War II exploits. Those experiences were something Ray kept quiet about.
"I didn't find all that out until much later," Mr. Martin said.
"Uncle Paul was the one who told us about Ray more than what your father did," Mrs. Martin said.
Ray's mother, Pearl Martin, raised her three sons by herself, Mrs. Martin said.
"Their father abandoned the family when he was young," she said. "So she raised the three boys herself there in Watertown."
In 1936, when Ray was a candidate for supervisor of 1st Ward in Watertown, the Times reported that his father, Burt K. Martin, was a railroad man who died in 1920.
The first mention in Times' files of Ray B. Martin, a New York state native of Philadelphia was in December, 1921, when he and another boy, taking a shortcut to school in Philadelphia, fell into a river when its ice broke under them. Ray was able to extricate himself and his friend was rescued by a witness.
Ray was a 1927 graduate of Watertown High School. He also attended East Greenwich Academy, a preparatory school on Long Island. A Feb. 14, 1929, Times article noted he was to make his acting debut on stage in New York City in several productions with The Fay Baker Players, Inc. At the time, Ray was serving a clerkship in the law office of Nathaniel F. Breen, but left the law business after he married.
The Lowville Journal and Republican reported on March 6, 1930: "Mr. Martin said that when a man marries it is necessary that he earn more money than is possible as a law clerk, and therefore he is resuming his former profession. He was for several years with stock companies in New York City. His speciality is tap dancing."
Ray and his wife, Bernice McAndrews Martin, weren't together for long. They wed, unattended, in Lowville on Feb. 24, 1930, at the Presbyterian Church. According to a March, 1937, Times' article, Bernice finally sued her husband for legal separation.
"Since June, 1930, the complaint says, they have not lived together," the article noted. "Mr. Martin, editor of 'The Spotlight,' publication of which is now suspended, is an automobile salesman."
Mrs. Martin said that Ray's mom didn't approve of the marriage.
"According to Paul, she told him that she and his wife were not welcome in her home," she said. "Paul's feeling was that he really wanted to get away."
Ray apparently looked to the skies to pursue that freedom.
The Walling Airport on Watertown's outer Washington Street was in operation for several years after opening in September, 1938. Russel E. Walling, local aviator, owned it. Ray was one of the first customers. A Times' story from Tuesday, Dec. 5, 1938, recorded that Ray made his first solo flight Sunday, Dec. 3. He had been training for four weeks "and is the first to solo in this short time." He earned his private pilot's license in 1938.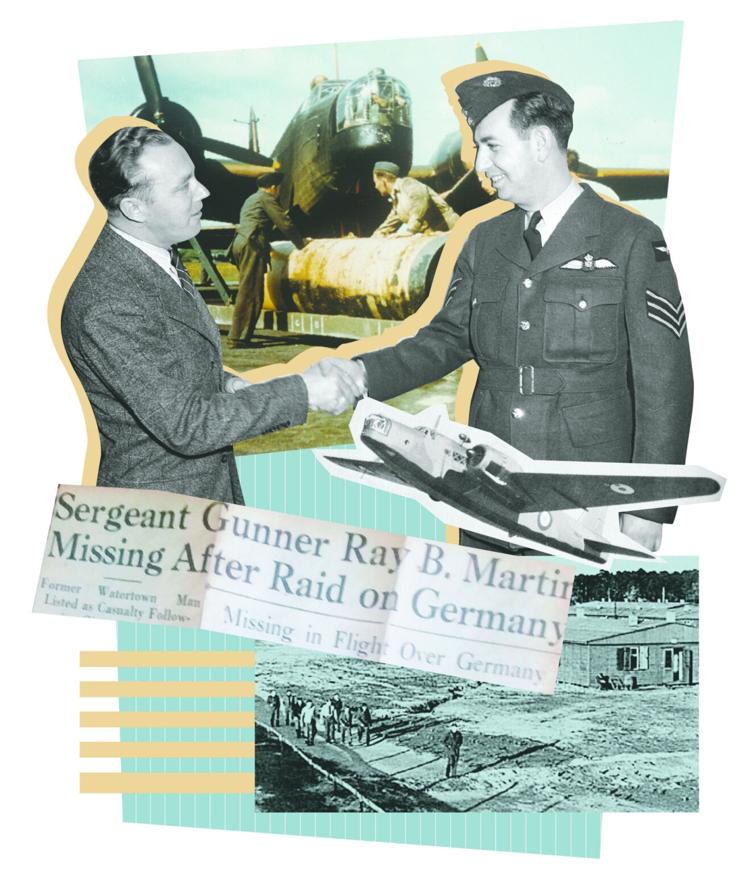 In June of 1940, three years after parking meters were installed in the city, Ray informed city manager C. Leland Wood that he would relinquish his job of city meter collector on July 1, take an oath of obedience to the Royal Canadian Air Force and report to Kingston, Ontario, for service. Canada entered World War II in September, 1939, in aid of England.
The Times reported Ray was among the first Americans to volunteer for World War II service with the Canadian air forces.
His last flight schooling was at the bombing and gunnery school at Jarvis, Ontario. He completed training in February of 1941 and promoted to sergeant-pilot. Shortly before his training ended, he wrote a letter to members of the Watertown police force. The Times published some excerpts:
"Our work consists of diving on and shooting at targets in Lake Erie," Ray wrote. "We also shoot at tow targets. The planes towing the targets have a thousand feet of cable between them and the target. They take no chances and I can't say as I blame them."
On Sunday, Nov. 9, 1941, a month before the attack on Pearl Harbor, a Watertown telegraph office received a wire at 11:30 p.m. from Ottawa. It contained a request for local police.
"Please notify Mrs. P. Martin, 641 Emerson Street, (she had moved to Sandy Creek) that her son, Sgt. Ray Martin, is casualty overseas. Missing in active service Nov. 7. Letter will follow."
It wasn't the first time that Ray had met trouble in the wartime skies.
On Aug. 17, 1941, he was hospitalized for more than three weeks at Whitel Lodge hospital, Newmarket, Suffolk, England, with cannon shrapnel in his back, just below the right shoulder. The Times, quoting Ray's letters home, said the bomber in which he was a gunner became engaged with five German Messerschmitts over the Ruhr. His plane got caught in searchlights and received heavy fire.
While recuperating, Ray wrote home. "I imagine there is a lot of flag waving going on over there and that everybody is getting keyed up to enter the war," the Times wrote, quoting a cablegram to his mother. "I hope they don't have to but I think they are on the verge of it any day now and can't keep out of it."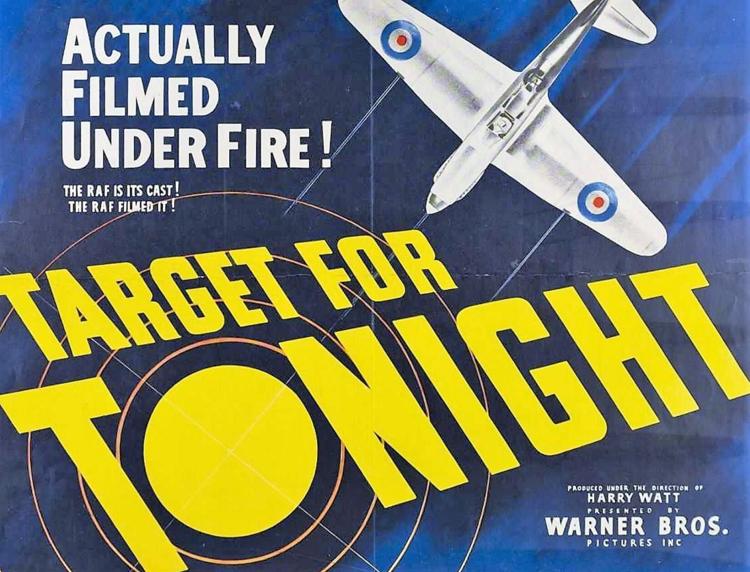 He indicated his enlistment was nearly complete and he planned to return to Watertown "for a nice long rest." He also thanked city police for the box of cigars sent to him. During the lull, he landed a role in the film "Target for Tonight," which can be seen on YouTube. In January 1942, it was shown at Watertown's Avon Theatre.
On Nov. 7, 1941, Ray's bomber was one of nearly 400 that took off from England under adverse weather conditions for raids over Germany. Martin family research by Kenneth Martin, one of two sons of Robert and Mary, discovered Ray was on a Wellington 1C bomber. It was one of three No. 99 squadron bombers lost in the operation. Ray's bomber iced up at 16,000 feet, lost altitude and control while west of Hanover, heading east. The six crew members baled out at 4,000 feet. Kenneth's research states that 37 bombers were shot down or crashed due to weather conditions in the raid, resulting in nearly 400 airmen deaths.
Ray baled out over Cloppenburg, Germany. Mrs. Martin said he was captured 20 miles from the Dutch frontier after three days of avoiding enemy forces.
On Nov. 15, 1941, the Times reported that Ray was one of 62 airmen taken prisoner as a result of the Nov. 7 raid.
In January of 1942, Ray's location was disclosed to his mother by the International Red Cross: Stalag VIII-B, at Camp Lamsdorf, now Lambinowice, Poland.
His prison number was 24516. "Mrs. Martin has been assured by the Red Cross that her son is being well treated as a war prisoner," the Times reported.
Ray was transferred to Stalag Luft III in May of 1942.
"He was a sergeant when taken prisoner but the Canadian Royal Air Force awarded him a commission pre-dating it to Oct. 25, 1941," Mrs. Martin said. "That way he spent his internment as an officer."
Ray wrote several letters to home as a prisoner and pilot-officer, a rank the British promoted him to while a prisoner.
Stalag Luft III was overseen by officers in the Luftwaffe.
"They treated their prisoners a lot better than most of the other POW camps," Mrs. Martin said. "They were fliers. Although they weren't treated very well after they tried the great escape."
September of 1942, the Times reported that Ray wrote to his mom that he was well, had received cigarettes "and that all he was doing in camp was sunbathing and reading."
Jan. 23, 1942: The Times reported that Ray wrote to a friend back home from "somewhere in Germany" that he was being treated well. The letter was brief and stated that German authorities allowed him to write one letter a week. "Had a bit of bad luck," the letter, passed by a German censor, said. "Don't know how long this war is going to last, but I will start back the minute it is over."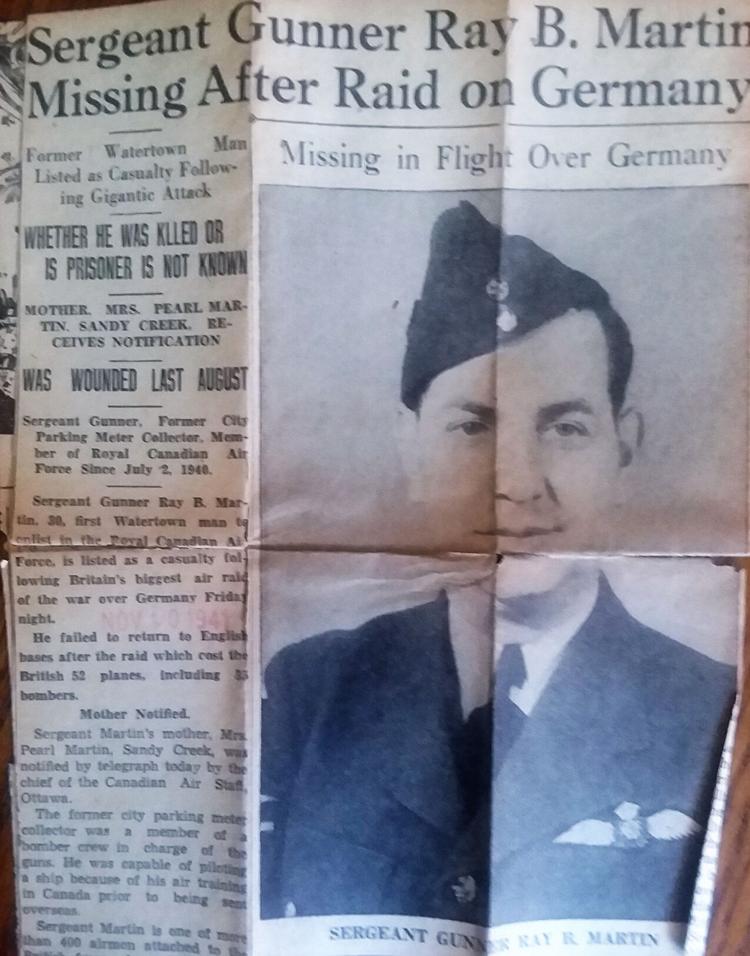 May 8, 1942: A Christmas card postmarked in Germany on Dec. 23, 1941, and sent by Ray was received by Watertown Chief of Police Edward J. Curtin. The postal card contained a picture of a snow-covered house and a brief poem and a message of the season prepared by the Germans. The only writing by Ray was of the address and his signature.
September 1943: Ray wrote home to Robert Fults, an instructor at the Western Union School at Washington, N.J., and former Watertown resident."Glad to know the old gang is OK. Am having an extended vacation here, but don't expect it to last much longer ..."
January 1943: In November, Ray wrote a letter to New York State Governor Thomas E. Dewey, congratulating him on his election win. "A little unfinished business over here prevented my contributing a small vote to the cause, but I am looking forward to active participation in further future Republican victories," Ray wrote.
February 1945: "Things are approaching the end," he wrote to friends in Watertown. "This has been a bit of an experience, in many instances stranger than fiction, but at times humorous."
Stalag Luft III, according to its Wikipedia page, "is best known for two escape plots by Allied POWs, one in 1943 that became the basis of a fictionalized film, 'The Wooden Horse' (1950), based on a book by escapee Eric Williams. The second breakout — the so-called Great Escape — of March 1944, was conceived by Royal Air Force Squadron Leader Roger Bushell. ... A heavily fictionalized version of the escape was depicted in the film 'The Great Escape' (1963), which was based on a book by former prisoner Paul Brickhill."
Stalag Luft III was located in Sagan, 100 miles southeast of Berlin, now called Zagan, Poland.
The camp, according to the American Air Museum in Britain, "was one of six operated by the Luftwaffe for downed British and American airmen. Compared to other prisoner of war camps throughout the Axis world, it was a model of civilized internment."
Mrs. Martin said that the camp had a theater and inmates, including Ray, staged productions. The theater was built by inmates, she said, and played a big role in "the great escape."
"When they were digging the tunnel they were bringing the dirt in and putting it under the seats," Mrs. Martin said. "They had to hide it because it was a different color.' Mrs. Martin said that in the family's research, it was found that the dirt also had a different odor. "So people, to mask the smell, would sit in the theater and smoke," she said. "I'm just visualizing Ray in there with his pipe."
However, there is no indication that Ray took part in the escape, which resulted in disaster. Nearly 80 men escaped but 73 recaptured and 50 of those prisoners were executed by their German captors.
As Soviet forces advanced on German troops, Allied prisoners were evacuated by Germans. Martin family research notes that in January 1945, POWs from Stalag Luft III at Sagan were force marched in sub-zero temperatures hundreds of miles westwards towards their Spremberg, Germany. There, they were loaded onto cattle trains, 70 to a truck without windows. One of their destinations was Marlag Nord, about 19 miles from Bremen. It was liberated by the British 11th Armored Division in the spring of 1945.
On May 16, 1945, the Watertown Daily Times reported that Ray was among nine Northern New York POWS who were liberated from German camps.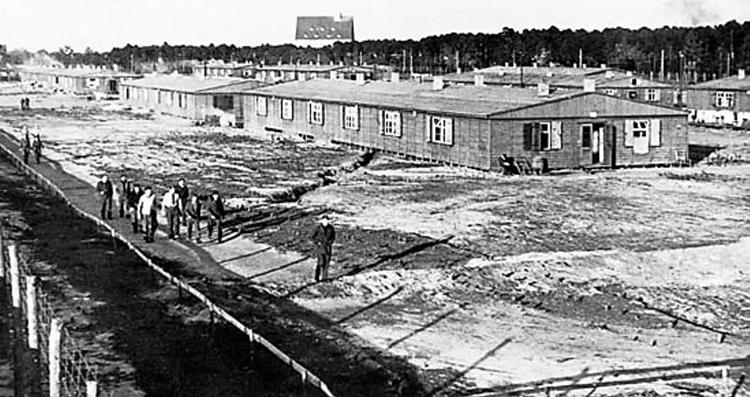 In November of 1945, the Sandy Creek News reported that Ray again became a U.S. citizen when he took his oath of allegiance. He was discharged from the RCAF on Sept. 8, 1945. "The repatriation was a formality, the new status of his citizenship being technical clearance of his voluntary service with a war ally of the U.S."
Ray then entered politics, journalism and municipal service. In January 1946, he was appointed legislative clerk to Senator Isaac M. Mitchell, LaFargeville, representing the Oswego-Jefferson senatorial district.
In March of 1946, he traveled to Albany to deliver in person the message of congratulations he sent Gov. Dewey from a POW camp in 1942.
Beginning in 1956, Ray worked at The Utica Newspapers covering city hall. Before then, he was a staff correspondent for nearly five years with the Syracuse Post-Standard. Utica Mayor John T. McKennan named Ray as urban renewal director in 1958, which raised some eyebrows. Some Utica lawmakers said he was unqualified for the position. The city's new mayor, Frank Dulan, admitted that he tried to dump him, but later changed his tune.
On June, 23, 1960, the Times reported, "In a radio interview, the mayor said, 'Ladies and gentlemen, he certainly has done a wonderful job. He was the first one I tried to get rid of. But I admit I made an error.'"
He was fired from the position in 1965. "I really don't have to give a reason why," Mayor Dulan told the Associated Press. "Anybody who serves under my will can be dismissed without cause."
But just a few weeks later, Ray was elected to a top office in the New York State Association of Urban Renewal Directors.
On Sept. 27, 1965, the Times reported that Ray was hired as urban renewal director in Glens Falls, a post he held for more than a decade.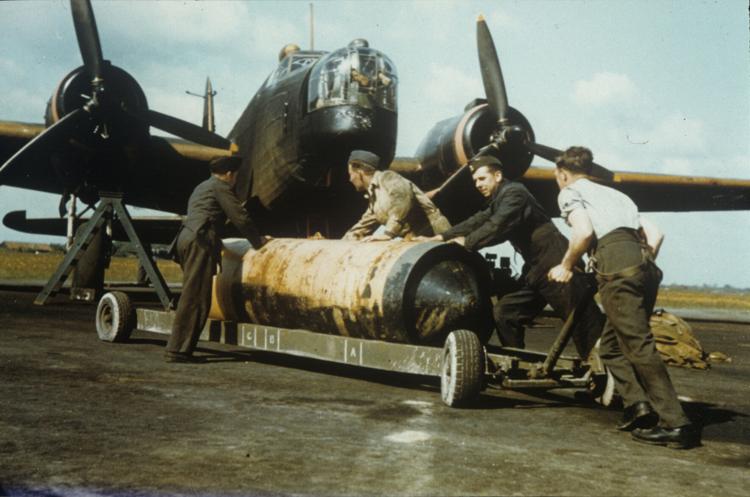 He was in Watertown on Saturday, April 7, 1979, visiting relatives, when he was stricken at the Holiday Inn. He was pronounced dead on arrival at Mercy Hospital. He was 69.
Robert and Mary Martin occasionally travel to Jefferson County to explore genealogy and to visit Ray's grave site at North Watertown Cemetery. It's a simple stone, listing his name and years of life.
"We solved a lot of mysteries," Mrs. Martin said of the family's research. "We had no idea how interesting his life had been."
"Sunday Portrait" is an occasional column featured in the Watertown Daily Times' Sunday edition. If you have an idea for a subject, Write to Chris Brock at cbrock@wdt.net or at the Watertown Daily Times, 260 Washington St., Watertown, NY, 13601.