Do you decorate your house for Halloween?
WATERTOWN — A fluffy brown and white blur, Yoshi the cat runs through a carefully decorated haunted house without a care for the work put into it.
Though he doesn't remember why he started it, Francis 'Fran' Ferguson, 83, has been putting on his Halloween haunted house for the past 10 years or so — barring one year he decided not to — and adding more creepy decorations as the years pass by.
As soon as guests set foot inside Mr. Ferguson's house, they are met with a demonic version of the three-headed dog from the Harry Potter series, as well as a strobe light, skeletal figures lining the wall, and a cacophony of spooky sounds.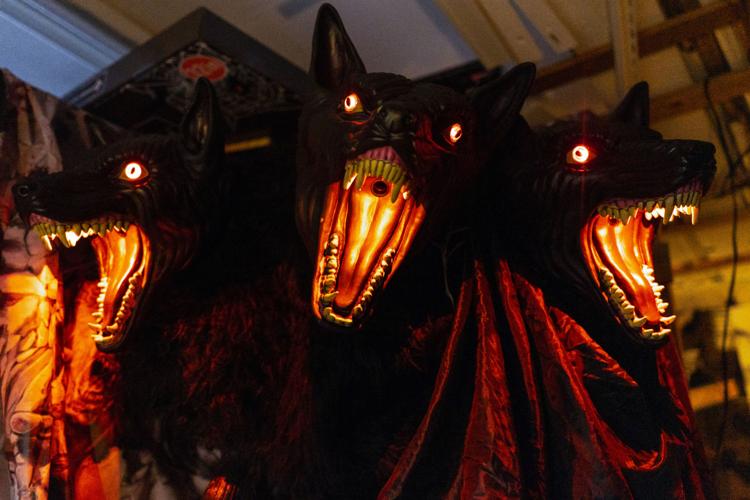 If one listens closely, both "Thriller" and the theme song to the "Ghostbusters" movies can be heard among the voices of the animatronic characters Mr. Ferguson shares his home with.
Past the entrance, the scares don't stop until the end of the tour. Everything from witches and skeletons to vampires and creepy dolls, jumping spiders and singing jack-o'-lanterns, fill this seemingly inconspicuous home located at 240 Mechanic St.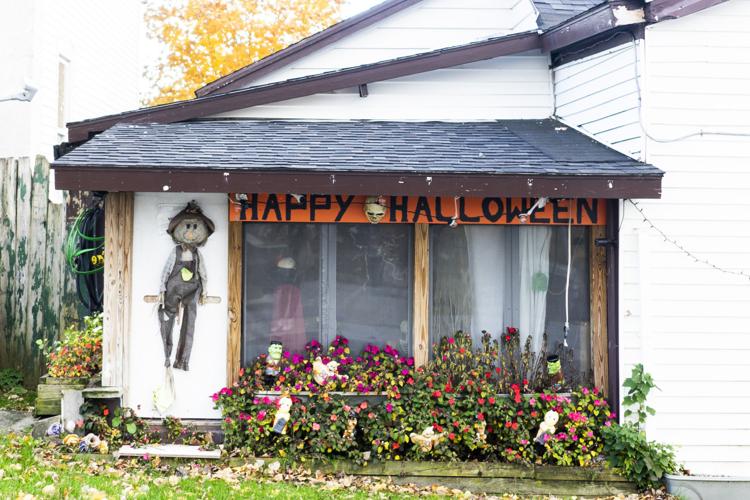 This year's haunted house will take place from 5 to 8 p.m. Halloween night. Once guests have made their way through, they will be treated to some candy from Mr. Ferguson before leaving.
Beloved by kids and their families, the house has become quite well known in the neighborhood.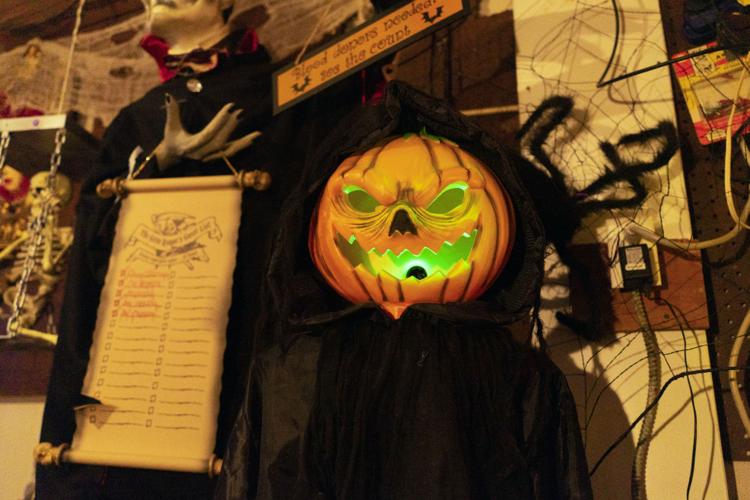 "Three or four years ago when I didn't do it, what stuck with me was this one parent in particular, I don't even know who she was, but she came and gave me heck for not doing it," he said. "She said they had been looking forward to it."
Born in Carthage, Mr. Ferguson spent most of his school years in Watertown and graduated from Watertown High School before moving to Syracuse to work for General Electric in 1955.
When he worked for GE, he spent about five years in Alaska and a year and a half in Turkey back in the Cold War days working on radar systems at Air Force bases and identifying air space objects. He also worked at Cape Canaveral Air Force Station in Florida, helping control the launching of the Atlas missiles.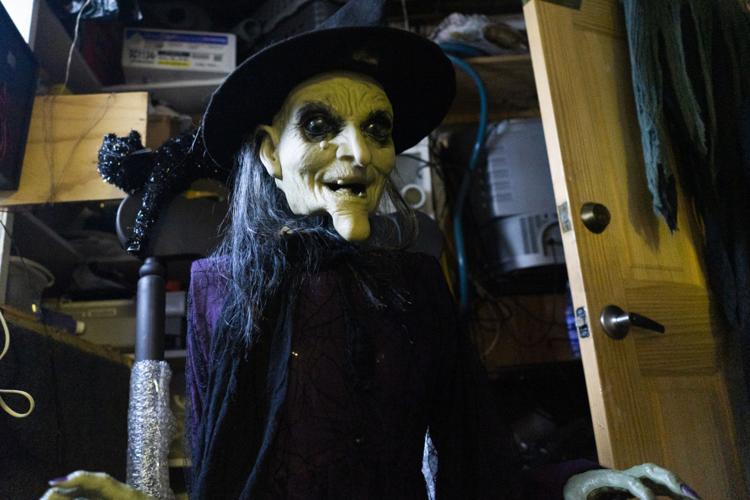 Later, after they had shot their last missile, Mr. Ferguson left GE and went to work with International Telephone and Telegraph in Florida, and helped put in the telecommunications system for all of NATO. In that role he went from what is called an Integrated Logistics Support Manager to ultimately becoming the program manager where they designed and built the complete communications system.
When he moved to where the telecommunications business was headquartered in Raleigh, N.C., he decided to use some of the packing materials that were left over as decorations for the trees and porch outside. This was the start of what would turn into many years of decorating for the spooky holiday of Halloween.
"What I've found interesting is generally what you buy one year, like say the dogs, you never seem to see them the next year," Mr. Ferguson said. "If one broke that you really liked and you wanted to replace it, you can't very well do that."
Following his retirement, he moved back to his family home in Watertown, which used to be a market, and has remained ever since. Though he sets up the entirety of the haunted house by himself each year, starting about a month before Halloween, he will be joined by four local kids this year acting as monitors to make sure others passing through the house don't get too rough with the decorations.
"If I didn't have the monitors helping out, even though I do give them a little something and they like any candy left over, I don't think I'd be doing it by myself," he said.
An aquarium that used to sit in the living room of the house now sits prominently in the haunted section of Mr. Ferguson's home, full of dolls his mother used to own.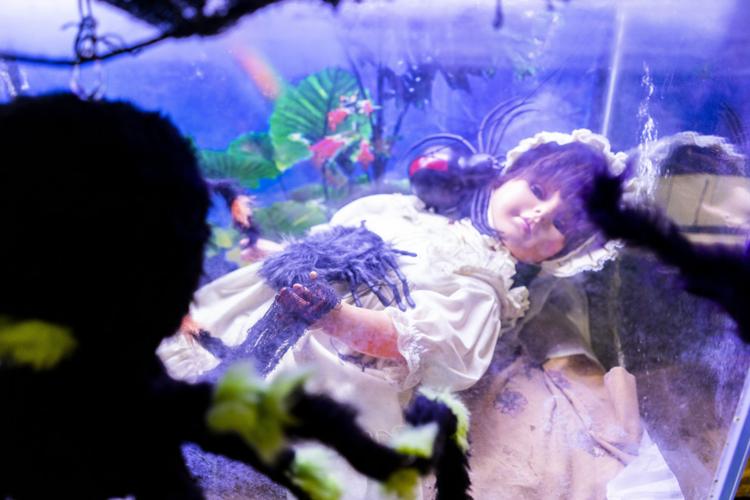 "When the last fish died, I didn't want to keep it up, but when I started to do the Halloween stuff that year this aquarium was sitting there looking silly," he said. "So, I dreamt up this idea of putting those things in there."
Even with all the preparation beforehand, there are still a lot of last-minute details that must be taken care of before guests enter the house. According to Mr. Ferguson, everything is triggered by the interruption of light, so a light needs to be pointing on something and then when people pass by, they interrupt that light, which in turn triggers the decorations.
Everything kicking off as people go by is the hardest trick, he said.
Mr. Ferguson sources his decorations mainly from places like Home Depot and Walmart and said he doesn't go to Spirit Halloween anymore because they're way overpriced, in his opinion.
His newest additions this year are a few child-sized girls in white dresses who he said remind him of the Children of the Corn. These two, along with a man who keeps trying to rip his own face off, are his favorite decorations in the house.
According to Mr. Ferguson, kids who have known about this haunted house for years and have been through it multiple times are sometimes still afraid of it, though he tries not to make it so scary they won't come back the next year.
"At my age there's not too many things you can actively do," he said. "It's really all for the kids to enjoy."
Though some will run through the house just to get the candy they know is waiting for them at the end, Mr. Ferguson said many will come back after they have finished their trick or treating to walk through again and see the things they didn't notice the first time.
Each year he says he won't put on a haunted house that year, and each year Mr. Ferguson has continued to spook the neighborhood with his wonderfully horrific home.
"You've got all of this stuff, what are you gonna do? Sell it? Give it away?" he said. "You might as well use it, that's what it comes down to."
Though it may be a lot of work for one man to do, and it can get fairly expensive to keep the creepy collection growing each year, Mr. Ferguson sees himself putting on the haunted house as long as he's able.
"I know people are enjoying it," he said. "So why not keep doing it?"