WATERTOWN — State police confirmed Wednesday evening that a Carthage man who allegedly shot and killed two people earlier in the day at a Clinton Street real estate office had died of a self-inflicted gunshot wound.
Police said the death of Barry K. Stewart occurred after he was located by troopers in Franklin County on Route 11B near Doug Smith Road.
Stewart, 55, allegedly shot two people to death Wednesday afternoon inside BridgeView Real Estate Services, 145 Clinton St., Suite 111, where Stewart was formerly a real estate agent.
Shortly after 9 p.m. Wednesday, state police identified the two victims of Wednesday's shooting as Maxine M. Quigg, 50, of Wellesley Island, and Terence M. O'Brien, 53, of Black River. The victims co-owned Bridgeview Real Estate Services, where the shooting occurred.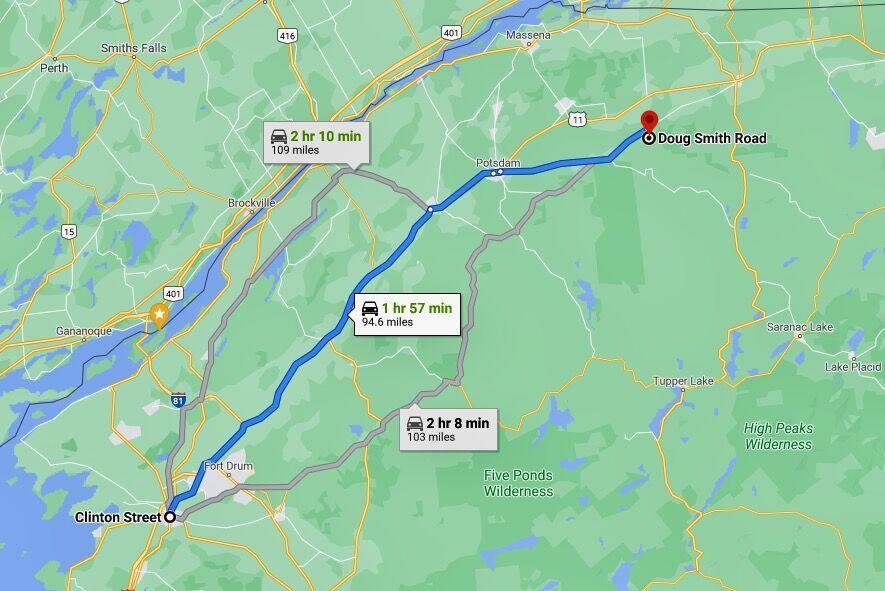 Following a be-on-the-lookout alert issued by state police, a state police K9 unit observed Stewart's vehicle on Route 11B in the town of Dickinson, Franklin County, and attempted to pull the vehicle over. Stewart, according to state police, drove off the roadway and was found inside the vehicle with a self-inflicted gunshot wound.
He was pronounced dead at a nearby hospital.
Law enforcement initially responded to the Clinton Street business after Jefferson County emergency dispatchers reported over the scanner that shots had been fired.
Trooper Jack L. Keller, spokesperson for state police Troop D, confirmed police were searching for the vehicle Stewart drove to the Clinton Street business, a 2020 gray Ford F-150 pickup truck with a New York state license plate HUS5491.
Jefferson County emergency dispatchers reported over the scanner at about 2 p.m. that two people were down after being shot. They later reported at about 2:30 p.m. that law enforcement were searching for the pickup truck.
Detective Lt. Joseph R. Donoghue Sr. confirmed just before 3 p.m. Wednesday that there was an active shooter situation in a back office of 145 Clinton St.
Shortly after scanner reports of the incident, law enforcement shut down Clinton Street from Washington to Sherman streets. The road remained closed as of 10 p.m. Wednesday.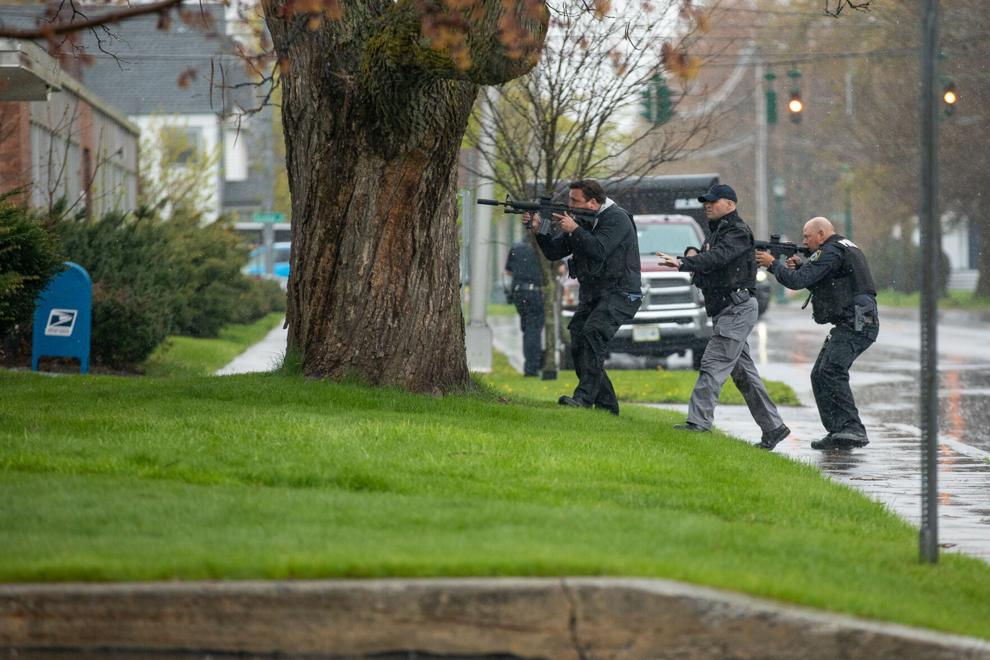 Law enforcement swarmed the property within minutes, if not seconds, of dispatch reports. They all had their firearms drawn, either holding a handgun, shotgun or patrol rifle. They moved quickly and then found cover, peering at the building where Stewart had just allegedly murdered two people.
Detective Lt. Donoghue ran across the parking lot and to the Watertown Savings Bank to signal the people inside to move to the other side of the building, opposite of where the shooting happened. Employees at the two dentist offices within the building said they were stunned when officers suddenly came in and told them to get out as fast as they could. Both employees at the dentist said they didn't hear anything.
"You get drills going and you might not hear it," one employee said.
They were escorted just across the road and into Clinton Courts apartments, where they sat. One wondered where the patient they were helping was but was relieved to hear the woman had been escorted out by police.
In any given time, a police vehicle would come speeding in or speeding out of the scene, likely at times when they discovered Stewart had fled. The manhunt would go on for hours.
It was reported he was in the Kelsey Creek Apartments on Superior Street in the city. Then it was past State Street near a TV antenna on Route 126. He was apparently driving in Carthage, one report stated. Then he was in Theresa. Then there were all the reports of the public reporting F-150s to dispatch. None of the tips turned up Stewart, but law enforcement still chased them down.
The Watertown Savings Bank on Clinton Street, as well as 145 Clinton St., were evacuated, but at about 2:12 p.m. Wednesday, people were seen going back inside the bank.
Following the incident, Mayor Jeffrey M. Smith issued a statement in response to the incident.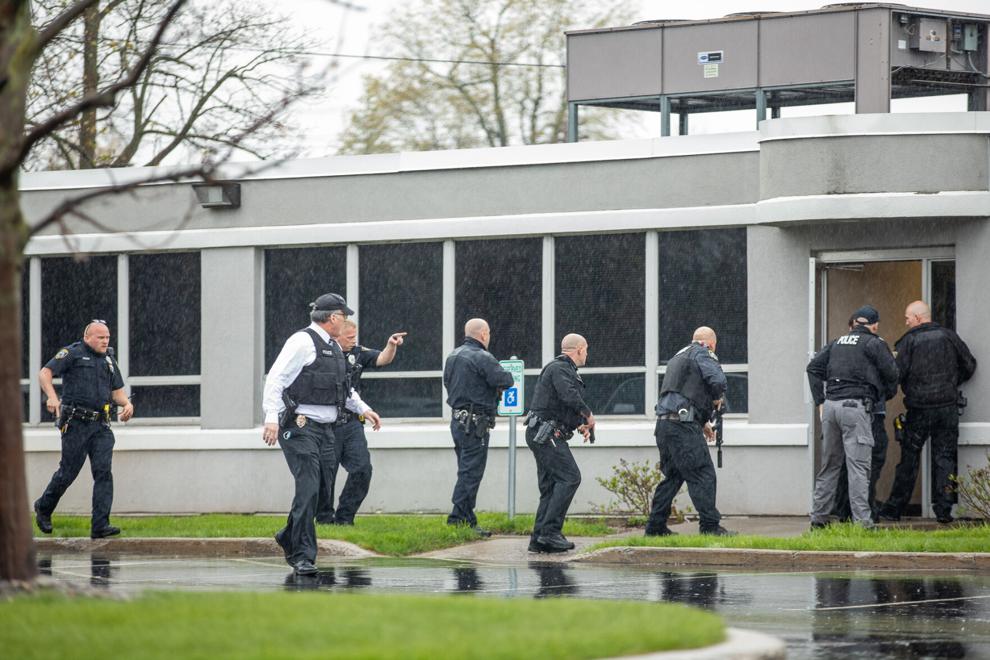 "This is the type of thing we far too frequently see on the national news," the mayor said. "We never think it could happen in the City of Watertown, but today it did. This is an unspeakable, senseless tragedy, where two innocent people were gunned down in a vicious act of violence. My heart breaks for the victims, their families and our entire community who I know share in my disbelief that this could happen here in Watertown.
"I would like to thank our brave law enforcement and emergency responders who responded to the scene earlier today, including members of the City of Watertown Police Department, City of Watertown Fire Department, Jefferson County Sheriff's Office, New York State Police and Guilfoyle Ambulance Service," he added.
Stewart, according to his business website, owned Homes by Barry Stewart, a franchise of eXp Realty. Stewart, according to his biography on the website, served in the Army for 25 years, and he moved to the north country after retiring from the military.
"I don't compromise my integrity for anything," Stewart said in a video on his website called "A Little About Me." "I figure if I have made it this far in life from where I came from that there is nothing anyone can do to me that I can't recover from."