WATERTOWN — One person is suspected of stabbing three teenagers at a public housing complex near Northland Plaza on Tuesday evening. Police said that suspect was in custody about two hours after they were called to the stabbing scene at Eastbrook Apartments.
First responders quickly evacuated the victims, one of whom was flown to Syracuse for medical treatment, and the suspect was found after about an hour of searching. One hour after the incident, curious neighbors, swarms of police, discarded plastic gloves and a blood-stained sidewalk remained as reminders of what had occurred.
Detective Lt. Joseph R. Donoghue Sr. confirmed initial reports and emergency dispatches that three teenagers, all male, were stabbed by another male. He said the four teenagers ranged in age from early teens to 18 years old. He said he would not release the age of the suspect.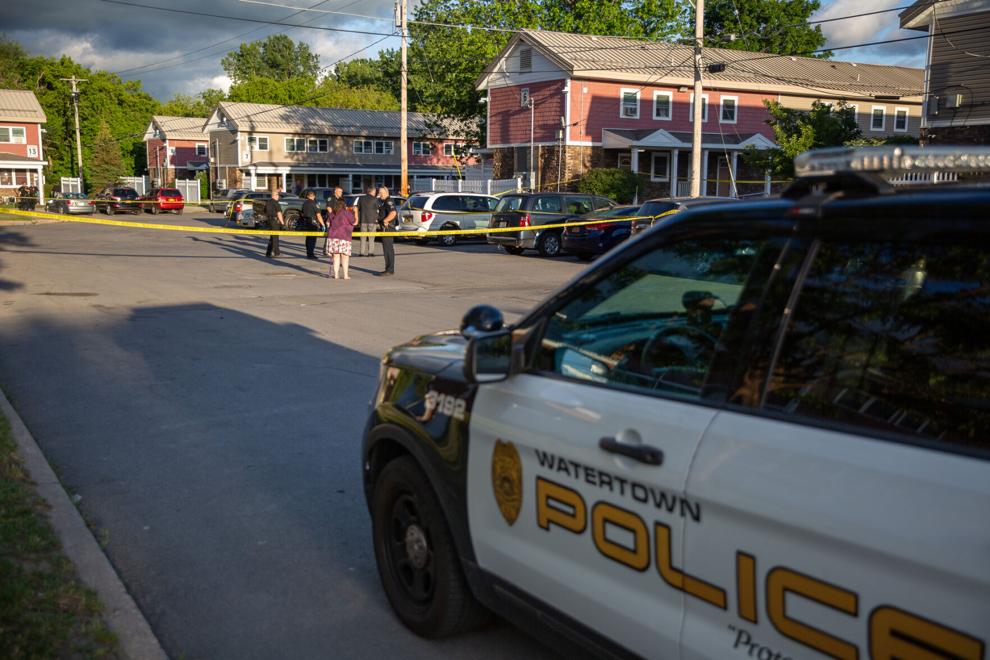 Detective Lt. Donoghue said the suspect was found at Northland Plaza off Eastern Boulevard about two hours after initial reports of the incident. The suspect is being held at the Metro-Jefferson Public Safety Building, he said.
Detective Lt. Donoghue said at least one stabbing victim was flown to Upstate Medical University in Syracuse by a LifeNet helicopter from the Town of Watertown Fire Department station on County Road 67 while the other two victims were taken to Samaritan Medical Center. The status of each victim remained unclear as of the time of this report.
The detective said he would not confirmed what weapon was used during the incident, only that it was a "sharp object." But, according to witnesses of the incident at the apartment complex, scissors were used.
The scene at Eastbrook Apartments at about 8 p.m. Tuesday was a chaotic one as more than 100 people gathered in the apartment complex streets around a barrier of yellow caution tape. What appeared to be blue surgical gloves, some clothing and a pool of blood were on the ground beyond the caution tape.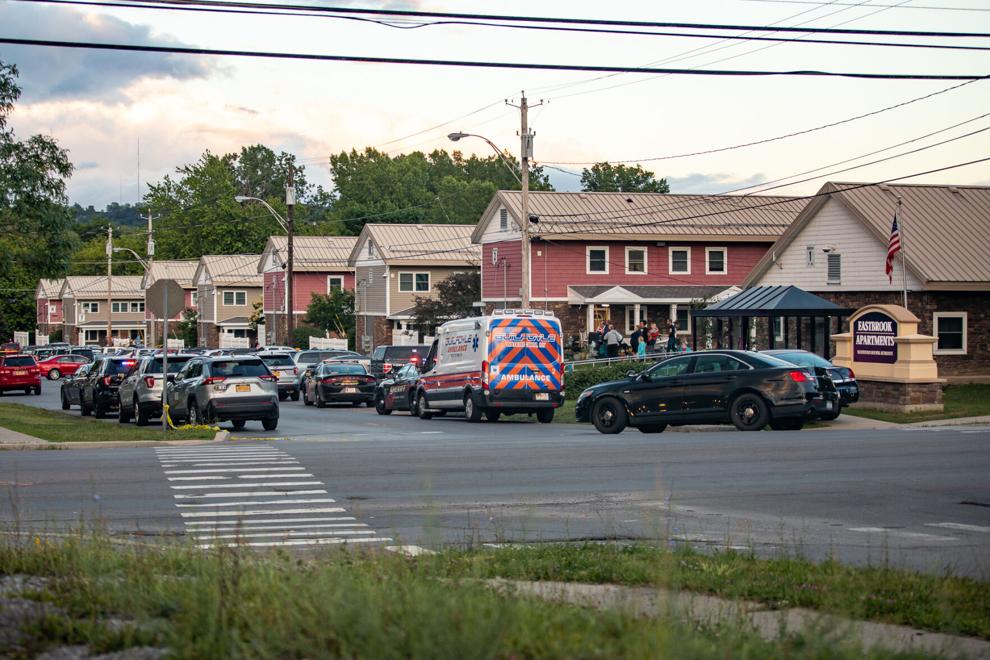 It remains unclear the exact time the call came in to 911 dispatchers, but swarms of people remained in the streets for more than two hours after first responders arrived. State police, Jefferson County sheriff's deputies and city police cars crowded the entrance to the apartment complex, even after the suspect was reportedly located.
While a sign at the apartment complex reads Eastbrook Apartments, Watertown Housing Authority, the housing authority website has the property listed as East Hills Apartments.
East Hills, according to the housing authority website, was constructed in 1952 and includes 100 units that serve 300 residents on Ohio Street in the city.