LOWVILLE — Both living with dementia, two sisters, Carolyn H. Lyndaker and Margaret Turck, though currently living next door to each other, no longer realize they're family and don't know what's happening in the world beyond their care facility.
The women are residents of the Lewis County Residential Health Care Facility at Lewis County General Hospital. It's hard for them to understand why they haven't been able to see their loved ones in person for months, two daughters of Mrs. Lyndaker said. When she FaceTimes with her daughters, Teresa L. Campeau and Michele R. Brown, Mrs. Lyndaker, who will turn 85 in December, looks around for them, hearing their voices, but unable to tell where they are.
"Nobody wanted to put her here, but she never wanted to be a burden to anybody," Mrs. Campeau said. "She's one of the most selfless people you'll ever meet — a sweetheart of a lady — and all she lives for is her family."
Mrs. Campeau hasn't seen her mother in person since February, while her sister, Mrs. Brown, hasn't seen her since March — the day before nursing home facilities across the state were closed and completely barred to visitors.
More than 50 people are gathered outside of Lewis County General Hospital in Lowville attempting to get the attention of the state and get @NYGovCuomo to allow these people to visit their loved ones in nursing homes again. @wdtnews pic.twitter.com/h2AkYDkC6S

— sydney schaefer (@sydneydschaefer) September 2, 2020
Nursing homes and long-term care facilities have been closed to the public since the coronavirus pandemic began in March. In July, state Department of Health Commissioner Dr. Howard A. Zucker announced nursing homes and long-term care facilities in New York would be allowed to resume limited visitations for facilities that were without COVID-19 for at least 28 days, based on federal CMS guidance.
Residents would be allowed two visitors at a time, and the visitors would need to undergo temperature checks, wear face coverings and social distance during the visit. At least one of the two visitors would have to be at least 18 years of age or older.
According to Jeffrey Hammond, public information officer for the state Department of Health, of the 613 nursing homes in New York, there are 289 in full compliance and therefore able to initiate visitation plans, of which 229 submitted plans. He said the number of facilities that are eligible to reopen to visitors, and the number that have taken the next step, shows they are appropriately adhering to CMS guidelines with smart and cautious plans for visitation.
Unfortunately, this is easier said than done, especially facilities remaining COVID-free for 28 days, resulting in the separation of many families from their loved ones for months on end.
Because of this, community members came together Wednesday morning for a rally, primarily organized by Amy Deavers, calling on state officials to reopen nursing homes to families. Beginning at 11 a.m. at the circle driveway of the hospital, 7785 North State St., about 100 people gathered with the goal of encouraging Gov. Andrew M. Cuomo to "modify and humanize the restrictions" for visiting loved ones in nursing homes and long-term care facilities.
"Somebody has to advocate for these people," Mrs. Brown said. "This is supposed to be their home, but there's a lot of restrictions right now on their home."
Mrs. Brown said when she FaceTimes her mother, she appears well, though her hair is longer than she would normally like it. Of Mrs. Lyndaker's seven children, Mrs. Brown lives the closest and worked in the village, so before COVID hit six months ago, she would stop over during lunchtime to help her mother eat, make sure she had enough clothing and just check in on her.
No strangers to taking care of a parent, sisters Brenda Leonard, Trena Middlestate and Carrie Hooley said they're extremely active with their father, William Middlestate, taking him out of the care facility when they could, and visiting two to three times a week from Harrisville. While they're able to Skype with him, they said it's just not the same.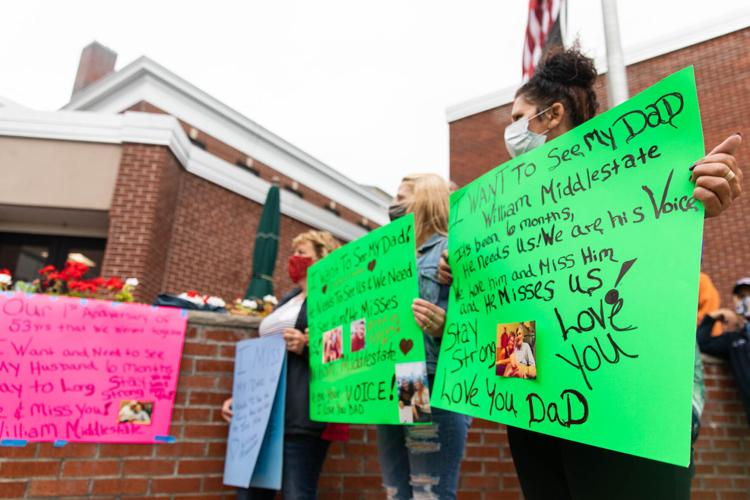 Mr. Middlestate, 75, was diagnosed with Parkinson's disease at the age of 40, and has been in assisted living for the past eight years. He's now in the disease's fourth stage. According to parkinsonsnewstoday.com, at this stage, the disease's symptoms are severe and limiting, but it's still possible for the patient to stand without assistance, but the patient isn't able to live alone and needs help with various daily activities.
July 1 was the first day in 53 years of marriage that Mr. Middlestate was unable to be with his wife, Margaret, due to COVID-19 and the restrictions it brought.
Like many families, Mr. Middlestate's daughters haven't seen him in person for months.
"I don't feel the loneliness will kill him because he's pretty strong, I just feel like something will happen and we aren't there like a heart attack or something," Mrs. Hooley said. "We've been his voice for many years, we know his changes, and if it wasn't for us being there advocating for him, he probably could have gone a long time ago. We're his family and we've always fought for him."
According to Ms. Middlestate, when they have to disconnect from their Skype calls and say, "See you later, Dad," Mr. Middlestate has started to turn his head away, not wanting to acknowledge that they're going.
Charles Stewart's mother, Charlotte Stewart, like Mrs. Lyndaker, has dementia. The 85-year-old is able to FaceTime with family, but Mr. Stewart hasn't been able to visit her in person since Christmas.
He said that while no one in the family wished to put Mrs. Stewart into assisted living, it was a matter of ensuring her safety day to day and it remains one of the hardest things they've had to do.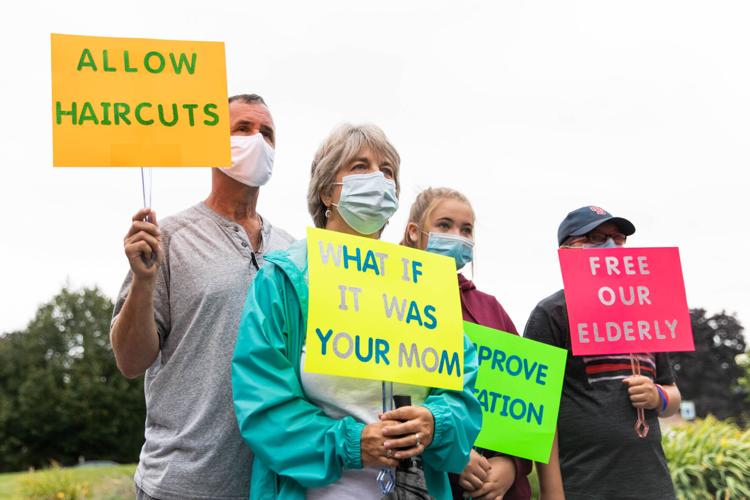 "The county I would have to guess is one of the lowest in the state with numbers of COVID, the nursing home has done wonderfully, so why can't we see them?" Mr. Stewart said. "Even if we have to have a shield and stay six feet away, how would Gov. Cuomo feel if his mother was in here? I've talked to people here today and they'll put a full hazmat suit on to come in and see their mother."
According to Mrs. Campeau, visitation was allowed at the residential health facility during time slots of 10 a.m. to noon four days a week, specific to each floor. The visits could last about 20 minutes.
Mrs. Campeau, joined by granddaughter Savannah Staats, 13, who hasn't seen her great-grandmother since Christmas, said those visits were outside, with plexiglass between the residents and their visitors. Due to social distancing guidelines, family members would have to stay six feet away, so Mrs. Lyndaker's children were not able to touch her, which is important for her stage of dementia.
"Most people would rather have the coronavirus and die of that than not see their family," Mrs. Campeau said. "I think that's what people aren't understanding is that family, in this north country community anyway, is huge. ... It's all they look forward to, is seeing their family."