BOONVILLE — The smoke has cleared but the smell is still strong near the rubble pile that used to be five buildings in the heart of the village, destroyed in this week's devastating fire.
A violin hanging off a display board that leans where the wall of the computer repair store used to be looks almost pristine from beyond the yellow caution tape that keeps photo snappers from getting too close for safety, with its price tag still visible.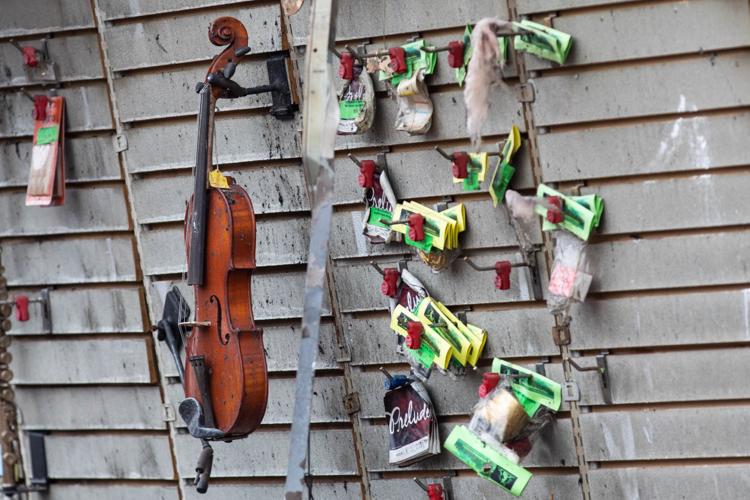 Like the violin, the strength of the community and the generosity of its people were left unscathed, but the losses from Tuesday night's fire that blazed through mid-day on Wednesday are now being fully felt.
Tyler Sturtevant, 20 and his colleague Shawn Sasenbury thought the burning smell was something accidentally left in the oven, at first. When they saw it looked "foggy" out and the smell got stronger, they called the owners of Capri Pizzeria.
But when they stepped outside and saw the "black, billowing smoke" coming into the street, they called 911 and took action.
"Shawn ran out back and started knocking on doors and I started to do the same thing, even in the ones without fire," Mr. Sturtevant said, "Everyone was just trying to help. You just did what you did and did what you could to try to help."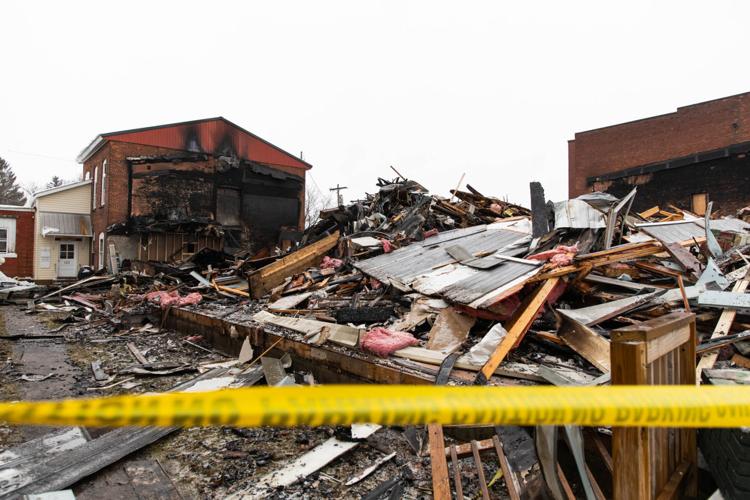 When the owners of Capri, a few storefronts down Main Street from the fire, got the call while at home in Rome, they knew what they had to do.
"We thought, we need to get our butts up there. We were allowed to get some stuff out just in case, but the main intention was to come and feed people" Frank Salamone said, "We did what we could, but it wasn't just us. So many people and businesses donated food and did what they could to help."
Local bar The Pub opened its doors for first responders to come in and get warm that night and the fire hall was filled with donations of food and water to keep them going.
People are still reaching out to comfort the victims and thank first responders.
The GoFundMe page that was originally set up with a $10,000 goal had such a tremendous response that the threshold was increased to $25,000.
By Friday evening, more than $19,000 was already raised through donations of between $10 and $1,000, given by 223 people and counting.
Using social media to circulate clothing sizes for those who lost their homes, volunteers at the Methodist Church have been sorting through piles and piles of donations from "as far away as Alex Bay" with people from other cities and towns that came to help, according to the What's Happening In Boonville, NY Facebook page that started the GoFundMe account.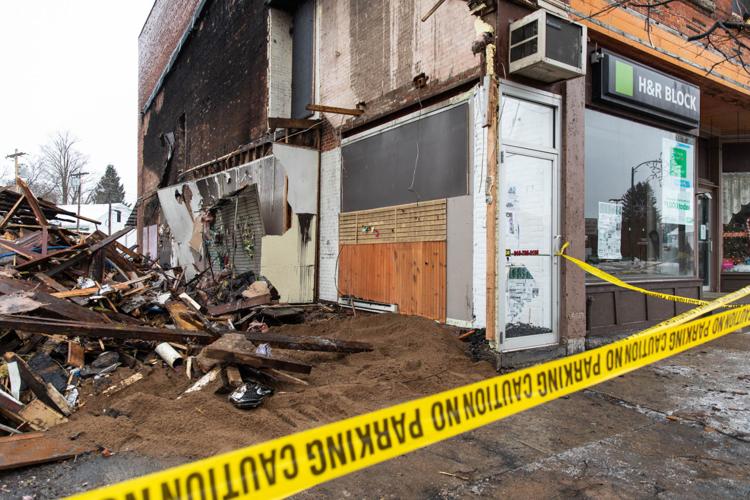 Kayla Allen, owner of Sattler's Barbershop, across the street from where the popular Slims Restaurant used to be, offered a vacant apartment slated for remodelling above her shop to one of the people made homeless by the fire until he can find new accommodation.
"He is staying with my baby-sitter, but he's in his 60s and I knew that couldn't be easy with all the little kids around. So I thought since I have this space just sitting empty, I should offer it to him," Ms. Allen said.
She said it's still hard to believe the buildings and the businesses they housed are really gone.
"I've been going to Slims since I was a kid with my Dad. It's always been there."
Like Ms. Allen, employees at NNY Cerebral Palsy, located in the building separated from the fire block by a narrow walkway left unscathed by the blaze, said the loss of the businesses is "sad for our area."
"There are a lot of memories from those places," said Angela Campeau, "We hope they are able to rebuild."
One of the shops decimated by the tragedy, A Cut Above Hair Salon, said on its Facebook page that they are already making a new plan.
"We are currently in the process of locking down a new location to get back on our feet so we can start doing what we love again, our work," the post said, "Boonville will never feel the same again, now it's time to plan for the future of Boonville and pick up the pieces."
People around the village on Friday, whether back to work in their Main Street businesses, keeping their appointments around the village or just coming to see the blaze's aftermath with their own eyes, all spoke of the skills and cooperation shown by the 13 volunteer fire departments and other first responders that kept Tuesday night's tragedy from being much worse.