PINE RIDGE, S.D. — When Aimee T. Bills returned to New York from South Dakota last month, the homecoming marked her fourth completed deployment to western wildfires.
A forest ranger with the state Department of Environmental Conservation for the last seven years, Ms. Bills joined nine DEC staff for an 18-day assignment in October, one of several annual assignments crewed by New York forest rangers, EMTs, forestry technicians and other professional responders. She deployed from Sept. 30 to Oct. 16.
Another north country resident and DEC forestry technician 2 in St. Lawrence and Jefferson counties, James J. Canevari, was part of another group that deployed as Ms. Bills and her crew were returning.
The National Wildfire Coordinating Group has organized a network of resources and thousands of personnel — from local, state, federal, tribal and territorial partners — since 1976, when a memorandum of understanding was established between the U.S. Department of Agriculture and the Department of the Interior. For more than 40 years, the NWCG has delegated wildfire suppression assignments to agencies across the country, involving aerial efforts, ground engines and heavy machinery, water bodies and hand crews.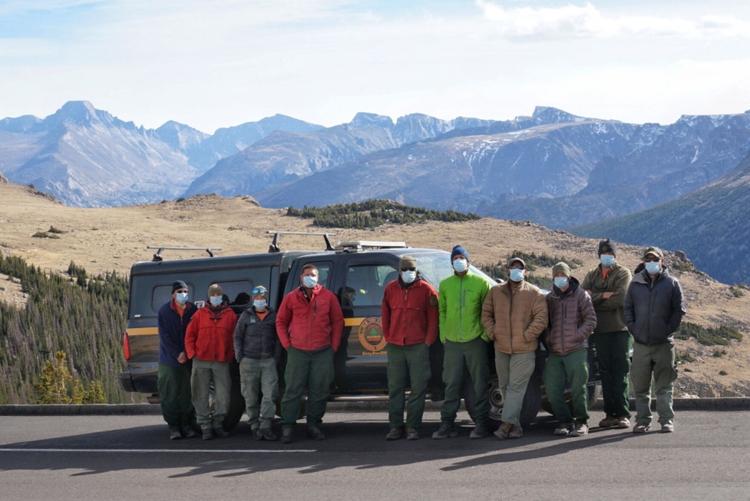 In New York, trained wildland firefighters in several DEC divisions and programs choose to note their annual availability for potential summer and fall wildfire commitments lasting two or three weeks. DEC crews are typically comprised of 20 people with various certifications — rangers, chainsaw operators, crew bosses and EMTs.
The ongoing COVID-19 pandemic prompted DEC to downsize 2020 hand crews to modules of 10 people, with a similar range of expertise represented.
"It was a different beast this year," Ms. Bills said, adding that isolated camps limited mingling with other agencies.
Ms. Bills spent most of her two-week assignment chasing new fire starts "almost every day" and securing control lines on the Pine Ridge Reservation and neighboring towns. Since March, she has been based in Herkimer and Oneida counties in DEC Region 6, having previously served as a ranger in Dutchess and Otsego counties. She joined New York rangers and foresters from Lewis, Essex, Franklin, Saratoga, Fulton and Tompkins counties, completing the 10-member team.
When an assignment call is made, Ms. Bills said, modules can be assembled within a few days, sometimes within 24 hours.
"Then you step out of your life for a few weeks to help these other states out," she said.
Engines, a helicopter, supplies and other modules from Nebraska and Oklahoma were spread across southern South Dakota, with the New York team mostly self-sufficient at its own camp site. Larger camp headquarters, where multiple crews gather for in-person daily briefings, were replaced with new camps nightly and virtual briefings to mitigate COVID-19 exposure and spread, Ms. Bills said.
All members of DEC modules were required to test negative for the novel coronavirus before departing west this year. Tests and quarantines were again required upon return.
Mr. Canevari tested negative and was cleared from quarantine this week, after returning from his 12th deployment earlier this month.
A certified chainsaw operator and the chainsaw manager for his 10-person module that flew to Colorado in mid-October, Mr. Canevari worked the Cameron Peak Fire and portions of the East Troublesome Fire, both within national forest lands and Rocky Mountain National Park.
Cameron Peak, which ignited in August, is now 92% contained, according to InciWeb data last updated Thursday afternoon. The web-based incident information system is an interagency hub for tracking wildfires and other emergency disasters.
Every fire behaves differently, with wind, topography, humidity and other atmospheric factors impacting how a fire ignites and spreads. But the fundamental needs of fire are always the same — fuel, heat and oxygen, or an oxidizing agent — and fire suppression relies on equally fundamental principles.
"Whether it's a 50-acre fire here in New York or a 300,000-acre fire in California, the suppression is very similar," Ms. Bills said.
Suppression by hand crews typically begins with establishing a control line, a natural or assembled perimeter around the fire. Bodies of water, highways, dug trenches or the blade of a bulldozer can all be used to build edge control.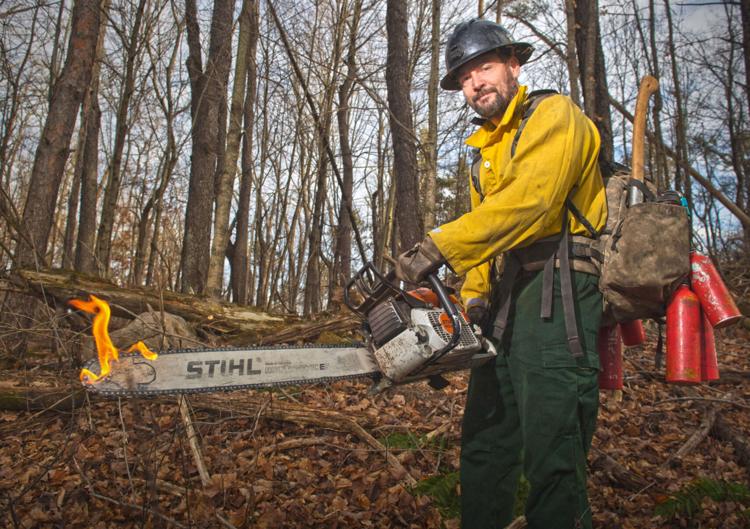 Contingency or "plan B" lines, Mr. Canevari said, often follow, with backburns, tree cuts, structure protection and other basic firefighting tactics considered depending on the fire's nature.
A "hotter, drier world," according to NASA, has increased Earth's burning potential over several decades, as more extreme wildfires have trended with a century-long climb in global temperature.
NASA satellites have observed burned areas and global smoke emissions from wildfires for the last 20 years, and with ground data collected by agencies around the world, climate and fire scientists have been able to develop computer models to predict the intensity of a region's fire season. In the field and in the moment, though, fire is dangerously unpredictable for those tasked with battling blazes.
"We do what we can with the time we have," Mr. Canevari said, adding that fires immediately threatening towns are always prioritized. "Sometimes there's extreme conditions and winds are hitting fast, and we have limited time to do something safely before we've got to get out of there ourselves. And in the end, the structures aren't worth lives."
This year alone, Mr. Canevari worked fires in South Dakota, Wyoming and Nebraska, and he's been to California, Montana, Idaho, Washington and Alaska since he started volunteering time as a wildland firefighter for the state in 2008.
"There's just something about doing the best you can, standing in front of danger and stepping out of it alive and well," he said.
At home, Mr. Canevari inventories forests for habitat and species composition for the Division of Fish and Wildlife, primarily focusing on habitat management efforts through the state's Young Forest Initiative since the program was launched in 2015. Implemented at the state's more than 100 Wildlife Management Areas, the initiative is designed to increase habitat for species that prefer early stage forests with seedlings, saplings, vines, shrubs and flowering plants growing together in the same area.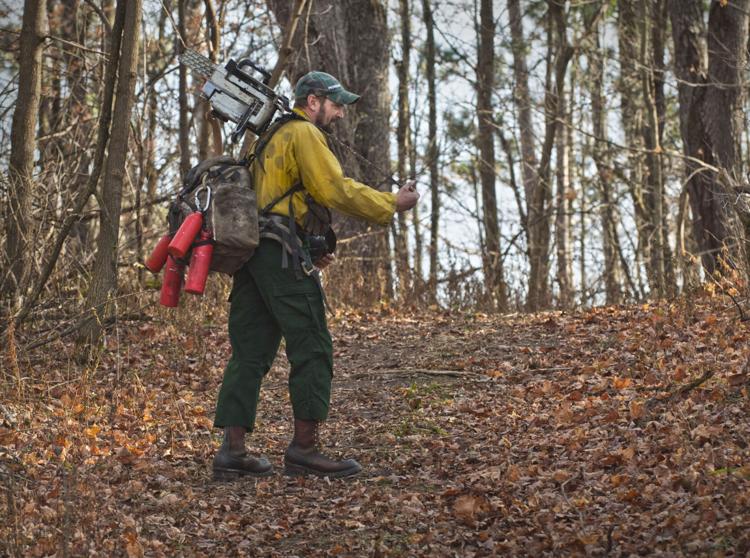 Recalling his first western wildfire assignment more than a decade ago, Mr. Canevari, now 43, said he looked to his elder crew members, wondering how they seemed to handle the smoke without much apparent disdain.
"You take a break, it's smoke; you eat lunch, it's smoke. In everything you do, there's smoke," he said, adding that he's since grown used to the persistent haze.
Helmet on and shouldering a chainsaw with a 28-inch bar, Mr. Canevari carried his pack in St. Lawrence County this week, unclipping his pack to review the items inside.
Packs are fit depending on a person's role, but standard supplies include water bottles, extra headlamps and batteries, signal mirrors, warm clothes, tarps, a fire protection blanket, enough food for two days and a fire pocket guide. With gas and oil, wedges, extra chains and a chain file, Mr. Canevari's pack can weigh up to 75 pounds, weight he needs to carry at all times at a site.
In Northern New York, where maples and oaks thrive, wildfires aren't nearly as intense as those that consume 250-foot conifers and blacken hundreds of thousands of acres every year.
"But the expectation is you show up and know what to do," Mr. Canevari said.
As day or night crews, modules can work 12 to 15 hours every 24, and are required to pass annual physical fitness tests and recertify positions. Forestry technicians and other forest professionals receive training and wildfire certifications through the state Wildfire and Incident Management Academy. As sworn police officers, forest rangers also undergo paramilitary academy training. Mr. Canevari's module returned Nov. 3, the fourth New York group to head more than 1,500 miles west from the north country this year.
Pine Ridge Reservation's small team of firefighters struggled to keep up with the frequency of South Dakota's new fires last month, and local crews were "absolutely shot and exhausted," Ms. Bills said.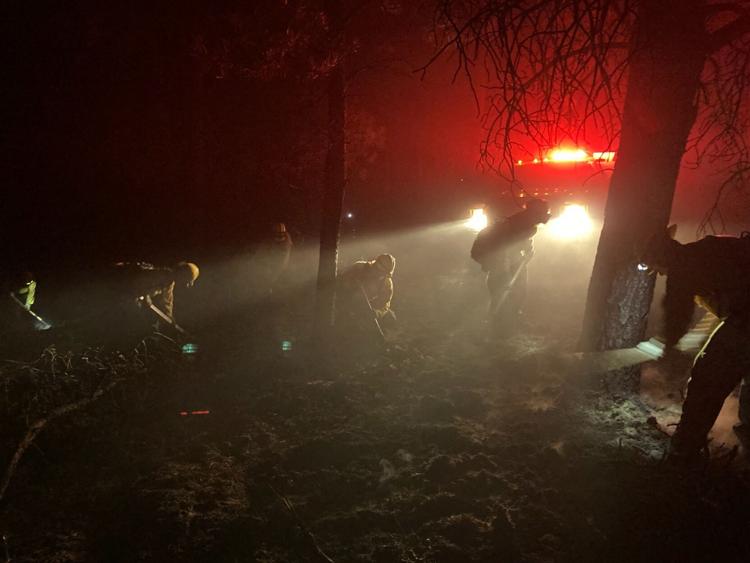 After some assignments, she said, modules can wonder whether they've made any difference, as new hot spots emerge and a vague horizon fades into the sky each night.
"This time, we did see a clear difference," she said. "The community really needed the help."
Like Mr. Canevari, Ms. Bills sees wildfire detail as an adventure, intense and adrenaline-building. Though sacrificing time with her husband and kids, she added, is never easy. As long as her family is well, she'll be available for assignments.
"Whether there's a pandemic or not," she said, "there will definitely be wildfires."