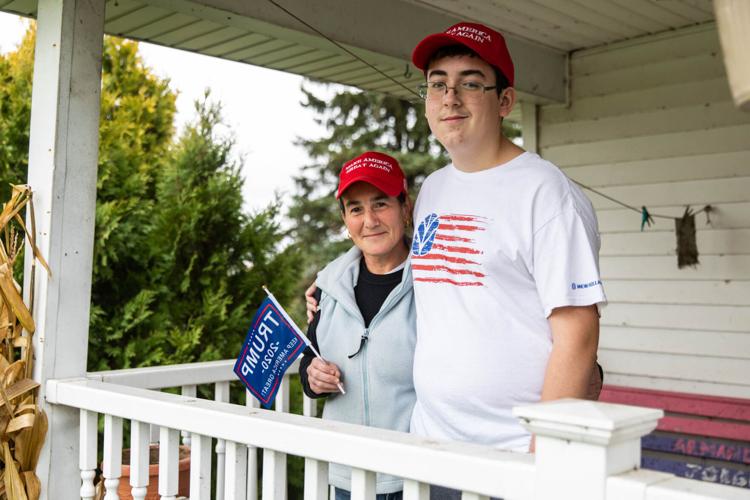 WATERTOWN — On Wednesday morning, about four days after the presidential election was called in Joseph R. Biden's favor, "Trump 2020" flags and signs still dotted the region, proudly hoisted up flag poles, waving in the wind and rain.
One Trump supporter, Armanda S. Viveiros of Turin, said she voted for President Donald J. Trump and is "proud of it."
As the rain slowed that morning, Mrs. Viveiros sat at her kitchen table illuminated by the dull daylight peeking through her window and said Mr. Biden's win "was a fraud."
"There's no way Biden won, the way he was hiding in his bunker, never coming out," she said.
Despite major news networks calling the race for Mr. Biden, confirming the former vice president has squashed Mr. Trump's chance at re-election, many north country voters remain skeptical of the results.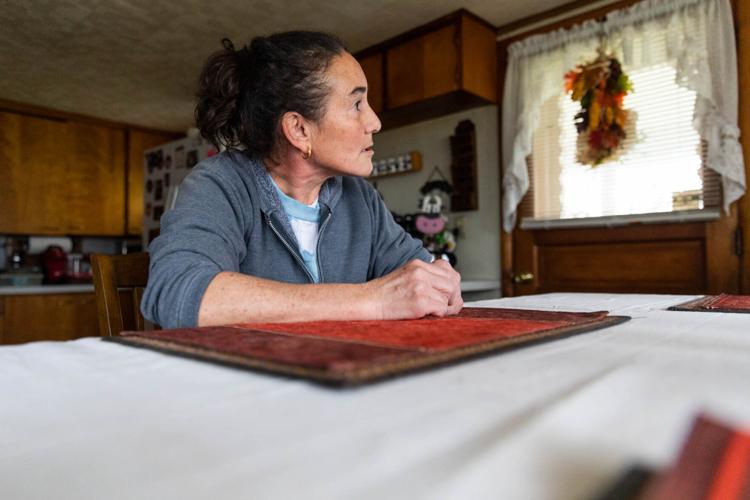 Over the last week, Mr. Trump has refused to concede the election, citing voter fraud and calling for a recount in many states.
The president and his legal team have even begun filing lawsuits in some states, challenging the validity of their results and counting methods.
A record number of voters cast their votes by absentee ballot this year due to the ongoing coronavirus pandemic, and as those ballots require more time to count, races in a number of states could not be called for days.
The counts came in slowly, especially in key swing states like Georgia, Nevada, Pennsylvania and Arizona.
The race was finally called for Mr. Biden four days after the election when it became apparent he had won Pennsylvania's 20 Electoral College votes, putting him above the 270 votes needed to win.
Mr. Trump got his wish for a recount in Georgia this week as Georgia's Republican Secretary of State Brad Raffensperger ordered the new count, but various news outlets report the chance of the results flipping the state from blue to red is slim to none.
On Friday afternoon, the New York Times officially called the race in Georgia for Mr. Biden.
Mr. Trump's comments and confidence that he has in fact won the election has sown similar confidence in his base, including many here in the north country. His supporters are following his lead, refusing to accept President-elect Biden.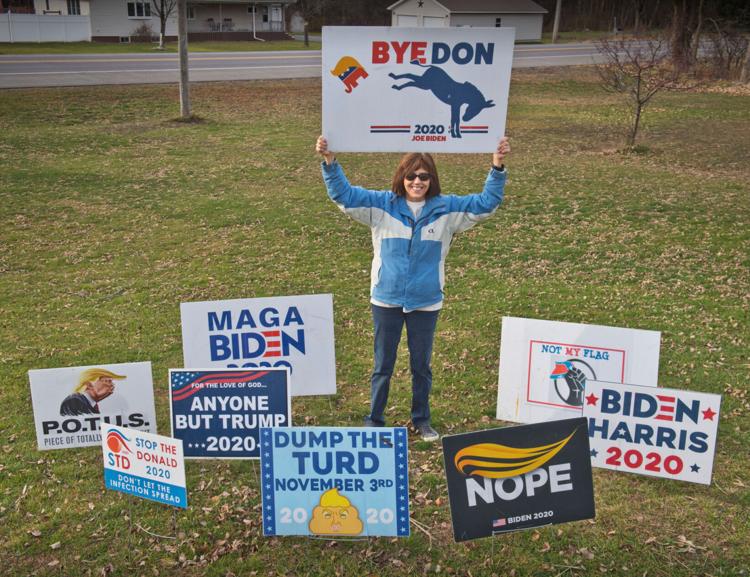 Mr. Trump won a large majority of the vote across the north country. While absentee ballots are still being counted, Mr. Trump won the in-person vote in Jefferson County with 63% of the vote, Lewis County with 72% and St. Lawrence County with 60%. Mr. Biden's support in the region is significantly weaker than Mr. Trump's, and indication of support for him, through yard signs, flags or other means is much more scarce.
Four Times reporters and photographers traversed the tri-county region this week, knocking on doors, looking to talk with voters about their thoughts on the election results, nearly a week after it was called.
Even though the region voted deeply red, there were also many who voted for Mr. Biden, citing Mr. Trump's lack of professionalism and governance during his four years in office as reasons why they refused to vote for him.
It's been about a week now since the race was called for Mr. Biden, and here is what the region's voters had to say about it:
Mrs. Viveiros, a dairy farmer who lives with her husband and two teenage sons in Turin, still flies two Trump flags on her property. She's also kept a yard sign up in support of the president.
She said she even stopped watching Fox News after the network declared Mr. Biden president-elect, and switched to Newsmax, a right-wing television network that's been floating conspiracy theories and voter fraud allegations since Election Day. The network still doesn't refer to Mr. Biden as the president-elect. As Mrs. Viveiros talked Wednesday morning, Newsmax played quietly in the background.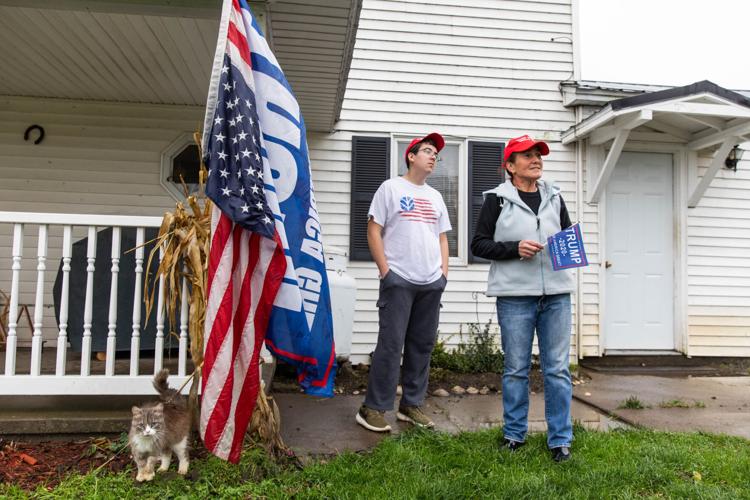 "To be honest, until Election Day, I used to love watching Fox News," she said. "But to me, Fox is so done, because they called (Arizona) way too early, and that's not right. All the votes should be counted and then we can say if (the election) was for Biden or Trump. Fox called for Biden way too early, and from that day on, I've been watching this Newsmax. They keep saying they're not going to call Biden president until all the votes have been counted."
Mrs. Viveiros, an immigrant from Portugal who has lived in the United States for more than 20 years, said this was her first election as a voter, and she cast her ballot for Mr. Trump. She became a citizen in 2018. As someone who has gone through the immigration system, she said, one of the things she likes most about Mr. Trump is his stance on immigration.
"I had to pay almost $800 every 10 years to renew my (green) card," she said. "Now, you're telling me those illegals can just cross the border for free, for nothing? Does that make sense?"
She said Mr. Trump's administration over the last four years has been better for her and her family than the eight years under President Barack H. Obama, and she was not confident that a Biden presidency would be anything different from Mr. Obama.
Despite her concerns that Mr. Biden and the Democratic Party may have committed election fraud, Mrs. Viveiros said she would accept whatever results are handed down. She said she doesn't believe people like her, who voted for Mr. Trump, would riot if the election doesn't end the way they had hoped.
"I'm not going to call him President Biden," she said. "I will respect him when he goes into office as the president. It's not like I'm going to go down to destroy my neighbor's property, or anything like that. I'm not that type of person, and I believe most Republicans are the same way."
Another Turin resident who voted for Mr. Trump's re-election bid, Darren J. Brown, agreed that the election is far from settled.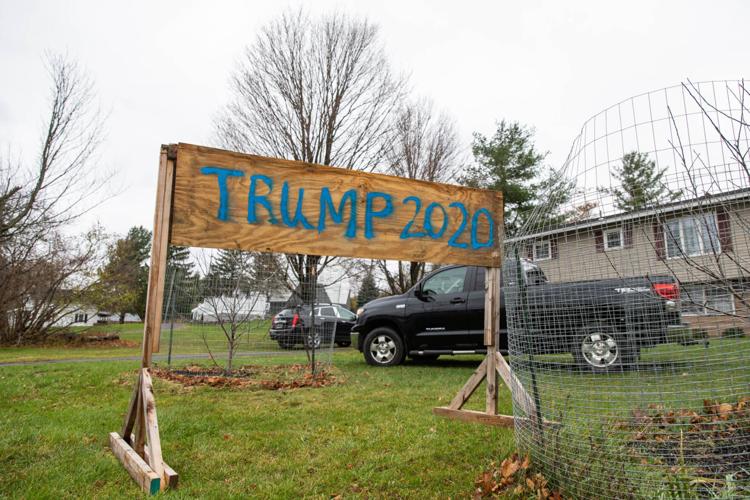 "The news networks don't decide who wins and who doesn't," he said. "We have a Constitution, we have to follow it, follow the protocol. We did it with (former Vice President Albert A.) Gore back in 2000, and we should do it again now."
In 2000, when Mr. Gore ran against then-presidential candidate George W. Bush, Mr. Gore thought for weeks he had won the presidency before a legal challenge quickly made its way to the Supreme Court, ending a recount in Florida at the time and calling the race for Mr. Bush.
Mr. Brown did not echo Mrs. Viveiros' position that most Republicans would accept a Biden victory. He said after years of Democrats working to depose Mr. Trump, through investigations and an impeachment trial a year ago, he thinks either side might launch a fresh round of protests or riots once the results are finalized.
"The Democrats have been trying to get him out of office since he got in," he said. "If it's flipped and it goes for Trump, we're gonna see a lot of riots and the (expletive) we've had before. Even if Biden gets in office, I think you might actually have some Republicans, and other Americans, who would finally have something to say about it."
Further north in Jefferson County, Jim M. Ratigliano, who lives in the town of Pamelia, is another supporter of Mr. Trump. While he said he didn't vote this year, he and his brother both fly "Trump 2020" flags in the front yard of the renovated motel they live in together along Route 12. He said there needs to be a recount, but he isn't sure there's a path for Mr. Trump to retake the presidency.
"The media kind of jumped the gun, saying (Biden) is president-elect before the count was even done right," he said. "I don't know how they could reverse that."
Through Mr. Ratigliano's window, Fox News played on his large, flat-screen television.
Robert H. Sullivan, Copenhagen, had a large, wooden sign in support of Tedra L. Cobb, the Democrat who unsuccessfully ran against Rep. Elise M. Stefanik, R-Schuylerville, in the 21st Congressional District, on his front lawn. He said he didn't put it up, but the Cobb campaign asked him if they could, and he agreed.
"I was a supporter of her and Biden," he said.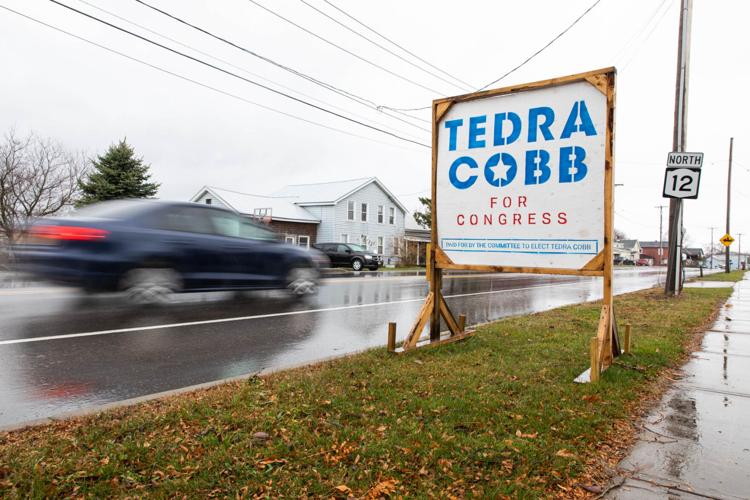 Mr. Sullivan said he doesn't think Mr. Trump will accept the results of the election, because if he loses the protection the nation's highest office has afforded him over the last four years, he would end up in prison. He said he expects the president to fight the election results any way he can, and he wouldn't be surprised if Mr. Trump tried a number of different methods to overturn the election results.
"I don't think he's going anywhere," Mr. Sullivan said. "He'd go to jail if he gets out of politics. You can pretty much bet on it."
What Mr. Sullivan is referencing is the possibility that Mr. Trump could be prosecuted when he leaves office.
According to an Oct. 23 Bloomberg story, "a new administration could decide to revive Special Counsel Robert Mueller's investigation into obstruction of justice by Trump or launch a new probe into the questionable tax deductions the New York Times revealed in a recent investigative report. Trump is also facing an active investigation by the Manhattan district attorney that could result in state criminal charges."
There are also various lawsuits, which Mr. Trump has successfully swatted away with the help of the U.S. Department of Justice, but without the protection of the presidential office, the playing field is left wide open.
According to the same Bloomberg story, the criminal charges Mr. Trump could be facing include, among others, obstruction of justice, campaign finance violations, federal tax charges, New York state tax charges and fraud.
Mr. Sullivan said he dislikes Mr. Trump mainly because he lies frequently, says inflammatory things that have little basis in fact and mistreats the women in his life.
"I think Trump bothered me most, more than anything else, because he's a womanizer," he said. "I was married for 53 years, and I don't think any woman should be mistreated like he mistreats his wives."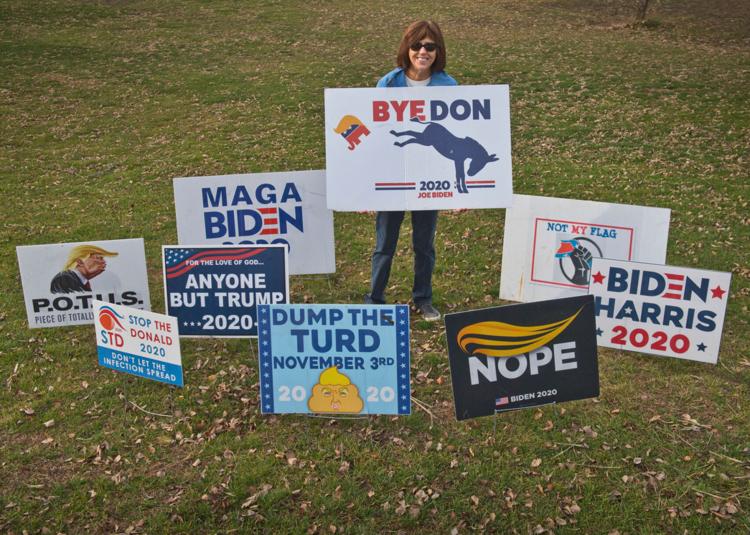 In St. Lawrence County, when Mr. Trump was elected president in 2016, Christine M. Paige tied a black ribbon to her lamp post outside her Norwood residence.
"When he was first elected, I was heartbroken for America, for our democracy," Ms. Paige said, standing on her front porch this week. "When COVID hit, that became my primary focus because I knew things were never going to get better while he was in office."
The 67-year-old retired teacher and always active musician replaced the black ribbon last week, when voters selected Mr. Biden as president-elect. Red, white and blue ribbons now wave from her lamp post on Route 56 near the BOCES Seaway Career and Technical Education Center.
"I'd been watching the news nonstop, and I felt like the biggest weight had been lifted," she said, recalling the Nov. 7 announcement that Mr. Biden won Pennsylvania. Further exceeding the 270 electoral votes needed to win the presidency, Nevada's six electoral votes brought the president-elect's total to 279 last weekend.
Ms. Paige said Mr. Trump represents everything she doesn't stand for, citing his remarks about women and immigrants and his mocking of Serge Kovaleski — a reporter who has a joint movement condition, arthrogryposis — during a 2015 campaign rally in South Carolina.
On several occasions since 2016, Mr. Trump has tweeted disparaging comments about women — describing California Congresswoman Maxine M. Waters as "an extraordinarily low IQ person" and former aide Omarosa Manigault Newman as "a crazed, crying lowlife" and "that dog," all in 2018.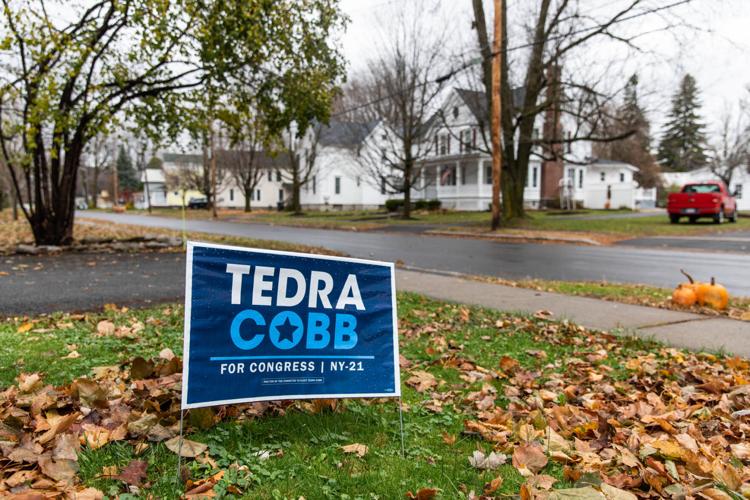 Potsdam resident Susan Rice said she's pleased to see Mr. Biden heading to the White House again, this time holding the highest executive office, and "ecstatic" about Kamala D. Harris, the first woman, first Black person and first Asian American ever to be elected vice president of the United States.
"We've put up with crazy for four years," Ms. Rice said.
Ms. Rice, who initially supported Bernie Sanders and Elizabeth A. Warren this spring, bought four bottles of champagne last weekend.
"I don't even drink," she said, adding that she sat on her porch with her family and dogs the night of Nov. 7, knowing the Biden-Harris team had won. "We were happy."
Most of her Republican friends, Ms. Rice said, voted Democrat in the presidential race but straight Republican in down-ballot races. As for Trump voters casting straight party ballots, she said "you're not going to change them."
"He was not incompetent, he gave them what they wanted, and we let him," she said of Mr. Trump and his more than 72 million supporters who voted for him in the 2020 general election.
As many as a dozen signs at one time were arranged this fall in front of Ms. Paige's home, where she has lived for 35 years. She said she started with one left-leaning sign and grew her display, which included phrases like "Bye Don" and "Anyone but Trump 2020."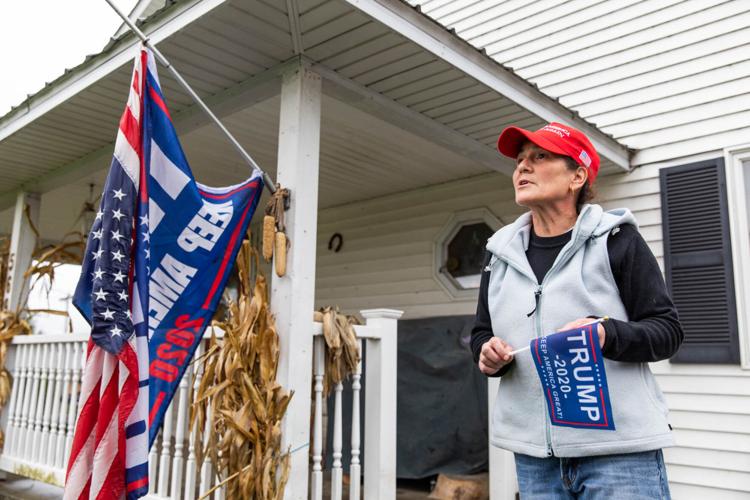 A friend of Ms. Paige's once asked: "How do you dare put those up with all the Trump signs around?"
"I need to represent the other side here," Ms. Paige said. "Even if I'm just an old lady in a little rural setting, every one of us counts."
Since last week, Ms. Paige has taken most of her signs down, preparing for Christmas and hanging wreaths. But a new sign is staked near the American ribbons on her lamp post. It reads: "unity over division."
Times reporter Ellis Giacomelli contributed to this report.