WATERTOWN — Thomas M. Flavin is sitting just inside the door of his home. It's an enclosed front porch he turned into his office, and there's a desk, couch and chair. He talks about he and his wife's first date, the nearly 60 years in-between and how he came to be meeting her every day through a glass window at a nursing home.
Mr. Flavin became more popular in some circles after a photograph of him recently began circulating online. It shows him outside the lobby of Samaritan Keep Home, pointed toward the glass window and sitting in a rollator walker wearing a rain jacket with his hood up. His wife is on the other side and they're talking on the phone.
Now, a nurse at the hospital might say "Oh yes, I know him." A resident at the nursing home might say "I saw the photo on Facebook, but I'm not sure who it is." No matter what they say, they'll likely say it with a smile. It's a love story, they might add, but it didn't come without heartache.
How Mr. Flavin got there begins in February 2019, when his wife, Elfriede, 79, was hospitalized after suffering an aneurysm. She had surgery at St. Joseph's Hospital Health Center in Syracuse and then transferred to Upstate University Hospital for rehab before going to Watertown for more rehab.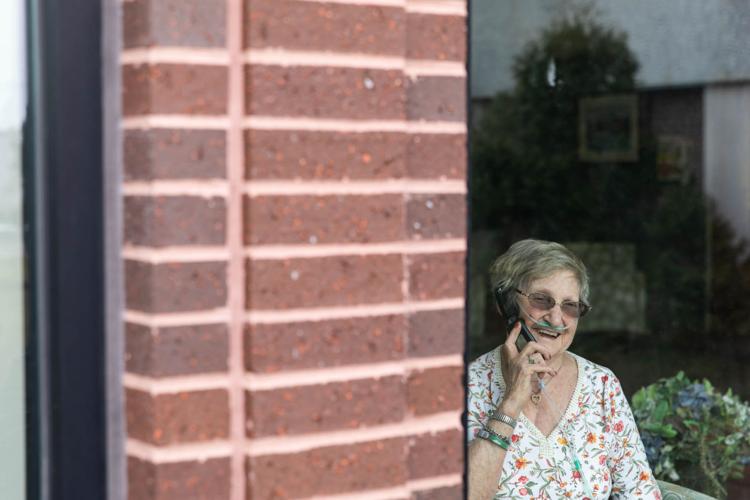 The rehab would end, but she would become a full-time resident at Samaritan Keep Home. That's when Mr. Flavin began visiting her every day. His routine was to go there at around 1:30 p.m. to see her on the seventh floor. She has a bed and he sits next to her in a chair. He brings her pretzels and ginger ale. They talk or they watch TV, or she sleeps and he just keeps her company until dinner. They'd eat together, then he'd tuck her into bed and go home.
Back then, he could take her out shopping or back to their home for the day before heading back to the nursing home for the same nightly routine.
But around two weeks ago, Mr. Flavin had to come up with a new plan. The outbreak of COVID-19 was ramping up, which resulted in Samaritan Keep Home having to close its doors to all visitors.
"If you've been in the Keep Home, looking at four walls — you can't go out even to have your meals," Mr. Flavin said. "Your meals have to come in now. You have to have someone come in to change the TV for you. You're talking to your husband over the phone only."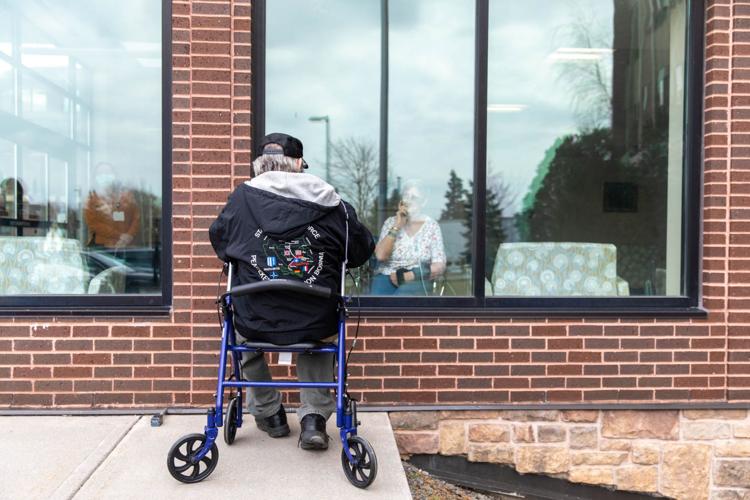 He wanted to see his wife when he spoke with her. He wanted to take her for a walk around the hospital campus like he used to, but he couldn't. As a result, he told staff at the nursing home of his plan. He wanted to sit outside in rain, snow or sunshine — he would do all three — and speak with his wife on the phone through the lobby glass window. He asked the staff if they would bring her down, and they said yes.
So that is what Mr. and Mrs. Flavin have done every day for two weeks, and they both can't help but find the humor in it.
"Those were exact words: 'It's just like prison,'" Mr. Flavin. "This is about the best I can do. Just being there."
Mr. Flavin met Elfriede in the early 1960s when he was in the Army. He was stationed in Munich, Germany, where she was from. His bunk buddy, who would later become his brother-in-law, said his girlfriend's sister — Elfriede — was looking for someone to date.
"So I got elected," Mr. Flavin said.
For their first date, Mrs. Flavin came to his base, where they had dinner and then watched a movie.
"Which she slept all the way through," he said. "I can't remember which movie. It was just something to do. Afterward, I took her out to the front gate and paid two dollars for the taxi driver to take her home."
Those types of dates would continue. They would eat hamburgers on the base and talk. He also left the base and would bring coffee and cigarettes to her and booze to her brother.
They would go on to get married and have their first child, Michael, in Germany. After 2½ years in Munich, they returned to Watertown. Mr. Flavin worked two jobs and they lived in a house, where they had two more children, Erika and Angela.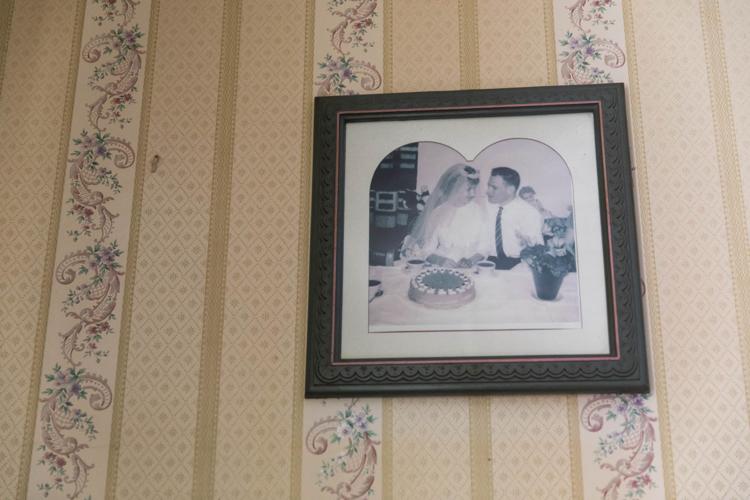 Mr. Flavin would get another job in Fulton, so they moved to Mexico until returning to Watertown in 1984. Over the years, he worked as a clerk at Samaritan, a motor parts man, at a gas station, plowing snow and with a brewery. He also spent 25 years in the Army reserves.
Mrs. Flavin worked, too, at an electric company then manufacturing company. She raised the kids and often took care of their house when her husband had to be away for his Army work. That wasn't too hard for Mrs. Flavin, however. As her husband puts it: She has seen it all. As a kid in Germany, Mrs. Flavin used to collect cigarette butts for her father. She even fell into a bomb hole.
"I always thought my wife has to be a partner," Mr. Flavin said. "And then after you're married long enough you realize how tough your partner is."
They lived together in their home on Superior Street for nearly 30 years before Mrs. Flavin got sick last year — before COVID-19.
"I love my wife," Mr. Flavin said. "I can't put a measure on it. It's just something that's there. You have to trust somebody."
He's been visiting her nearly every day for the last two years. He won't stop now.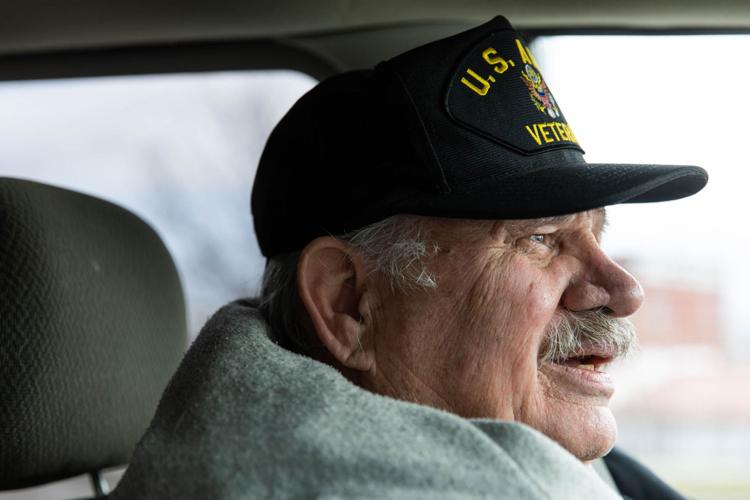 "They do the best they can, but I don't wish a nursing home on anybody," he said. "Like she said, it's like a prison. That's terrible."
Rose Busler, director of recreation therapy at Samaritan Keep Home, has known Mr. and Mrs. Flavin for some time. She was there on Thursday to welcome Mr. Flavin for another one of his visits.
"It's just a true love story," she said. "Love and devotion. They sit there until their phones go dead sometimes."
Ms. Busler looks at Mrs. Flavin, who's wearing a protective mask and waiting for her husband to come to the glass.
"There's a smile behind that mask," Ms. Busler said. "You can tell."
Just like any other day, Mr. Flavin approaches the lobby where his wife is waiting on the other side of the window.
"Hey babe," he says to her. "How ya doing?"
They begin talking casually like they always do. How is she doing? How is she feeling? What did they do today? She's smiling the type of smile that makes him smile, and they just giggle.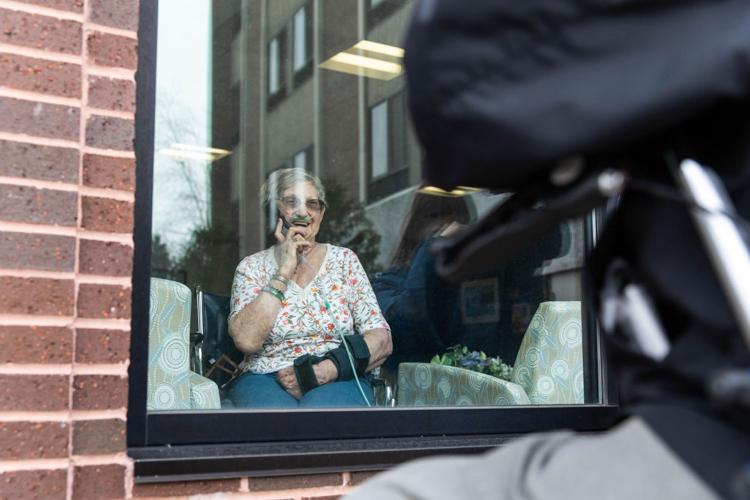 "That's a nice blouse. That's the first time I've seen that one," he said, then there's a long pause where they're just looking at each other. "I love you."
Then he starts talking about that first date.
"The first date, I took you in for a hamburger," he said to her, "I took you to the club. We were holding hands. We sat there and looked at each other because nobody was in there but us, and then we went to the movies."