ALEXANDRIA BAY — Dave and Cathy Marks were walking down Church Street with an alcoholic beverage on Saturday, heading to one of the multiple drinking areas scattered around the village.
"We love Alex Bay," Mr. Marks said. "We try to make it up here once or twice a year."
On top of Phase II beginning this weekend, which freed retail stores to open fully, the village board last week decided to suspend the open container law.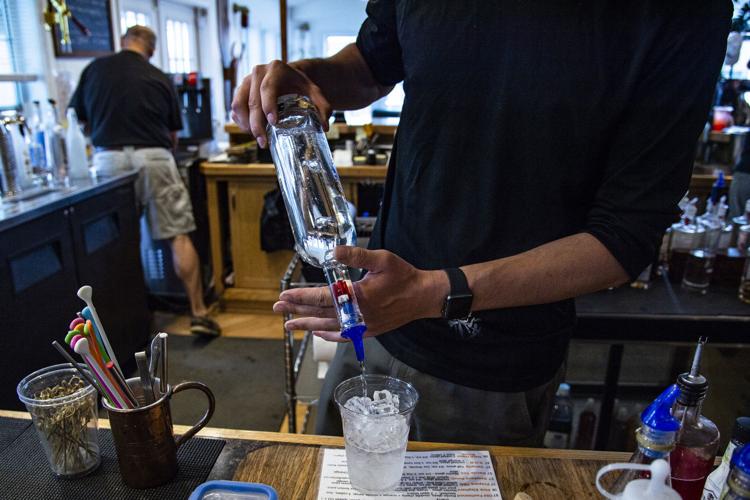 The result is social distancing areas where customers can buy a cocktail from anywhere that sells alcohol in the village and then walk it down to one of the small park-like designations. Just like how the Marks couple did it.
Mr. and Ms. Marks are visiting Alex Bay for a couple days from Horseheads. She's a nurse at a long-term care facility, and he owns a grocery store. They needed a few days to get away.
"We've basically been going to work and coming home," she said over the slushy. "We've been hunkered down. We haven't seen our kids, haven't really done anything. I just got to the point where I said to him 'I've got to do something.'"
They bought the slushies at Dark Island Spirits distillery. The business is owned by family members Roger Reifensnyder, Mike Young and William Demick. The distillery has been producing mostly hand sanitizer for the last few months. Now, along with the sanitizer, Mr. Young said they are permitted to sell bottles of alcohol, to-go cocktails and now retail. They were distilling Russian vodka on Saturday. Even with retail allowed to reopen, Mr. Young doesn't forecast the village getting busier until Boldt Castle opens.
"The weekends will be the weekends," he said. "People will come up here. The driver of all this in this entire region is that castle. Once that's allowed to open, which will be Phase IV, you'll start seeing people come back up in large numbers."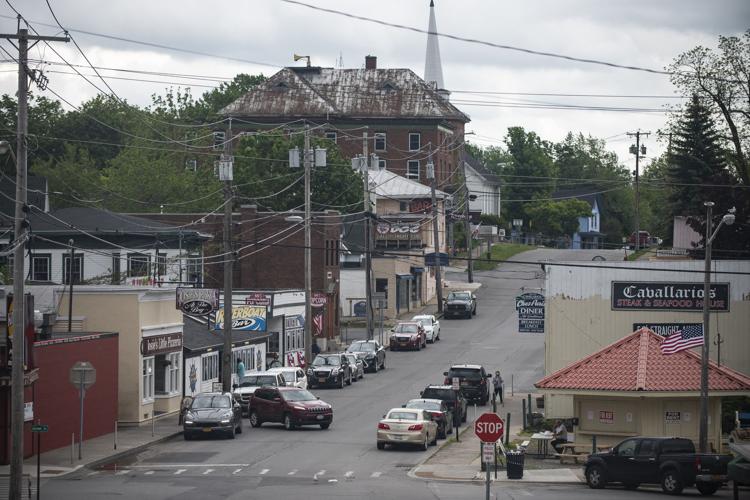 The social distancing areas where people can drink and bring their takeout are in a few locations. There's one at the corner of Church and James streets, where there are already picnic tables, and there's another near the pavilion where the boats take off. It's unclear if there are more. Mr. Young said customers who buy a cocktail from his distillery have to walk it directly to one of those designated areas. They can't drink in the businesses at all, he said.
"Last Saturday, we spent half of our time asking people to leave our deck," he said. "That's just what people would like to do is sit down and relax."
And the business is expanding their deck to fit more tables out there, so they will be able to maintain social distancing when they are allowed to open up fully.
But for now, the Dark Island Spirits distillery — whose hours fluctuate currently from around 10 a.m. until 6 p.m. depending on the traffic — along with every other business that sells cocktails, can sell customers alcohol and watch them walk out the front door with it.
"That's the plan at the moment, and once the restaurants can open, it will all change," he said. "We have no idea what the parameters for that will be."