Calling from a hotel in Tarrytown around 7:45 Friday morning, David R. Penepent said he'd be heading from Westchester County into the city within the next hour to pick up the first bodies of the day.
"Then I'll be in the thick of things," Mr. Penepent said.
The night before, he and a team of mortuary science students and funeral home professionals hadn't finished loading bodies into trucks until 1:30 a.m.
Some 300 miles northwest of Mr. Penepent's Tarrytown hotel room, a massive operation has been orchestrated out of Watertown over the last two weeks.
As Mr. Penepent works in the field downstate, Darien B. Frederick, funeral director at Watertown's Cleveland Funeral Home, 404 Sherman St., has coordinated the transport and processing of hundreds of decedents with COVID-19.
Ms. Frederick, a 2018 SUNY Canton Funeral Service Administration graduate, now handles the scheduling of cremation arrangements for bodies concentrated in New York City.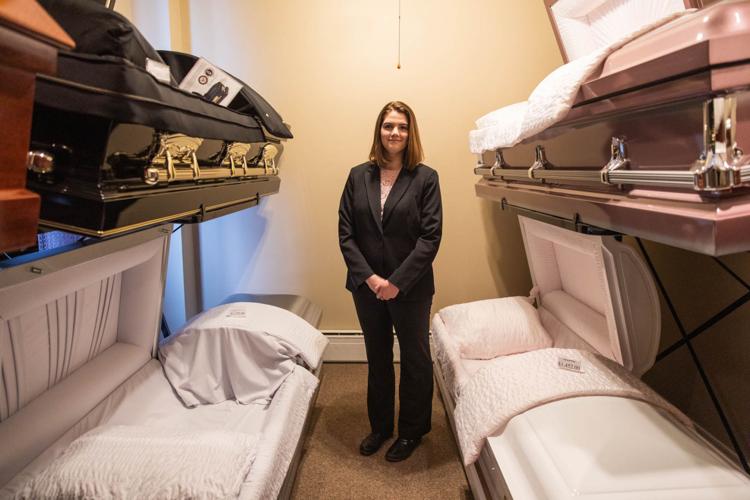 Working with 20 funeral homes and 25 crematories across the state on any given day, she manages transports based on how many additional cremations upstate and out-of-state funeral homes and crematories are willing to take on each week, assigning a tracking number to each decedent.
Crematories in Pennsylvania, Vermont and Connecticut have signed on to help.
Of the 50 active crematories in New York, four are in Suffolk County, two are in Queens County, with one each in Bronx and Kings counties. Nearby Orange County has two crematories, and Westchester County has one.
Cremation scheduling is backed up at least six weeks in some locations.
Three months since the novel coronavirus was first detected in the United States, in Snohomish County, Wash., New York's COVID-19 death toll has risen to 16,162.
And New York City's 11,544 deaths account for 71% of the state's total as of Saturday, leaving downstate funeral homes, tasked with body transport, storage and cremation arrangement, and the handful of metro-area crematories overwhelmed.
But with relatively fewer cases of COVID-19 in the north country — nearly 300 total cases and fewer than 10 deaths confirmed in St. Lawrence, Jefferson, Lewis and Oswego counties as of this week — area funeral homes and crematories are now beginning to send transport vehicles to the city to retrieve bodies and bring them upstate for disposition.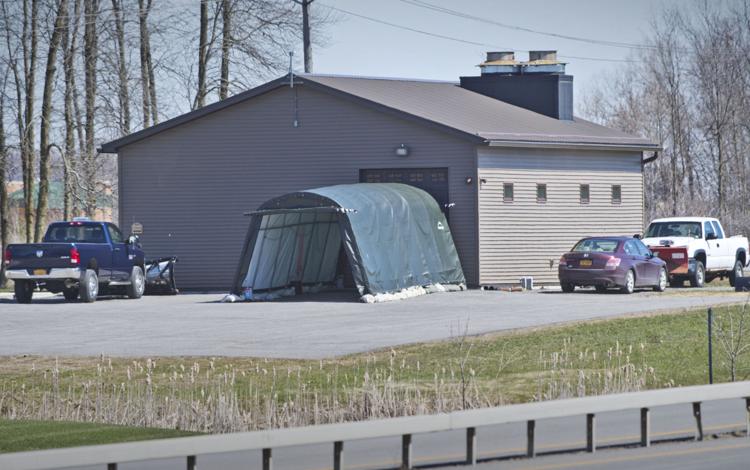 Oswegatchie Crematory in Ogdensburg, St. Lawrence County's only facility for human cremation, is scheduled to receive bodies on Monday, and Jefferson County's two crematories, Brookside Cemetery, Watertown, and Frederick Brothers Crematory, Theresa, have been handling downstate overflow as well.
Those who have died from COVID-19 or complications related to the disease are not required to be cremated, according to the Centers for Disease Control and Prevention, though state and local requirements can differ from CDC cremation guidelines.
New York has not mandated cremation of bodies infected with the novel coronavirus, and funeral services are still permitted with limited visitors, but the state urges services be conducted virtually or be postponed.
When the first cases of COVID-19 were reported in Wuhan, China, on Dec. 31, "we didn't think it would reach here," Ms. Frederick said.
"Now we're facing it head-on," she said. "The most eye-opening thing is that you can never truly prepare for anything like this."
As the director of SUNY Canton's Funeral Services Administration program, Mr. Penepent is filling two roles, leading on-the-ground efforts in the city and educating his students.
Two of Mr. Penepent's students in the university's four-year mortuary science program will work at Long Island funeral homes this summer to receive practicum credits.
Two other students have worked alongside Mr. Penepent this month to complete their practicum requirements, driving transport trucks and helping overloaded funeral homes with paperwork.
"As a professor, you sometimes have to be flexible with your students," he said.
This weekend marks Mr. Penepent's third deployment to funeral homes in New York City since the beginning of April. This time, two trucks and two drivers from Donaldson Funeral Home in Massena have made the trek, too.
On the final leg of their journey, those trucks were scheduled to drop off remains at Donaldson on Saturday evening.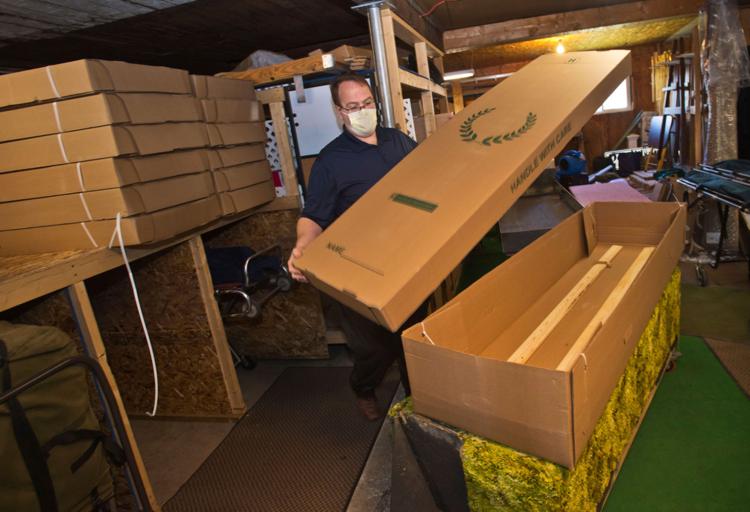 Chad W. Green, Donaldson owner and manager, said he expected about 30 bodies to arrive, not all of whom are decedents with COVID-19.
The U-Haul trucks planned to pull in late Saturday night, and on Monday, the bodies will be taken to the Oswegatchie Crematory.
And at every stage, paperwork must be filed to document transfers and proper handling of the deceased.
The New York Department of State's Division of Cemeteries requires a state-licensed funeral director representing a state-registered funeral home to supervise the removal of remains from the place of death, file death certificates, obtain cremation permits and supervise the transport of remains to a cemetery or crematory.
With New York City a COVID-19 hotspot, the state has temporarily eased some regulations to counter the surge in demand for last responder services.
Through an April 9 executive order, Gov. Andrew M. Cuomo granted temporary approval for licensed, out-of-state funeral directors to work in New York, allowing the National Funeral Directors Association to send interested directors to New York's Funeral Directors Association.
The order also granted temporary approval for those who are licensed but not registered in New York, to work in the state during the pandemic.
The NFDA called for nationwide assistance from directors at the beginning of April, with more than 100 funeral directors answering to serve in New York, and 115 students and apprentices reporting to the New York City Office of Emergency Management to help hospitals ensure the respectful treatment of decedents until funeral home professionals arrive to facilitate transfers.
But even with those temporary approvals, upstate funeral and crematory professionals offering to help have been set back.
When a cremation is requested, a specific crematory is indicated on the request form, and once the form is signed by a family party and a funeral director, the crematory location cannot be changed on the original form.
The problem, Ms. Frederick said, is that with downstate crematories backlogged for weeks, funeral directors and families are needing to fill out new request forms indicating the use of different crematories.
"That takes more time," she said.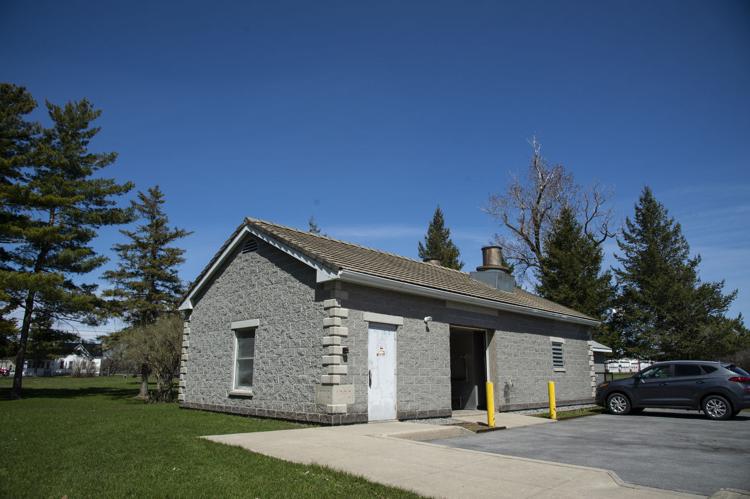 Now, funeral directors across the state are looking to the Division of Cemeteries and Gov. Cuomo to issue an executive order allowing funeral directors to cross out and change cremation locations on existing request forms, to alleviate some of the downstate overflow more quickly, Ms. Frederick said.
The NYSFDA and the Metropolitan Funeral Directors Association have partnered with Mr. Penepent and Ms. Fredericks to coordinate their network, and the New York State Tribute Foundation, a nonprofit of the NYSFDA, created a COVID-19 Disaster Relief Fund to cover the costs of upstate funeral directors assisting with downstate needs. Information about donating to the Tribute fund can be found on the foundation's website.
The Federal Emergency Management Agency sent ambulances, paramedics and 85 refrigerated trucks to serve as temporary morgues to the city earlier this month, and Mr. Penepent said he hopes FEMA will step in to coordinate and help fund the network organized by him and Ms. Frederick.
After he and his team loaded bodies from Thursday night into Friday morning, Mr. Penepent gathered everyone for a quiet prayer.
"Everyone was exhausted; everyone was fatigued; everyone was drained," he said.
With transport trucks heading out of the epicenter, crossing state lines, and bodies now on their way to the north country, cremated remains eventually returning to loved ones, the COVID-19 pandemic has left last responders shouldering an incomprehensible responsibility.
"Hopefully," Ms. Frederick said, "this will end soon."