CLAYTON — Maybe it's time to start cleaning surfaces and hands with potent vodka.
The Clayton Distillery is offering just that. After widespread shortages of hand sanitizer and surface cleaner, the federal government lifted regulations to permit distilleries to produce cleaning products, and it's almost no different than what they were bottling before.
It works out well for the Clayton distillery. When the family-owned business opened in 2013, it set up another business with plans of making hand sanitizer and antibacterial surface cleaners. But the liquor was too inundating so the family members never pursued it — until this week.
Now, instead of distilling their 80-proof vodka and bottling it for consumption, they're making 160-proof vodka and using the same glass bottles — spray bottles were sold out — and moonshine label. The only difference in presentation is they are sticking a smaller label that says the vodka is food-grade surface cleaner, which is required for places like restaurants to clean their facilities.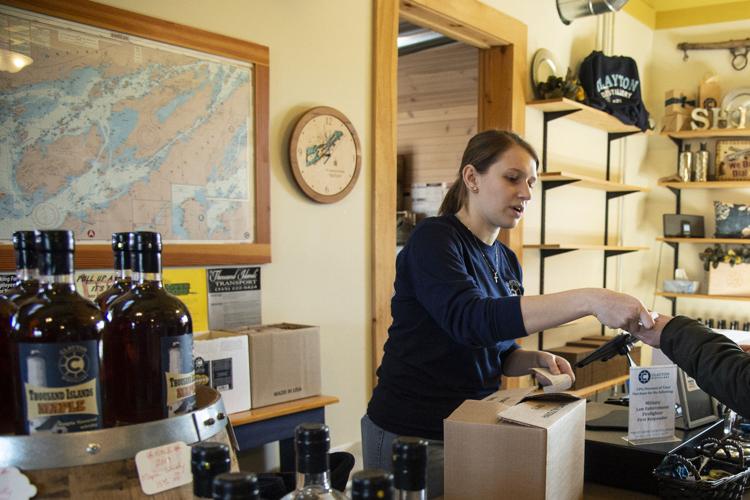 They lowered the prices, too. A normal bottle of 80-proof vodka is $29 plus tax. The 160-proof surface cleaner, in the same bottle — which costs double to make — will be sold for $30 plus tax.
"Who knew that we were going to be busier now," said a laughing Kim Aubertine, who keeps the books for the distillery but was working Saturday morning to prepare the surface cleaner. "You hear everybody saying, 'Oh my god, I'm so bored,' and we're like 'OK, we're busy — which is a good thing."
Her sister, Karen Rose, was also there working on Saturday, along with Haley Aubertine.
"It feels good that our store can help in some way," Ms. Rose said. "We can actually serve a purpose with making this."
Mike Aubertine, distiller and owner of the Clayton Distillery, said a portion of the surface cleaner they are making will be donated to first responders, so they can clean their trucks and stations and ambulances.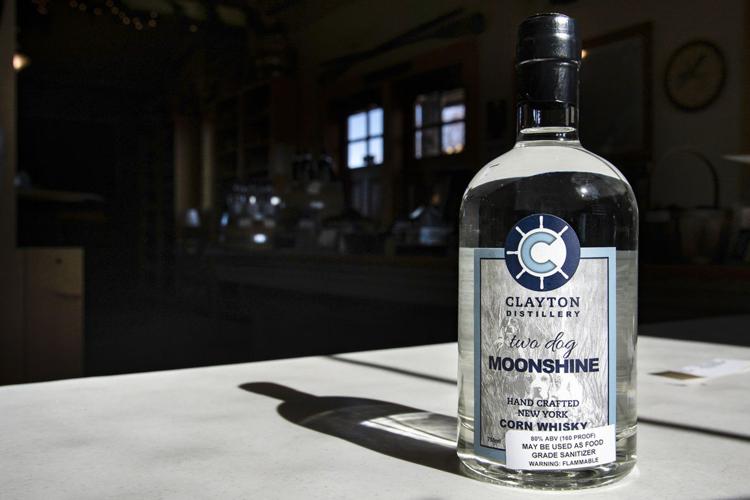 "We had 550 bottles and we've already sold like half," Mr. Aubertine said. "We purposefully lowered our prices because I don't want anybody out there saying, 'They're trying to rake it in.' People need this stuff."
What's next is the hand sanitizer, which is distilled the same way, just diluted differently. Normal vodka has to be distilled above 190 proof, or 95 percent pure grain alcohol. It's then diluted down to 80 proof — which is the minimum proof that can be sold; there's no maximum in New York — by using distilled, pure water.
Hand sanitizer, meanwhile, is diluted down with aloe vera gel and hydrogen peroxide, which gives it a syrup consistency and helps lubricate the hands. The hand sanitizer should be available on Monday, March 30, but not before the distillery makes another donation. The first 2,800 bottles of hand sanitizer the Clayton Distillery makes will be donated to the emergency management office in Watertown.
"Then they are going to distribute to first responders, hospitals, whoever needs it the most right now," Mr. Aubertine said. "It's the right thing to do."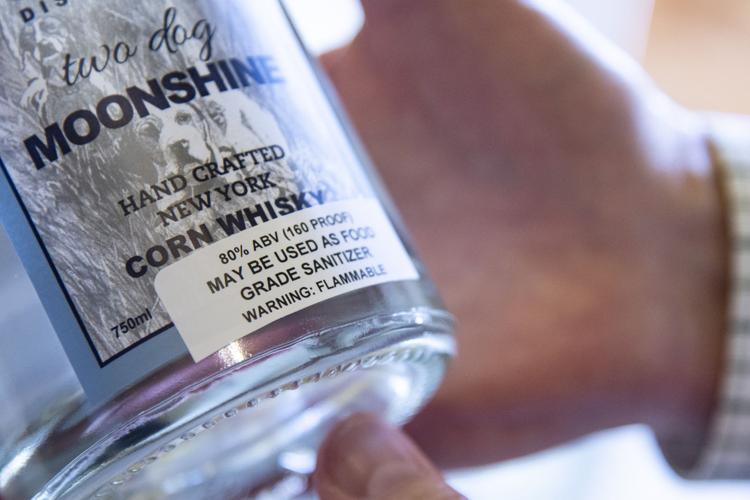 The goal, he said, is to make 14,000 bottles of hand sanitizer. After that, maybe the distillery will make producing surface cleaner and hand sanitizer a full-time operation, who knows — it would be somewhat presumptuous to try to plan that far ahead with what's going on right now.
Their liquor sales haven't gone down, that's for sure.
"We're doing better than we normally do this time of year," Mr. Aubertine said, "which is nuts."