LOWVILLE — Long before the distribution began, cars were lined up on North State Street from Bostwick to Eugene Street, down Eugene to the Lewis County Fairground's back entrance on Dewitt Street with another string of waiting vehicles curling up from Bostwick around onto Dewitt up to the same entrance where the two lines merged.
"We were waiting about 40 minutes," said Ollie Flemming of Lowville, but they didn't seem to mind, "What they're doing is a way to really help people."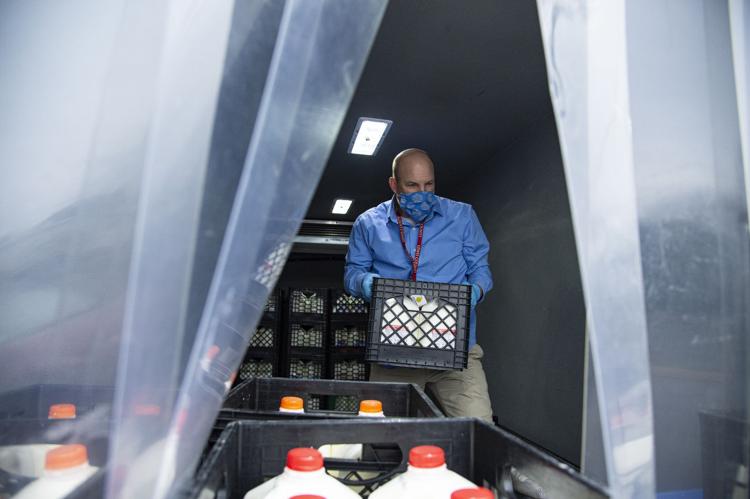 The Dairy Drive organized at the Fairgrounds by Cornell Cooperative Extension gave each car, and some people on foot, a gallon of milk and a plastic bag full of locally produced agricultural goodies.
"This was a very nice community event," said Michele Ledoux, executive director of Cornell Cooperative Extension. "We all got together and put in the effort to make this happen."
And all within a week. Jennifer Karelus brought the idea, which originated at SUNY Morrisville, to Mrs. Ledoux a week ago Friday.
Social distancing and safety protocols were strictly respected during the distribution, from the limited number of volunteers allowed, to each volunteer wearing a mask and gloves and remaining at least six feet from each other and the recipients of the products.
Drivers were held to the same standards by being asked to stay in their vehicles at all times and either pop the trunk or open the passenger side window, either front or back — wherever there was no passenger — so the goods could be put inside.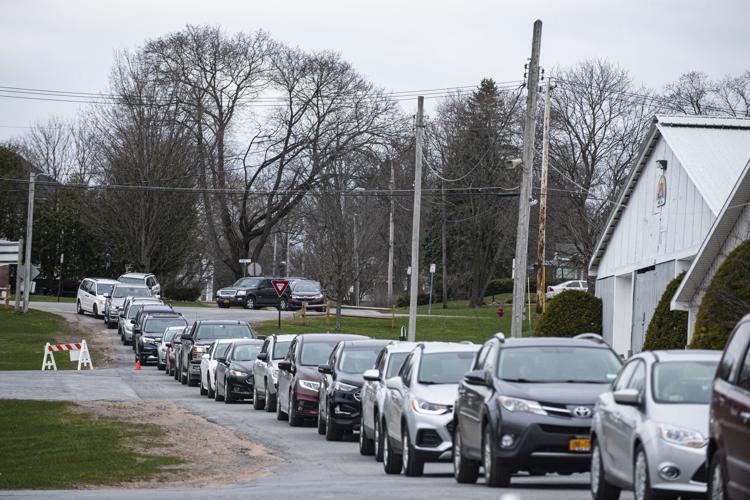 "I was shocked there were so many people here. I saw it on a Facebook post on one of those events pages [for Lewis County]. I think it's great," said Katie Gyurko of Lowville who had been waiting for 25 minutes when the line in front of her shortened to about 37 cars.
Within an hour, all 500 gallons of milk donated for the day and matching bags had been distributed to area families, one car at a time.
Mrs. Ledoux said Lewis County Emergency Services, the Lowville Police and the Lewis County Sheriff's Office were crucial for setting up the logistics of the event, including barriers that led traffic through the pre-planned route.
A total of 19 volunteers from various county departments, the Farm Bureau, the Agricultural Society, the Emerging Professionals, the Cooperative Extension and the Unified Court System worked in two shifts to organize and distribute items donated by the American Dairy Association Northeast, Kraft Heinz, and the Adirondack Beef Company, which were kept cold in refrigerated trucks donated by Black River Valley Naturals, Cummings Creamline Milk and Widrick Electrical.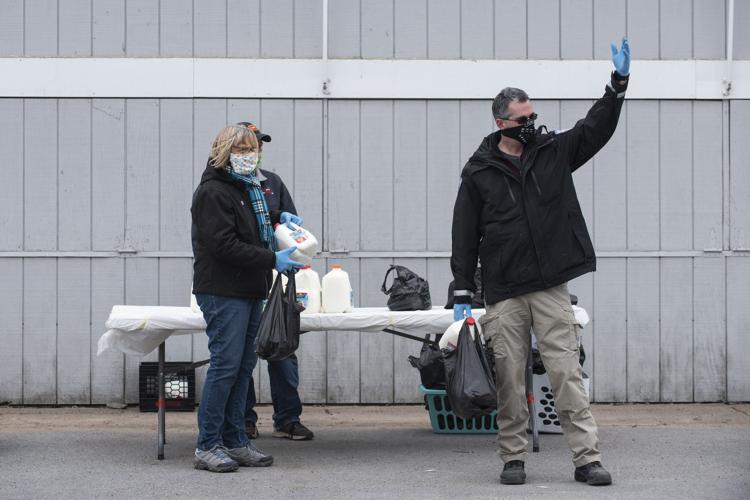 Some additional cheese was purchased by the Extension from the Lowville Producers Dairy.
The goal of the Dairy Drive was to help both farmers and community members at a time when many factors are putting tremendous stress on both.
Like with health care workers being put on furlough or laid off during a healthcare crisis, the supply chain challenges in the dairy industry are counter-intuitive.
While milk and cheese have been flying off retail shelves so quickly there have been many times during the past six weeks none could be found in stores, many farmers have had to dump their milk because they have nowhere to sell the 40 to 60 percent of their milk that normally goes to commercial markets like restaurants and the food service industry.
The companies that process for those bulk markets cannot quickly re-calibrate for retail market needs, Ms. Karelus said, and an overburdened transportation system only adds to the complexity.
"I go to these meetings and the supply chain is so complicated," Ms. Karelus said. "What we're doing isn't going to make a big dent, but it's a start and it helps the community, too."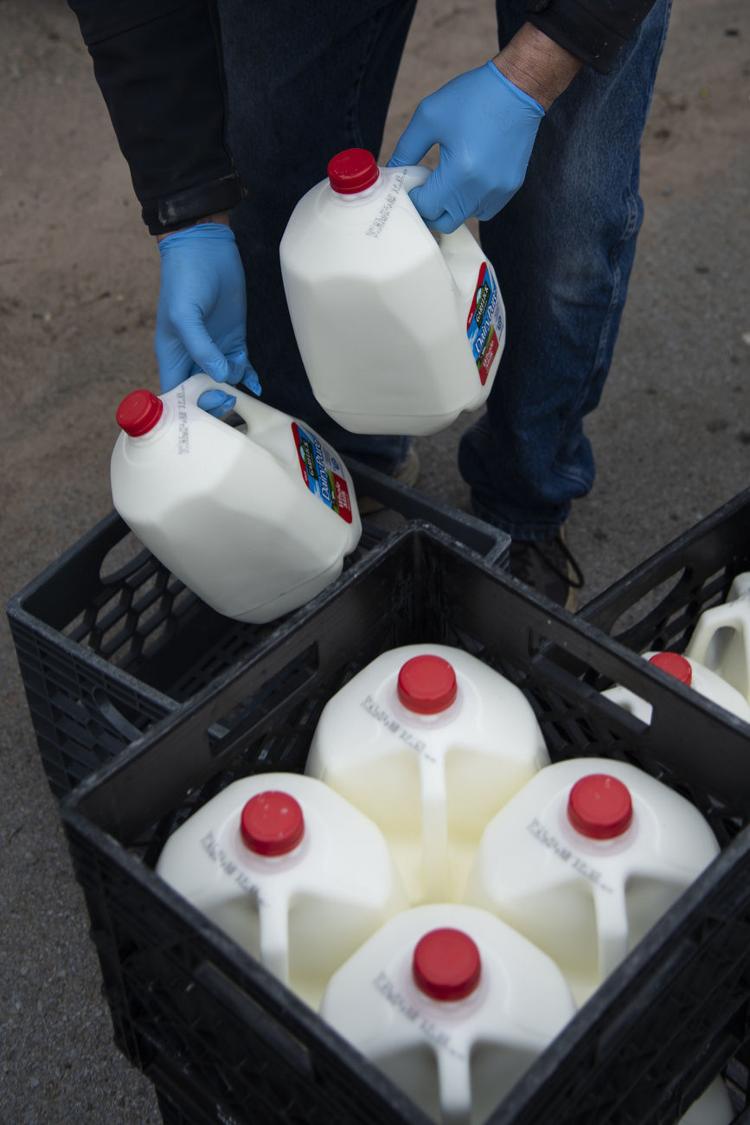 SUNY Morrisville has already done a second Dairy Drive and other events have been held in the Syracuse area and in Watertown on Tuesday.
Ms. Karelus said another round of dairy donations, including 250 gallons of milk, is in the planning process and will go through Lewis County Opportunities.
"We realized that not everyone has a car and some people are working at this time of the day, so we thought the food pantry could meet the needs of different groups of people," Ms. Karelus said.
Donations are being accepted to help cover the costs of items that are not donated. Checks can be made out to the Lewis County Farm Bureau with "Dairy Drive" in the memo section and sent to 7013 State Route 26, Lowville, NY 13367 or donations can be made on GoFundMe at https://www.gofundme.com/f/lewiscountydairydrive.