WATERTOWN — Teachers, food-service staffers and administrators are focusing on one priority at a time — first providing food to roughly 4,000 students at eight schools in the Watertown City School District — then health, then learning.
In her first three years as district superintendent, Patricia LaBarr said she didn't anticipate how much she would be challenged.
"Starting with the first couple weeks of the job, the pipes burst in the high school, and the high school hallway was flooded," she said Tuesday morning before a meeting, "and the list goes on of all of the challenges. But I explained to the district staff that every single one of those challenges we have faced head-on and we've worked through very difficult times together, and we will continue."
On Saturday, the Watertown City School District was closed through April 17 in light of the spreading coronavirus. And since then, staff members have been working to tackle the immediate needs of their students.
"At the end of the day," Ms. LaBarr said, "the mission of our district is to educate our children, but we also know that's really not the priority today. The priority today is to figure out how to meet the basic needs our children have."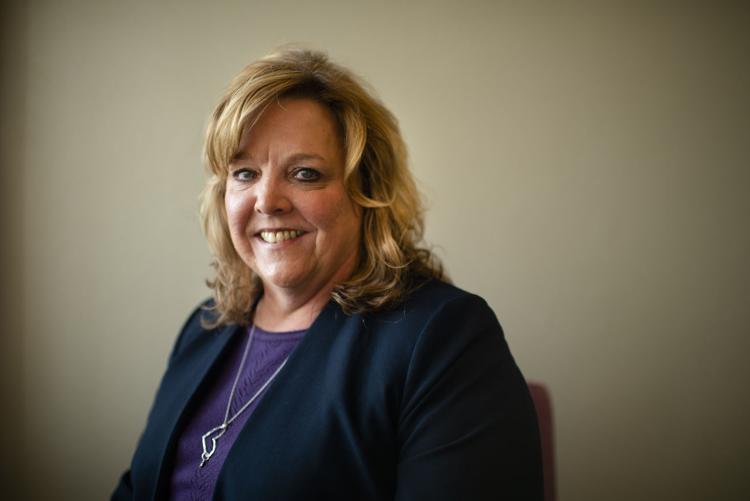 To avoid large social gatherings, the district decided to designate five locations where students can pick up food. For an hour starting at 11 a.m. Wednesday, any student 18 years old or younger can grab a breakfast and lunch. The food pick-up runs Monday through Friday, and the locations are: North Elementary, 171 E. Hoard St. — front loop; Ohio Elementary, 1537 Ohio St. — side entrance near gym; Sherman Elementary, 836 Sherman St. — front loop; Watertown High School, 1335 Washington St. — back of school; and Fairground YMCA, 558 Rand Drive — parking lot.
"Just like anything we do," Ms. LaBarr said, "we revise and we monitor the situation and then we adjust as appropriate."
There are also online resources available for at-home learning, along with sample schedules to maintain routines. But Ms. LaBarr knows not all children have access to the internet, of which there are upwards of 100 students. And the district can't require families to have Wi-Fi to complete assignments.
The district has been holding staff meetings — with teachers attending either in person or from their desktop — to discuss lesson plans. Teachers are asked to make a few calls to students a day, mainly to simply check-in and tell them they're available.
"Furthermore, if you live in a neighborhood where you, for example, live next to two people who are both in the health care system and there is no way they're going to be able to stay home because they're trying to maintain the health care," she said, "see what you can do to reach out to support our community and our neighbors. That's what we need to do in the short term."
The district is approaching the closure step-by-step, and each are subject to change as updates on the virus continue to evolve. Ms. LaBarr said she can't answer all of the questions her staff has right now, and that they are going to have to be OK with that.
"In the world and in the nation today, I'm not sure that anyone has all of the answers," she said. "And we're all going to have to work together through this difficult world event that we're experiencing and we're going to become stronger and better for it if we work together, we remain positive, and we lean-in and we help each other through it."
The Times reached out to the other school districts in Jefferson and Lewis counties, and here are those whose plans were made available:
LaFargeville Central School District also has plans to begin meal services on Wednesday, with South Jefferson School District beginning services Thursday.
In Sackets Harbor, the school district will begin meal services Friday for all students from pre-K to grade 12. Students will have access to free breakfast and lunch to cover Monday through Friday, with pick-up or delivery options available. Times for both pick-up and delivery are yet to be determined.
According to a video posted by the district, in which Superintendent Jennifer Gaffney and Principal Amy Horack detail plans for the school moving forward, on Mondays, students will receive breakfast for the day as well as for Tuesday and Wednesday, and lunch for Monday and Tuesday. On Wednesday, kids will receive breakfast for Thursday and Friday and lunch for Wednesday, Thursday and Friday.
Friday lunch will be provided for students in backpack program families and backpacks will continue to be available on Fridays with supplies for the weekend.
Before the school was closed, there were 146 students on the list for free or reduced lunches at Sackets Harbor. The meal services available now that the school has been closed are available to any students that wish to take advantage of them.
At the moment, the school is working to gauge interest in the meal services in order to best prepare for the number of students that will need to be served.
Beaver River Central School will be providing learning material to review information already covered in the first 25 weeks of school. Some material will automatically be sent to homes, but parents are encouraged to contact teachers to request information or materials, too. Learners taking Advance Placement courses will be contacted by their instructors because they will need to continue learning new material.
Beginning Thursday, the school will be sending breakfasts and lunches to the homes of students that qualify for free or reduced price meals via buses that will leave the school at about 11 a.m. Monday through Friday. To sign up, qualifying students' families should contact Michele Moore at 315-346-3570.
Students and families can pick up student belongings left in the building from 9 a.m. to 2 pm on Wednesday by going to the main entrance.
The South Lewis Central School District administrative, business, transportation, special education and main building offices will continue to be operational during the school's closure from 7:30 a.m. to 3:30 p.m. daily.
Counseling and guidance staff will also provide services on an appointment basis, according to information provided by District Superintendent Douglas Premo.
Students will be allowed to come and get any belongings left at the school that may be needed during the closure as well as education packets from 8 a.m. to 3 p.m. Wednesday and Friday and from 3 to 7 p.m. Thursday.
Free breakfasts and lunches will be delivered to any student in the district who wants them. Students must be registered either online through the FamilyID system accessible on the school's website or by calling the food service department at 315-348-2543.
On Thursday, meals for two days will be delivered. For the rest of the closure period, two days worth of meals will be delivered on Mondays and three days worth on Wednesday to ensure students have access to meals for the entire time.
The school also offers its "Backpack Program" providing nonperishable food items for family members. People interested in the this program should call the transportation department at 315-358-2590.
In letters to district families, Mr. Premo said that while the school buildings will be locked throughout the closure, visitors can be "buzzed-in" and will experience a health and wellness check at the school's safety desk.
Lowville Academy and Central Schools District is also making homework packets available for pick-up this week during normal school hours.
Teachers will be available by email or phone every day between 9 and 11 a.m beginning on Monday, March 23, to answer questions and help students.
Meal service will be provided beginning on Wednesday through April 9 — the day before spring break was scheduled to begin — for students qualified for free or reduced price meals. The school is extending the meal service to any student concerned about "food security" while the school is closed.
The meals are expected to be delivered, but details of delivery have not yet been determined. Those interested in the program are asked to call 315-376-9004.
The school's nursing staff will be available until Wednesday to provide medications students will need during their extended time at home.
Copenhagen Central School District will be making breakfast and lunch "take away" meals available for pick-up at one time each day beginning Monday, March 23, for students under 18 years old. Meals will be delivered to those that can't go to the school to get them, but details on the delivery service are still being determined.
Instructional packets so that students can continue learning during the closure will be available for pick-up or delivery. The school will use the student management system for online learning. Details are still being discussed by district leadership.
Times reporters Rachel Burt and Julie Abbass contributed to this report.