SACKETS HARBOR — With people self-quarantining at home for their safety and the safety of others, many are starting to feel helpless in the face of COVID-19; but the 'Lockdown in Sackets Harbor' Facebook group is looking to change that.
This past weekend, in the space of just over 24 hours, the small community of Sackets Harbor put together more than 100 masks to be donated to healthcare workers in the face of this unprecedented pandemic currently facing the world — and the group is only just getting started.
'Lockdown in Sackets Harbor,' a closed group for residents of the village, has hundreds of members doing what they can and making masks, and now gowns, for healthcare workers and anyone else who needs them.
The Centers for Disease Control and Prevention recommends the use of N95 respirator masks when dealing with COVID-19. These respirators, the CDC says, filter out at least 95% of very small (0.3 micron) particles. But the devices are in short supply.
On its website, the CDC says homemade masks may be used as a "last resort":
"In settings where N95 respirators are so limited that routinely practiced standards of care for wearing N95 respirators and equivalent or higher level of protection respirators are no longer possible, and surgical masks are not available, as a last resort, it may be necessary for HCP to use masks that have never been evaluated or approved by NIOSH or homemade masks. It may be considered to use these masks for care of patients with COVID-19, tuberculosis, measles, and varicella. However, caution should be exercised when considering this option." 
Since the group was formed Saturday, members have collected about 300 masks so far, as well as monetary donations for materials. Kim Reinhardt, the group's administrator, put a photo of some of the collected masks up on her personal Facebook page as well, and since then it has been shared more than 1,000 times all over the country.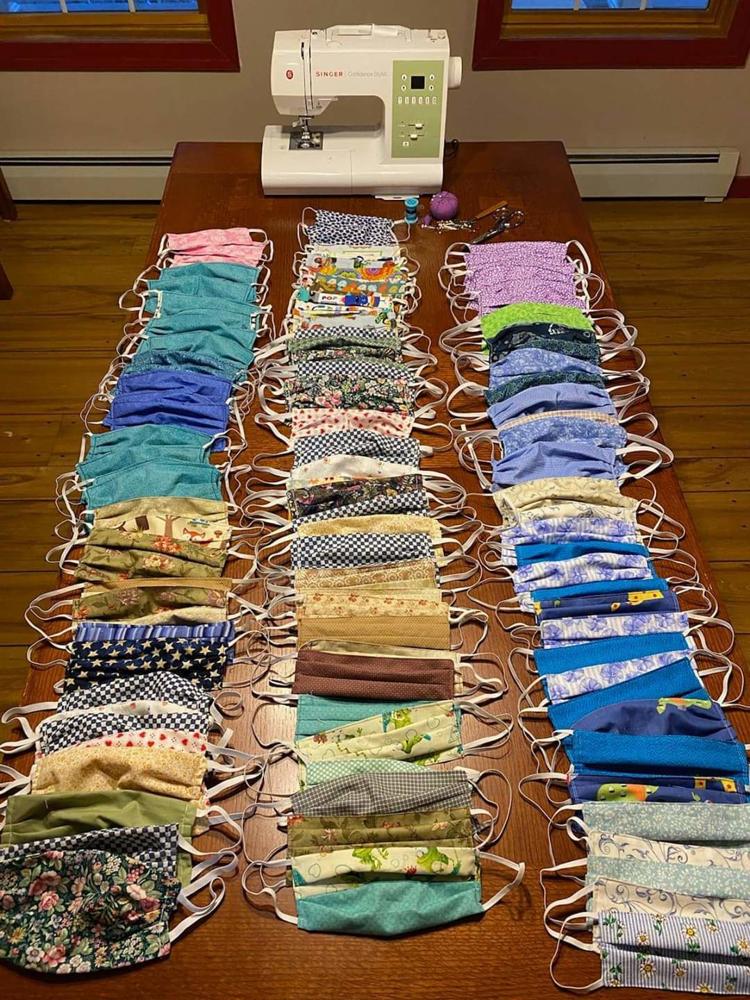 "People from all over are asking if they can buy the masks, but the group is staying true to its original goal of donating the masks to hospitals and doctor's offices," she said. "We're keeping these local, but one thing I am saying to all these people is all communities can do this, anyone can start this up. I urge communities to do this, to come together."
Ms. Reinhardt started the group as a way to just inspire people to see the positive side of things during this dark time and never imagined it would turn into something like this.
There are approximately 15 to 20 people currently making masks in the village, and now there are also some making gowns in their homes and then dropping them off in the collection box under a pop-up tent in Ms. Reinhardt's front yard, which was set out for drop-offs and pick-ups, allowing people to get the materials to make the masks and then bring them back.
People are also donating cash and buying mixed cases of Girl Scout cookies and donating them to nursing homes and other spaces with essential workers as a way to thank them.
According to Ms. Reinhardt, those who can't sew have been coming and taking material and cutting out the 9-by-6-inch fabric rectangles and bringing them back, which saves time for those making the masks. The masks and gowns are machine washable and can be thrown in with the rest of the laundry and then used repeatedly.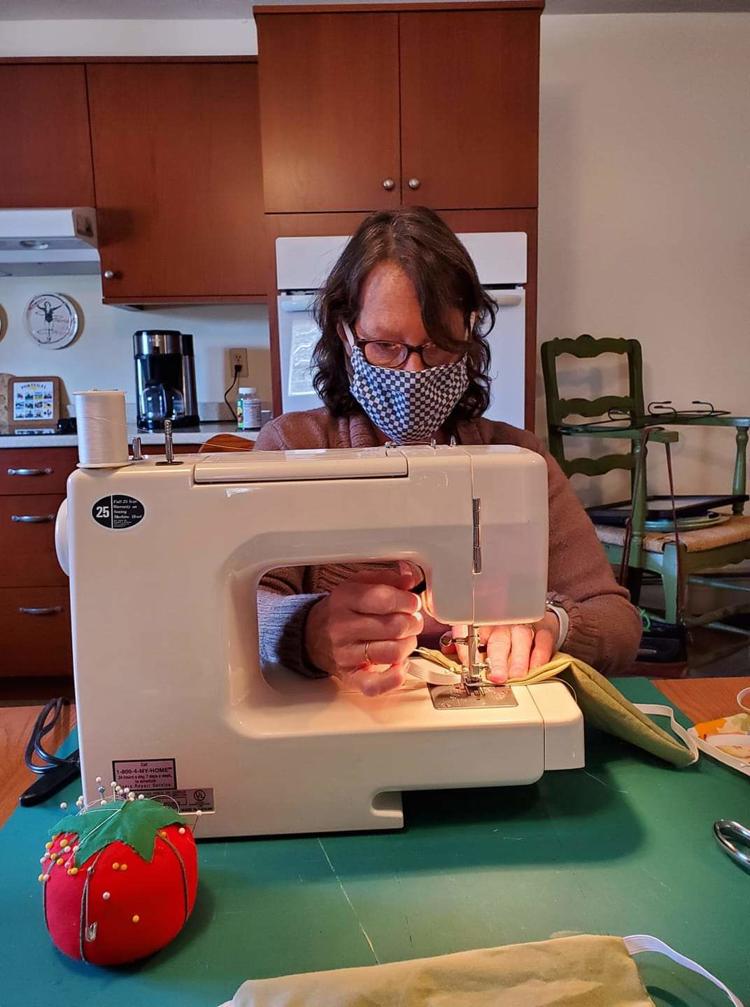 "I've always been proud of our community and the support, everybody gets involved at the drop of a hat," Ms. Reinhardt said. "But I have no words for what it's like now, it just humbles me."
At Ms. Reinhardt's house on East Main Street in Sackets Harbor, cars are constantly coming in and out of the driveway to either pick up materials to make masks or drop off donations, with her newly adopted dog confused constantly by all that's going on outside.
In the face of an uncertain timeline for the COVID-19 pandemic and dwindling supplies, Samaritan Medical Center and all other local doctor's offices are soliciting donations from community members and businesses to help patients and staff stay safe.
One such donation came from the members of 'Lockdown in Sackets Harbor,' who have sewn and donated 61 masks to Samaritan so far for patients and healthcare workers to wear, if and when supply is depleted.
"We are so grateful our community has rallied in support of all local healthcare providers," said Karen Abare, Samaritan's director of Infection Prevention, on Monday. "These donations are life-saving if and when our supplies become depleted and we cannot purchase any more. This is a ripple-effect across the country. There is a shortage and we all need the same types of PPE. We cannot thank the community enough for their support."
After seeing an article about a local doctor seeking needed protective equipment for her team last week, Connie Austin Flint shared it and thought to herself there must be a lot of doctors facing the same thing, which in her opinion is not a good way to head into a pandemic.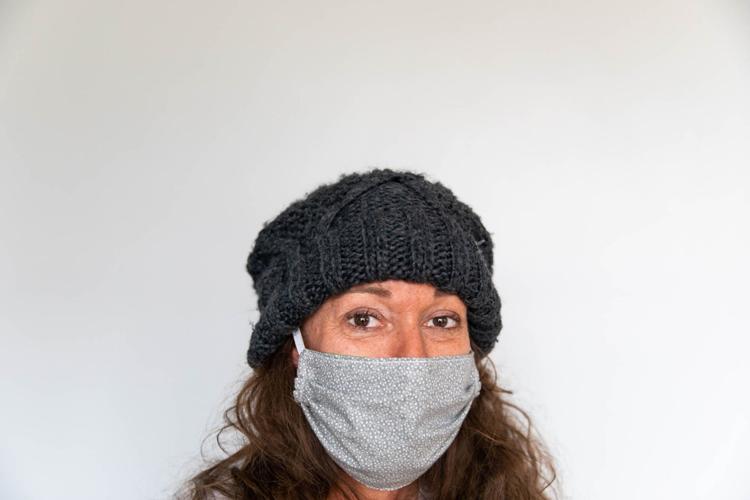 When she later saw a video about how to make CDC compliant facemasks, she said she was inspired to make her own masks and share with friends to encourage them to do the same. She started making masks Friday and once Ms. Reinhardt created the Facebook group, Mrs. Flint shared the video there — which started something bigger than she could have imagined.
"Kim started being an organizer in Sackets, she sort of became the hub for people dropping off supplies and things because she lives right in the village," Mrs. Flint said. "The way Facebook is, there's a sort of branching effect — we've counted a total of 129 masks made by just Sackets people in just a few days, and that number keeps rising because there are definitely more in process."
According to Mrs. Flint, she sent her first communication and within a very short period of time there were lots of people sharing how to make the masks and materials. Originally, she though people in the group would just make them for themselves and their families, but realized there is a shortage at every level from the sick patient to the doctor.
Mrs. Flint has made 33 masks herself and hopes the group will be able to give as many masks for anyone who needs them. This cause is close to her heart as her husband is an ER doctor. 
She also created an email for mask requests, masksforwatertown@gmail.com, and she and Ms. Reinhardt both have access to the email to field requests from hospitals and doctor's offices.
From now until this pandemic loosens its hold on the nation, 'Lockdown in Sackets Harbor' will continue to inspire both residents and those in other communities to do what they can to ease the burdens of those working around the clock to keep things running smoothly in essential industries like healthcare.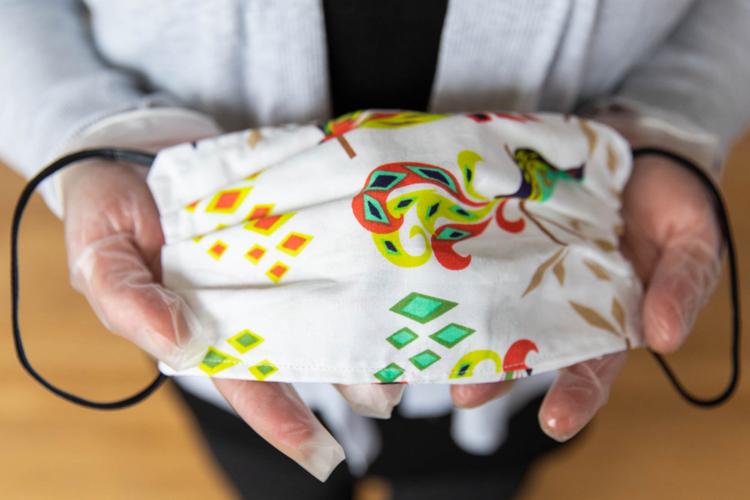 "I'm incredibly amazed by how quickly the community has come together to make the masks and help out," Mrs. Flint said. "We all feel a little helpless, but we can provide things like masks and just do what we can."