NORWOOD — Cars lined up by the half dozen Thursday morning outside the Norwood Food Pantry during the first block of food donations handed out during a time when grocery stores are going barren and people are either practicing social distancing or isolating themselves inside to avoid the spread of or contracting COVID-19.
Glen Webster, a village trustee and owner of Webster's Retail Meat, 396 County Route 48, Norwood, donated thousands of dollars of food to the Norwood Food Pantry at First Congregational Church, 34 N. Main St., and volunteers turned out prior to the 11 a.m. hand-out time to bag a variety of products, including eggs, yogurt, ground beef, brownies, potatoes, granola, a variety of bagged snacks and non-perishables like pasta and canned soups, cookies and beverages.
The food was handed out in a drive-thru-like format, from 11 a.m. to 2 p.m. and 5 to 7 p.m., with the later hours to accommodate those who are working and could not make the earlier hours. At the end of the day, 105 families were served.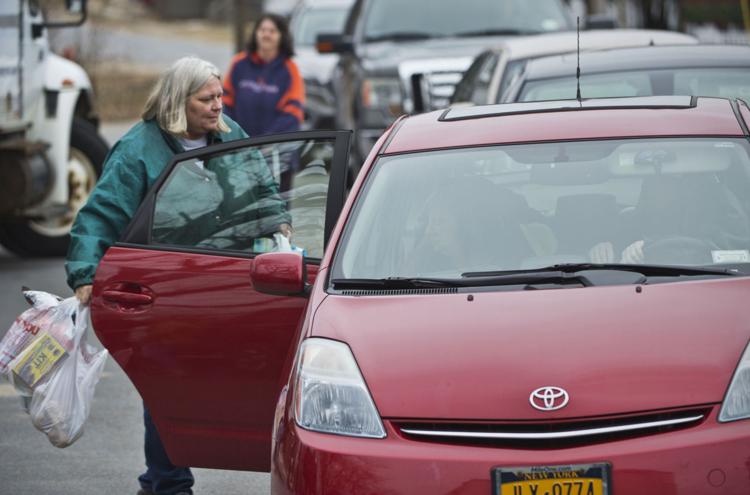 Kelly Lustyik, the president of the Norwood-Norfolk-Raymondville Outreach Community Outreach Program, which runs the Norwood Food Pantry, was in charge of the distribution and said drivers and their passengers were being asked to stay in their vehicles and volunteers would bring food to them as needed.
The food was being given out based on the sizes of the families with each bag set for a family of four.
"I was very grateful when Glen called the other night to say he had food, and he would like to give it away," Ms. Lustyik said. "The Bible says, 'Do unto others as you would have them do unto you,' and 'Feed the hungry,' so we like to make sure our hungry are fed."
Joanne St. Piere, 37, of Cottage Street, pulled up in a car with her 69-year-old mother, Jacqueline. Ms. St. Piere said she had seven people in her home where her mother had four. She said in most cases they would stay home, practicing social distancing.
"We have to be careful and we go out as we can," Joanne St. Piere said. "I'll tell ya, I lived here my whole life and these guys right here, this is a blessing. This has been rough, but I'll tell you what, this little community right here loves us. They have never given up on us and, in this epidemic, honey, we got through Ice Storm '98, you hear me, this whole area."
She and her mother praised Mr. Webster, the volunteers and the community churches for taking care of the community.
"I'll tell you what, our community here, in Norwood, when stuff goes down, honey, we come together," she said hanging out the window as her mother drove away.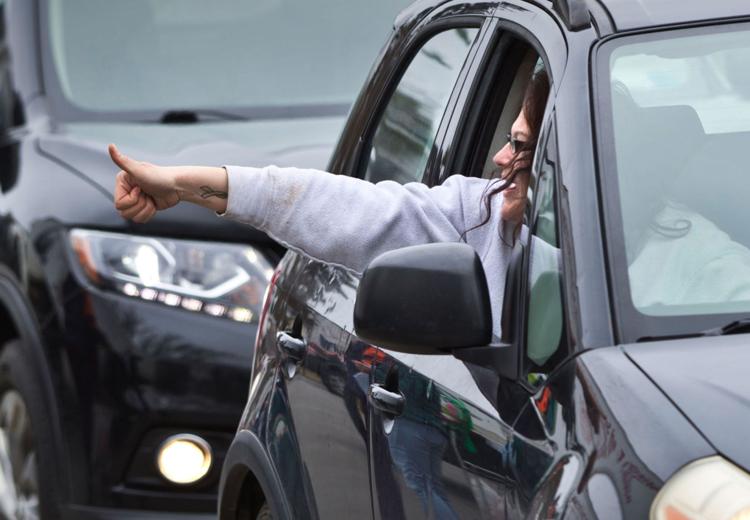 Ms. Lustyik said the pantry normally does well in cash and food donations from the church and other organizations in the area, but in times like this it needs more because people need more.
"We are grateful for anything that helps our families, and Glen has offered to get more for us, which is wonderful," Ms. Lystyik said.
And during the handing out of food, Edward Penny, the night superintendent at Norwood-Norfolk Central School, unexpectedly arrived with one of his workers with a load of sodas, snacks and other concession items that he said were being donated after a youth basketball tournament was cancelled.
"It's good to help people out," Mr. Penny said, "There are a lot of people that need help out there right now. We're probably a little more fortunate than some people are."
But while Ms. Lustyik was helping in giving to others, she also has elder parents at home who are isolated due to health issues and works in home health care, taking care of seniors with her youngest being 78 years old and the eldest turning 100 next week.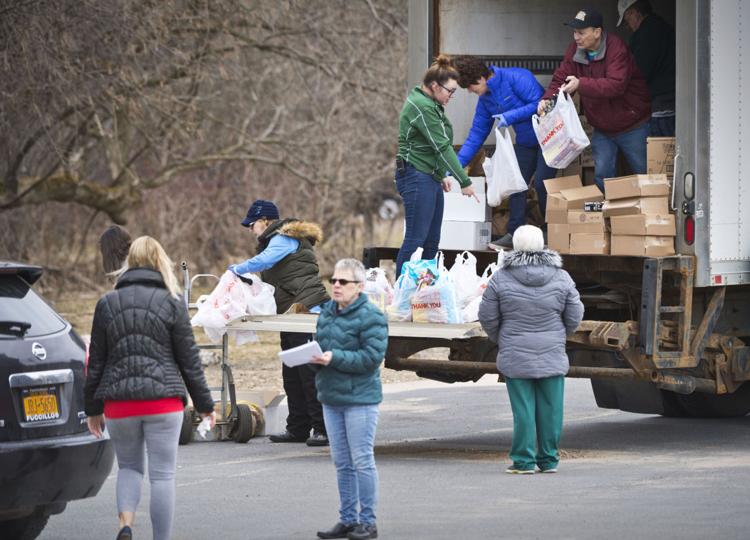 "So I'm trying to be very careful about how close to people and whatnot, but it is what it is, and we have to do the best that we can and work with what we have to work with," she said.
The pantry will be open 10 a.m. to noon and again between 4:30 and 5:30 p.m. Monday, but the protocol has changed indefinitely to where food will be distributed in the parking lot to avoid having people in the confined spaces, Ms. Lustyik said.
If anybody wants to donate to the pantry they can call Ms. Lustyik at (315) 244-5048 or mail a check made out to NNRO, to Ms. Lustuyik at 10 Maple St., Norfolk, NY 13667.