POTSDAM — "You are making a difference," "Stay positive," and "stay safe."
These were some of the messages that Kayla A. Rusgrove, a patient representative at the Canton-Potsdam Hospital Cancer Center, received from Village Diner on the outside of her takeout lunch container recently when she ordered from the eatery and it made her day.
"Our patients are obviously extremely important to us and they are almost like a family, but just to know that the community is supporting us in that way, because this is obviously a really hard time for everybody," Mrs. Rusgrove told the Times. "I'm sure, financially, for the diner, they're taking a hit, not being able to have people in the business itself, so it meant a lot to us that we're supporting them and they are supporting us."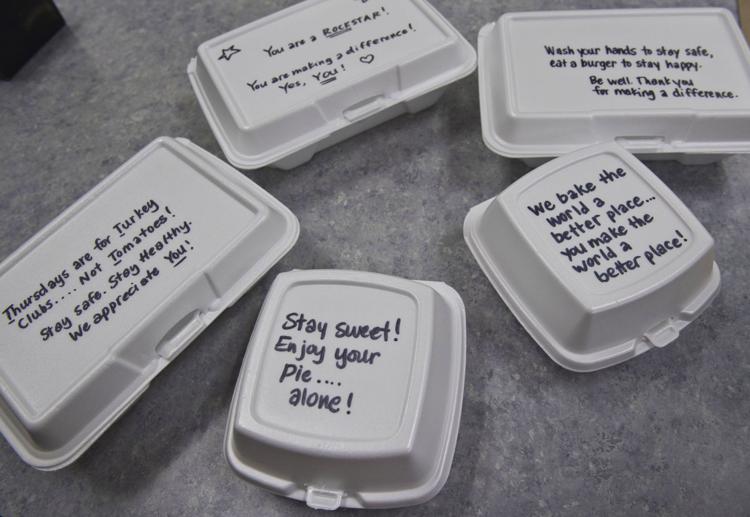 Additionally, the person who delivered the food refused the tip, only asking that they order from them again.
Mrs. Rusgrove said she decided to post it on Facebook to show her support and had hoped to give the diner more business during the trying time and that they placed the eatery on the top of their list of places to order from.
Village Diner, located at 22 Depot St., Market Square Mall, owned by Denice A. and Jarrod C. Davis, has had to take drastic steps to stay afloat. These include her husband taking out his 401k, cutting their 15-person staff to one, moving to delivery and curbside service only and changing their hours from breakfast and lunch to lunch and dinner to cater to a new audience after the college crowd dispersed and the elderly crowd has been self-isolating, in compliance with the COVID-19 pandemic.
Mr. Davis was the delivery person who declined the tip that day and Mrs. Davis said that the messages came from what had been a longstanding gesture she has done with customers who would dine in.
As she cried at the thought of potentially having to close her doors, she said she needed to add some joy into her community.
"I'm trying to create a legacy here, you know, like, I don't want to be a statistic, but if I am, then I want to go out with a bang, where people are like, this business gave it their all," Mrs. Davis said. "Everybody has to give it their all to get through this and if I can give it my all by putting a smile on someone's face then that's my part in this."
She said the feedback from Mrs. Rusgrove and the Facebook post was full circle for the diner because while they are saving lives at the hospital, they are also saving lives in the community, including her business which has slowed down to serving 17 people on days where, prior to the pandemic, they would be serving 300.
The diner is now open 11 a.m. to 6 p.m. Monday through Saturday.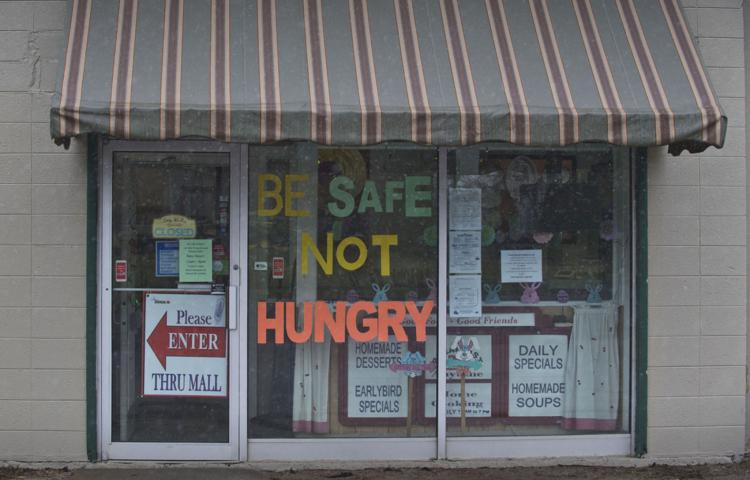 "They are saving our lives by just supporting our business," Mrs. Davis said. "So if we can just ride this out right now and get through it, it will have such an impact on so many lives and I just see businesses closing their doors every day and it is just breaking my heart because I know that there's a very small percentage of businesses that will be able to open after they close."
She said it's the dynamic between her husband, an aerospace engineer with applied physics from Rensselaer Polytechnic Institute, Troy, who Mrs. Davis called her numbers guy, and her degree in counseling from St. Lawrence University that makes her a people person that really makes their place shine.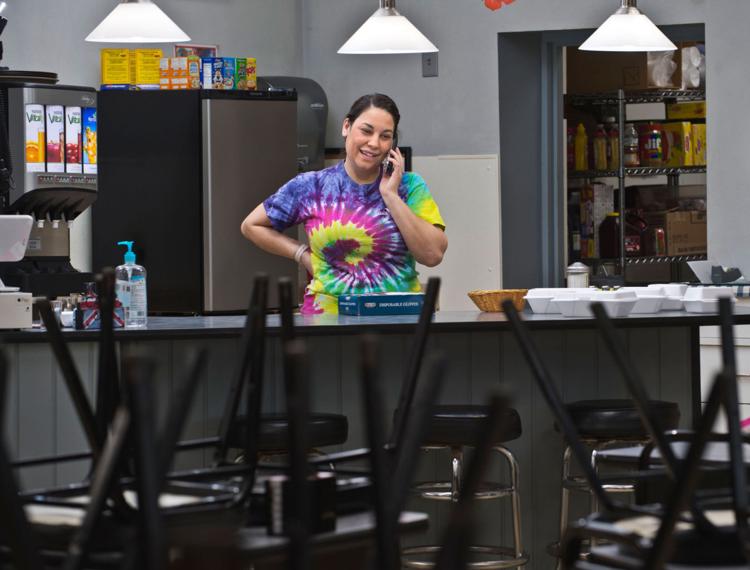 "We are smart people but it is taking every ounce of our power to make this happen," she said. "So if I could just do my part. Every bit of food that we make in the diner is made with love. We don't always nail it, but during this time, we are totally nailing it."
The only paid employee, Brenda Paige, is Mrs. Davis's right hand, her cook, her pie maker and a bevy of other things.
"She is making the food with love, so when customers are eating the food, they are tasting it, when I am writing those messages on the boxes, they are seeing it, so the whole experience, hopefully, is positive," Mrs. Davis said. "Food is more intimate than you think."