State University of New York officials will increase alternative schedules and course offerings for adult students as one of the nation's largest university systems faces historic enrollment decline exacerbated by the COVID-19 pandemic.
SUNY's total enrollment is down 4.7%, or 18,600 students across its 64 campuses in one year from fall 2020, according to preliminary fall 2021 enrollment numbers. SUNY has 92,386 fewer students than it did 10 years ago — a downward change of 19.7%.
Applications were down 9% across the system this spring. Only SUNY's doctoral program showed gains of 0.2% year-over-year and up 1% since fall 2019 before the start of the pandemic.
"This is a moment in time where we have to look at ourselves and say, 'How do we do better?'" SUNY Chancellor Jim Malatras told The Watertown Daily Times. "The declining enrollment environment is not just a SUNY issue — it's a national issue of higher education."
Adapting to more flexible course schedules and opportunities to meet changing student needs is critical, the chancellor said, but only a part of the larger issue of education equity in poor and minority communities, with lacking investments in businesses, education and infrastructure.
"How do we connect to those individuals who have been left behind or who don't think are worth it?" Malatras asked. "It's not really an enrollment challenge, it's an equity challenge. The enrollment numbers are just telling you a symptom of the larger problem."
Learners ages 25 to 44 years old make up SUNY's fastest-growing demographic for students in the middle of a career transition.
"They're going to go to a labor training center or they're going to go to us," the chancellor added.
Clinton Community College in Plattsburgh, Clinton County, saw the greatest enrollment decline over the last decade of any of SUNY's 30 community colleges, with 936 students, or a decline of 11.7% in one year, according to SUNY's preliminary fall 2021 data. The upstate community college has seen a decline of nearly 60% of its enrollment within the last decade, or about 1,398 students.
Enrollment has climbed to 980 for fall 2021, said John J. Kowal, Clinton Community College's administrator in charge, adding that he expects the semester's decline to settle around 10%.
"The ability to not get out to schools and do recruiting hampered our recruitment efforts significantly," Kowal said. "Not having that communication with teachers, guidance counselors and students — that did hamper us."
Several students also struggled with reliable internet connectivity, which impacted their success to learn remotely, and affected the eagerness of new students to apply to Clinton, Kowal said.
At the same time, about 40% of Clinton students surveyed in the spring indicated they would be hesitant to return to full in-person instruction as the COVID-19 pandemic continues. SUNY, which boasts a 97% student vaccination rate, requires its students, faculty and staff be vaccinated against COVID-19 to be on campus and returned to mainly in-person classes this fall.
Clinton implemented a strategic plan in 2019 to increase enrollment, including creating pathways to make it easier for students to continue their education outside the traditional 16-week model. The college offered seven-week, or half-semester, courses and increased summer offerings to accommodate students with full-time jobs or families. Campus administrators continue to discuss expanding that flexibility, and offering certain sessions that need to be done in person on the weekends.
"We knew we needed to get creative," said Kowal, adding that hundreds of students in workforce training don't count and could be interested in pathways to credit programs.
Several local manufacturing firms continue to offer high school students competitive jobs with strong salaries, which makes it difficult for the college to have a stronger counter offer, Kowal said.
Clinton's ongoing enrollment decline is not expected to cause a reduction of college staff, classes or services, Kowal said, who anticipated fewer students and budgeted for the worst-case scenario.
A PUSH FOR STATE AID
It remains unclear how the enrollment crises will impact future state investments into SUNY.
The chancellor remained tirelessly positive about legislative leaders continuing to wholly fund, and not slash, SUNY's overall budget for the 2022-23 fiscal year, which begins April 1.
"If you invest in us, we pay big dividends — we will turn it around and give more opportunities to students," Malatras said.
The SUNY and City University of New York systems have endured about $56 million in cuts since 2017. In February, former Gov. Andrew Cuomo proposed cutting funding SUNY community colleges by $35 million in 2021-22 and another $11 million in 2022-23, citing ongoing enrollment decline, but lawmakers made the higher education systems whole in the final 2021-22 budget.
About 2.2 million New Yorkers ages 25 to 44 years old do not have any college education. Roughly 50,000 New Yorkers are enrolled in online higher education programs outside the state.
Malatras stressed state lawmakers need to invest more heavily in SUNY and CUNY because of the enrollment decline to offer more opportunities to students and reverse the trend.
"We need more investment, not less in a time when you have hundreds of thousands of unfilled jobs because of a skills gap," he said.
Funding to expand SUNY's Educational Opportunity Program, which provides extra academic and personal support to students who did not think college was an option, could help ease declining enrollment, Malatras said.
SUNY currently has 14,000 applicants for 8,000 spaces. The successful program has a higher retention and graduation rate than SUNY's overall student body.
Malatras posed examples to SUNY's Board of Trustees during several discussions about enrollment last week about other education models in which a person can start their degree at any point during the year.
SUNY has eliminated application fees for low-income students, and its new website, suny.edu/otc, helps potential students search opportunities within any of the system's 64 campuses at the same time.
The 10-year enrollment trend at SUNY's community colleges has also reached new lows, following a consecutive reduction over the last decade.
SUNY has 10,671 or 6.1% fewer students enrolled in its community colleges over one year, or since fall 2020, according to this year's preliminary data — and is down 84,408 students or 34.1% over 10 years since fall 2011.
"We have worked hard at the system and campus levels to engage prospective students," SUNY Provost-in-Charge Shadi Shahedipour-Sandvik said during last week's Academic Affairs meeting with the Board of Trustees.
Malatras also noted the lower birth rate contributing to fewer high school and college students — especially in the Northeast. The north country — comprised of small, rural schools and communities — has retained decreasing numbers of young families and young adults of child-bearing age in recent decades.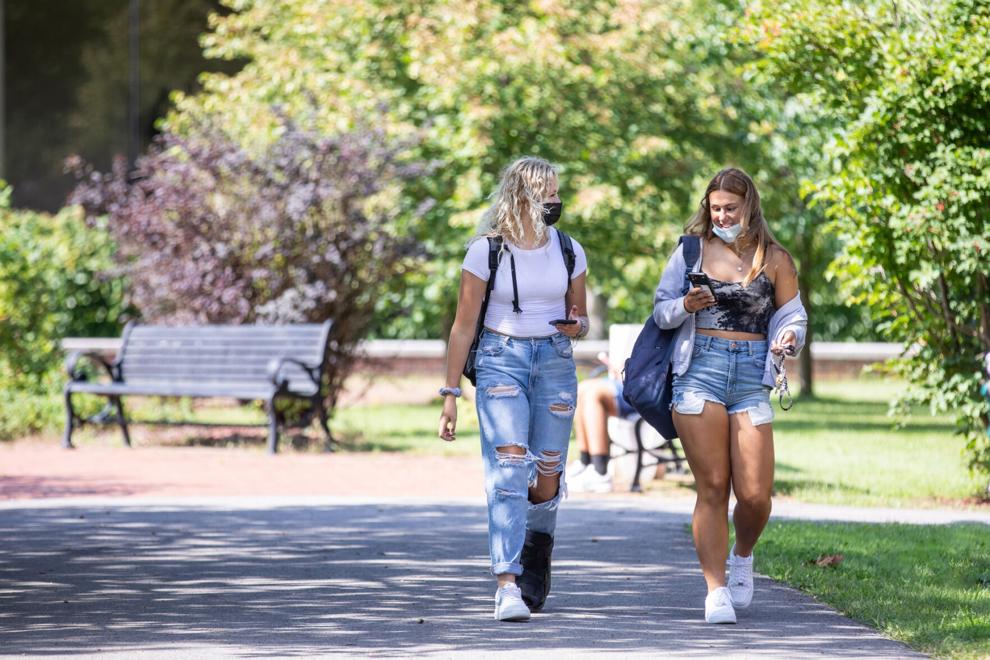 SUNY Potsdam has 2,645 students this semester, or a decline of 14.2% in one year, according to preliminary counts. Fall 2021 enrollment counts will be finalized later this month, and will reflect a 1% and 2% difference in the preliminary figures. SUNY will release a report in November when detailed numbers and national benchmark data become available.
Potsdam has weathered an enrollment decline of about 40% over the last 10 years, or an overall reduction of 1,750 students per semester.
Patrick Quinn, Potsdam's vice president for enrollment management, attributed the additional decline to challenges brought by the pandemic, also noting a drop in applications.
"In addition to a drop off in new student enrollment, we have seen a similar decline in returning students who have also struggled with the pandemic and wanting to remain closer to home," Quinn said Wednesday. "This, of course, is also impacted by the significant downturn of the graduating high school student demographic in the Northeast, but particularly in our state."
Quinn echoed the woes of other campuses that were unable to see and speak with prospective students in person, or had reduced campus visits over the last 19 months.
"The pandemic constrained some of those traditional opportunities, curtailing our in-person visits to high schools and attendance at college fairs, and making it more of a challenge to take advantage of big open house events and other campus visit opportunities in the virtual environment," Quinn said, adding that officials are ramping up face-to-face opportunities this year with new leadership and recruitment outreach efforts.
The St. Lawrence County campus budgeted for a 10% decline this year, spokesperson Alexandra Jacobs-Wilke said in a statement Wednesday.
Officials were vague about future budget cuts, dependent on the Legislature's 2022-23 budget and final spending decisions by Dr. John Graham, the school's officer-in-charge.
"The college has developed a financial road map that identifies our financial situations into the future," Jacobs-Wilke said. "College leadership will be developing plans on how to effectuate our response to revenue reductions to become financially viable/sound."
Potsdam continues to work to offer more flexible graduate programs, including more online or hybrid options in its management, childhood education and literacy programs. The campus's offers post-master's certificates in educational leadership and college teaching that are completely virtual — all attractive to the growing mid-career professionals.
"Discovering this campus is like finding a diamond in the rough — it's a journey to get here, but we hear over and over again from students and from parents that it's worth it," Quinn said. "With our campus fully open again, the energy is palpable here. Visiting students and families pick up on that when they walk around and see students in the Quad, in our labs, in the dance studios and on the athletic fields. Once prospective students meet our incredible faculty and see the opportunities that we have, they are sold. Our job now is to share that story and get more future Bears here."
A new approach to the federal financial aid system must also be posed to legislators, Malatras told trustees last week. The current model discourages part-time attendance or students who will not graduate on the traditional two- or four-year schedule.
Enrollment within SUNY's technology sector has remained about level.
In the spring, the fate of in-person classes remained largely unknown when most students were applying for the fall 2021 semester, potentially driving numbers lower.
"In crisis, there's opportunity," Malatras said. "If we really get the word out and really become nimble and agile and meet the needs of the modern students, the opportunities that we can provide are boundless and it means all of it will be OK."