WATERTOWN — Despite concerns over COVID-19 variants, surges in numbers and newly handed-down mandates, most north country schools are standing by what worked for them last year — with a few select tweaks.
"Our goal is to have every kid in school every day," said Beaver River Central School District Superintendent Todd Green about this year's pandemic planning.
North country school district superintendents are united with Mr. Green's statement, focused on five days of in-person instruction instead of last year's hybrid of online and in-person learning for half of the student population at a time.
In June, after the state Department of Health indicated that school administrators would be allowed to come up with their own reopening plans, superintendents took action, relying on pandemic lessons learned throughout the 2020-21 school year.
According to Mr. Green, Beaver River took a number of steps including conducting a survey, considering what worked in the past school year and reviewing recommendations from the Centers for Disease Control and Prevention, state Education Department and the state Association of Pediatricians.
Because the biggest obstacle to having all students in classrooms at the same time was the six-foot social distancing parameter, the CDC recommendation that the distance could be reduced to three feet was the biggest catalyst for getting student bodies in full formation for the year.
Otherwise, district-produced guidelines used for the last school year had been successful in preventing the spread of COVID-19 in each school when positive cases were found, so they were brought forward to the protocols for the 2021-22 school year that begins on Tuesday for most districts.
For some schools, the social distancing required on buses was the biggest challenge, like Copenhagen School District, so the federal rules that relaxed capacity limitations on public transportation, including school buses, was instrumental in being able to do a full reopening.
Like last year, masks covering the nose and mouth are required by everyone on the buses.
Parents and guardians in some districts are still asked to transport their students to school as much as possible as another layer of protection.
They are also asked not to allow a child they believe may be sick to attend school and to check their student's temperature before allowing them on the bus or into the school building.
South Lewis Superintendent Douglas Premo said screening will again be done on buses and for students who are brought to school and as they walk in the door for those dropped by parents, as was done last year.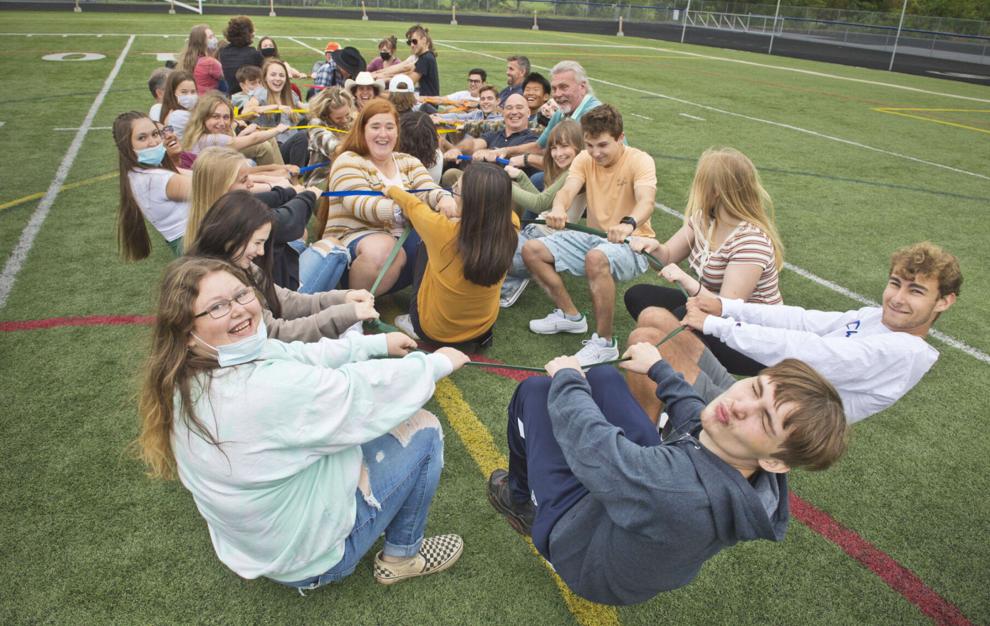 KEEPING STUDENTS IN CLASSROOMS
The key to ensuring learning stays in classrooms, Mr. Green pointed out, is to ensure quarantine numbers are as low as possible so that if one person — student or teacher — tests positive for COVID-19, dozens of students don't end up requiring quarantine or being infected with the virus, resulting in more students out of school which could necessitate, in high numbers, returning to remote learning.
"With the distancing being less than last year, it increases the potential exposure to positive cases," Mr. Premo said. "And when the exposure increases, an increase in quarantining is a possibility. I do think that the quarantining guidelines and rules that we're under now are still less restrictive than they were last year... when you found a lot of school districts closing their doors, not because they had a lot of cases, but because they had so many (people) quarantining."
Quarantine decisions, which are the responsibility of county public health departments, are based both on distance between students and whether either or both of the people involved were wearing masks.
Vaccinated students do not have to quarantine but fall under the same mask rules as all students.
Mandatory masking "in motion" was the plan pre-mandate and continues to be in the new school year.
In most schools, that means that in hallways, bathrooms, going into or out of the cafeteria and other shared areas inside, masks are required, but not when students are seated in class or to eat.
A state emergency regulation, as announced by Gov. Kathy Hochul on Aug. 27, was put in place by the Department of Health this week, making masks mandatory for anyone 2 years or older inside a school except when they eat, drink, sing or play an instrument. This regulation has changed some plans, but not all. Masks are also not required for outside activities.
The mandate, scheduled to be revisited in 90 days, was initiated largely because of the danger posed by the delta variant that was described as "four times more transmissible" by the Department of Health.
Some schools, like the Indian River Central School District and Watertown City School District, will follow the mandate while also carving out opportunities for indoor "mask breaks" in places large enough to allow for at least six feet of social distancing. Many other schools, especially in Lewis County, have decided to stick to their original plan and allow students to remove their masks when they are sitting down in classes with a distance of at least three feet between students.
Indian River Superintendent Troy Decker believes that based on how students handled masking last year, there shouldn't be a problem.
"By and large, our students last year did an absolutely wonderful job with masking — with mask consistency, mask wear and usage — not that some didn't need reminders from time to time," Mr. Decker said. "Even seasoned educators were nervous about kids wearing masks, and the kids were awesome."
PARENTS QUESTION MASK NEED
Anti-mask parents in districts including South Jefferson and Beaver River, spoke out at meetings, picketed and pushed back on the topic.
Those who spoke at in-person meetings against masking said the regulation is an infringement on rights and that they don't believe masks to be effective.
In the case of Beaver River, one parent stated in a meeting on Tuesday to discuss the new regulation that they would rather have the district pay the $1,000 per day penalty for flouting the regulation — totaling $180,000 if the regulations are not followed every day of the school year — rather than have their child wear a mask for the entire school day.
South Jefferson Central School District parents opposed to their children wearing masks made signs and started a Change.org petition which garnered over 500 signatures, although not necessarily from the school district, even before masks were made mandatory by the state.
There are also parents who support required masking.
"A lot of people are asking for choice for masks, but right now we don't have a choice if the kids get sick, because there's no opportunity for them to get vaccinated," said parent Jennifer L. Crowther at the South Jefferson meeting. "If they were at school and masking was a choice, they could either get sick or they could get bullied for wearing one."
Many superintendents said they believed the regulation needs some fine tuning for various reasons including the young age of those targeted.
"They're saying two years old and up. We have a three-year-old program and a four-year-old program," said Copenhagen Central School District Superintendent Scott Connell. "I've asked other people to show me how you keep a mask on a three-year-old for seven hours. I tried to keep one on my granddaughter in church and that lasted about two minutes."
Mr. Green pointed out that the way the regulation is written, someone alone in a room, even in a large space like an auditorium, would have to wear a mask.
While the Beaver River school board decided to stick to its original plan for "in motion" masking after its meeting attended by about 50 anti-mask parents and staff, it also made a provision to change to all-day masking if too many children or teachers become sick or are placed on quarantine, making it impossible to hold in-person classes.
Students seeking a medical exemption from wearing a mask must provide medical documentation as required by their school district.
PREVENTIVE MEASURES
All schools are still focused on providing hand sanitizer around the schools and vigilant cleaning and sanitizing of the facilities and, in at least one case, using technology to go to the next level of safety.
"We're actually going to take it a step further this year, mainly because it's the delta variant, it's more contagious," said Harrisville Superintendent Rob Finster in a video explaining the district's plans for the year to parents. "We purchased some (ultraviolet) lights so when your kids are out of class … our custodial staff will come in and plug in a UV light and 10 to 15 minutes later, it kills everything in that room — airborne and on surfaces."
Ultimately, administrators are taking every precaution they can to avoid going back to hybrid systems in which students go to in-person classes on some days and learn remotely through online instruction on others.
In meetings, presentations and written updates on opening plans, superintendents have stated emphatically that there will be no remote learning.
"We feel strongly that students learn best when they are able to develop a relationship with their teachers, and that is best done in-person," reads a section of Indian River's opening plan.
Parents who prefer to have their children learn from home must go through the standard process for home schooling for which the districts do not provide curriculum or teachers.
Each school does, however, have a tipping point at which if too many students have to stay home for any reason including quarantine or isolation, hybrid or remote options will have to be implemented.
Mr. Green said that the Beaver River District learned that hybrid learning is very difficult for teachers, so the district is working with BOCES in Lewis County to find solutions to hybrid teaching challenges in case the need arises.
As was the case last year, one of the biggest challenges with hybrid or remote learning is internet access across the north country. Most schools were able to secure Chromebook computers for each student.
The next mandate superintendents and school boards may have to negotiate with staff and families involves staff vaccinations and weekly testing requirements.
Gov. Hochul announced Thursday that teachers, administrators and staff in state schools are now required to be tested weekly for COVID-19 or show proof of vaccination. The governor said weekly, symptomatic and exposure testing must be offered by schools.
For now, however, vaccination is still voluntary.
To make shots more accessible, many schools are hosting vaccination clinics or offer vaccinations through an on-campus or community clinic.
Superintendents all understand that their "plans" are works in progress while information, infections and the available technology in different arenas are in constant flux.
"I think all of us have learned that we've got to be flexible," said Mr. Decker. "Conditions may change to the point where we can make adjustments, maybe those are positive adjustments. At the same time, we've got to be prepared that things could be worse, and if they get worse we may have to tighten controls even further."
For comprehensive details on the pandemic plans for specific school districts, or to ask questions or express concerns, go to the district's web page or call the superintendent's office for that district.