CANTON ­— St. Lawrence County has surpassed New York City in the pace of which it's seeing coronavirus cases, according to the president of the St. Lawrence County Board of Health, who gave a COVID-19 update to members of the county's Board of Legislature Monday night.
"As of this morning, St. Lawrence County has the most rapidly growing coronavirus incidents in the entire state," Dr. Andrew Williams said. "We have doubled the number of cases every 2.5 to 3 days, whereas New York City is currently doubling only every 6.5 days. So even though the overall number of cases are small, the rate increases is very concerning."
Dr. Williams, who is also the St. Lawrence Health Systems Assistant Chief Medical Officer and the Chief Medical Officer for the Community Health Centers of the North Country, told lawmakers during their monthly meeting via Zoom Technologies, that "unfortunately, our community went from having one case of coronavirus not that long ago to having more than 60."
The county had 63 confirmed cases the time of Monday night's meeting.
On Tuesday, the county public health department said the total jumped to 70 COVID-19 cases.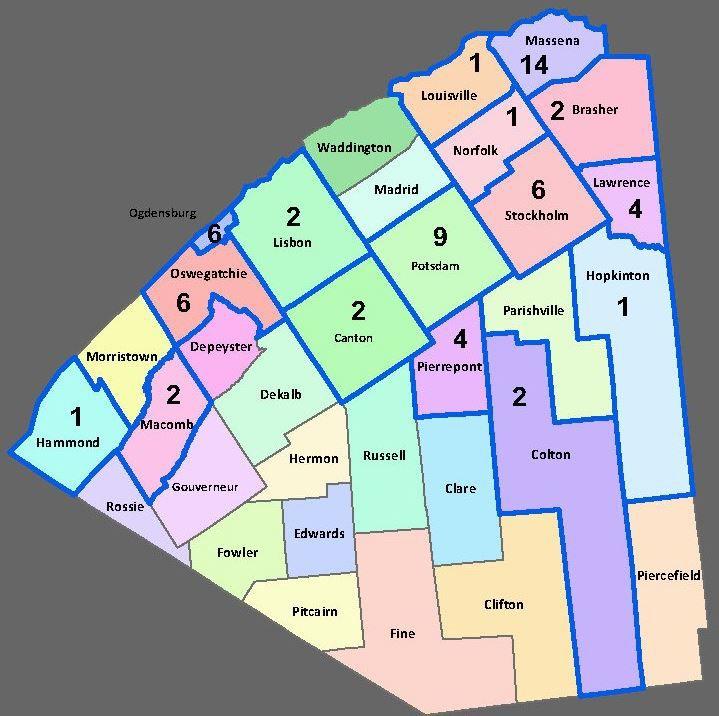 "As we identify cases in the community, the Public Health Department and their nurses are contacting the person who has been identified as having the illness but they, equally importantly, are contacting the folks that they may have been in direct contact with," Dr. Williams said.
They are then issued orders in terms of quarantine or isolation for patients that may be asymptomatic.
County Public Health Director Dana O. McGuire said she has been working with County Attorney Stephen D. Button's office as well as Sheriff Brooks J. Bigwarfe in trying to located individuals that may have been in contact with those that tested positive, but some folks that test positive have not been cooperative.
"We are finding difficulty with the isolation process and with the quarantining process," Ms. McGuire said. "We have people who do not want to maintain, who will not give the contacts that we need to do all of the tracing . . . so we do need to have the public know that this is a serious process.
"Isolation and quarantine is very important," she said. "We do have some cases that can kind of bring us off track and it makes trying to keep on track and doing the investigations of the ongoing cases just to get done, because we can be following one and not getting anywhere."
Dr. Williams said that both he and Ms. McGuire have been working toward educating the community about following guidelines on social distancing, avoiding unnecessary travel and avoiding gathering in groups.
On Tuesday, Sheriff Bigwarfe put a travel restriction advisory in place to help curb unnecessary travel.
Dr. Williams said there is an issue of those who are asymptomatic as well as those he said have been called "super spreaders", basically people who have no symptoms but are actually can unknowingly spread the illness to multiple people, adding to the importance of abiding by self isolation.
And while testing for the virus is limited to the hospitals in the county, Dr. Williams advocated for a state, county or hospital sponsored drive through screening where people who don't have symptoms can be tested to help better identify how prevalent the disease is in the community.
Additionally, he said tests are currently being shipped to facilities out of the county to get results. In the case of the St. Lawrence Health Systems, the tests are sent to the Mayo Clinic.
Several weeks ago there were tests developed that could give rapid results. The vendors making those tests, Abbott, Cepheid and BioFire, had the tests approved by the U.S. Food and Drug Administration after which Dr. Williams said he and the St. Lawrence Health System lab director put in a pre-order.
"But unfortunately what happened is the CDC is directing where those test kits get sent and they have a priority list and we're higher on the priority list because we are in New York State but we are a lot lower on the priority list than New York City, for instance," Dr. Williams said. "So we have already essentially sent them a money order and said as soon as those tests are earmarked for St. Lawrence County we want as many of them as we can get."
He said the st. Lawrence Health System has been trying to create it's own stockpile of ventilators and are currently at about 30 and, though the Hospital Association of New York State, is working with Gov. Andrew M. Cuomo in assessing their ability to determine what resources they could share and contribute while also making sure they have a reserve to take care of their own community
"From the perspective of the local hospital systems, we have all been working on surge plans to develop space to take care of patients when they do come into our hospitals," Dr. Williams said. "We all have staffing plans in order to deal with the significant changes and the significant potential burden on the health care system and we have all worked very hard to come up with a sufficient supply of mechanical ventilators."
But under the new recommendations by the Centers for Disease Control and Prevention, Dr. Williams said people should implement "universal masking" where if there is a need to go out in public, individuals don a face mask, not to keep themselves from potentially contracting the virus, but, if asymptomatic, reduce the likelihood of spreading it.
"One of the fears is that it would take away necessary medical equipment by purchasing medical masks but, at this point, the recommendation really is that if people are out in public they should cover their face either with a mask that is homemade, a contractor mask or something like that," Dr. Williams said. "The idea of that is not that it prevents the person who is wearing the mask from getting the disease, but that, if one were asymptomatic or mildly symptomatic, that you prevent spreading the disease to others. So I think that is an important thing for people to understand."