POTSDAM — Hundreds of COVID-19 shots were administered at SUNY Potsdam's Maxcy Hall on Monday — the first day the state-run site was open for vaccination appointments. But while the process there was smooth and effective, county providers appear to be sputtering.
Dozens of volunteers, National Guard members, St. Lawrence Health System employees and state officials were on site at SUNY Potsdam's fieldhouse to help administer the vaccinations Monday as a steady stream of eligible and willing recipients moved through the operation to receive their first dose.
"Just like a flu shot," Leland Green, of Potsdam, said on his way out of the site. "I feel the same as I did when I went in there."
Others leaving the site also said they had an easy time moving through the process, usually in about 20 minutes.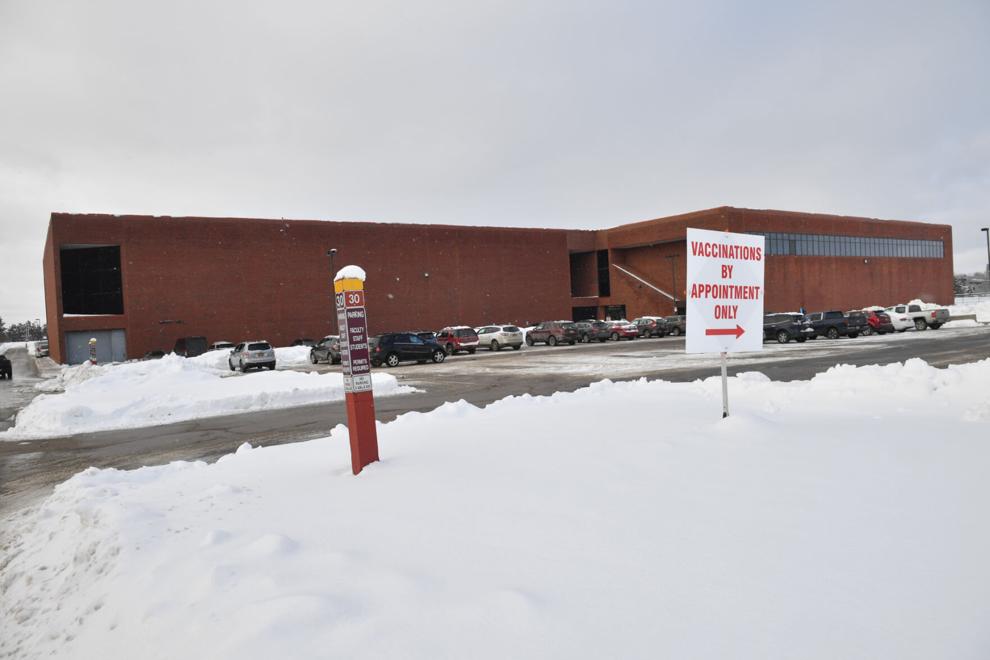 "I went straight through; there was no slow time at all. The slowest time was me finding my ID," Linda Robinson said laughing.
The setup is a collaboration between multiple entities facilitated by the state Department of Health. Members of Canton-Potsdam Hospital guild and other volunteers assisted with check-in and those with training administered shots. About 18 members of the New York National Guard also helped with the setup and moving people through the facility.
The rink in Maxcy Hall would've normally been prepping for nightly hockey or skating activities, but instead was bone dry with a dozen folding tables set up for staff to take breaks and receive daily briefings.
State Department of Transportation Commissioner Marie Therese Dominguez was on site as well to speak with reporters Monday on behalf of Gov. Andrew M. Cuomo's administration, her remarks echoing off the walls of an otherwise empty arena.
"This is a perfect site to help serve so many in the north country. Today we're proud to open this site. It really builds on the efforts that have occurred over this last week, the momentum that we've started statewide," Ms. Dominguez said.
The SUNY Potsdam site is one of two state-run vaccination clinics operating in the north country. The other is at the Plattsburgh International Airport's Connecticut Building, which also opened Monday morning. Other sites across the state were also opened at SUNY Stony Brook, Suffolk County; and Aqueduct Racetrack, South Ozone Park, Queens.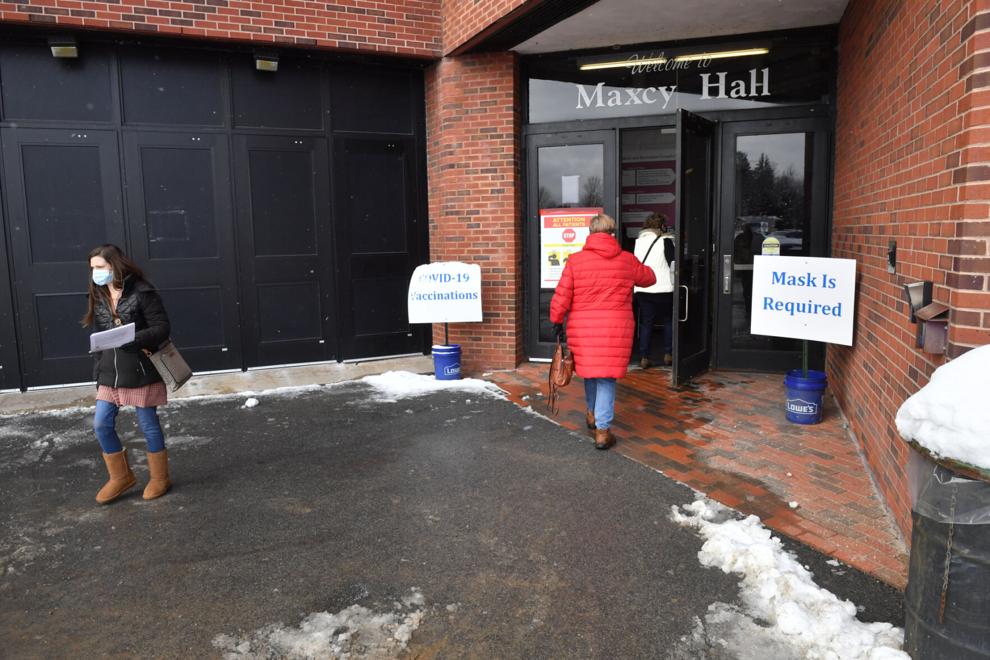 Its opening represents a huge step forward in providing vaccinations to St. Lawrence County, as well as surrounding counties. Until the opening of the SUNY Potsdam site, the only entities offering vaccinations to the Phase 1B group — which includes first responders, teachers and other frontline essential employees — in St. Lawrence County was Kinney Drugs, and its vaccination appointments were restricted to people over age 65.
The Jefferson County Public Health Service had scheduled appointments to distribute 600 doses last week, but had to cancel after none of those vaccines were actually delivered.
In Lewis County, a "technology breakdown" resulted in the cancellation of two weeks' worth of appointments Monday for those getting their first COVID-19 vaccinations through Lewis County General Hospital.
State officials at the SUNY Potsdam site said they are prepared to disperse 500 doses of COVID-19 vaccines each day to any eligible person who makes an appointment, no matter in what county they reside.
Four days after the state announced SUNY Potsdam would serve as a site, appointments opened up and started to be filled. Just a week later, the operation was ready to go.
Jefferson County Board of Legislators Chairman Scott A. Gray said Monday afternoon that he's worried vaccine allotment will be prioritized for the state site, leaving local providers, like the Jefferson County Public Health Service, unable to provide clinics closer to home.
"There's a finite number of vaccines coming into New York state and so when you open up additional sites like this, it is going to cannibalize other operations," Mr. Gray said.
He said he tried to appeal to the governor's staff to block out some time at the SUNY Potsdam site and allow Jefferson County to coordinate buses to help people, primarily elderly residents who may not be able to make the drive, get the vaccine.
"I was told that wasn't possible," Mr. Gray said, also noting that neither the Jefferson County Public Health Service or Samaritan Medical Center has been allotted any vaccines for this week.
Ms. Dominguez said Monday the SUNY Potsdam site won't have any effect on vaccine allotment to county providers or other entities locally.
"It's all distributed through various means so that when this site has vaccinations, vaccination equipment, the dosages are there to make sure that people have what they ordered," Ms. Dominguez said. "Every entity that we have, we make sure gets distributed with the state looking to coordinate all of those."
Ms. Dominguez also hammered home the message being pushed by Gov. Cuomo that the current level of vaccine supply provided by the federal government is inadequate to provide doses in a reasonable timeframe to the 15.4 million New Yorkers who will eventually be eligible.