VALHALLA — Officials extended a state moratorium by two months Thursday mandating New Yorkers cannot be evicted for not paying rent through Aug. 20 because of the COVID-19 pandemic, Gov. Andrew M. Cuomo said.
The state issued a moratorium March 20 on residential or commercial evictions from COVID-related hardship through the month of June. The moratorium was extended 60 days Thursday until Aug. 20.
"The No. 1 issue people talk to me about is rent," Gov. Cuomo said Thursday during a coronavirus briefing at New York Medical College in Valhalla, Westchester County. "(Families) are struggling, and we want to make sure we're doing everything we can...I don't want to see families and children evicted at this time from no fault of their own."
Late payments or fees are banned for missed rent payments during the state's eviction moratorium and allows renters facing financial hardship due to COVID-19 to use their security deposit as payment and repay their security deposit over time.
The state is working to secure relief for banks, Gov. Cuomo said, so landlords do not have to worry about foreclosures. Officials will worry about economic impact at a later date, he added.
"There is no doubt a trade off," Gov. Cuomo said. "None of these decisions are easy. Whatever happens, we will handle it at the time. This is unlike anything we've seen before."
New York's COVID-19 fatalities reached at least 20,108 on Thursday — up from 19,877 on Wednesday. The state saw 231 virus-related deaths Wednesday, including 191 in hospitals and 40 in nursing homes. The death rate remains flat after a slight decline from 232 fatalities Tuesday, 230 on Monday and 226 on Sunday.
The state tested 1,089,916 people as of Thursday, revealing 327,469 total positive cases of COVID-19. New York's hospitalization rates continued a downward trend to 8,665 patients Wednesday, down 514 patients, according to the governor's office. About 600 new virus patients enter hospitals statewide each day, down from about 1,000 new daily hospitalizations last week.
"It's a fairly significant drop, so that's good news," Gov. Cuomo said.
The state's $25 million Nourish New York Initiative, which purchases excess food and products from more than 2,100 upstate farms to date, has given supplies to nearly 50 food banks, soup kitchens and food pantries.
More than 20,000 households across the state will receive Nourish New York products within the next week. Over the next six months, the program will produce 2.8 million gallons of milk, 8.2 million units of yogurt, 10.1 million pounds of apples and 10 million pounds of cabbage, according to the governor's office.
U.S. Reps. Antonio R. Delgado, D-19, and Lee M. Zeldin, R-1, and U.S. Sens. Charles E. Schumer, D-N.Y., and Kirsten E. Gillibrand, D-N.Y., announced the bipartisan Direct Support for Communities Act late Wednesday to provide local governments with direct federal relief to pay for essential services and offset lost revenues and increased costs from the pandemic.
Gov. Cuomo has pleaded with federal lawmakers to pass legislation to fund state and local governments, as a minimum budget shortfall of $13.3 billion looms over New York. Earlier this week, the governor continued his weeks-long plea as the Democratic House and Republican Senate negotiate a fifth coronavirus bill on Capitol Hill.
"Upstate New York is facing an urgent, immediate funding crisis," Mr. Delgado said. "Our counties and municipalities are laying off employees and the lack of funding going directly into local communities is jeopardizing the livelihood of our first responders, our emergency medical services, cops, teachers and more. We need to provide local government with funding expediently and I am glad to introduce a bipartisan, bicameral solution. This is one of many steps that must be taken to support our rural communities and to make sure that they are able to receive the essential services needed for sustainability during this public health emergency."
The act's local relief fund would be split 50/50 — half committed to cities, towns and villages and half committed to counties. Seventy percent of the portion set for municipalities would go to Community Development Block Grant entitlement communities using the U.S. Department of Housing and Urban Development's formula to allocate the funding.
"Local governments are hamstrung trying to deal with lost revenue and mounting costs in the face of the pandemic," Sen. Schumer said in a statement. "Under our proposal, counties, cities, towns and villages of all sizes could count on direct, guaranteed financial relief instead of having to layoff vital workers, cut important services or raise taxes and fees at absolutely the worst time."
The remaining 30 percent would be sent to states, to suballocate the funds within 30 days to all non-entitlement communities based on the state's population.
"This smart and necessary proposal will ensure local governments have the resources to pay our first responders, health care workers, teachers and public servants, and can continue serving our communities without raising taxes or fees," Sen. Gillibrand said. "I will do everything in my power to ensure that this proposal is included in the next economic relief package."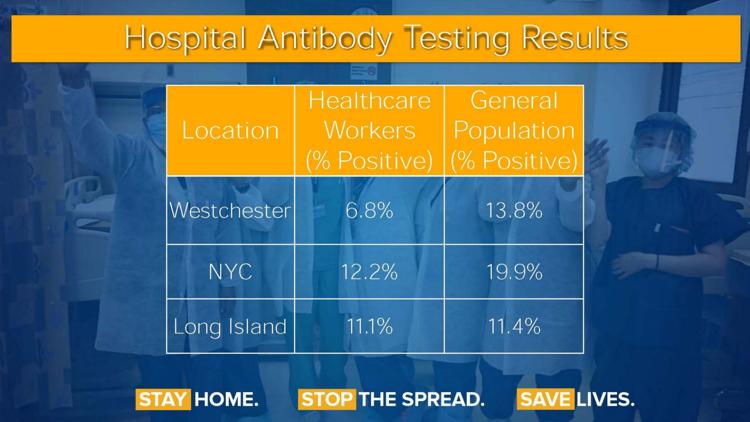 A recent sampling of 27,000 downstate workers from 25 facilities show about 12.2 percent of New York City healthcare workers have COVID-19 antibodies, which indicate a person had the virus and recovered, compared to 19.9 percent of the city's general population.
Just over 11 percent of Long Island healthcare workers have COVID-19 antibodies — about the same as 11.4 percent of the area's population. In Westchester County, 6.8 percent of healthcare workers tested positive for virus antibodies compared to 13.8 percent of the county.
"That is about the same or lower than the infection rate among the general population," Gov. Cuomo said. "I mean, that is amazingly good news. We were afraid of what was going to happen."
The state's 10-point New York State on PAUSE executive order, which mandated the closing of schools and nonessential businesses and social distancing measures, expires May 15. The state will gradually reopen by region when a region meets seven criteria related to an area's COVID-19 hospitalization and infection rates and virus-related deaths.
"We'll look at regions May 15 to see about reopening," Gov. Cuomo said. "You will see the start of reopening...not a floodgate, but it will start. We just want to make sure the most vulnerable people are protected."
The governor said he refuses to choose between the state economy and public health.
"It's not one or the other, it's both," Gov. Cuomo said. "This is not a situation where you can go to the American people and say, 'How many lives are you willing to lose to reopen the economy?' We don't want to lose any lives."
The state continues to prioritize coronavirus testing for essential and frontline workers, including healthcare and transit employees and first responders. Gov. Cuomo continued his plea for New Yorkers to wear masks in public, particularly when social distancing is impossible, to protect frontline employees.