WATERTOWN — At the city fire department's Massey Street station, a slogan, posted here and there, can't escape the eyes of firefighters:
"Protect Yourself. Protect the Team. Protect the Mission."
Fire chief Matthew Timerman admits the slogan may be a bit hokey, but its importance is not lost on the firefighters, and as he explains the meaning behind it, it becomes apparent that the phrase is something appropriate for the entire community.
"It starts at home, making sure your family is safe and healthy," Chief Timerman said. "If you've got your family taken care of, then you can focus on yourself. If you are taken care of, you're less likely to take the team down. If the team stays together, we can accomplish the mission. You really need to focus on this at all levels."
The nation's focus the past few weeks has been unprecedented as citizens take steps to fight the COVID-19 outbreak. People have been told to stay home, but "essential" workers are still showing up, or working from home.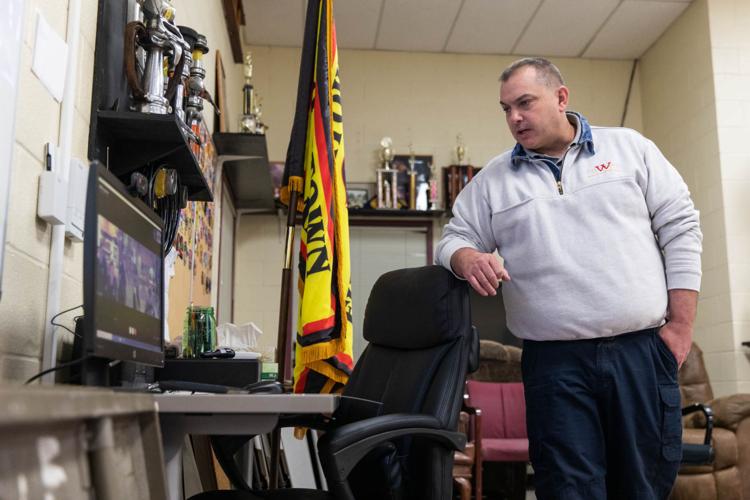 On March 20, Gov. Andrew M. Cuomo signed the "New York State on PAUSE" executive order, a 10-point policy to assure uniform safety. It included a decree that all non-essential businesses statewide must close in-office personnel functions. Exempted are businesses that provide "essential services, supplies or support." The businesses fall under health care operations, essential infrastructure, essential manufacturing, essential retail, essential services (such as trash collection, child care, animal shelters and auto repair), news media, financial institutions, providers of basic necessities to economically disadvantaged populations, construction, defense, services necessary to maintain the safety, sanitation and essential operations of residences (law enforcement to building cleaners) and vendors that provide essential services or products, including logistics and technology support, child care and services.
But it's not business as usual at the "essentials."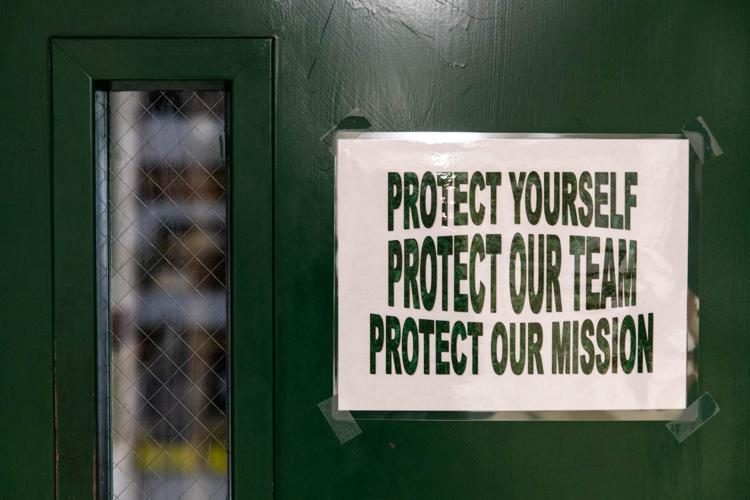 "A lot of precautions"
"We've got a lot of precautions in effect," Chief Timerman said. "They range from precautions out in the field on calls to precautions internally."
All non-essential duties at the city fire department have been suspended, such as station tours and taking engines out to child care centers and schools.
When firefighters respond to calls, they have more personal protection equipment.
"In addition to all the turnout gear we carry, we also have splash-resistant gowns, goggles, masks," Chief Timerman said. "As we interact with the general public, they'll notice we're going to be wearing the masks a lot more."
The department has a small number of N95 masks/respirators, which filter at least 95 percent of airborne particles. They are in short supply around the nation.
"We're lucky to have some on hand," Chief Timerman said. "Unfortunately, it's a limited supply, and I don't anticipate any help is going to come to us anytime soon. Clearly, we're not the hardest hit yet."
The chief said firefighters are being "extremely frugal" with the N95s.
"Once they're gone, they're gone," he said.
But the shortage is forcing questions not meant to be related to the devices, such as, can they be reused?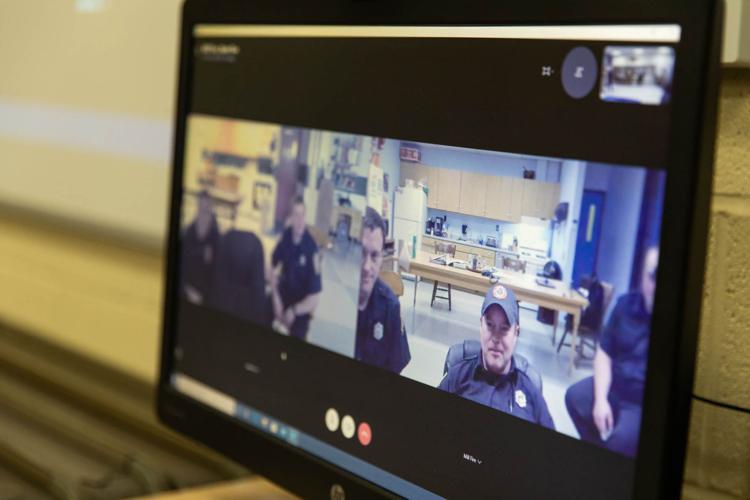 "Maybe in a regular situation, you'd wear them once and discard them," Chief Timerman said. "These aren't normal situations. We're trying to find advice. Can they be reused, how often? But when you get right down to it, if we don't reuse them to some degree, we'll be out in days. Reuse at some level is all but required at this point. The question is, where do you draw the line? How long can you use them before it's no longer effective?"
The way the department answers calls has been altered, especially ones involving medical assistance.
"In the past on medical calls, we've always been very aggressive, to get right in, talk with a patient and we might have three people working on a patient at once," Chief Timerman said.
For example, one of those firefighters could be taking vitals while another talks to a victim's family member.
"Now, in those types of calls, the tempo is a lot slower," Chief Timerman said. "We'll have one person that makes contact, who will come into the house or even talk to somebody from the front door and ask some basic questions first to see what the situation is and check to see if there's fever or flu-like symptoms."
The idea for such precautions aren't only to prevent exposure from others.
"But we also have to realize the fact that we can be the sick ones as well," Chief Timerman said. "Keeping that 6-foot social distancing — that's been spread around a lot. It's just as important to us."
A COVID-19-related illness at the department would be devastating.
"A worst-case scenario would be if one of my employees would get sick and I'd need to quarantine a large number of workers," Chief Timerman said. "I can't accommodate losing eight to 10 people to quarantine. We're working hard to do things like station isolation."
The city has three fire stations. "We do our best to keep them separate," the chief said of the crews. "Obviously, it's imperfect. When we go to calls, the crews need to work together. But it's about minimizing the interaction."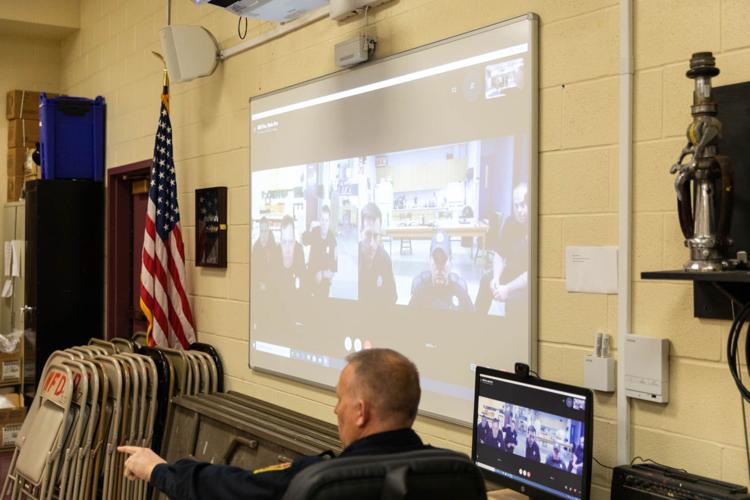 Among other precautions being taken at the city fire department over COVID-19:
n Separation among platoons.
Different daily shifts muster in and out of separate entrances/exits. There's no person-to-person interaction between arriving and departing shifts. Equipment, from turnout gear to the cabs of engines, are regularly sanitized.
"Back here at the station, three times a day, we go through and wipe down frequently touched services, probably like everybody else is doing," the chief said.
n Uniforms are laundered at the station, not worn home, and firefighters arrive to work only in civilian clothes and change at stations.
n The use of telecommunication applications.
On the afternoon of March 19, the duty crew at the Massey Street station was learning how to use Skype.
"Luckily, the IT department was able to hook up web cams and get us set up with Skype in record time," Chief Timerman said.
Being discussed over Skype was turnout gear decontamination procedures.
"They developed it here at Station One and they're passing the training on to Station 2 (906 State St.) and Station 3 (638 Mill St.) without having to be over there," Chief Timerman said. "We've got a bunch of middle-age guys who have never used Skype trying to figure out how to make that work."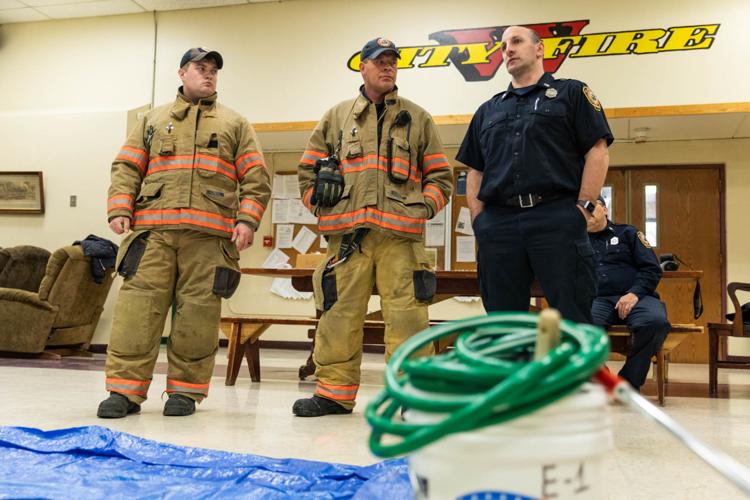 If all this sounds like the fire department is going by an organized playbook taken from the shelf, it is not.
"We started working on this just before I got promoted," the chief said of his March 2 advancement. "I think we've had the good fortune of realizing that this was going to be a situation a little bit earlier than other agencies, so we've been able to think things through."
His employees, Chief Timerman said, have been very receptive to the ideas and implementations.
"This has been a really weird time," he said. "The things I've been asking them to do are a little out of the ordinary. We're all creatures of habit. I've done the same shift change for 23 years. Switching to this is not pleasant. But everybody understands the mission."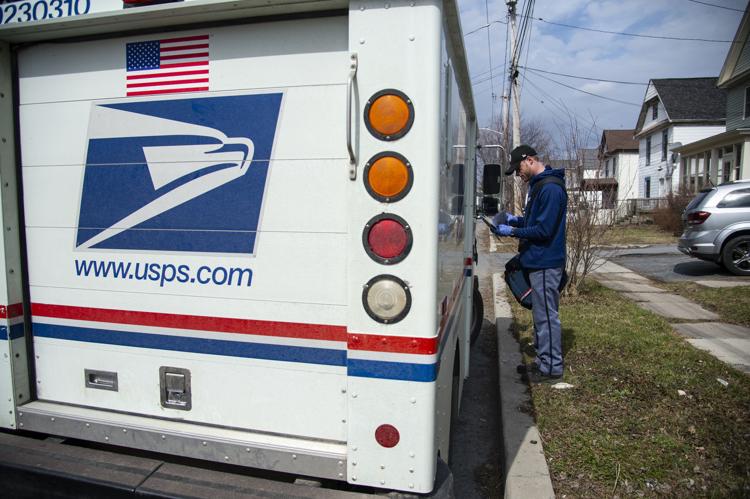 Cable, internet, mail
With people being ordered to stay home, a problem with cable service or even cable television can have considerable negative consequences.
"As one of FEMA's Community Lifeline sectors, our services are essential," said Lara Pritchard, senior director of communications for the Northeast region for Charter Communications, which operates under the branding name of Spectrum.
"The health and safety of our customers and our employees is our priority and we're adhering to CDC guidelines and working with local authorities so that we can best support our customers and our employees in the communities that we serve," Ms. Pritchard said in a news release.
Spectrum technicians are still making service calls.
"We are continually educating our staff on best practices, such as proper hygiene and social distancing, and we are regularly disinfecting our trucks and equipment," Ms. Pritchard said.
When it receives a service call request, Spectrum asks whether that customer is sick or under quarantine due to potential COVID-19 exposure.
"If they are, we will do everything we can to resolve their issue outside their home," Ms. Pritchard said. "Likewise, if our technician arrives at a customer location and determines a customer is exhibiting cold or flu-like symptoms or learns that a customer is under quarantine, we will do everything possible outside the location to resolve the service issue, without entering the home."
She added, "Our technicians are self-dispatched, and all in-person weekly team meetings have been transitioned to WebEx, to support social distancing measures."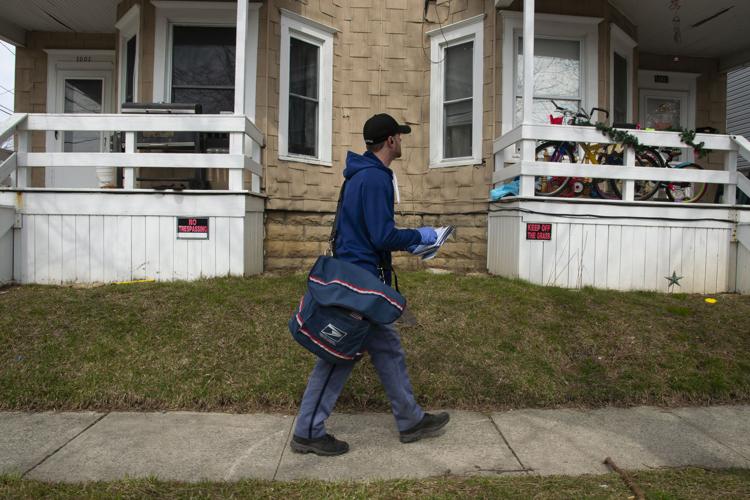 People are still receiving U.S. Postal Service mail during the pandemic. Maureen P. Marion, the region's Postal Service spokeswoman based in Windsor, Conn., said the agency is closely monitoring COVID-19 and continues to follow strategies and measures recommended by the Centers for Disease Control and Prevention and public health departments.
The Postal Service uses CDC guidelines for frequencies, methods and products used in its cleaning protocols.
"To address CDC's recommendations, priority is given to surfaces in locations where there is most human traffic with cleaning frequencies as provided by the CDC," according to a USPS news release.
As for fears that COVID-19 may be spread through deliveries, Ms. Marion said, "The CDC, World Health Organization and the Surgeon General have indicated that there is currently no evidence that COVID-19 is being spread through the mail."
A New England Journal of Medicine study found that COVID-19 survival time on cardboard is about a day.
Euan Tovey, associate professor and principal research fellow in medicine, University of Sydney, recently wrote in The Conversation that "unlike plastic surfaces, cardboard is porous. That means a droplet would probably penetrate into the material and may not be so easily picked up when you touch the package." Your daily newspaper is much more porous than cardboard.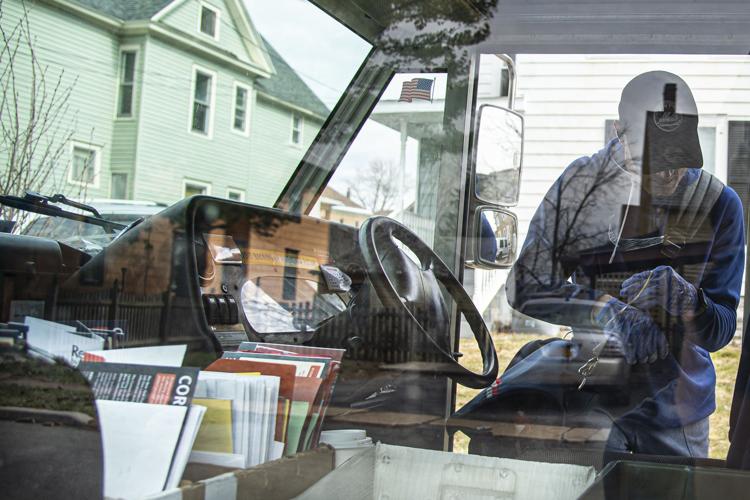 Responding to the surge
Trucks are moving across the nation delivering mail and other goods to facilities ranging from grocery stores to hospitals.
"There is plenty of food, water, medicine, fuel and, yes, toilet paper, in our supply chain," the American Trucking Association's website says. "The empty shelves temporarily seen are simply the result of surge demand as Americans rush to stock up."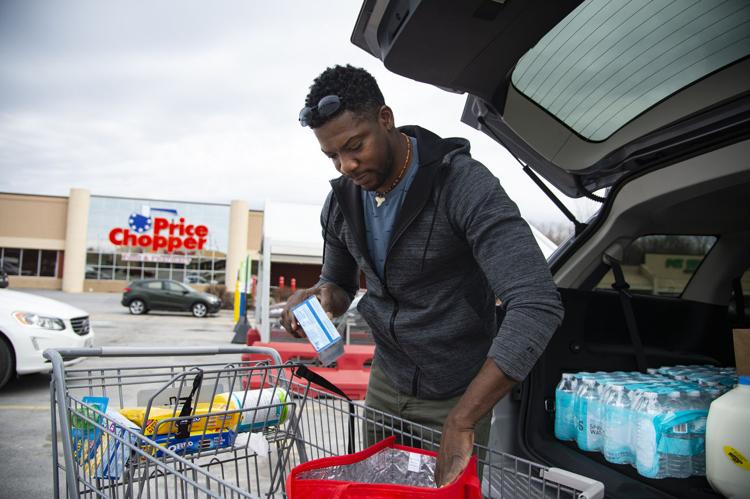 JoAnne VanBrocklin, controller at Teal's Express Inc., Watertown, said keeping trucks rolling is particularly key for Teal's.
"We haul for a lot of medical suppliers," Ms. VanBrocklin said.
Teal's Express has a total of 12 terminals, with locations in New York, Pennsylvania, New Jersey and Massachusetts.
Truck drivers at Teal's, Ms. VanBrocklin said, are taking precautions against COVID-19. Human contact is being minimized at deliveries, and drivers are also minimizing contact when it comes to the company's different facilities.
"This is all new territory," Ms. VanBrocklin said.
help! plenty of stock
Price Chopper/Market 32, the Golub Corporation, announced on March 19 that the Schenectady-based chain is looking to hire more than 2,000 part-time or temporary part-time employees to "better serve customers during these turbulent times." A day later, the chain announced it was giving its hourly workers, full-and part-time, pay raises of $1 per hour.
As shoppers rush to stores to stock up their homes, supermarket workers have been scrambling to stock shelves.
"You'd be surprised how many customers are showing their appreciation for our teammates — our teammates at store level, in addition to the ones on our support teams that are helping to fuel products through the stores, are working extra hard to do their jobs well (and) take care of their neighbors," Mona Golub, vice president for public relations and consumer and marketing services at Golub Corporation said in a phone interview.
Ms. Golub said that to put the current situation in perspective, most of the emergency responses that the company has dealt with in its 85 years in business have been instances that were limited geographically, such as a natural disaster — a blizzard here, a flood there.
"The pandemic is national," Ms. Golub said. "What that means is that there's a similar need all across the nation. We need to recognize and respect each other, not only state-to-state, chain-to-chain or store-to-store, but neighbor to neighbor — relative to the fact that we all have many of the same needs."
There is plenty of stock to go around, Ms. Golub said.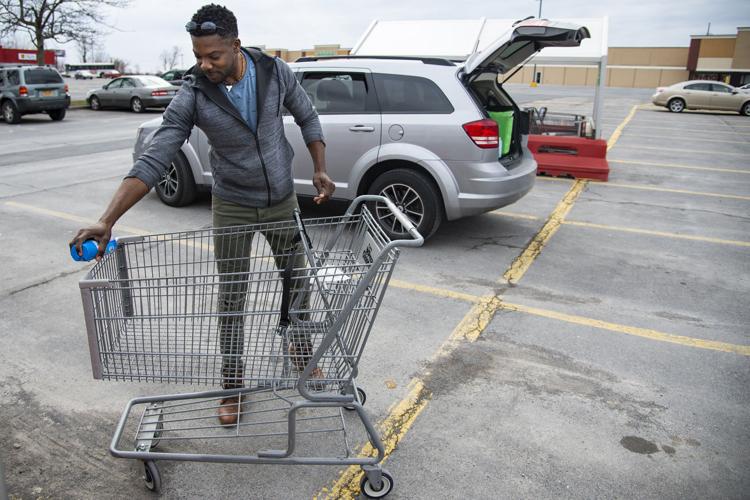 "The food supply is not in jeopardy," she said. "Some items are on allocation, which means we're not getting 100 percent of what we order. But it's not as though those products aren't lined up to come in in a day or two, or not coming in erratically."
The top priority for the chain, Ms. Golub said, is adjusting the work-life balance of its workers during the crisis.
"The impact of things such as school closures have decreased hours for a number of our existing teammates," she said. "That, coupled with the accelerated volume of product and the increase in cleaning protocols have all given rise to a need for more support at store level."
Reflecting common retail industry policy now, those "cleaning protocols" are elevated. At Price Chopper, it means "accelerated" sanitizing of all "high-touch" surfaces, from rest rooms, back rooms and the store's perimeter "with a specific focus on disinfecting hand-contact surfaces such as touch screen monitors, Verifones (electronic payment devices), check-writing stands and lotto machines."
All "high-touch surfaces" are disinfected regularly, Ms. Golub said. "We've got a whole different set of protocols for surfaces that are related to food."
She added, "At the front end, cashiers and baggers are being given handwashing breaks every 30 minutes and using hand-sanitizing liquid and disinfecting high touch surfaces around the register in between orders. They're certainly offered gloves if they handle money."
Six days after Ms. Golub's initial interview with the Times, she said the previous sanitizing protocols had been "dwarfed" by increased ones.
"In support of social distancing protocols, we are alternating open registers, using floor markers to space out lines and have erected signage with visuals that further emphasize the message. We are also in the process of installing Plexiglas shields at every register," she said.
Signs urge shoppers to stay "two carts apart" from each other. Price Chopper stores did offer disinfectant wipes for customers entering the stores who wished to wipe down handles of the carts.
"But folks are stealing those canisters as fast as we can put them out," Ms. Golub said.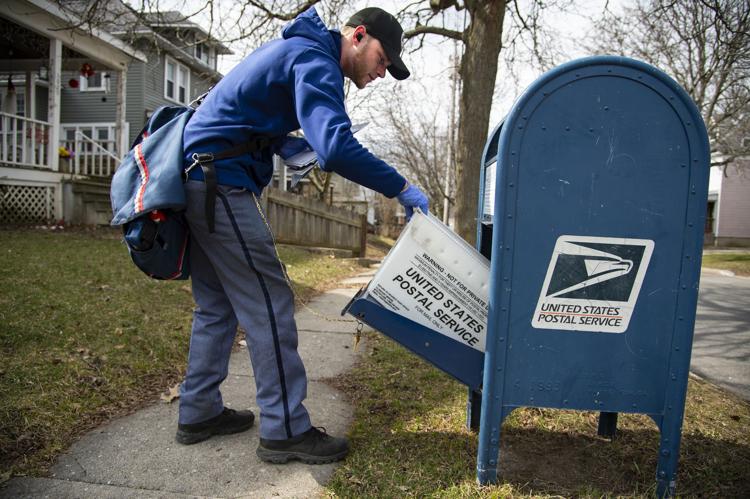 Not officially 'essential'
Most human services nonprofit agencies aren't deemed essential, but for those seeking help for their health and personal welfare, the services provided could be considered such, especially during these arduous times as people seek guidance, counseling, adult education and the providing of basic needs.
Workers at local nonprofit agencies have turned to working at home to continue providing that help.
"We're providing all the services we've provided before, but we're not just doing it face-to-face," said William "Bill" Bowman, executive director of the Alcohol and Substance Abuse Council of Jefferson County, Inc., aka Pivot Prevention Services.
On Thursday, the New York Times reported that "addiction experts are calling the coronavirus pandemic a national relapse trigger." Pivot is continuing to provide services such as assessments and group activities.
"A lot of them are being done by the Zoom platform," Mr. Bowman said.
Zoom is a web-based video conferencing tool with a local, desktop client and a mobile app that allows users to meet online, with or without video.
"Once we get that figured out, a lot of our public and community education and the meetings that we normally hold, where people are physically present, will be done through that platform," Mr. Bowman said.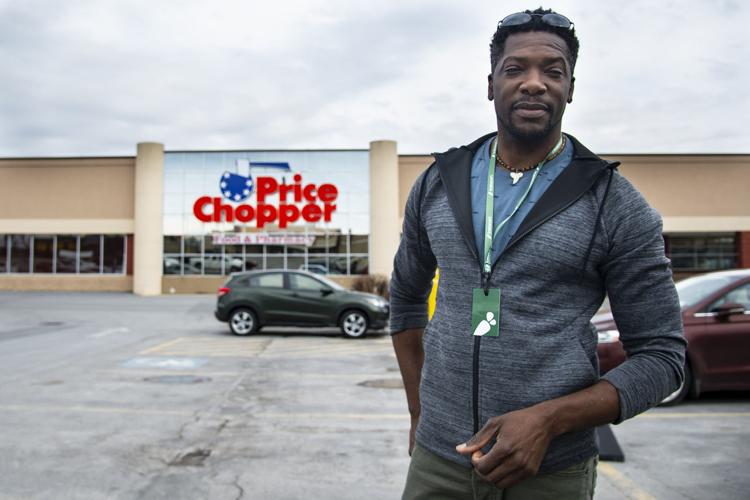 Bolstering the home front
The staff at Watertown-based North Country Prenatal/Perinatal Council is also working from home and providing maternal and family health services.
"We've spent most of this week working to contact all of our home-visiting clients in particular," Tina M. Cobb, executive director of the council said on March 20. "We're trying to figure out if we can do virtual home visits with them. We'll be able to Google, Face Time, Skype or whatever it happens to be, and try to touch bases with them on a regular basis so that we can provide them with services to try to meet their needs."
Many clients, Ms. Cobb, said, have the cell phone numbers of NCPPC staff members. The office phone (315-788-8533) is regularly checked for messages, or clients can also call a new number: 315-907-7513.
"I think it's a really trying time for our families," Ms. Cobb said. "There's been a shortage of diapers and formula and they're not quite sure how they're accessing our services, their benefits or if they need food from the food pantry. And our seniors as well, because we do serve some seniors. We're just trying to figure out how we're going to get their basic needs met during this crisis."
NCPPC health insurance navigators are still doing enrollments, but over the phone until further notice.
The open enrollment period for coverage in 2020 had previously ended on Feb. 7.
But because of the pandemic, the state on March 16 announced that New Yorkers have a special enrollment period during which eligible individuals will be able to enroll in insurance coverage through New York State of Health, New York's official health plan marketplace and directly through insurers. Individuals who enroll before April 15 will have coverage effective as of April 1.
"For our navigation folks, and the people who are in need of insurance, we're able to do online applications," Ms. Cobb said. "They just need to call our number and we'll set them up with an appointment and a navigator will call them directly and they'll be able to work through their processes."
If there's a bright spot in the pandemic, it's the use of telecommunication to keep in touch with clients, Ms. Cobb said.
"If this was 20 years ago, when I really started with the agency, that wouldn't have been possible," Ms. Cobb said. "People would have been stranded, I guess for a lack of a better word, not knowing, not being able to access other than a phone. Not that this is easy by any stretch of the imagination."
She added, "I think we underestimate our purpose sometimes in the lives of our consumers and what the benefit is to them. The ability to do a virtual home visit with them, rather than a phone call, is pretty significant."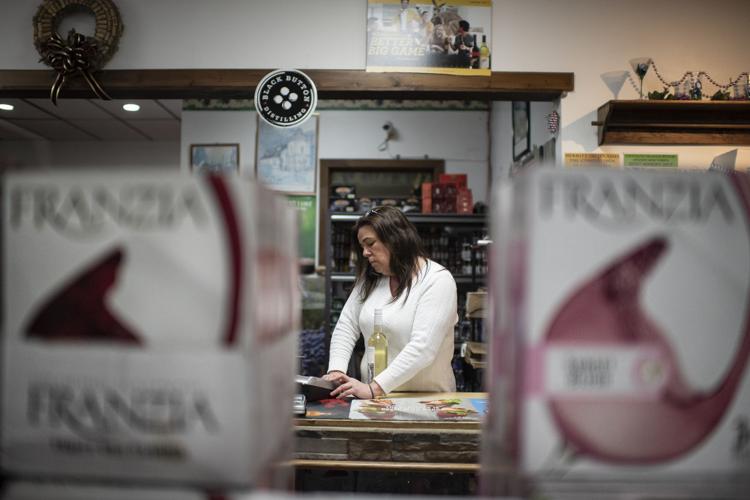 In high spirits
Many people did a double-take when Gov. Cuomo's PAUSE executive order declared that liquor stores are "essential."
"I was very surprised they deemed us essential," said Pam Lefevre, president of Gateway Liquors, 1324 Washington St. "I do understand. People are stressed and if a glass of wine makes them relax a little bit after a hards day's work or a stressful day, I get it totally."
In the window of her store, located in Watertown Shopping Plaza, a sign advertises 20 percent off all wine.
"It's to help people so they can load up on more," Ms. Lefevre said.
And people have been doing that.
"It's a good product that doesn't require refrigeration or freezing and it's got a long shelf life," Ms. Lefevre said.
The store has been closing at 7 p.m. during the PAUSE decree, but effective Monday, Gateway will begin closing at 5:30 p.m.
"We do want people to stay home and reduce traffic as best we can," Ms. Lefevre said.
Gateway Liquor opens at 9 a.m.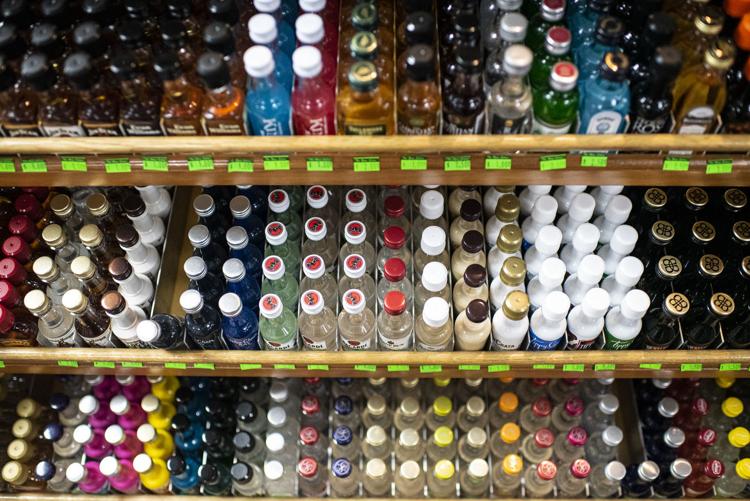 "Which is a nice time for seniors if they want to come in," Ms. Lefevre said. "If they're going to the grocery store, they can just pop in quick and get back home."
Home — it may be where the heart is, but now, it's also a place full of hope, and during PAUSE, perhaps also a place full of wine and toilet paper.