WATERTOWN — Local seasonal traditions are coming back, in a new and socially distanced form.
The Watertown Farm and Craft Market held its first market of the season Wednesday, with fewer and more spaced-out vendor stalls. With state regulations still in place, limiting the size of gatherings and keeping some nonessential businesses closed, only food vendors were permitted to set up at the market.
"Based on New York State and Farmers Market Federation guidelines, we're following all those guidelines which means all our vendors are wearing masks, all of our vendors have hand sanitizer available, and they're sanitizing their stations," said Kayla S. Perry, volunteer market manager for the event organized by the Greater Watertown-North Country Chamber of Commerce.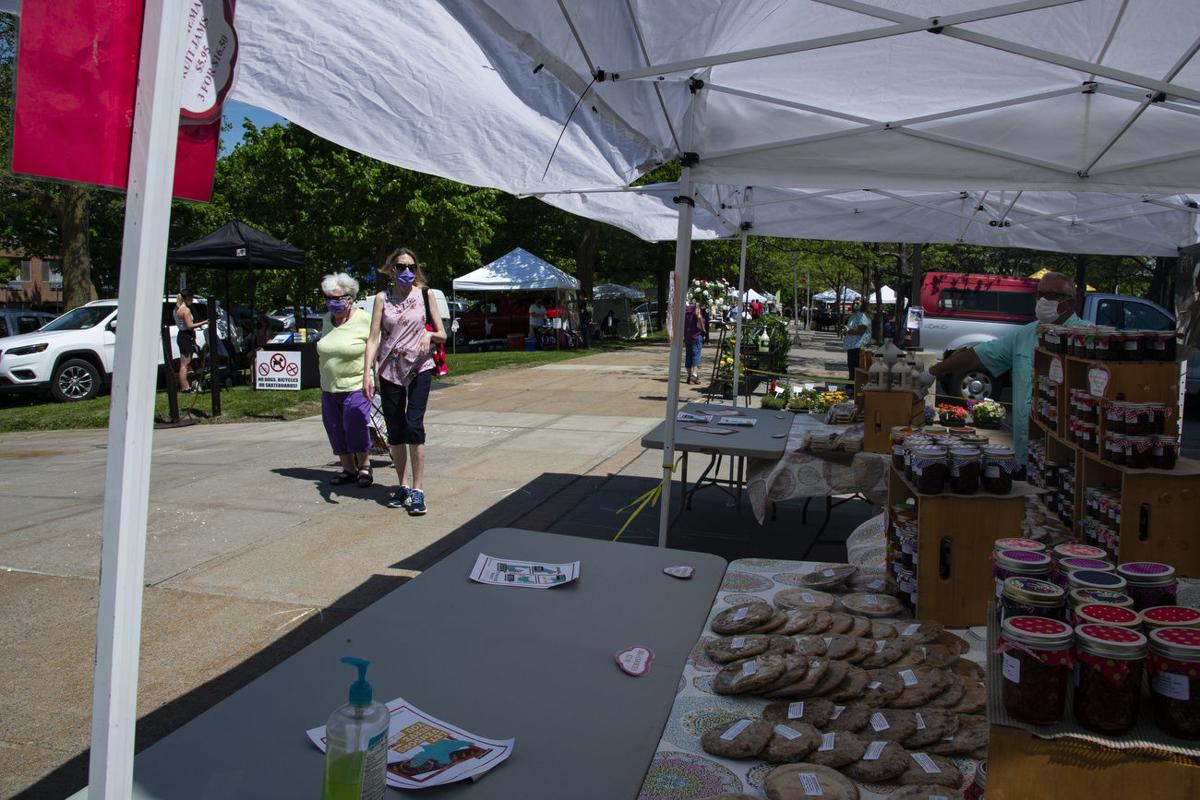 Customers who attended the market were asked to come in groups of two at most, limit their time at the market and to wear masks at all times. Customers also weren't allowed to handle items until purchasing them, something that Rock and Jam vendor Yvonne M. Youngs said was a difficult barrier for food vendors.
"It's tough because sampling is harder to do," she said. "I usually allow samples of the more odd-flavored jams, but now people can't try them."
Vendors said that they were seeing most of their customers observing social distancing rules and wearing masks, even if there were fewer customers overall.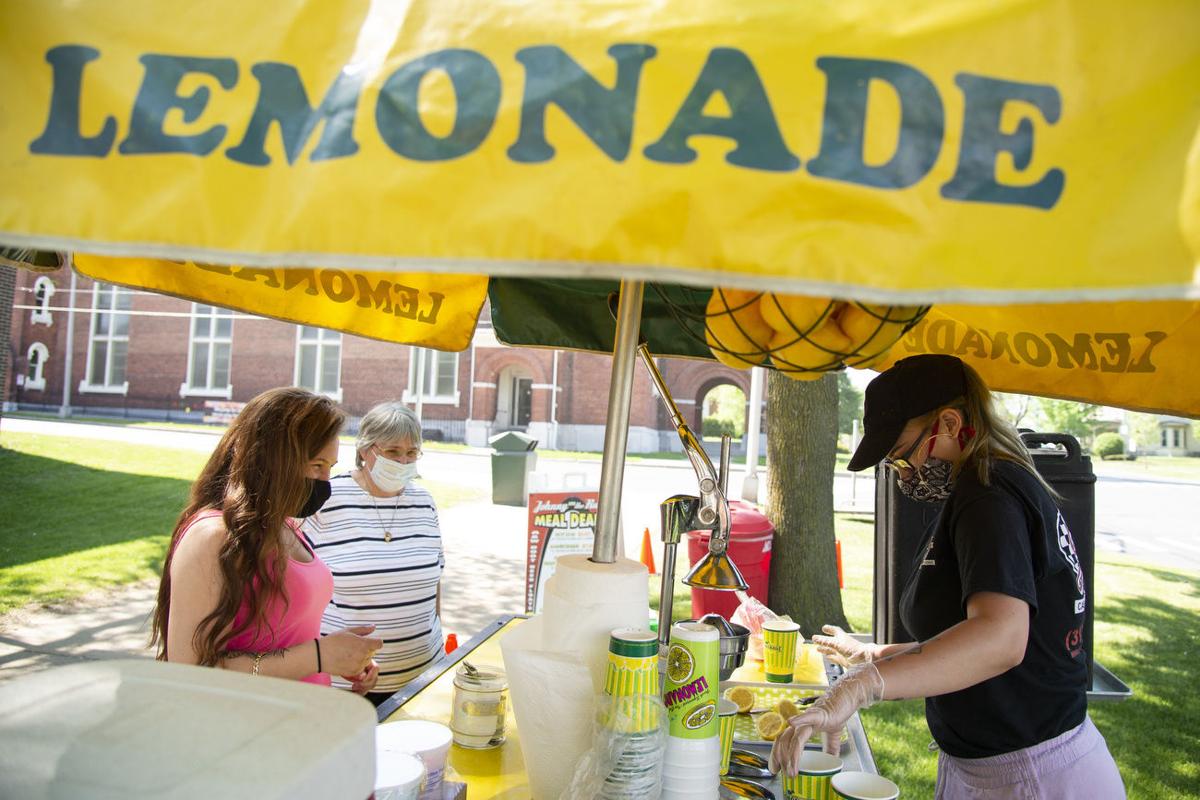 "There are fewer people here than usual," said Shawn Chamberlain, owner of Worth Gold Farm and one of Wednesdays vendors. "Usually the people from the offices on Washington Street and the people from the YMCA come as well, but they aren't at work right now, so we aren't seeing that crowd."
Other vendors were more optimistic. Duane S. Bender, owner of Bender Busy Bee Honey, said he believed most people were ready to "get over" social distancing and start going out again.
Some of the customers agreed with Mr. Bender. Margie Kuvalanza came to the market in search of fresh produce and for things she couldn't buy at the grocery store. She said she was not worried about the potential dangers of contracting COVID-19.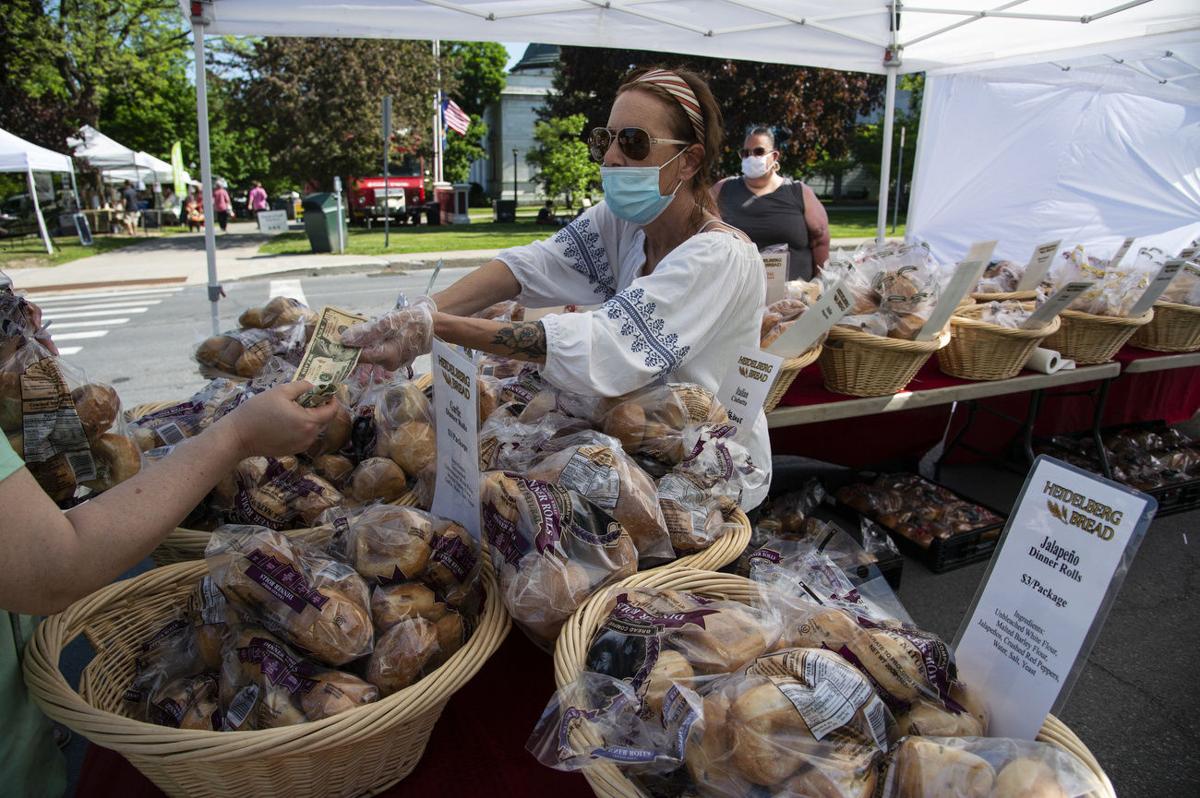 "I have more concern that it's 86 degrees today and people are wearing masks," Ms. Kuvalanza said. "Hopefully nobody passes out."
As regulations change, the farmers market will update its weekly operating procedures to match.
"We're planning for things to change; they just released new guidelines yesterday and we will be rolling with those and making those changes as quickly as we can," Ms. Perry said.