WATERTOWN — Finally given the green light to reopen, the Salmon Run Mall opened to the public at 11 a.m. Friday, though an estimated 50 percent or so of businesses in the mall remained gated and closed, set to reopen at later dates.
To the surprise of mall manager Karla Woods, there were people lined up outside the doors before the mall opened Friday, though individuals walking through the halls and stopping into stores did not come close to rivaling the crowds that would normally be visiting the mall on a Friday in the summer.
According to Ms. Woods, the mall's phones were ringing off the hook Friday with people asking which stores are open, so she has been referring them to the mall's website, which features up-to-date information on what is open and what isn't.
"Kudos to the stores that opened today because they really hustled; we only found out we could open Wednesday," she said.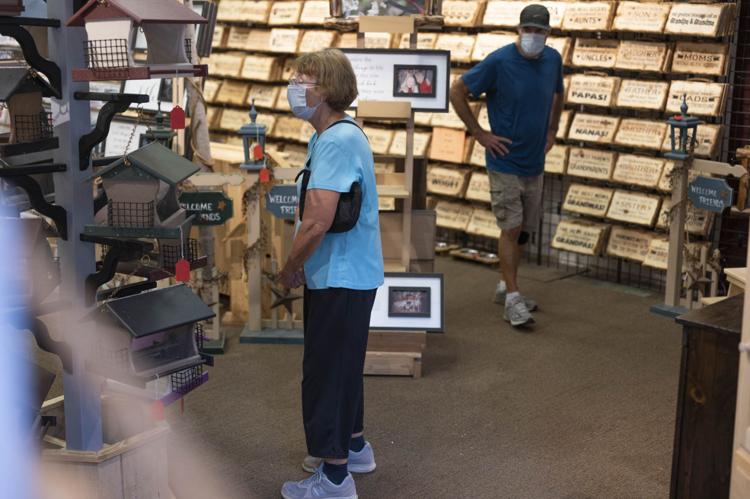 Music featuring the likes of Fall Out Boy, among others, played over the speakers for guests to enjoy as they wandered the mall to see which stores were open.
In the food court, only two spots were open and ready for business: Reczko's Dough and Juju 66 Real Fruit Smoothies and Tea. Selling everything from hot dogs and fries to fried dough and Oreos. Reczko's Dough, as well as Reczko's Crafts just around the corner, is owned by Robert and Amanda Reczko.
"We definitely didn't expect it to be closed this long, it was pretty disappointing when Phase II happened and we were told we could not open," said Mrs. Reczko. "We're excited to get back into things, but we're nervous to see how the mall is going to go from here and if any other stores are gonna close, we're excited but we're nervous."
To stay afloat while their stores in the mall were closed, the Reczkos stocked their food truck and took to a patch of grass in front of School Daze on Arsenal St.
"That was amazing, we were just blown away by the support," Mr. Reczko said. "I'm out there in 90 degree weather and we're still selling a couple hundred fried doughs, it's just crazy to me."
Even now that they're opened back up in the Salmon Run Mall, loyal customers are asking if they'll continue with the truck at School Daze.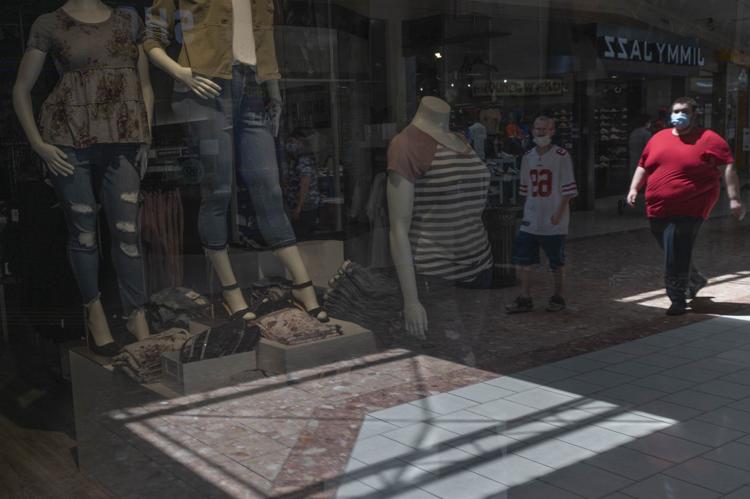 Though there are only two stalls open at this time, the Salmon Run Mall food court is currently take-out only- diners are not currently allowed to sit in the court per state mandates.
The mall's only dine in restaurant, Skewed Brewing, as well as Regal Cinemas Stadium 12, were devoid of their usually inviting lighting. The state is not allowing Regal to begin showing movies under the Phase IV reopening of the north country economy. Instead, the movie chain is planning a national July 31 opening.
Other entertainment venues in the mall, such as Bounce Mountain, also remain closed until further notice.
Friday's mall opening comes with the anticipation for a new Hobby Lobby store in the mall at the end of the month. Ms. Woods said she plans to talk to the Oklahoma-based chain next week about the opening, which has been scheduled for July 31, and will know more after the conversation. The Hobby Lobby will occupy the front half of the former Sears store, which has been subdivided and extensively renovated.
Places like Verizon, Master Cuts, Coyote Moon and the Christmas Tree Shop in the mall were all closed Friday, though a few clothing stores like American Eagle and shoe stores like Designer Shoe Warehouse were happily seeing customers.
According to Ms. Woods, mall stores are opening in phases, starting with some on Friday, and going into next week.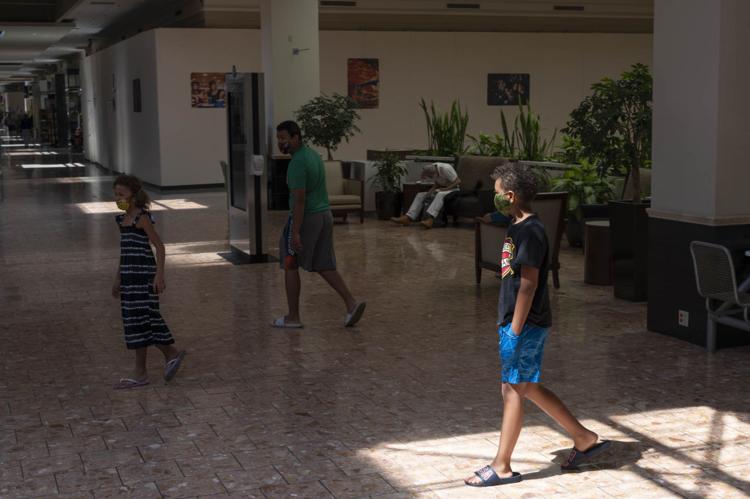 Lori Razzano, accompanied by her children Dominik, 13, and Autumn, 11, took to the mall to beat the heat and possibly find some sales.
"We thought all the stores would be open, so we were surprised," she said. "We're going to hang out for a little bit, get out of the house. If it was packed, we weren't going to come in, but we were surprised at how few cars there were."
Before opening, tenants must prepare their stores with the safety and health guidelines that the mall and the state put into place to prevent shoppers from getting the virus as well as call staff back to work and stock their stores.
Now that it is once again open to the public, the mall will be operating under the modified hours of 11 a.m. to 7 p.m. Monday through Saturday and 11 a.m. to 6 p.m. on Sunday.
Vietnam War veteran Martin Schneider came to the mall Friday not so much for the stores, but to just walk around.
"Now that the mall's open, that's where I like to walk, I get the exercise walking up and down and see what stores are open," he said. "I've been trying to stay safe and doing all the adjustments, but I do get upset when I go into some stores and people aren't wearing their masks, I always wear mine when I go in."
Also observing safety measures Friday were Nora Edwards and daughter Khloe, 9, who was excited to be able to go to the mall again.
"We're just curious about what's going on inside the mall. Mostly the stores are closed," Mrs. Edwards said. "I was a bit worried about the virus when coming out today, so we're both wearing masks because we need to protect ourselves and other people."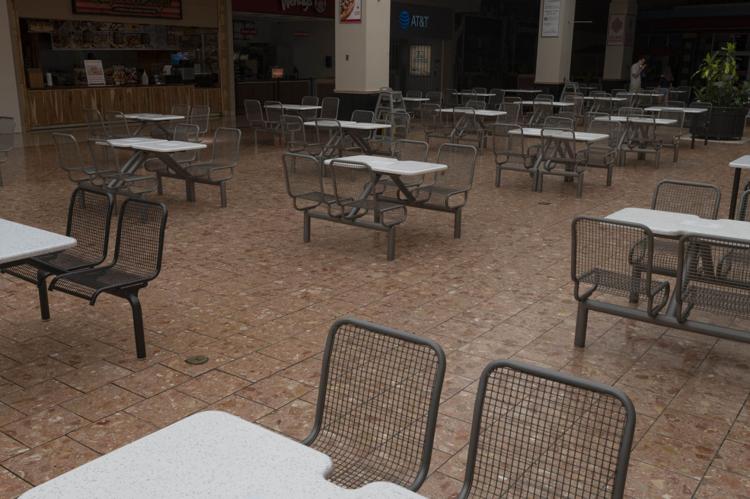 To preserve the health and safety of customers, mall officials established the following guidelines: wearing face coverings; social distancing of 6 feet; enhanced cleaning and sanitizing: enhancements to air circulation and filtration systems; proactive touchless disinfecting; hand sanitizer stations and curbside pickup. The safety and cleaning guidelines are in accordance with the state's rules for the Phase IV reopening of the north country economy.
There will also be daily health screenings for mall employees, security personnel, housekeeping employees, and all contractors.
Naomi Moran, who has worked at Rainbow Zen for about a year, said Friday was her first day back to work since March. She was happy to get back, but does not know what the future will hold for small businesses around the mall.
"It's kind of overwhelming, I've never been nervous to come here before, but I was worried I wouldn't remember how to talk to people," she said. "I hope people come in here and look at stuff and help us because small businesses have been suffering during this pandemic and I hope people realize that and want to come support us."
Reporter Craig Fox contributed to this story.