LOWVILLE — "Right here. ... it's a beautiful place to live, to work, to raise a family. There's only one detraction and that's the availability of fast, reliable internet."
So said U.S. Senate Majority Leader Charles E. Schumer, D-N.Y., to Lewis County leaders, planners, business people and media representatives Wednesday while overlooking the Tug Hill from the patio of Tug Hill Vineyards in the town of Lowville.
"The bottom line: the pandemic has highlighted certain fault lines in our society and one of them is the lack of broadband. We learned, with the pandemic, that the internet is just like the telephone, just like electricity. The internet is a necessity, not a luxury."
The $1 trillion Infrastructure Investment and Jobs Act was approved in the Senate after extensive negotiations led by the Majority Leader Schumer by a 69-30 vote. Nineteen of the yes votes came from Republicans, joining all 50 Democrats to approve the bipartisan bill.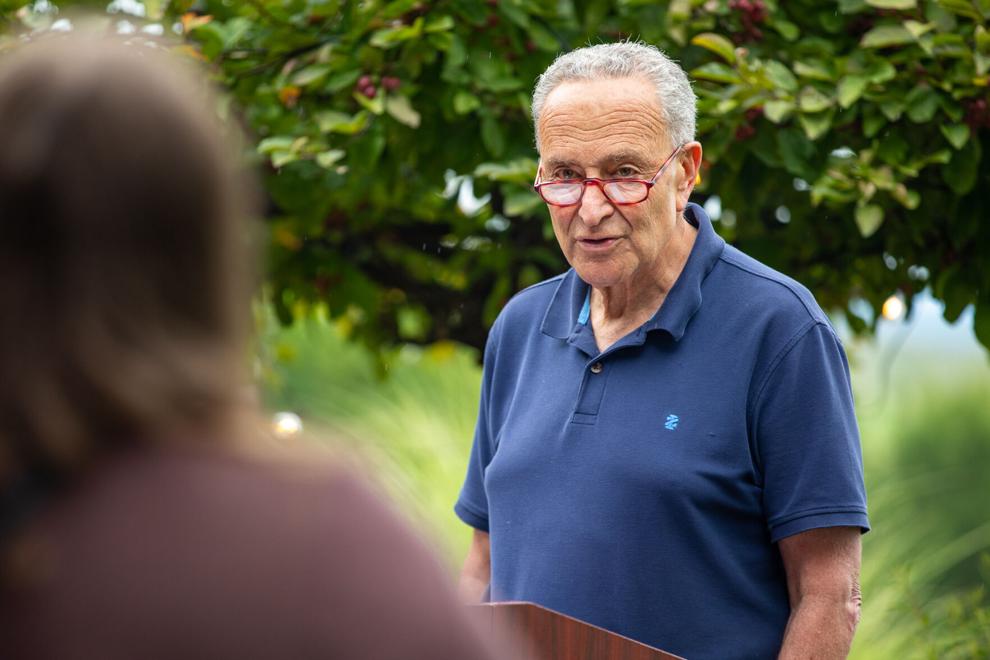 Almost 12% of the $550 billion in new spending included in the legislation above the spending already planned by Congress over the next eight years is dedicated to making reliable high speed internet available everywhere in the country at affordable prices.
"For the past couple of months, I've been working really hard to negotiate a once-in-a-generation federal investment in the nation's infrastructure. It's large but you've got to apply. Lewis County is just about ready to apply because of the good folks here," he said, gesturing to county Legislator Thomas Osbourne, county Board Chairman Lawrence Dolhof, Development Authority of the North Country Director of Communications Laurie Marr and Industrial Development Authority Director of Finance and Incentives Cheyenne Steria, who all play a role in the county's broadband planning along with county Planning Director Casandra Buell, who was acknowledged earlier.
By having a plan in place and setting aside funds for broadband from other grants, Sen. Schumer said Lewis County will be able to apply early and be more likely to get the funding they need.
He said he will use his "clout as majority leader to make that happen" and that the million dollars the county set aside from the $3.5 million they received through the American Rescue Plan Act which was turned into law in March, is an investment that "will pay off many times over because it will make the county eligible for the infrastructure funding."
Like in the earlier legislation, Mr. Schumer said he was focused in crafting the infrastructure bill on ensuring that funding went to localities.
"Too often, if you give the state all of the money, the localities never see it," he said.
According to Sen. Schumer, $42 billion of the $65 billion is for "broadband deployment grants to the states," $14 billion is slated to ensure broadband is "permanently" affordable, $2 billion will be used by the U.S. Department of Agriculture ReConnect Loan Program and $1 billion is for "middle mile" broadband infrastructure.
"Middle Mile" is the last few miles of infrastructure needed to connect local networks to broadband infrastructure like cable or fiber optic lines.
"In addition, I got $150 million for the Northern Border Regional Commission in the bipartisan deal. That's in there. This is five times the funding of its current level," Sen. Schumer said. "I like to say that the NBRC is a north country earmark because it provides dedicated funding for economic development, including high speed internet infrastructure, in communities at the northern border."
Ms. Marr thanked the senator for his help with addressing the "broadband divide" issue rural communities have been confronting for years and echoed his sentiment that the problem was made worse by the pandemic with people trying to learn, teach, work and access medical help from home.
"Just because we've chosen to live in rural communities, access to those basic necessities should not be out of our reach," she said.
In addition to broadband, the Senate majority leader said the Infrastructure Act's funding for roads, bridges, water, sewer and affordable housing will also help the north country.
"There will be millions of dollars for Lewis County alone and tens of millions for the north country, maybe more, maybe even hundreds of millions," he noted.
The bill must now be approved by the House of Representatives before it can be signed into law by President Joseph Biden.
Among the topics and funding that were cut from the infrastructure bill that Sen. Schumer plans to address in the next legislation are climate change and "these multi-billionaires — I'll be a little partisan here — under the Trump administration (that) were allowed to pay no taxes whatsoever."
In addressing other topics, Sen. Schumer said the fact that the U.S. is still refusing to open the border with Canada, causing major damage to the tourism industry in the north country during peak season, makes him "very disappointed in our country" now that Canada has opened its side of the crossing.
He said he has spoken to the Secretary of State and the Secretary of Homeland Security to try to remedy the situation.
"If we can let people who are already vaccinated go to stadiums and check them, go to restaurants and check them, we can let Canadians who are already vaccinated come over the border," said Sen. Schumer.
On a more solemn note, Sen. Schumer saluted Fort Drum soldiers and specifically sent support for those who were recently deployed to Afghanistan.
"(They are) trying to make sure American citizens can come home and those brave Afghans who helped our military, translators and things like that — if they stay there they're in real trouble — get helped as well," he said.
He declined "to place blame" when asked if he felt the removal of American troops from the country was handled correctly, saying only the focus now should be on getting people out safely.