While absentee ballots remain to be counted, it appears Republican incumbent Rep. Elise M. Stefanik, R-Schuylerville, has won her bid for re-election to 21st Congressional District.
With 87% of precincts reporting by 12:30 a.m. Wednesday, Rep. Stefanik carried 64% of the vote. Her Democratic opponent, Tedra L. Cobb, had 35%.
"I am so overwhelmed, but what is important tonight is this is your Congressional seat, the people's seat, and I am so proud to serve as the voice and the vote for the people of New York's 21st Congressional district," Rep. Stefanik said in her acceptance speech Tuesday night at the Queensbury Hotel in Glens Falls, which she delivered at around 11:30 p.m. "I know that every day that I do my job, I'm working on behalf of you, listening to your concerns, bringing your issues, and making sure that we have a seat at the highest level in Washington, D.C."
Ms. Cobb and her campaign remained optimistic throughout the night, and by the time she stepped out of her campaign event at 10:30 p.m., she said she was not sure how the night would turn out. Shortly after midnight, she returned to address her supporters.
"I want to congratulate Elise Stefanik on her victory tonight," she said. "This campaign proved to Washington insiders that rural America and the north country isn't just a place worth romanticizing. It isn't just a purple dot on an electoral map, it's not an election year bellwether, it's not a place for cheap political language and a photo op. It's a place worth fighting for, it's a place of amazing strength and resolve. It's a place worth loving, and it's a place to call home."
Rep. Stefanik had 156,580 votes to Ms. Cobb's 85,880 when she declared victory. As of 12:30 a.m. Wednesday, Rep. Stefanik had 159,029 votes and Ms. Cobb had 88,133.
About 68,164 people in the district, at least 15% of all voters, submitted absentee ballots, and those will not be counted until at least Nov. 9. But it's highly unlikely those ballots will change the outcome of this race.
The candidates were facing off in their second electoral race against one another. In 2018, Rep. Stefanik handily won over Ms. Cobb, finishing ahead by 14 points.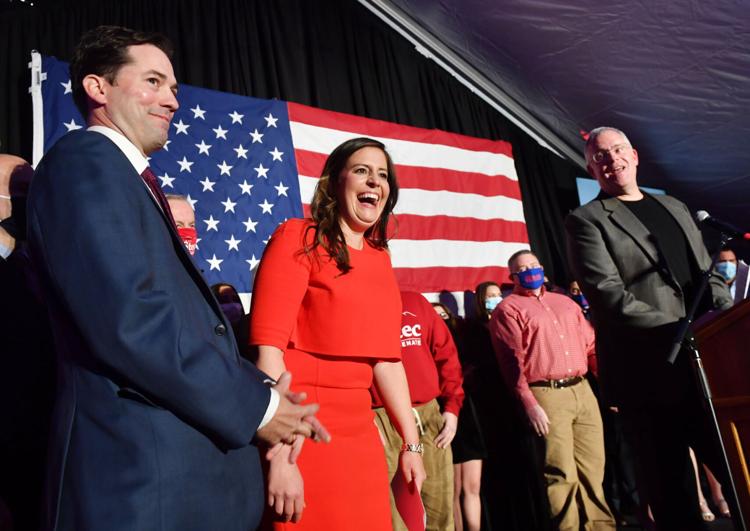 The candidates made it a deeply personal race this cycle, trading barbs on a number of issues. Rep. Stefanik repeatedly blasted Ms. Cobb for "running from her record" on issues like gun control and Medicare for All, and gave her the unflattering nickname of "Taxin' Tedra Cobb," which she used in nearly every campaign ad.
Ms. Cobb hit back against the congresswoman for her votes to repeal the Affordable Care Act, a move which Ms. Cobb has said would have ended health care coverage for over 64,000 residents in the district. The Democrat also repeatedly blasted Rep. Stefanik for what she termed "cowardice" over what she said was the congresswoman's silence about the allegations that Russian intelligence put bounties on the heads of American soldiers in Afghanistan.
The two differences between the two candidates could not have been clearer on election night either. While Ms. Cobb hosted a small get together with close friends, family and campaign staff in Canton, Rep. Stefanik hosted a rally with about 100 people in Glens Falls, although she did not arrive to that event until after declaring victory at 11:15 p.m.
The candidates brought massive levels of national attention to the race. Following the impeachment trial of President Donald J. Trump in November 2019, where Rep. Stefanik fervently defended Mr. Trump and gained national attention as a Republican "rising star," both candidates brought in unprecedented millions in campaign donations, both from within and outside of the district.
In the last financial quarter of 2019, which covered donations made during and immediately after the impeachment trial, Rep. Stefanik raised $3.2 million, while Ms. Cobb brought in $2.2 million.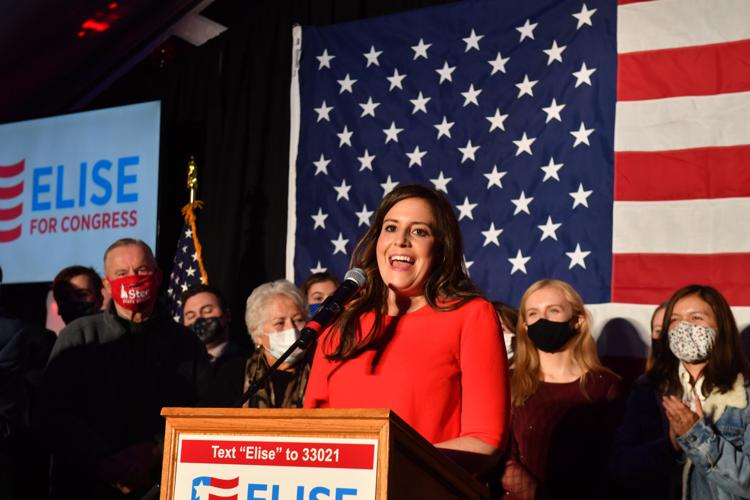 But that attention wavered, and for Ms. Cobb, faded as Election Day grew closer. While Rep. Stefanik kept up the pace, eventually reporting more than $10 million in contributions by the end, Ms. Cobb finished with only $5.3 million in contributions.
The coronavirus pandemic drastically changed how each candidate campaigned this year as well. Ms. Cobb stuck to phone calls, Zoom meetings and other digital events for most of the campaign from March to November, although she did begin holding in-person, socially distanced rallies in the weeks leading up to the election.
Rep. Stefanik pared down her own in-person events, although they never stopped. She began holding outdoor "sign waving" events, with local Republicans, and frequently distributed signs for Mr. Trump at her events as well.