LAWRENCEVILLE — Despite the clear skies and blazing sun, the wind played its role Saturday in making the third annual Lawrenceville Volunteer Fire Department's "Freezin' for a Reason" Bikini Snowmobile rally just that — "freezin'."
Do you ever go snowmobiling?
The wind howled, at times in sync with snowmobile engines, as the machines tore through the 300-foot snow drag strip, carrying their saddled riders, scantily-clad in a variety of outfits, from tutus to caped Xena Warrior Princess-looking bikini garb.
Johnny A. LaShomb, a 30-year volunteer firefighter in the department, said he and his brother, Jason LaShomb, started the rally as a fundraiser for breast cancer three years ago to celebrate the 20th anniversary of their mother's surviving breast cancer.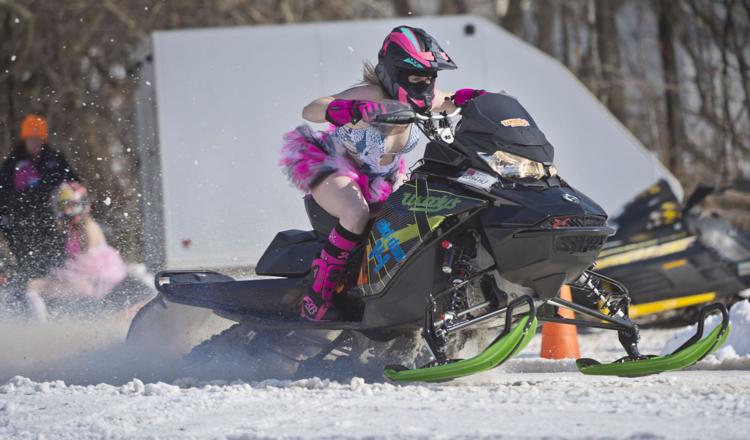 Their first year out, they raised $14,000, which they split with the Gouverneur Breast Cancer Fund. The nonprofit fund has helped those fighting breast cancer for almost 20 years and now adds testicular cancer to that in St. Lawrence, Jefferson, Lewis and Franklin counties.
In addition to his mother surviving cancer, Johnny LaShomb said he too was terminally ill with cancer and was told he had six months to live.
"So my brother and I, when we talked about celebrating mom's 20 years of being a survivor, she didn't want to celebrate in any way, so we told her we would donate in your cause," he said. "When we asked her who she wanted to raise money for, the Gouverneur Breast Cancer Fund came up."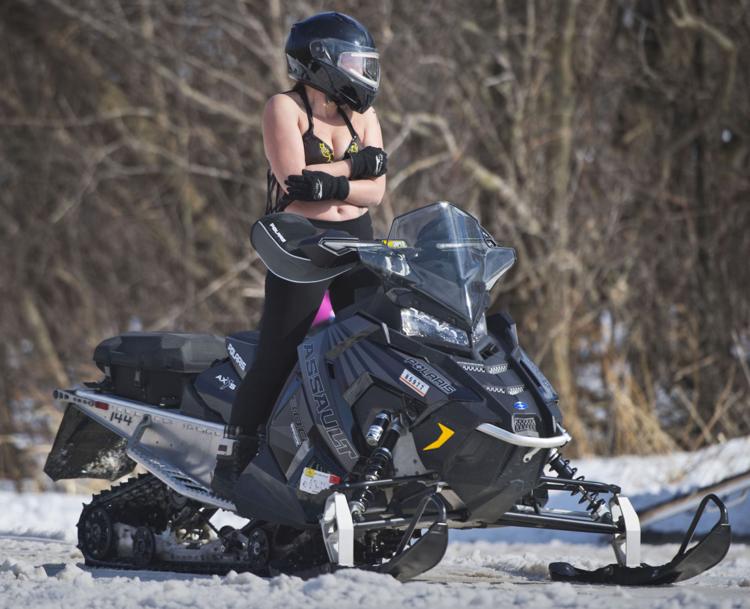 Judy A. Bush, secretary of the Gouverneur Brest Cancer Fund who was on hand for the fundraiser, said the group has helped 825 people and has raised a ton of money thanks to events like Saturday's rally.
"It's just amazing. This is like an hour away from us and to pick up on our cause," she said. "It's awesome and they are just so happy to do it and it is just such a worthwhile cause and it's nice to see people come together . . . to see something of this magnitude and be a part of it is just heartwarming."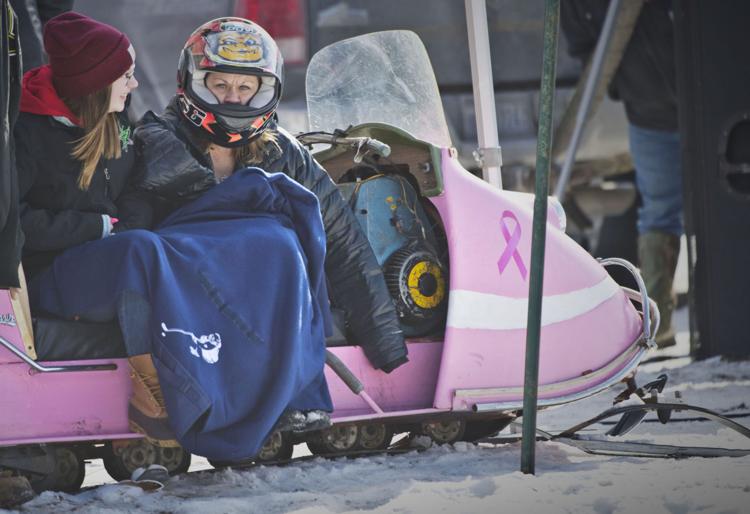 The idea for the bikini snowmobile rally came from fellow firefighter Caleb Bass, and the more Mr. LaShomb said they laughed about it, the more seriously they considered it.
And each year they continued to draw both riders, crowds and money, each year raising about $14,000, $12,000 and an estimated $10,000 or less, respectively, Mr. LaShomb said.
This year was not as lucrative as previous years due to a change in the days from Sunday to Saturday, leaving some folks out of the area as well as conflicting with other events that were taking place during the 2020 Tri-Town Winter Carnival, which the rally was a participant in.
But that didn't deter the riders.
Kyra B. Wells, 24, traveled up from Vernon to ride for the first time this year and said she was "very excited" after her sister, Erica J. Sauerhafer, Verona, told her what a good time she had the year before. The sisters heard about the event from their aunt and uncle, Kim and Edward Russell, who live in the area and participate.
But Ms. Wells said while the event and being with her family was fun, she recognized the cause and was eager to contribute to something for which she has had personal experience.
"I have some people who are close to me who have cancer so I like to help the people I can in any way I can," Ms. Wells said. "A very close person to me just told me last night that she has two weeks to live."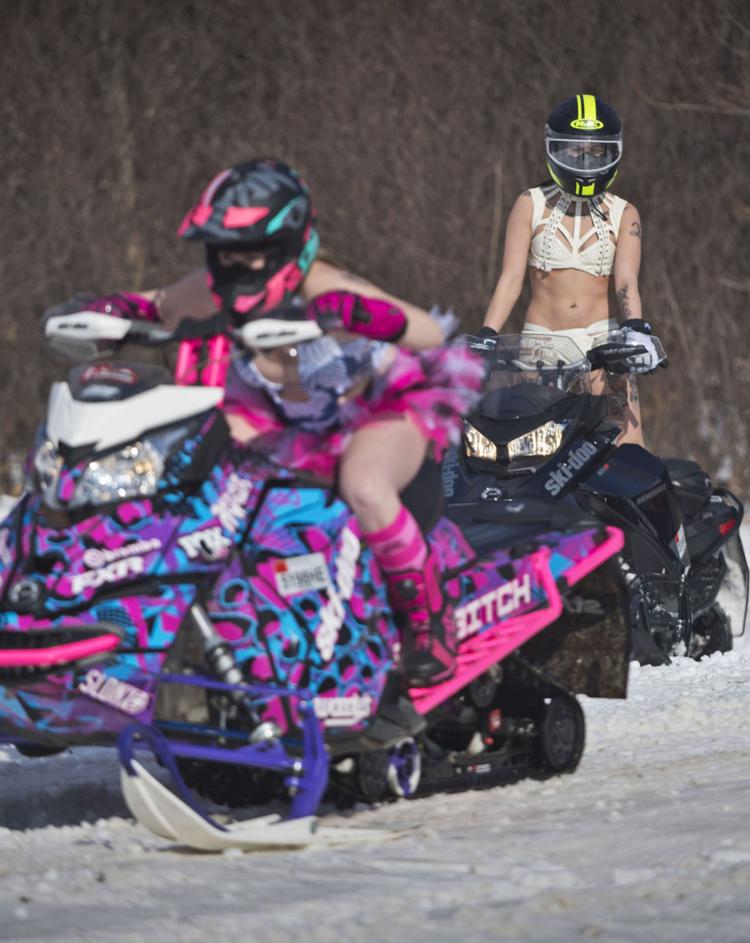 Ms. Wells said she as making a fashion statement by wearing not just a bikini, but "more like a rave costume than a traditional bikini," she said. The outfit was made from a white, leather-looking material that wasn't made for swimming.
Mrs. Sauerhafer said while there is certainly a chill that comes with going at speeds between 65 and 70 miles an hour in a bikini in the north country winter, the unparalleled fun she had last year brought her back with her sister.
"I had a long history of this, starting with old dog snowmobile racing and then I did show cross for a while," Mrs. Sauerhafer said. "So I just like to dabble a little in everything and this one has a good cause behind it, so that definitely helps boost it up."