MASSENA — Under the shade of two trees which grace the front yard of Emmanuel Congregational United Church of Christ, 39 W Orvis St., the North Country Poor People's Campaign kicked off Saturday afternoon by demanding racial justice in Northern New York.
Corey McGrath, one of the group's leaders, said the forum, "Why do you Support Black Lives Matter?," had been planned for a few weeks.
When a noose was discovered on the lawn of a Black family in the village on Saturday, July 25, the event was merged with a demonstration sponsored by the Black Lives Matter Potsdam organization.
"There is a nationwide movement with new momentum, new force, since the summer, with the state sanctioned murders of George Floyd, Breonna Taylor and others," Mr. McGrath said. "We, in the North Country Poor People's Campaign want people to know that they have a place in the movement against racism. We want to show people that the movement that we saw across the country exists right here — right here in Massena, right here in the north country. We want to show people around here that hate — that their hate — is not welcome in the north country."
"Growing up in Massena, I was oblivious to race and systemic racism because our community is almost entirely white. To be exact, 94 percent of Massena residents are white," McKay M. Burley said. "I was under the impression that I would graduate high school, go to college, live a heteronormative lifestyle and as long as I worked hard, I would be successful.
For someone like me, that could be very true, because I have had access to resources, a very supportive household and no criminal record. I am going to read you a quote, 'White privilege doesn't mean you've never had to struggle. It just means the color of your skin hasn't contributed to it.'"
The crowd of about 40 people that participated in the forum swelled to more than 140 as Jennifer Baxtron, leader of Black Lives Matter Potsdam, took a bull horn in-hand to get the march moving.
"Hopefully people with take away today some knowledge and courage to stand up to and against racist people and their actions," Ms. Baxtron said. "Y'all (sic) can't let this (expletive) continue. Each and everyone of y'all (sic) needs to say something and do something, OK? Because every day this is getting worse, and worse and worse. Don't blame us for the color of our skin. We blame y'all (sic) because, I am sorry to say, you are not standing up to these (expletive) people."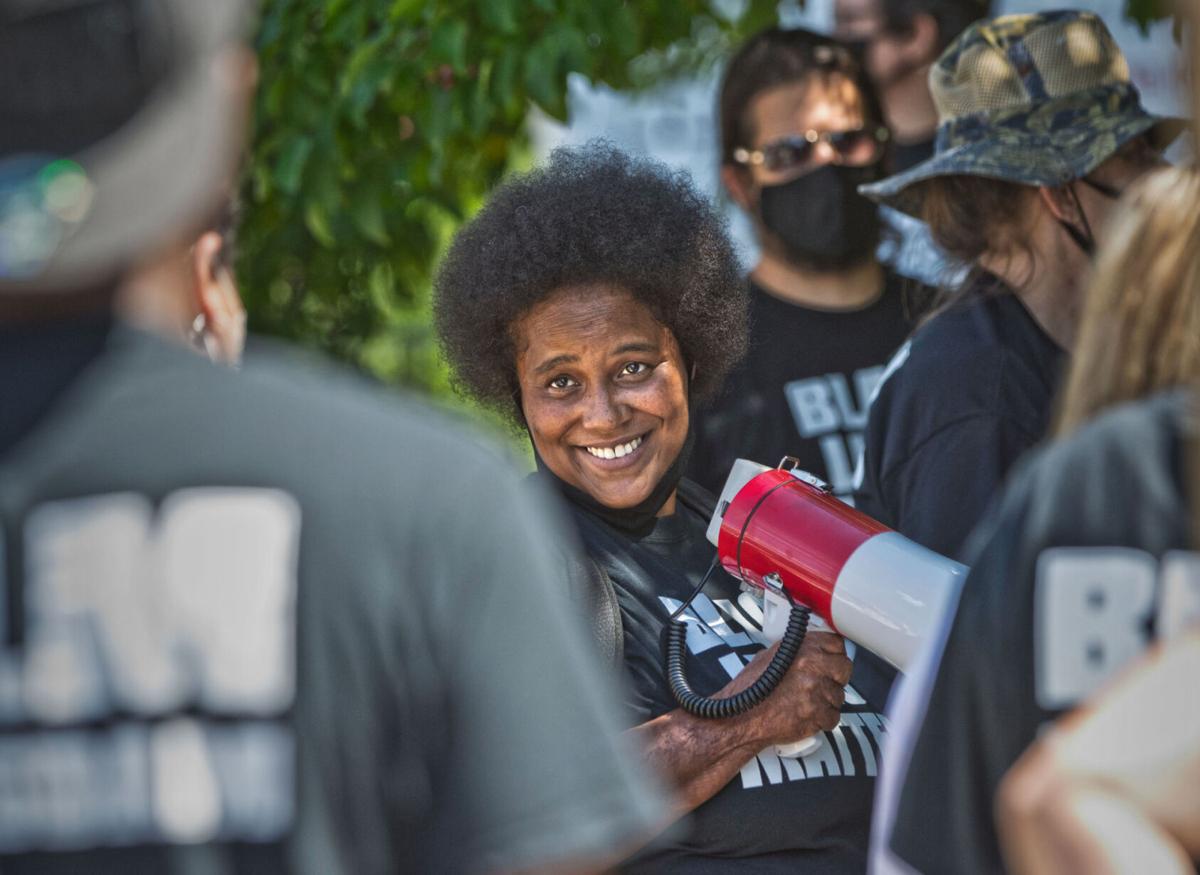 To the chants of "No justice, no peace, no racists police," the group marched over two miles from the church to Massena Central High School, then back to the Massena Police Department, chanting the entire way.
In the parking lot at the police department, Ms. Baxtron told demonstrators they were there because of the actions of a Massena police officer.
"We are here because they did not take it seriously when they first found out what happened," she said, referring to the noose incident. "They said it might have been for a (expletive) dog. Call it as it is! Stop covering up for these racist (expletive) people."