POTSDAM – A solemn ceremony will take place today at Clarkson University at a memorial constructed from beams recovered from wreckage of the World Trade Center following the 2001 terror attacks.
There were 11 alumni of St. Lawrence County universities killed that day in New York.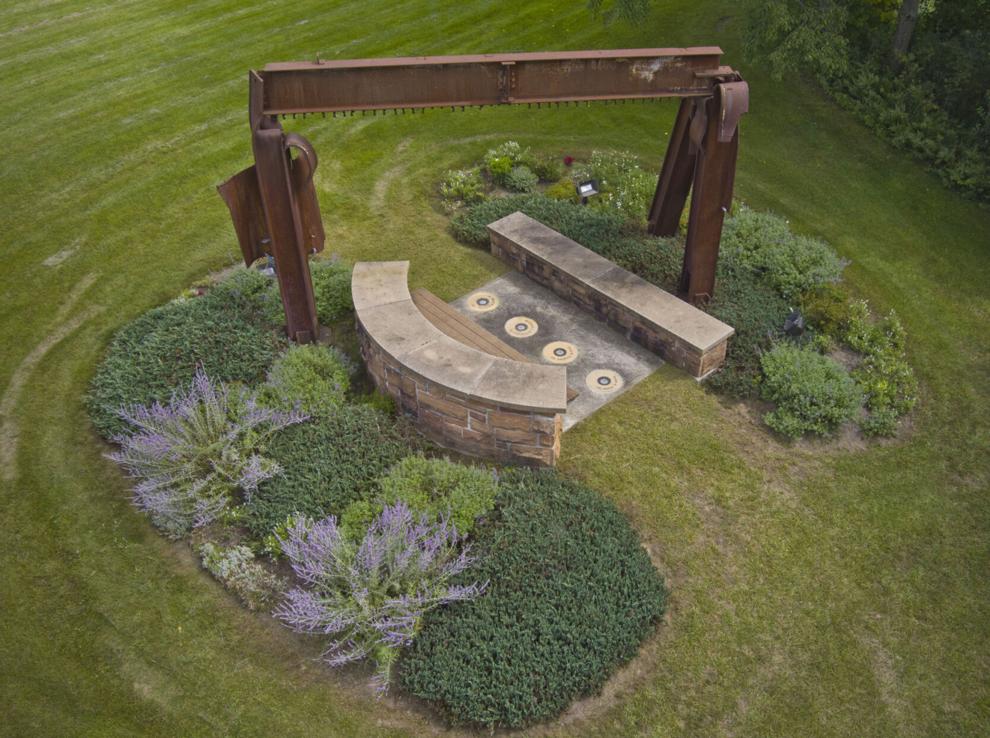 Graduates of Clarkson University included:
n R. Mark Rasweiler from the Class of 1970, he was a resident of Flemington, N.J., and was vice president of insurance broker and investment management company Marsh & McLennan.
n Richard J. O'Connor, a native of Watertown, and a member of the Class of 1974. He lived in Lagrangeville and worked as a senior vice president for Marsh & McLennan.
n Paul R. Hughes, a member of the Class of 1985 with a psychology degree. He was a computer analyst supervisor for Marsh & McLennan.
n Peter A. Klein from the Class of 1987, lived in Weehawken, N.J., and was working as a computer programmer for Marsh & McLennan.
n Kenneth J. Cubas was a member of the Class of 1977. He was a vice president with Fiduciary Trust Company International, which had offices on floors 94 through 97 of the south tower.
n William F. "Billy" Burke Jr., also of the Class of 1977, was a captain in Engine Company 21, Manhattan. He was in the south tower, retrieving men from his company, when it collapsed. St. Lawrence University:
n Catherine C. Gorayeb, formerly Cathering Berger, was in the Class of 1982.
n Robert J. Coll, Class of 1988, was a senior vice president for EuroBrokers Capital Markets Inc. He lived in Glen Ridge, N.J.
n Christopher M. Morrison, Class of 1989, started working for Zurich Scudder Investments in April 2001 as senior vice president.
n Richard H. Stewart Jr. was a member of the Class of 1989 and a former hockey player. His team made it to the National Collegiate Athletic Association finals in 1988 and is in the university's Hall of Fame. He was a corporate bond trader for Cantor Fitzgerald.
n Michel A. Pelletier, Class of 1988, was a professional hockey player and teammate of Richard Stewart, of the '88 team that was inducted into the SLU Hall of Fame. Mr. Pelletier commuted from Greenwich, Conn., to work as a commodities broker for Cantor Fitzgerald.
The names of Mr. Rasweiler, Mr. O'Connor, Mr. Hughes and Mr. Klein are engraved along the bottom of the Clarkson Memorial each lit with a single light.
Another Clarkson alumnus, Michael A. Bielawa, was working at a New York City construction site that day in 2001 and is responsible for securing the material for the memorial and getting it built.
Within a day, of the attack Mr. Bielawa was at ground zero, assisting cleanup efforts by acting as a liaison for the government and the contractors working to clear away the wreckage.
"It was not a textbook construction site. Every day was a new challenge," Mr. Bielawa said in a interview with the Times in 2013. "I was just trying to make a little bit of order in the chaos and the mayhem."
Mr. Bielawa spent 15 months supervising the cleanup effort, watching work crews remove tons of twisted steel and debris.
"I wasn't someone that lost a friend or a loved one," Mr. Bielawa said in 2005. "These are four alumni I never met, but I know how their families lives' were impacted. It's important to never let this happen again and remember them."
Army Maj. Tobias R. Clark, a native of Norwood, and Military Science Professor at Clarkson University said that while the memorial recognizes the four Clarkson graduates among and the nearly 3,000 people that died in the attacks, for the ROTC cadets and current service members, it means more.
"It recognizes nearly 7,000 soldiers and service members who were killed in the Global War on Terrorism," Maj. Clark said. "For me as an instructor teaching future leaders in the Army it means a lot. We can use Sept. 11 as a teaching tool to help show the cadets the 'why' in what we do."
Remembering 9/11 helps students see why people choose the Armed Forces as a profession, he said.
"The true soldier fights, not because they hate what's in front of them, but because they love what they left behind," Maj. Clark said, paraphrasing a quote from philosopher G.K. Chesterton.
The current ROTC Cadets at Clarkson aren't being trained to kill terrorist or being trained to hate ISIS, he said.
"We are training them because they are fighting for our country and fighting for our ideals," Maj. Clark said.
Major Clark, who was stationed in Germany when the attacks occurred, was deployed to Baghdad for a year in 2007 and 2008. His career has also seen him stationed in Brussels Belgium and most recently in Fort Knox, Kentucky.
The meaning of 9/11 is different for Major Clark's cadet as compared to his.
"My generation, we lived through it. We felt a calling. We have cadets in our program now that weren't even born on Sept. 11. So it's a thing of history books for them, rather than knowing where you were on that morning," he said.