After months of back and forth, New York finally has a concrete set of district maps for its 26 Congressional seats and 63 state Senate seats.
In the early morning on Saturday, Jonathan Cervas, the special master appointed by the federal courts to draw up New York's political maps, released his final submission, after months of work and about a week of limited public comment.
In Congress, the north country will remain split between two districts. New York's 24th Congressional district will stretch from just north of Niagara Falls in the west, south around Rochester, around the Finger Lakes and into Jefferson County, terminating just south of Alexandria Bay.
Jefferson County will be split, with the 24th District covering the lakeshore, all of south Jefferson County and the twin villages of Carthage and West Carthage.
The district no longer includes the populated portions of Fort Drum, which was split between NY-24 and the 21st Congressional District in the last layout. Fort Drum is now fully within the 21st District.
The 24th Congressional District will include most of Jefferson and Oswego counties, and all of Cayuga, Wayne, Ontario, Yates, Livingston, Wyoming and Genesee counties. It will also include southern Orleans County and eastern Niagara County. The district also covers the uninhabited Lake Ontario waters north of western Niagara County, without touching the shoreline there.
The district retains some of the characteristics it had as designed by the state Legislature in the maps they passed earlier this year, which were tossed out for giving Democrats too much of an advantage in too many districts. The largest change is that it now includes a vast majority of the Finger Lakes, whereas its prior design included almost none of that region, passing through with just a 3.4 mile wide connection between its eastern and western blocs.
In this district as it stands today, Congresswoman Claudia L. Tenney, R-Utica, has declared her candidacy. She is a second-term congresswoman, serving once in 2016 to 2018 and since 2020, who currently represents the 22nd Congressional District that covers Central New York, from Pulaski in Oswego County south to Binghamton and the Pennsylvania border in Broome and Tioga counties.
Congresswoman Tenney announced her bid for the new 24th District in a tweet on Saturday.
"I'm honored to have received the support of President Trump, GOP Chair Elise Stefanik, and several county Republican and Conservative chairs," she said in her tweet.
"I will continue working to earn the support of voters across NY-24. This partisan redistricting process created chaos and undermined the democratic process. Now it's time to bring New Yorkers together to deliver commonsense conservative advocacy to our state and nation!" she added.
Geneva-area businessman and lawyer Mario J. Fratto has also reiterated his intent to run in NY-24, which now includes even more of his native Finger Lakes region.
In a statement Saturday, Mr. Fratto called Congresswoman Tenney a "tourist" and a "Republican in Name Only," criticizing her voting record in Congress and the fact that she has declared candidacies in three different districts over the course of the redistricting battle.
"Claudia lives an hour outside of Albany, far from this district, and she is running in what is now her third district, just this cycle," Mr. Fratto said. "We welcome tourists here in the Finger Lakes, but we don't send them to Congress, especially Republicans with liberal voting records."
Congresswoman Tenney lives in Utica, on the eastern side of Oneida County, well outside of the Congressional district boundaries. She is not legally required to move to represent the district.
Former candidate John Murtari, who didn't submit petitions to appear on the ballot in the last orientation of NY-21, re-declared his candidacy in a statement on Saturday as well.
"This is now a safe Republican district, whoever the voters choose in the August 23rd primary will most likely be our member of Congress," he said. "Let's choose wisely."
There's also a Democrat running for the district, Steven Holden. Mr. Holden, a veteran from Camillus, just outside Syracuse, was recruited from a crowded Democratic primary in the Syracuse-based district by the Democratic committees in NY-24, reiterated his intent to run for NY-24 as it stands now on Facebook.
New York's 21st Congressional District will cover northern Jefferson County, namely the towns of Alexandria, Theresa, Philadelphia, LeRay and the town of Wilna minus the village of West Carthage.
The new NY-21 extends further south, in two prongs on either side of Albany, than the current NY-21, and in exchange loses its westernmost points in Jefferson and Oswego counties.
It will include all of Lewis, St. Lawrence, Franklin, Clinton, Essex, Hamilton, Herkimer, Fulton, Montgomery, Schoharie, Warren and Washington counties. It will also include the northeastern side of Otsego County and almost all of Rensselaer County, minus Troy and the outer suburbs of Albany.
In this district, Congresswoman Elise M. Stefanik, R-Schuylerville, has declared her intention to run in a statement on Saturday.
"While I'm deeply disappointed that I will no longer be serving as the Congressional representative for Saratoga County and parts of Jefferson County, I look forward to continuing to earn support from voters to represent the hardworking families, small businesses, farmers, veterans and seniors in Montgomery, Rensselaer, Schoharie and Otsego counties," she said.
Rep. Stefanik said she is proud to continue her work representing the entirety of Fort Drum, which she said remains the "lifeblood" of the entire north country economy.
Democratic candidates Matt Castelli and Matthew F. Putorti both also declared their intent to run in the new layout of NY-21.
"This race just became a hell of a lot more competitive," Mr. Castelli said in a video shared on Twitter. "This is shaping up to be one of the most important Congressional races in the country."
Mr. Putorti, in a message shared on Twitter, said he is the only candidate in the race who was born and raised in the new lines of NY-21, and is the only candidate who actually lives in the district as it exists now. Mr. Castelli and Rep. Stefanik, who both live in Saratoga County, are now within the boundaries of the Albany-based 20th Congressional District.
"This is my home," he said. "I'm fighting hard and giving this race everything I've got."
Saturday also brought with it a new set of state Senate maps, which were also declared unconstitutional alongside the congressional maps. The new maps are radically different.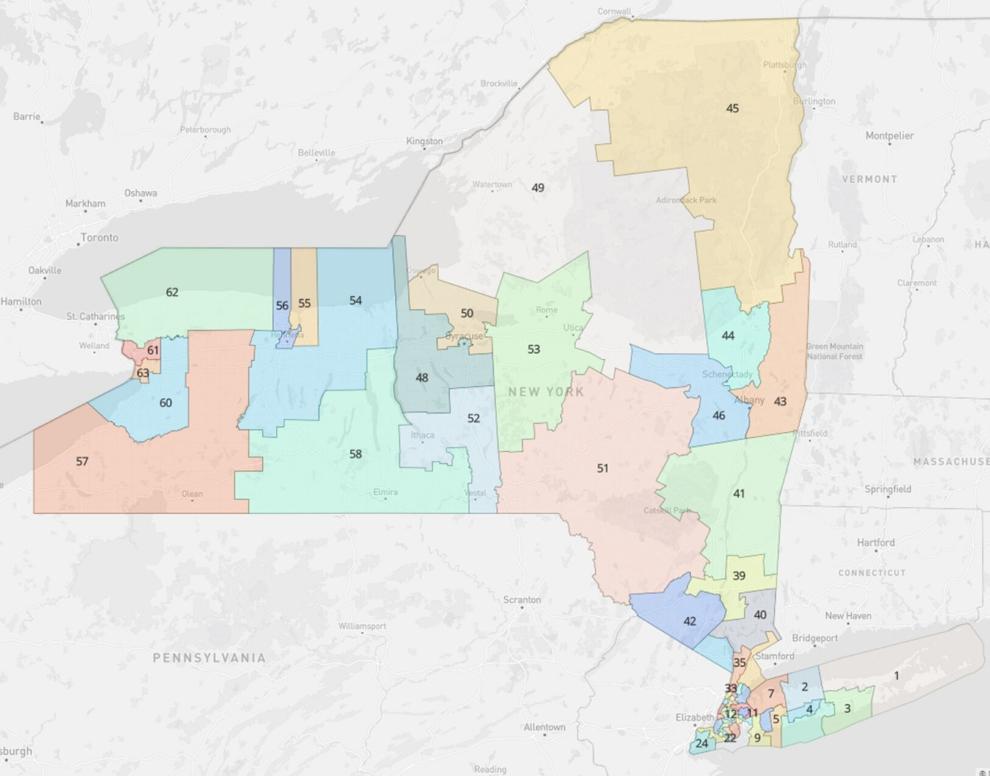 The eastern side of the north country is now collected in the 49th Senate District, which includes all of Oswego, Jefferson, Lewis, Herkimer, Hamilton and Fulton counties, as well as the southwestern part of St. Lawrence County, including the city of Ogdensburg and the towns of Oswegatchie, Depeyster, DeKalb, Hermon, Russell, Clare, Fine, Pitcairn, Edwards, Fowler, Gouverneur, Macomb, Rossie, Hammond and Morristown.
In this district, Assemblyman Mark C. Walczyk, R-Watertown, has declared his candidacy. In a statement Saturday, Assemblyman Walczyk said he's excited to run in the heavily Adirondack-focused district.
"I humbly ask the residents of the new 49th Senate District for their support and by working together, as one, we will build a better tomorrow for New York."
Northern St. Lawrence County, including the towns of Lisbon, Waddington, Louisville, Massena, Brasher, Norfolk, Stockholm, Madrid, Potsdam, Canton, Pierrepont, Clifton, Colton, Parishville, Lawrence, Hopkinton and Piercefield, will be included in the 45th Senate District, which will include all of Franklin, Clinton, Essex and Warren counties, as well as the northwestern corner of Washington County.
This district covers much of the region currently represented by Sen. Daniel G. Stec, R-Queensbury, although he has not made an official statement on his campaign plans. No other candidates have declared for that district.
Because these district lines for both state Senate and Congress were finalized so late, the state Supreme Court in Steuben County declared that the primary elections for those races will have to be moved. If current plans hold, New York will host two primary elections this summer. On June 28, the intial date of all primaries, voters can select party designees for governor, Assembly, other statewide races and local elections. On Aug. 28, voters will be able to vote for state Senate and Congressional candidates.