SANDY CREEK — Standing at a remote section of frozen Lake Ontario beachfront, Gov. Andrew M. Cuomo said Wednesday the state can no longer wait to see what kind of shoreline damage may be coming in the wake of high water levels on the lake.
The governor announced at an area north of Sandy Pond that the state is spending $15 million to dredge 20 sites along the lake and St. Lawrence River in an effort to combat flooding that has occurred in two of the past three years and is threatening to place again this year.
"This is a true commitment to be here because we have a serious situation that has been developing for a number of years and we said we would be on top of it, and we are on top of it, and that's the ongoing problem of high water level on Lake Ontario," Gov. Cuomo said.
At Sandy Pond, the state is spending $600,000 as part of the North Sandy Pond Resiliency Project that is designed to help the town of Sandy Creek strengthen a barrier bar dividing Sandy Pond and Lake Ontario. Multiple phases of dredging will provide a substantial amount of sediment for beneficial reuse and help to maintain the balance of natural coastal processes, while protecting property and infrastructure, and ensuring recreational access to the waterfront.
Money for the work is coming from a $300 million Resiliency and Economic Development Initiative fund the state has established to help businesses and property owners recover from previous damage from high water and prepare for potential problems in the future.
Gov. Cuomo said the state is bracing itself for what some are calling the "new normal" in which lake levels are consistently above where they have been known to be in the past.
It's happened for several years. We don't think it's going to stop, so let's adjust to the new reality and let's do it by taking action," the governor said. "And that's exactly what we're doing. We didn't just announce another government program. It is happening, it is happening now, it's happening today right here. It will be happening in all these dredging locations. Let's make this transition to the new normal as quickly as possible."
In addition to the Sandy Pond location, the state will also be dredging in the area of Port Ontario and the Salmon River in Pulaski in Oswego County. In Jefferson County, dredging will take place at French Creek Marina in Clayton and the "cut" near Association Island in Henderson. St. Lawrence County projects include the "City Front Channel" in Ogdensburg and a navigation channel at Morristown.
Appearing with the governor, Scott A. Gray, chairman of the Jefferson County Legislature, said the dredging projects will help ensure recreational boaters have safe places to bring their boats, aiding tourism in the region. He also said the reuse of dredged materials will help restore ecosystems and prevent further erosion of habitats.
"In the wake of disaster, Governor Cuomo has given communities along Lake Ontario and the St. Lawrence River a renewed opportunity to rebuild and to reinvent themselves by rebuilding their shoreline," Mr. Gray, R-Watertown, told the about 40 people who has assembled at the lake's shore. "These projects will strengthen local economies and enhance the quality of life for residents."
Sen. Patricia A. Ritchie, R-Heuvelton, said she represents about 150 miles of shoreline in her district, and credited the governor for implementing action that has made the shoreline "stronger and more resilient than ever."
"This is an example of state government at its best," Sen. Ritchie said. "This is vitally important to the region I represent."
Assemblyman Mark C. Walczyk, R-Watertown, also joined the group, which was brought to the remote location in high-axle vehicles supplied by the state Department of Homeland Security and Emergency Services.
Gov. Cuomo said he will continue to push the International Joint Commission, whose Plan 2014 dictates lake and river water level regulations, to continue to release as much water as possible through the Robert Moses-Robert H. Saunders Power Dam in Massena and Cornwall, Ontario, in an attempt to lower water levels.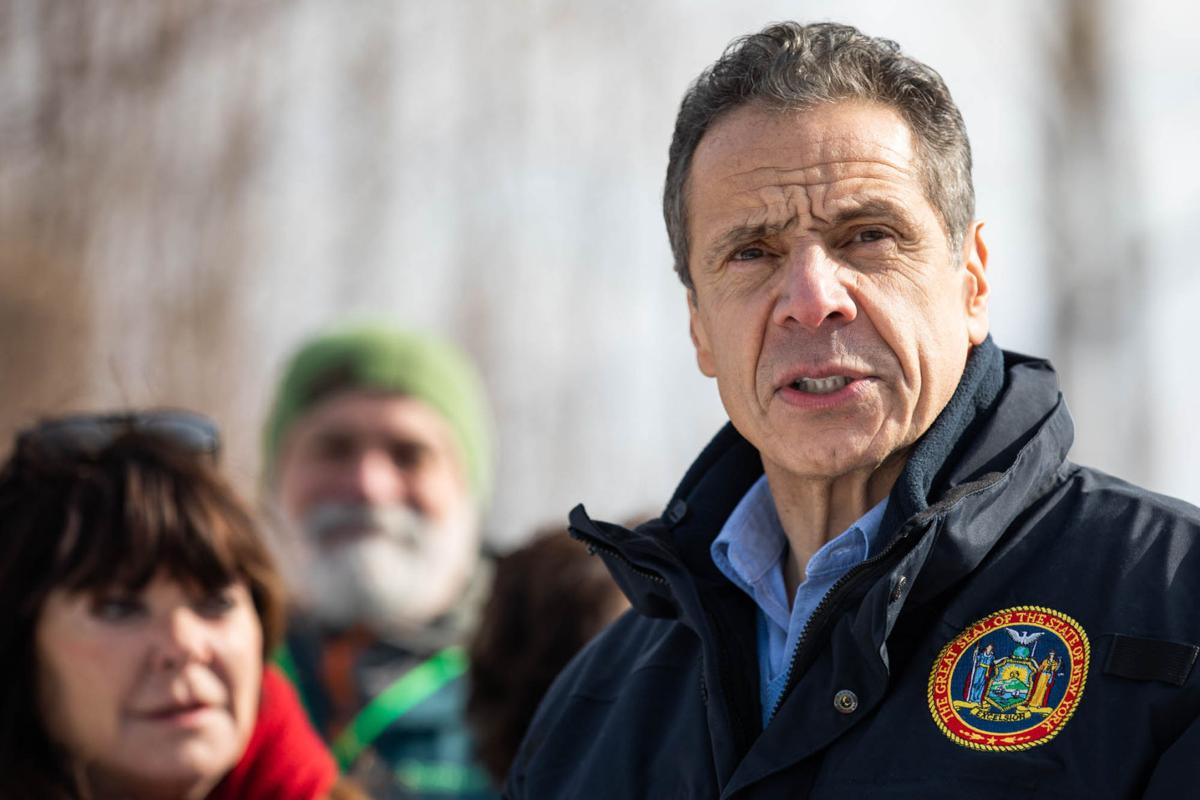 The IJC said last week that outflows from the lake are at record-high levels, but that inflows from the upper Great Lakes are also at record-high levels, making it difficult to achieve any reduction in lake or river levels. The state is currently suing the IJC over its regulation of the levels.
"But New York is not waiting," Gov. Cuomo said. "We're not going to trust the IJC. We're not going to trust the federal government. We're not going to wait for Mother Nature to change. We're taking our fate and our destiny into our own hands and we're acting."
The state has completed one dredging project at Port Bay in Wayne County, with a second project set to begin in April at Blind Sodus Bay in Wayne County. A shoreline stabilization project at Mexico Point State Park in Oswego County has also been finished.