CANTON — Harriet Butler didn't know there was a pandemic until she went to the store without a mask. She doesn't care who's the president as she doesn't follow the news. The only communication she has with the outside world is through a landline telephone, but maybe the only thing she needs lives right next door.
If it wasn't for her neighbor, Mrs. Butler, 85, would likely still be with no running water, a broken furnace, leaky roof and a raccoon inside eating her cat food.
Harriet Butler has lived alone on a modest piece of property near Deer River in St. Lawrence County for 30 years. There was a two-story house she stayed in until time wore it down and it collapsed.
Now there's a trailer alongside it, where she lives with her nine cats. There's a tire with a full-grown tree through it in the yard. Near the driveway is what appears to be an active deer trail, but it's really the inches-wide path she used to walk through before her neighbor came in and hacked the waist-high brush that covered the property and hugged the trailer.
Her furnace has been broken for two years, forcing her to use two portable heaters during the winter. Most of all, she has been without running water for the last year. She has been pulling a hand cart down the road with three empty jugs to a store when she needs to refill. She said she's always been independent, and she takes it as a handout whenever someone comes to help.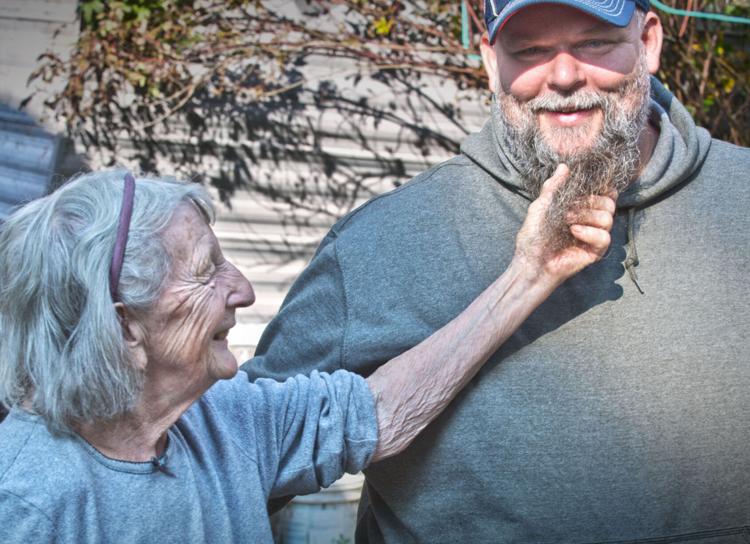 Then Joe J. Bullock came into her life. Mr. Bullock has lived next door with his wife, Tina, for seven years. They moved out there in part to get away from cellphone service, or for the Sunday mornings along the lazy river. He's a disabled Marine veteran who works for the state Department of Transportation. He remembers meeting Mrs. Butler casually and then telling her to come visit him if she ever needs anything.
Over the years he saw the conditions at her house deteriorate, but he also came to learn how little she wanted help. It took years until she started reaching out to him. Mr. Bullock took this as his opportunity to help as much as he could. She called him when ice froze her front door shut, trapping her inside. A section of her old house had collapsed and landed on the porch to her trailer. He and a friend removed it in a day, no problem.
He kept working until she got overwhelmed from all the change, so he slowed it up and maintained a balance between wanting to help her and respecting her space.
About a month ago is when it all changed. She had spent the winter without running water, and now a raccoon had been crawling through a hole in her trailer and was eating her cat food. Respectfully, he changed his tune and became something of a boss.
"It got to the point where I said, 'You're my adopted grandmother and you're not going to live like this anymore,'" Mr. Bullock said. "Enough was enough."
Fixing everything was the option short of having her move in with him, he said. It got to the point where she would come to him in tears, whether it was because of her broken furnace, reaching out to the city or her cat was missing.
"I'm in the position where I will never allow her to cry to me again about any situation that's going on over here," he said. "She feels like it's a handout, and I said, 'Harriet, I'll help you with anything I can.'"
He and a friend fixed the furnace a few weeks ago. The ceilings were patched and raccoon hole closed. Her entry is getting fixed.
Just on Friday, Mr. Bullock got her running water back on.
"I was hoping that I wouldn't have to walk to get it this winter again," she said, "and I won't."
What's more is his father has offered to donate a trailer, which they plan to place on the property next year.
But there is a part of Mrs. Butler that likes living the way she does. Walking to get water was a way to keep her mind and hands busy. She built her own shed. Her cats are her babies and the only things she doesn't want taken away. She has a TV but doesn't watch it. She said she likes knitting and playing solitaire. She's in her own little world, as Mr. Bullock puts it.
"Facebook?" she said before Mr. Bullock says the word computer. "The next one that mentions the word computer I swear I'm going to send them into the middle of next week. I hate the damn things."
She said the first time she heard about COVID-19 is when she went to the store late in the spring. She doesn't get involved with politics as she would rather keep her hands busy fixing things around her home. It's what keeps her alive, Mr. Bullock said.
"I stay home and mind my own business and keep out of other people's business," she said. "Some people are nosy, but I can't help what goes on."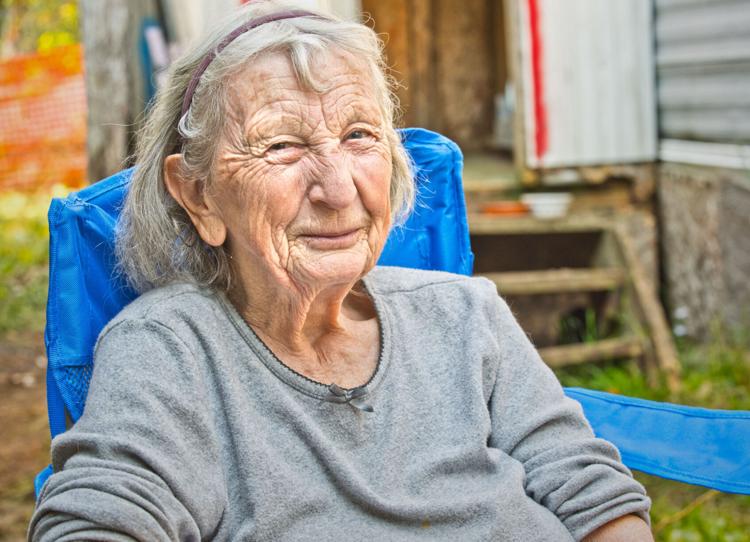 She got married to one man, who she considers a jackass, and she said she has only truly loved one person. Both are out of her life at this point, and she seems OK with it.
"If you have enough to live on and enough clothes to wear, be happy with what you've got," she said. "Don't try to get everything in the world because you ain't going to get it."
The government also got involved after it took notice of a GoFundMe page Mr. Bullock organized, which has raised more than $2,500. The Canton Office for the Aging is going to be sending her meals on Monday, he said, they're going to look for doctors for her and help with any other avenue they can, he said.
"Now the situation is they have to go through me," he said. "I am the mediator. To avoid confusion, everything goes through me. I will oversee everything when it comes to her getting help."
It doesn't stop there. A Facebook fundraiser generated $600 for Mrs. Butler, there have been others through PayPal, and countless other members of the community have donated clothes, shoes and cat food.
"I've never seen anything like it," Mr. Bullock said. "It's unbelievable. The support is overwhelming. I don't ask for help, the same way she doesn't like asking for help."
Mrs. Butler said she's finally feeling comfortable again. There were times over the years that she had to put up with a lot of the hardship sometimes, she said, without a choice. But now if there's anything she's having trouble with, she just calls Joe.
"I love you," he says to her, standing in her living room. She looks back at him. "I love you, too, Joe."