POTSDAM — Still-enslaved people in Galveston, Texas, were told by Union soldiers they were legally free more than two years after the preliminary Emancipation Proclamation took effect. The Proclamation stated all enslaved people in the seceding Confederate states, including Texas, "are, and henceforward shall be, free."
Of the total 4 million enslaved men, women and children, the 2,000 enslaved black folks in Galveston were the last people in the country to receive the news. It was June 19, 1865.
"I proudly and lovingly honor my ancestors today, and in a stunning twist of fate that only God could bring about, we, you and I, the nation and even the world, we all take note and honor that moment in history where the freedom of those who were last — even the last of the last — are now and forevermore honored as the first," Potsdam's John Youngblood told community members gathered Saturday in Ives Park. "Happy Juneteenth to my ancestors. Happy Juneteenth to you all."
A mask-wearing community gathered today in Ives Park, Potsdam, to celebrate the 155th anniversary of Juneteenth, June 19, 1865, when the last enslaved people were told they were free. pic.twitter.com/HFTrF6casS

— NNY360 & Watertown Daily Times (@wdtnews) June 21, 2020
Just eight days ago, community organizers in the village convened to plan a Juneteenth celebration. By Saturday, the Ives Park Gazebo had been reserved, Potsdam Juneteenth T-shirts had been screenprinted, food had been supplied by local caterers and more than $6,100 of a $5,000 goal had been raised to make it all happen.
To honor the 155th anniversary of Juneteenth, Freedom Day or Jubilee Day, a coalition of local organizers hosted the inaugural celebration from 4 to 9 p.m. About 200 masked people gathered around the Ives Park Gazebo, in song and dance, in power, in Black Lives Matter solidarity and in vigil for George Floyd, the 46-year-old black man killed by a white police officer last month.
Community organizer Jennifer Baxtron, of the Black Lives Matter North Country Organizing Collective, opened the evening with brief remarks, thanking her fellow organizers, food vendors The Blue House, Madrid, and Big Spoon Kitchen, Potsdam, the village Department of Public Works, Potsdam Mayor Ron J. Tischler and the community for showing up in Saturday's near 90-degree heat. Mr. Tischler said he endorses Potsdam's Juneteenth as an annual event, describing the gathering as "beautiful."
Gov. Andrew M. Cuomo on Wednesday signed an executive order declaring Juneteenth a holiday for state employees and pledging to advance legislation next year to mark June 19 an official New York holiday.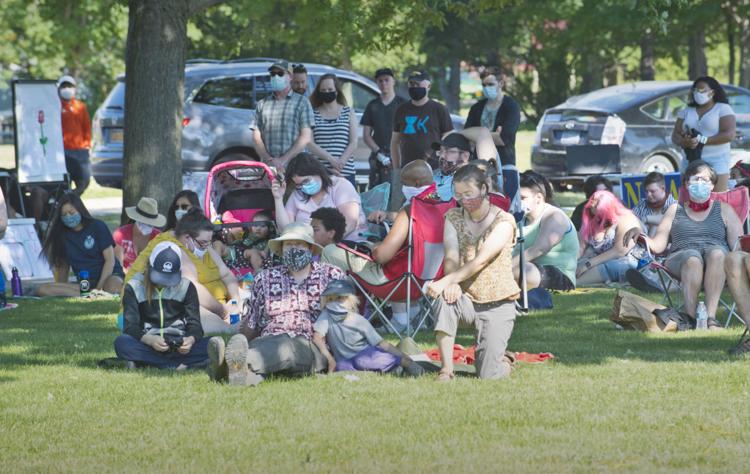 Families and friends flecked the grassy east bank of the Raquette River as Ms. Baxtron initiated a nine-minute silence in remembrance of Mr. Floyd, who died after then-Minneapolis police officer Derek Chauvin knelt on his neck for eight minutes and 46 seconds during an apparent arrest. Two minutes and 53 seconds of that neck restraint occurred after Mr. Floyd was unresponsive, according to the initial Minnesota District Court criminal complaint filed against Chauvin.
Following the silent vigil, the Rev. Katrina Hebb, of Potsdam's First Presbyterian Church, offered an invocation and urged her fellow white north country residents to look inward and leverage their individual power to support black and brown residents.
"The day of racial justice will not come until people who look like me put our money, put our actions, put our ears and our mouths where our heartfelt convictions live," the Rev. Hebb said. "Today is a day we pause to celebrate, but this joyous day must live in relationship with our continued commitment to fighting the fight of racial justice. Oh holy one, may those who have lost their lives over the centuries by the greed and hatred of racism, may they rest in power, as we continue to rise in action."
Stationed at tables shaded by the park's trees, volunteers from the north country's BLM Organizing Collective served food, provided NAACP information, sold Juneteenth 2020 T-shirts and helped people register to vote.
A north country resident for the last 16 years, Mr. Youngblood, a SUNY Potsdam associate professor of English and communications, delivered a speech he titled "Juneteenth, America's True Independence Day," detailing a history that has long been unacknowledged by white America and U.S. officials.
"Without anywhere to turn to gain their footing in this new place of freedom in their country, who could they turn to?" Mr. Youngblood said of the country's enslaved people after emancipation. "And how were these newly freed citizens to celebrate their new freedoms? By remaining quietly at their present homes to work for wages."
Mr. Youngblood spoke from the gazebo, where a Pan African flag, painted on a sign, rested on the gazebo steps. With roots in Marcus Garvey's Black Power activism of the 1920s, the red, black and green flag represents the united blood of people with African ancestry, the color of black skin and the rich land of Africa.
Mr. Youngblood also presented the first Juneteenth Community Activist Award to Ms. Baxtron, a black north country resident who has lived in the village for the last seven or eight years.
Acknowledging a citizen "who has demonstrated leadership, courage and strength when it comes to racial justice," the award will be granted to a north country activist each year on Juneteenth.
"We cannot think of anyone more deserving of this award than our founder and our leader," Mr. Youngblood said of Ms. Baxtron as he presented her a plaque from the Black Lives Matter North Country Organizing Collective.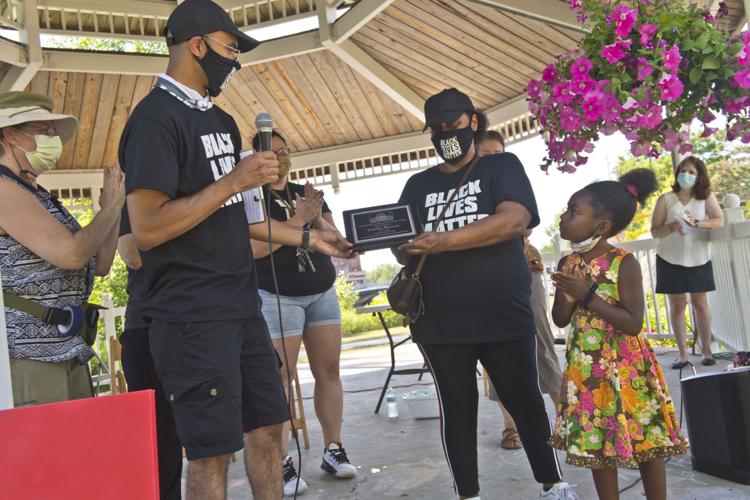 A community Black Lives Matter rally is held each evening from 6 to 7 p.m. in front of the Potsdam Post Office, 21 Elm St.
"We show up every day," Ms. Baxtron said.
Those interested in becoming involved with the BLM North Country Organizing Collective should email blm.noco@gmail.com.