WATERTOWN — Assembly candidate Susan M. Duffy paid the city a visit on Thursday, hammering Albany Democrats for recently-passed bail and prison reforms in a press conference outside the Jefferson County Court Complex.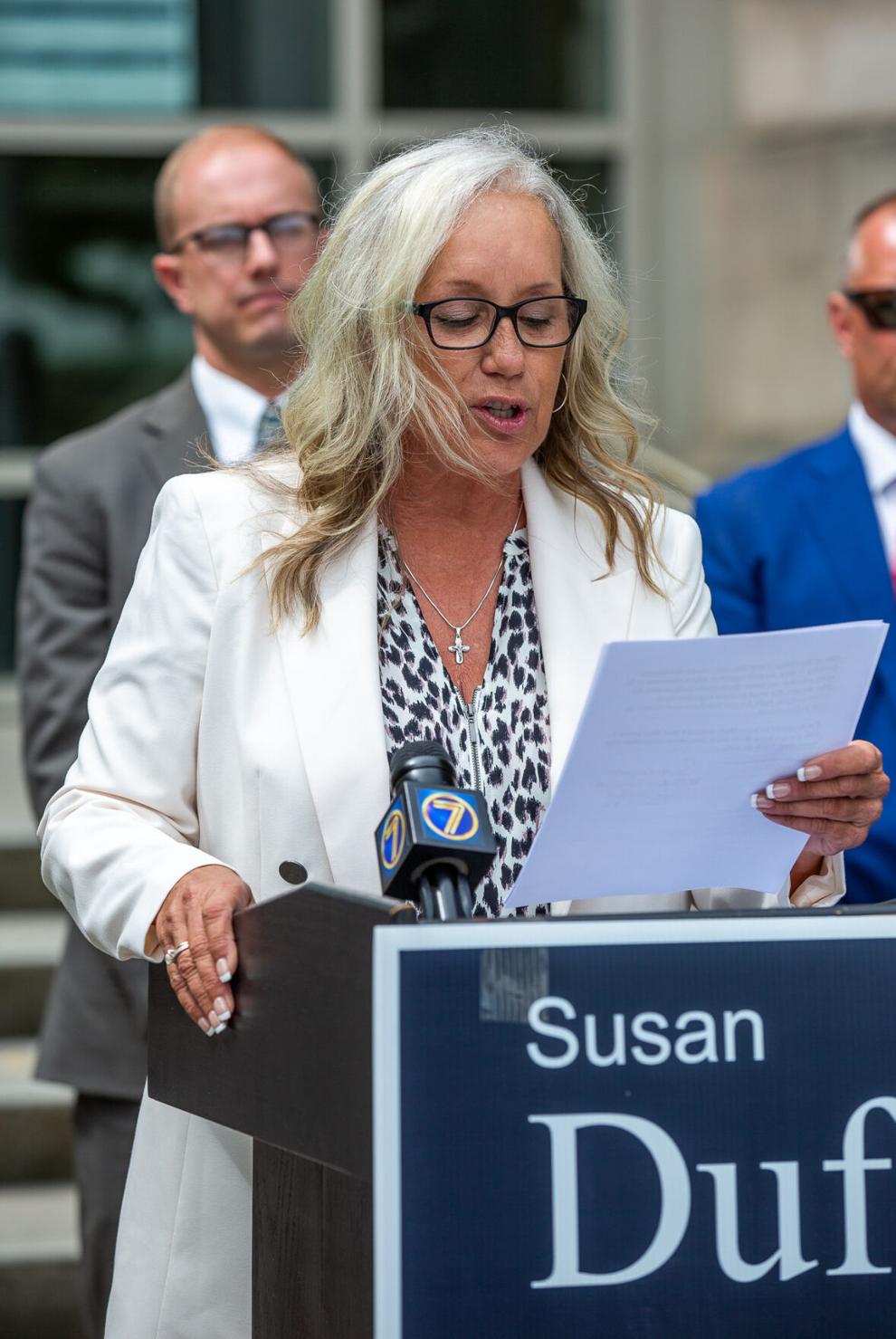 Standing alongside Assemblyman Mark C. Walczyk, R-Watertown, who she is running to replace, local corrections union leaders and law enforcement families, Ms. Duffy said recent reforms in state prisons and the bail system have been a boon for criminals, and blamed the reforms for the recent spike in criminal activity seen statewide.
The Lisbon-area businesswoman also took aim at programs that provide education and limited computer access to people incarcerated in state prisons.
"Albany Democrats want to make sure there's a free tablet in the hands of all (inmates) and they're getting a free college education while middle-class families are fighting to decide whether or not they're going to put gas in the car or food in the refrigerator," she said.
County jails, including in St. Lawrence and Jefferson counties, and state prisons have rolled out tablet computer programs to low-risk inmates in their facilities. Inmates must pay to use the tablets to access books, limited digital media, and make phone calls to their families. Community colleges, including Jefferson Community College, also provide free college courses to those incarcerated at nearby state prisons, funded by state and federal grants, private donors and nonprofit organizations.
Ms. Duffy also criticized the state's Humane Alternatives to Long-Term Solitary Confinement Act. The HALT Act took effect April 1. Under the HALT Act, inmates can only be sent to segregated confinement as punishment for 15 days at a time, and other rehabilitative measures must be used to correct behavior. Proponents of the law have said it puts the focus on compassionate and humane rehabilitation, rather than punishment, while detractors have said it removes the most effective consequences for violent or dangerous behavior, and puts prison staff at risk.
Scott Carpenter, a Department of Corrections and Community Supervision lieutenant and regional vice president for Council 82, a statewide corrections officer union, said the HALT Act has had a significantly negative impact on the state's prisons. He claimed Albany legislators have banned something they don't fully understand.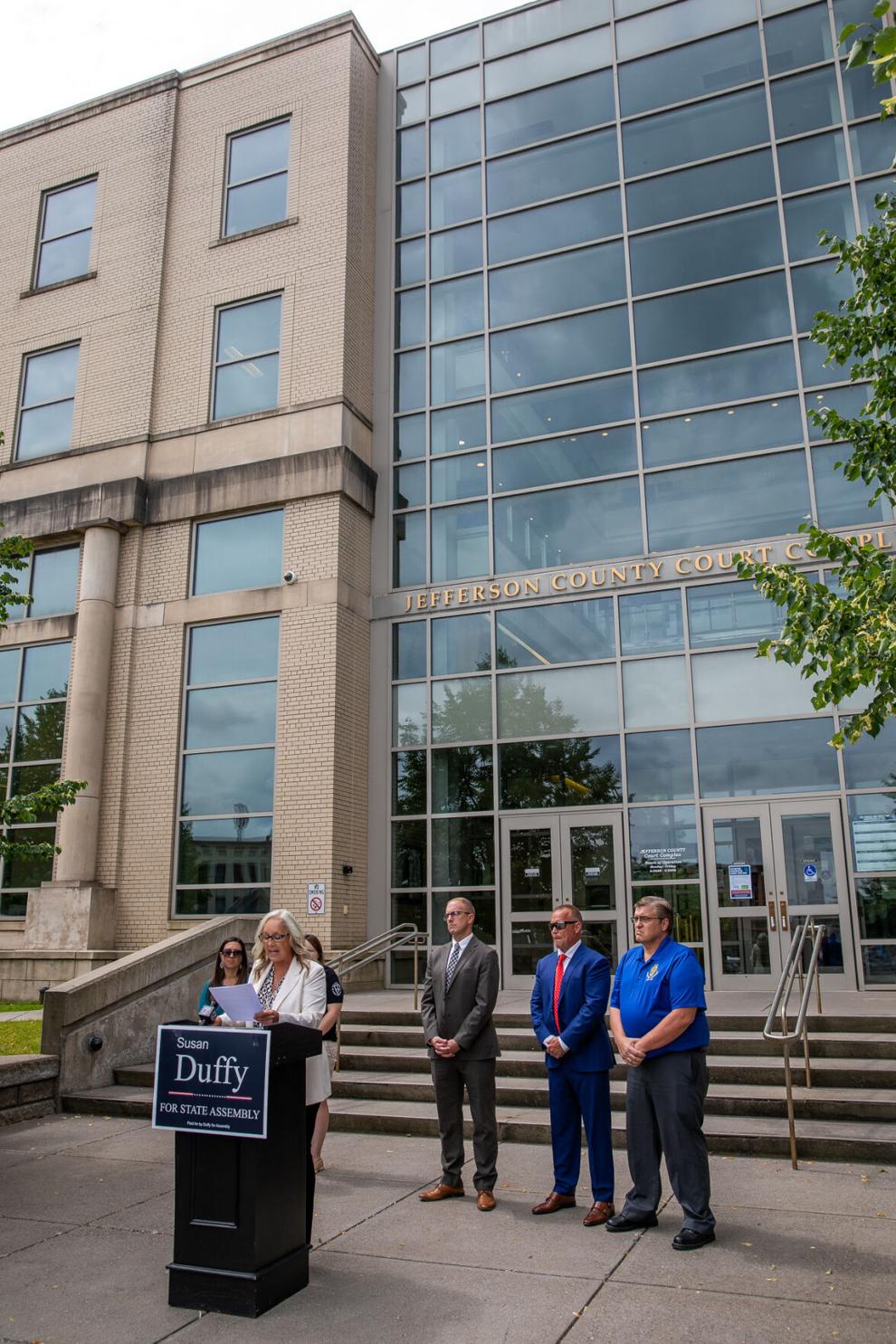 "The proponents of HALT feel that we're living in a movie, and that an inmate is still locked in a dark, squalid room, with their only contact being a correction officer that slides him food through a tiny hatch, allowing only a small ray of light for a few minutes a day," he said. "The truth of the matter is, there's no such thing as solitary confinement in New York state, for over 40-plus years."
He said a state agreement with the American Civil Liberties Union of New York ended traditional, "movie"-like solitary confinement and made changes reducing the amount of time spent in segregated housing, and the conditions inside segregated units.
The ACLU and New York state reached an agreement to reform solitary confinement use in 2014, after the ACLU represented a client who sued DOCCS for holding him in solitary for 780 consecutive days in a cell the size of an elevator, with another prisoner. The state made use of solitary confinement units like that until 2014.
Ms. Duffy read a letter of resignation from Joshua Banks, a Cayuga County corrections officer who she said she spoke to Wednesday night.
In the letter, Mr. Banks said he left his job after the most recent prison reforms made it a dangerous place to work.
"The amount of perpetual violence taking place against staff and inmates is unheard of given the inmate population, and is literally a powder keg waiting to erupt," the letter reads. "On top of the escalating violence, the insanity taking place, staff must also endure a grueling amount of overtime at most facilities to facilitate these new far-left programs being implemented."
Ms. Duffy called for a total repeal of the HALT Act, and a reversal of the bail reform initiatives that took effect at the beginning of 2020.
She further called on Albany's legislators to stop passing prison reforms, and allow DOCCS to run itself.
"Let DOCCS run the department, and stop passing crazy legislation that puts COs' and New Yorkers' safety in jeopardy," she said.
Ms. Duffy said she has enjoyed the endorsement of many law enforcement officials and unions, including St. Lawrence County Sheriff Brooks J. Bigwarfe and the St. Lawrence County sheriff's union, as well as unions representing staff at state prisons and county jails in the region, and will continue to fight for their interests if elected.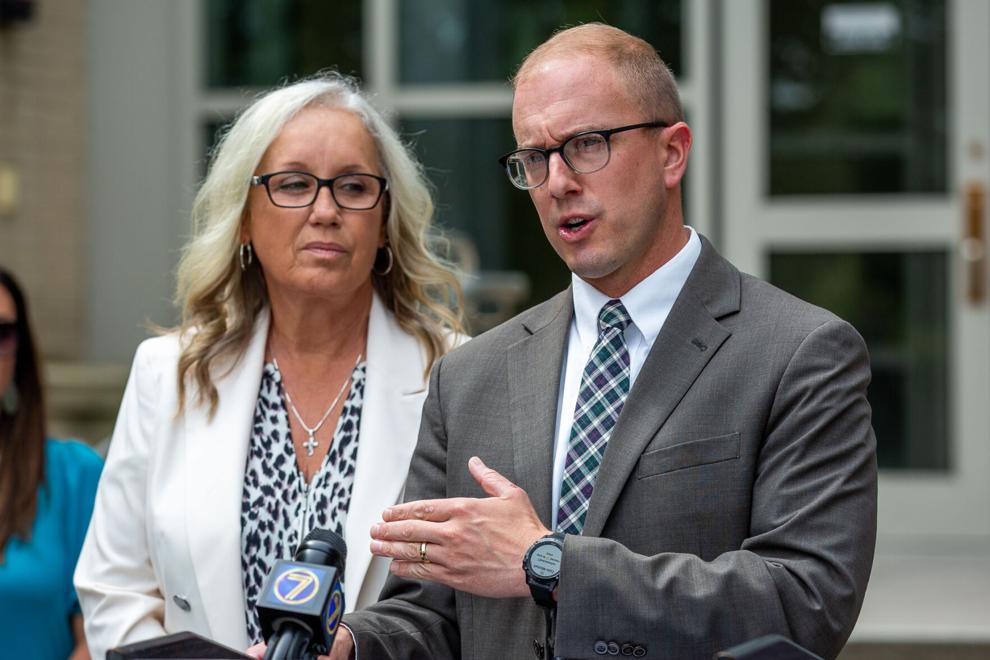 She's running for the Republican nomination to the 116th Assembly District against Jefferson County Legislator and business owner Scott A. Gray. Ms. Duffy already has the Conservative Party's ballot line for the general election, and on Thursday she pledged to remain in the race even if she does not win the Republican primary.
Early voting for the Republican and Democratic primaries for the Assembly and governor is open now through Sunday. Primary day is Tuesday.