MASSENA — The new administrator of the Great Lakes St. Lawrence Seaway Development Corp. found himself on old stomping grounds Wednesday morning.
"This is one of my favorite places on Earth," Adam M. Tindall-Schlicht said during a visit to Massena, where two of the St. Lawrence Seaway's 15 (13 Canadian) locks, Snell and Eisenhower, are operated. "Being here professionally is one of the gifts of being an administrator."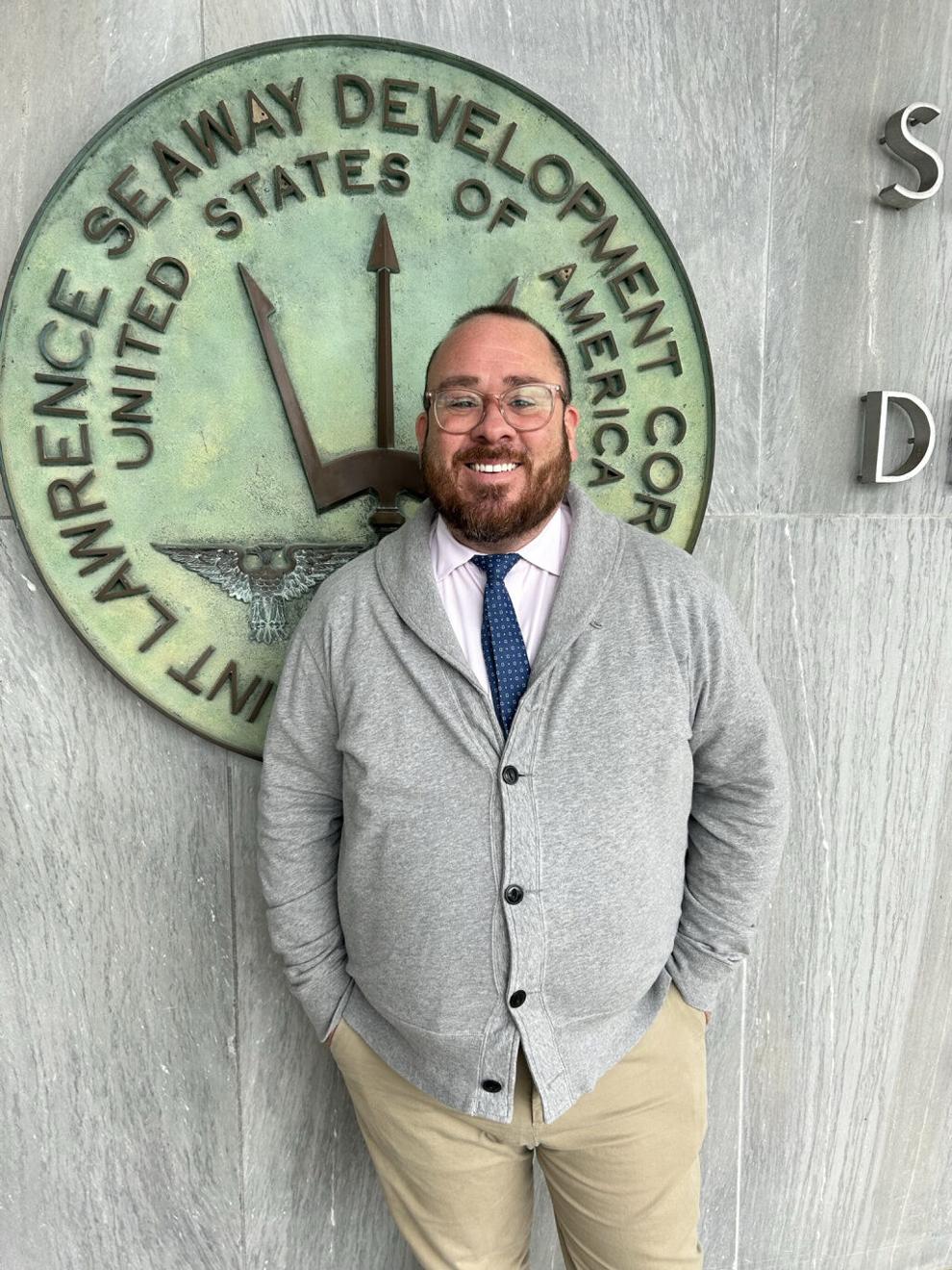 Mr. Tindall-Schlicht, appointed in November as the 11th administrator of the Great Lakes St. Lawrence Seaway Development Corp.(GLS) by President Joseph R. Biden Jr., is atypical when it comes to the work experience of people previously appointed to that role. He has returned to GLS after working at the corporation from 2010 to 2018, focusing on marine transportation, international marketing and the Great Lakes Seaway System. In that role, he visited Massena frequently. At age 39, he is the youngest GLS administrator.
As administrator, Mr. Tindall-Schlicht oversees the federal corporation responsible for the operation and maintenance of the U.S. portion of the St. Lawrence Seaway between Montreal and Lake Erie. In timing with the opening of the Great Lakes St. Lawrence Seaway System's 65th year of operation on Wednesday, the Watertown Daily Times requested a Zoom interview with the new administrator. It was expected that he'd be talking from the GLS's Washington, D.C., headquarters, but on Wednesday morning, Mr. Tindall-Schlicht spoke from Massena where he was meeting with Seaway workers.
It was a wide-ranging interview. Topics ranged from infrastructure to ballast water.
"Returning to Massena and the north country now as administrator has been one of the honors of my life — returning to a part of the world and to a community that I care deeply about," Mr. Tindall-Schlicht said.
Asked to look into his crystal ball for the upcoming season, he said, "I have optimism around agricultural exports, a couple of other bulk cargoes, more containers and more international cruise ships through the locks and operating on the Great Lakes. Every shipping season is a little different on the Great Lakes, but there's lots of optimism and a lot of excitement as we head toward opening."
Marine-minded
Mr. Tindall-Schlicht's marine experience includes more than his time at GLS. Prior to his appointment as administrator, he was the director of Port Milwaukee from August 2018 to October 2022, serving as a member of the mayor's cabinet. As port director, Mr. Tindall-Schlicht oversaw and directed the port's multi-modal, commercial and passenger operations.
He was appointed by Wisconsin Gov. Anthony S. Evers as both a commissioner of the Southeastern Wisconsin Regional Planning Commission in 2020 and a member of the board of directors of the Great Lakes Protection Fund in 2022.
Mr. Tindall-Schlicht is a native of Oak Creek, Wisconsin, and holds a bachelor's degree in political science from the University of Wisconsin-Madison and a master's degree in public administration from American University in Washington, D.C.
Among his visions for the Seaway/Great Lakes system is to realize its "full capacity."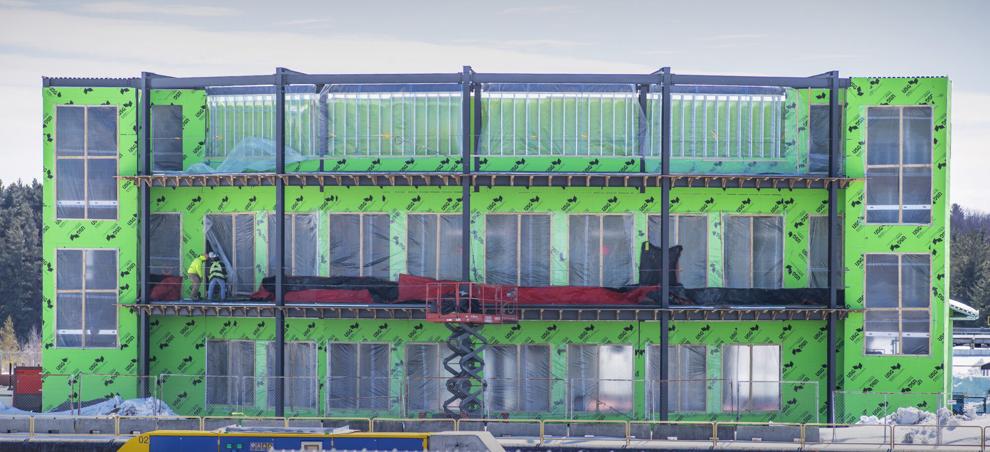 "The way we are going to be able to do that is expanding Seaway services through our own infrastructure renewal," he said. "Over the last 10-plus years, the U.S. and Canadian Seaway corporations have spent almost one billion dollars in our own infrastructure investment at the two U.S. locks here in Massena as well as the 13 owned-and-operated Canadian locks."
The U.S. corporation that manages the system is the Great Lakes St. Lawrence Seaway Development Corp. (GLS) and the Canadian counterpart is the St. Lawrence Seaway Management Corp. Together they are known as the Great Lakes Seaway System. The GLS operates the two U.S. locks and SLSMC operates the 13 other locks. The $1 billion investment noted by Mr. Tindall-Schlicht is a combination of U.S. and Canadian funds.
Those funds, he said, have been coupled with millions of dollars in "port-led infrastructure."
"U.S. and Canadian ports throughout North America are reinvesting in multi-million dollar projects for their own investment, supporting and enhancing the Great Lakes maritime chain," Mr. Tindall-Schlicht said.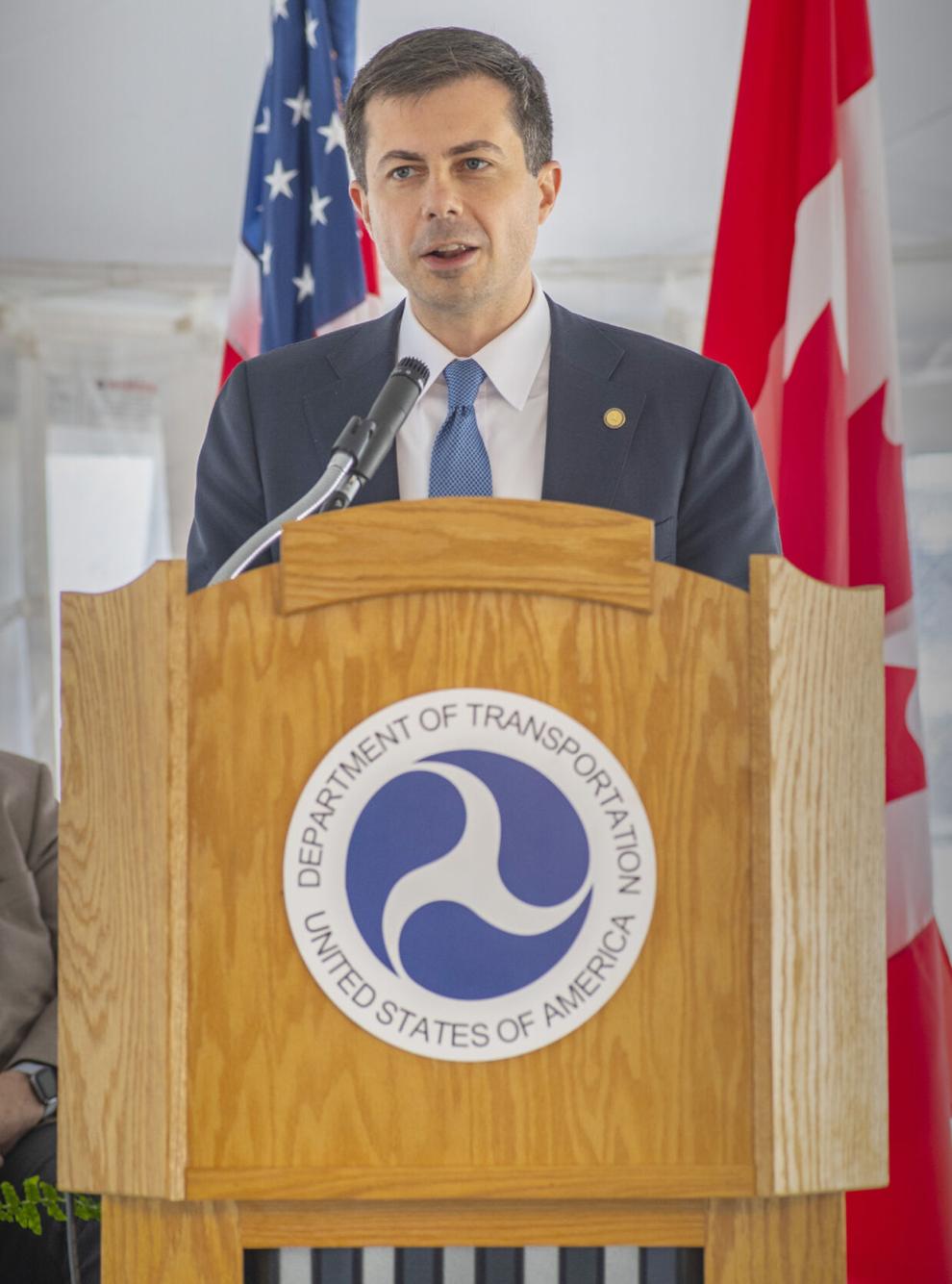 On the American side, a catalyst for that work has been the Bipartisan Infrastructure Law, signed in November by President Biden. It provides a total of $1.5 billion over the next five years to advance environmental justice, spur economic revitalization and create jobs by cleaning up contaminated, polluted or hazardous brownfield properties. It also designates $450 million annually for the next five years for the Port Infrastructure Development Program (PIDP). The Maritime Administration of the U.S. Department Transportation said the funding will allow significant improvements to port facilities in the U.S. and projects can fall into one of four categories: loading and unloading of goods at a port; movement of goods into, out of, around, or within a port; resilience (such as projects addressing rising sea-level, flooding, extreme weather events, natural disasters) and environmental and emissions mitigation measures.
Multiple Great Lakes ports have been successful in receiving PIDP grants since its origination in 2019, Mr. Tindall-Schlicht said.
The latest competitive PIDP grants were announced in October, for a total of more than $703 million to fund 41 projects in 22 states and one territory. On the Great Lakes, funds went to the Port of Cleveland and Port of Green Bay, Wisconsin. Applications for fiscal year 2023 proposals are due April 28.
But smaller ports, like the Port of Oswego and the Port of Ogdensburg, are also key to the Seaway/Great Lakes system, Mr. Tindall-Schlicht said.
"When I think about Oswego in particular, it's a case in point for what is ongoing momentum to realize increased agricultural exports through the Great Lakes," he said.
In 2022, the Port of Oswego had the first vessel to ship grain out of the St. Lawrence Seaway and is New York's only grain exporter by water on Lake Ontario. Grain shipments went to the Middle East and Europe and helped offset the disruption in the global supply chain by the war in Ukraine. Overall, port officials reported in January that in 2022 shipping was up over 300% compared to 2022.
"We're seeing Oswego and several other Great Lakes ports really focusing on bringing new terminals to operation that will help realize some of those agricultural export opportunities for outbound cargo that are heading to destinations around the world through the Seaway," Mr. Tindall-Schlicht said. "I would argue that's part of a broader movement that we're seeing across the Great Lakes towards increased diversification of cargoes for those vessels that come through the Seaway locks, increased containerization through emerging services at the Port of Cleveland, the Port of Duluth and as anticipated later this year perhaps at the Port of Monroe, Michigan."
The "containerization" made itself known on the Seaway in the summer of 2021. In June of that year, the MSC Melissa, the largest container ship to sail the St. Lawrence, arrived in Montreal before heading back to Europe. In September 2021, the container ship Peyton Lynn C, which loaded in Antwerp, Belgium, passed through the locks in Massena and Iroquois, Ontario, on her way upriver on the St. Lawrence heading for the Great Lakes, including a stop in Cleveland.
Mr. Tindall-Schlicht anticipates seeing more container ships on the system. According to data from the World Economic Forum, an estimated 90% of the world's goods are transported by sea, with 60% of that packed in large steel containers.
"Undoubtedly, the global market for shipping is dominated by the largest container ships that can go to the mega-ports of the world, but those handy-sized vessels that come through the locks, we are incredibly optimistic that for our foreign flagged, U.S.-and-Canadian flag vessels that operate on the Great Lakes, there are economic opportunities to be realized, especially in this day and age where east, west and Gulf Coast ports have been constricted by global supply chain challenges," Mr. Tindall-Schlicht said. "We are optimistic that Great Lakes shipping through the Seaway provides a critical relief valve for cargoes to be handled directly into the heartland of North America."
A 'green corridor'
In November, at the COP27 — the 27th Conference of the Parties to the United Nations Framework Convention on Climate Change that was held in Egypt, it was announced that the U.S. Department of Transportation, the U.S. Department of State and Transport Canada will work with state, provincial, local communities, private-sector and non-governmental leaders, and Indigenous peoples of Canada and the U.S. to host consultations with ports and other stakeholders about the creation of the "Great Lakes-St. Lawrence Seaway System Green Shipping Corridor Network."
American and Canadian embassies said in November that green shipping corridors are a key means of spurring the early adoption of zero-emission fuels and technologies to place the shipping sector on a pathway to align with the goal of limiting global temperature rise to 1.5 degrees Celsius. The 1.5 target (2.7 degrees Fahrenheit) is the goal of the 2015 Paris Agreement, which calls for countries to take action to reduce greenhouse gas emissions in order to limit global warming.
The governments view the Great Lakes/St. Lawrence Seaway System Green Shipping Corridor Network Initiative as an important element in catalyzing development of the fuels and infrastructure needed to make the transition to low- and zero-emitting shipping, and, on both sides of the border, creating the jobs to make the fuel available and infrastructure development a reality.
"The key focus here is the word network," Mr. Tindall-Schlicht said of the green shipping corridor. "The U.S. and Canadian governments in making that announcement at COP27 wanted to highlight what has been a proud legacy of shipping on the Great Lakes in terms of environmental sustainability and a long-term focus on freshwater stewardship. We believe that the green corridor shipping network, and our role in the U.S. Seaway as a facilitator and a catalyst for those discussions related to green shipping corridors will over time lead to the adoption of new fuels and technologies that on a life cycle basis, will help deliver low and even zero-emissions across the Great Lakes maritime sector."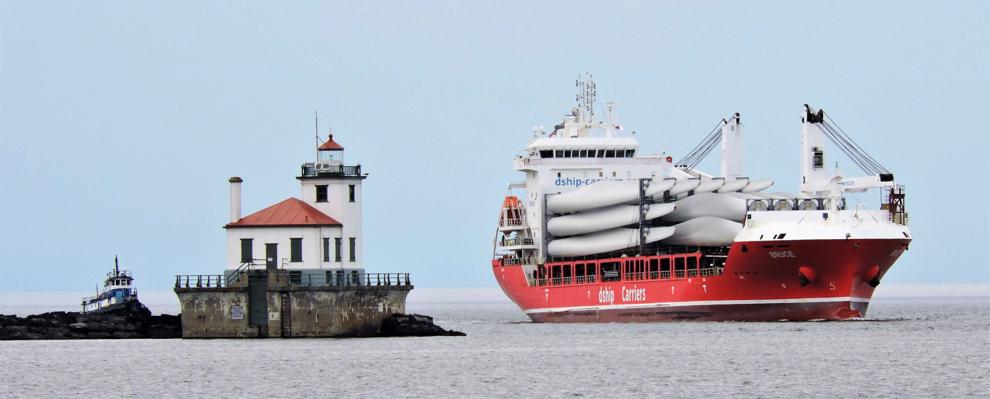 He added that the corridor is part of a broader, long-term plan that the U.S. Department and Transportation and Transport Canada have envisioned: a North American pathway for "full decarbonization in the marine sector."
"This is going to be an industry-led effort," Mr. Tindall-Schlicht said. "Our role is to help facilitate that network, help to create pathways and to help foster communication that ultimately could lead to a fully decarbonized corridor on the Great Lakes through the Seaway."
In 2017, Quebec-based Groupe Desgagnés launched the Damia Desgagnés, which became the first dual-fuel vessel with a liquid natural gas-powered option to transit the Seaway. In April 2021, The Ramelia, homeported in Sweden and launched in 2019, made its maiden voyage on the Seaway and turned heads. Owned by Rederi AB Älvtank, she is an environmentally friendly tanker, equipped with batteries and dual-fuel engines for liquid natural gas operation. A company spokesman told the Times in 2021 that under LNG power, Ramelia emits 85% less nitrogen oxide (NOx) particulates and 99% less sulfur oxide (SOx) particulates and 55% less carbon dioxide.
Many traditional ships on the St. Lawrence and Great Lakes burn "bunker" fuel oil. Bunker oil, distilled from crude oil, can be broken down into different categories. A 2018 report published by the Yale School of the Environment described the fuel as being made "from the dregs of the refining process. It's also loaded with sulfur — the chemical that, when burned, produces noxious gases and fine particles that can harm human health and the environment, especially along highly trafficked areas."
"There is a tremendous amount of dialogue happening not just on the Great Lakes, but I would argue in shipping worldwide in terms of alternative fuel implementation, be it LNG or other biofuels and what the means for having shore power hubs for electrified vessels or those vessels that require alternative fuel based bunkering throughout the Great Lakes," Mr. Tindall-Schlicht said.
INVASIVES VS. BALLAST WATER
Last month, the government of Canada launched the Ballast Water Innovation Program as part of Canada's Oceans Protection Plan. The program, which is a central component of the government of Canada's efforts to advance the implementation and enforcement of the 2021 Ballast Water Regulations, will play an important role in further reducing the spread of aquatic invasive species in the Great Lakes and St. Lawrence River region by investing in innovative solutions to ballast water management.
The 2021 regulations sought to reduce the spread of aquatic invasive species within Canada, as well as their transfer from Canada to other countries, and to help protect global biodiversity. Canadian ships traveling abroad and those coming into Canada from abroad are now required to meet the new standards by 2024.
Canada took ongoing U.S. regulatory processes into account while developing the new regulations, envisioning increased regulatory compatibility over time. When it made the announcement of the new regulations in 2021, Canada said it will continue to work with the U.S. toward binational compatibility to strengthen protection of shared waters and facilitate vessel compliance.
"About 15 years ago, the U.S. and Canadian governments, and especially the U.S. and Canadian Seaway organizations, implemented what has been, I submit, one of the most rigorous and successful ballast water treatment regimens that have ultimately led to the successful prevention of new aquatic and invasive species being introduced to the Great Lakes via foreign flag ballast water tanks," Mr. Tindall-Schlicht said. "It's been a success story."
The rules, adopted in March 2008 by the two Seaway corporations, require all ships destined for the Great Lakes to flush ballast tanks with salt water at least 200 nautical miles offshore.
The idea is to use salt water to kill invaders lurking at the bottom of "empty" ballast tanks. Scientific studies have shown that seawater with salinity of 30 parts per thousand is highly effective in killing potential aquatic invasive species.
A report was issued on the program a year ago. The GLS was not involved in the study.
It was done by Anthony Ricciardi, professor of invasion ecology and aquatic ecosystems at McGill University in Montreal, and Hugh J. MacIsaac, professor at the Great Lakes Institute for Environmental Research, School of the Environment at the University of Windsor in Ontario. A GLS spokeswoman said they are two of the most respected aquatic invasion scientists in North America and in the Great Lakes region.
The report states in part, "To our knowledge, the 2006/2008 regulation is the only case of a policy intervention that is linked to a massive reduction of the invasion rate of a large aquatic ecosystem. Since the current regulations were implemented, the overall rate of discovery of new non-native species declined by 84.6% compared to the partial regulation period."
"No other equivalent period of time in the documented history of the Great Lakes basin since 1835 has had fewer invaders discovered than the period of 2007-2019, and not since the Second World War has there been as few ballast water invasions recorded over a 13-year period," the researchers continue.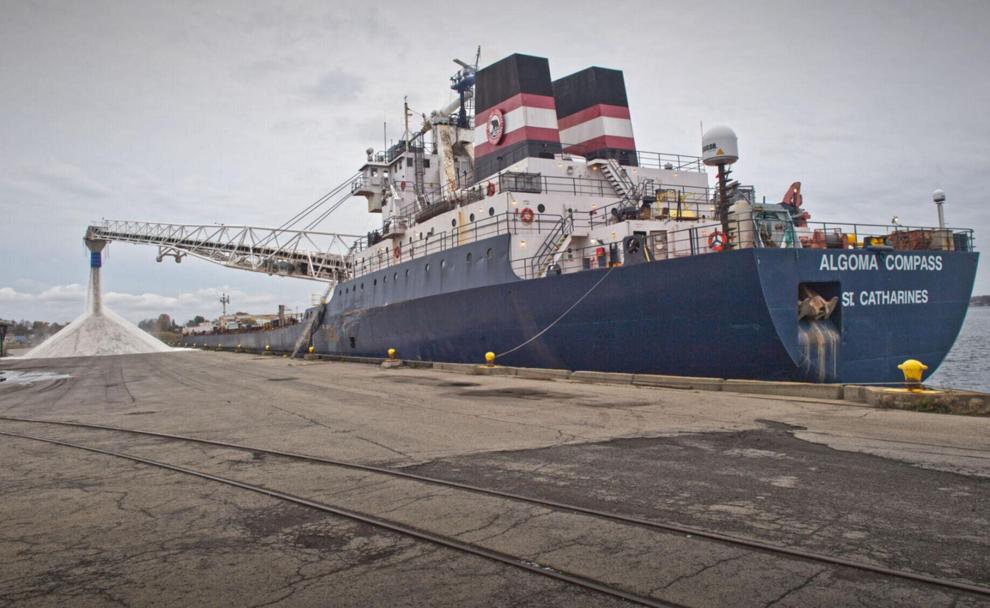 The report says that ballast water management requirements in the Great Lakes and the St. Lawrence Seaway system have been the most stringent in the world. It adds: "This case is an encouraging example of binational response to a transboundary problem, whose apparent success was achieved through rigorous application of an evidence-based, operationally feasible management solution involving participation by governments, the shipping industry, and academia from both countries."
The authors, the GLS spokeswoman said, believe that the regulation has likely prevented several disruptive invasions, and it is their opinion that ballast water exchange should be maintained as a requirement for ships entering the Great Lakes in the future, even if performance standards requiring ballast water treatment systems are imposed on all inbound ships.
"That really speaks to the success of the ballast water practice that the U.S. and Canadian Seaway organizations spearheaded over a decade ago," Mr. Tindall-Schlicht said.
'TIME OF OPTIMISM'
Mr. Tindall-Schlicht said there is "untapped potential" along the Seaway and Great Lakes system. Helping that potential in a "fairly unique" way, he said, are supplemental trade development funds provided by Congress the past few years.
"With those supplemental funds, we are targeting international outreach to shippers that are interested in bringing their cargo through the lakes in creating new business development opportunities for our users in U.S. Great Lakes ports and other key stakeholders of the Great Lakes system," Mr. Tindall-Schlicht said. "Not only do we believe that there's capacity to be achieved, but through this supplemental trade development fund via Congress, we actually have a unique tool kit to achieve that."
"So much of this work is being spearheaded in the maritime industry by carriers, by Great Lakes ports and we're excited to play a facilitative and catalytic role in helping to support the growth of Great Lakes shipping," he added.
Mr. Tindall-Schlicht said he plans to visit Massena "at least" every four to six weeks.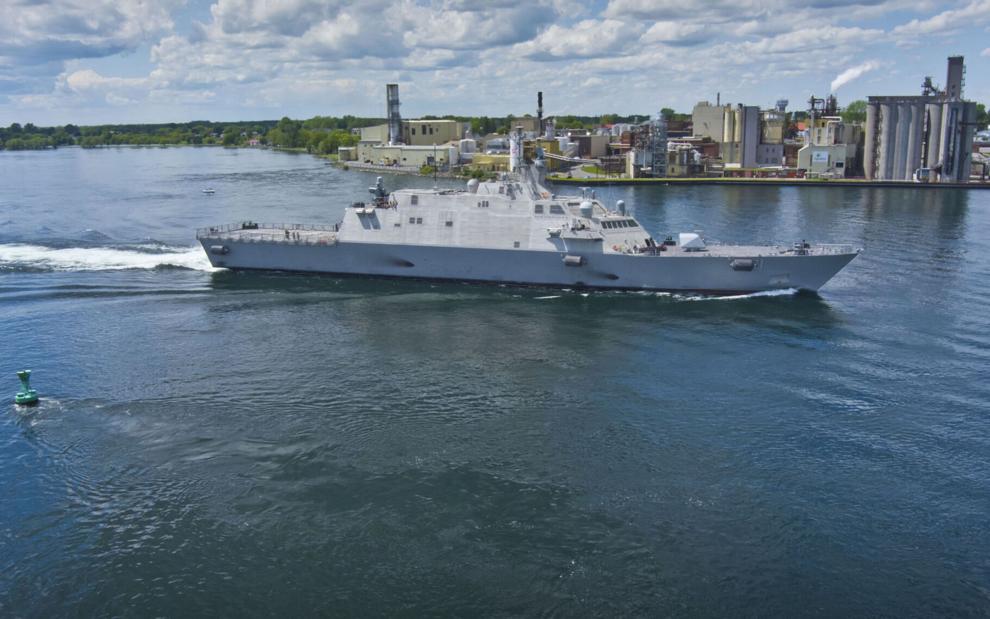 "One of the fantastic parts about working for the Seaway and working on Great Lakes shipping-related policy on behalf of the Biden-Harris administration, is that we are at a time of optimism and change," he said.
"Here in Massena, we have employees who have served 20, 30 and 40 years. They have dedicated their lives in the north country to support the Great Lakes maritime economy. It really is a privilege to help learn from those longtime Seaway employees who are based here, while also being a young leader on the Great Lakes and seeing the passion and purpose that new innovators are bringing in to the Great Lakes maritime sector."
Seaway facts
- Opened to deep draft navigation in 1959.
- Opens for its 65th season of navigation on Wednesday.
- Since 1959, more than 2.5 billion tons of cargo (estimated at $375 billion) have moved to and from Canada, the United States, and 50-plus other nations.
- Recognized as one of the most challenging engineering feats in history, seven locks were built on the Seaway, five Canadian and two U.S., in order to lift vessels 246 feet above sea level as they transit from Montreal to Lake Ontario.
- The Seaway system is connected by five short canals. There are 15 locks, filled and emptied by gravity. On the Welland Canal, a ship canal in Ontario, Canada, connecting Lake Ontario and Lake Erie, there are eight Canadian locks.
All of the 15 U.S. and Canadian Seaway locks have the following dimensions: Length 740 feet, 78 feet in width and 26.6 feet in depth.
- Almost 25% of Seaway traffic travels to and from overseas ports, especially in Europe, the Middle East and Africa
- Vessel maximum: 740 feet length; 78 feet beam; 26½ feet draft; 116½ feet height above water.
- Strategic geographical location: directly serves Ontario and Quebec to the north, and Illinois, Michigan, Ohio, Indiana, Wisconsin, Minnesota, New York and Pennsylvania to the south.
Sources: The Great Lakes St. Lawrence Seaway Development Corp. and the St. Lawrence Seaway Management Corp.