NORWOOD — Usually one of the Fourth of July hotspots in St. Lawrence County, Norwood was left with a gaping hole in its social calendar when the coronavirus pandemic forced the cancellation of the annual Independence Day parade and fireworks show.
"We decided we needed to do something for the Fourth," Norwood Mayor Timothy A. Levison said Saturday on the dock at Terry La Fleur's house on Lakeshore Drive. "So we came up with the flotilla."
About 30 vessels of every size and shape, but mostly pontoon boats, were stationed off shore from the La Fleur property as Norwood's legendary Brass Firemen band loaded onto two boats to lead the parade.
"We were hoping to get 20 (boats)," Mr. Levison said. "Looks like we have more than that."
As the band pulled away from the dock and the boats began to form up to travel north to Norwood's municipal beach, Andrew P. French and Laurie E. Sawney got ready to begin preparing food for the flotilla.
Mr. French, a part-time officer for the Norwood Police Department, would normally be in a police car at the head of the parade.
"Today we have been invited to not burn the hot dogs," he said with a chuckle.
Ms. Swaney, who on a normal year would be helping with the fireworks display, was happy to have a role to play and pleased that the day was not going to go unmarked.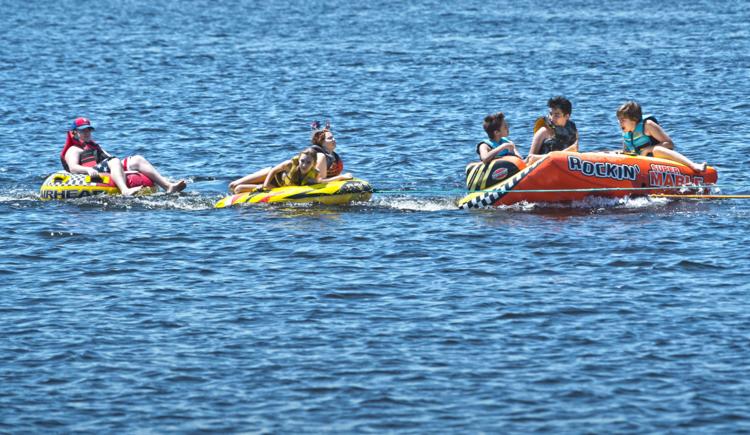 "I am so proud of the people for keeping up the spirit," she said. "No matter what."
By the time the flotilla arrived at the beach, it had grown in size considerably and as the band played for people on the private docks that ring the lake, cheers could be heard rising over the sound of jet skis roaring up and down the river sporting American flags.
Mr. Levison said that the flotilla would likely be added to the festivities next year, when he hoped Independence Day would be more traditional.
They would find a place to the flotilla he said.
"We would never interfere with the regular parade."