NORWOOD — A controlled burn at 620 Porter Lynch Road on Monday afternoon became out of control when heavy winds pushed the flames into a nearby pile of logs and continued to move to a car and dump truck.
John O. Chapman, the owner of the property, said he was burning some wood from the remains of a dilapidated barn on his property across the street from his 622 Porter Lynch Road home with his stepson, Elliot J. Brousseau, when the wind picked the flames up.
"It spread to the logs then it went to the car and then the dump truck and then it just kept going," Mr. Brousseau said. "I called it in at 1:50 p.m. and it took the truck about 20 minutes to arrive."
Mr. Brousseau said he owned the car, which was there for the purpose of holding scrap metal.
"I didn't think it would burn like it did," Mr. Brousseau said. "There was a big chunk of metal in it and it lit up, the tires went and then it got in the cab and the cab went. The only thing that exploded was the tires."
Firefighters had the flames under control quickly, they said.
Mr. Chapman said he tried to use a garden house to at least control the spread of the flames until the firefighters arrived on scene.
"We were just doing some clean up and the wind picked it up and it was quick," Mr. Chapman added. "As green as that (grass) is, you wouldn't think it would burn, but, boy, it took right off."
The men described the vehicles as "junk," and their main concern was protecting nearby haying equipment, which was saved from the flames.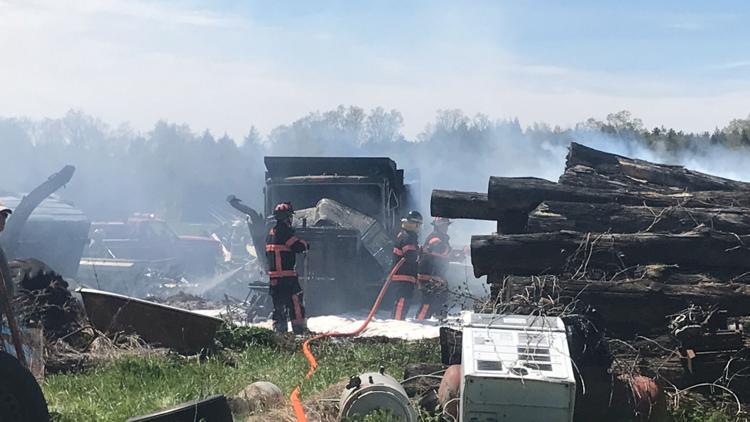 The stack of nearby logs had been sitting as part of an intended house building project. A lieutenant from Brasher-Winthrop Volunteer Fire Department, the lead agency on scene, told Mr. Chapman the logs would need to be moved and that firefighters would likely be on scene all night keeping the smoldering logs under control, unless they could get moved.
"It could have been worse," Mr. Chapman's wife, Mona Chapman, said. "The hay fields could have been dry and it could have spread to the house.
"I wanted to clean up this spring, but not like this," Mrs. Chapman said as she watched the firefighters blast foam over the vestige of the vehicles and charred debris and wood.
Tri-Town Volunteer Rescue Squad and West Stockholm Volunteer Fire Department were also on the scene.