CANTON — After a five- to six-months long, cross-jurisdictional drug trafficking investigation code-named Operation Drop, 18 arrests were made Wednesday morning, 17 individuals in St. Lawrence County and one in Jefferson County.
Beginning before 5 a.m., eight search warrants were executed simultaneously at different locations: two in Potsdam, two in Massena, one in Gouverneur, two in Ogdensburg and one in Watertown. Nine of those arrested, all from New Jersey, are affiliated with a Jersey City criminal organization, ST8 Drop, known to traffick crack cocaine, powder cocaine and heroine laced with fentanyl, and linked to members of the New Jersey Bloods. 
The ongoing investigation has involved covert surveillance aimed at rooting out heroin, fentanyl and cocaine dealers operating in St. Lawrence County and surrounding areas, as well as New Jersey-area trafficking organizations, according to the St. Lawrence County Sheriff's Office.
"A joint effort from the start," according to Kevin M. Kelly, special agent in charge of the Buffalo Field Office of Homeland Security Investigations, Operation Drop involved the coordination of personnel and resources from HSI, the St. Lawrence and Jefferson county sheriff's offices, drug task forces and district attorney's offices, U.S. Border Patrol and the Border Enforcement Security Task Force, state police and local police departments.
"In today's new and ever-changing world, it is egregious and reckless to think that drug organizations would deal their illicit product during a public health crisis," Mr. Kelly, who traveled to Canton from Buffalo, said during a news conference Wednesday afternoon at the St. Lawrence County Courthouse. "Not only did this drug organization, ST8 Drop, or Straight Drop, capitalize on this crisis, they operated with virtual impunity during it — or so they thought."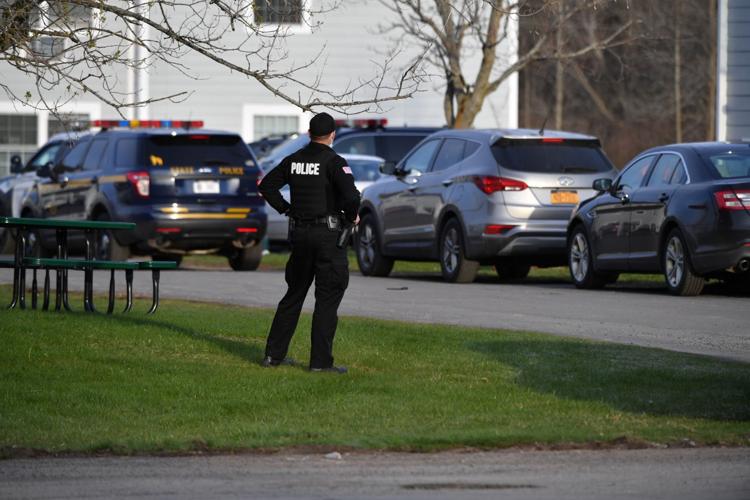 All from Jersey City, the following defendants were each arrested on the class A felony charge, operating as a major trafficker: Keith Rodriguez, 42; Amir Hodges, 36; Allen Pinkney, 40; Vernal Ransom, 50; Moussa Diop, 20; Arthur Agaman, 24; and Justin Martin, 32. 
Tanisha Hagans, 30 and Patricia Wilson, 27, as well as Mr. Pinkney, Mr. Ransom, Mr. Agaman and Mr. Martin, were charged with two counts each of third-degree criminal possession of a controlled substance, a class B felony. Aquarra Weegar, 24, of Massena, was also charged with two counts of third-degree criminal possession of a controlled substance.
St. Lawrence County residents were also arrested on criminal nuisance charges and released on appearance tickets for future court dates.
Facing a first-degree criminal nuisance charge in connection to Operation Drop: Devin Weller, 36, of Potsdam; Lindsey Manchester, 28, of Potsdam; Jerry Yerdon, 33, of Ogdensburg; Bridget Spriggs, 37, of Ogdensburg; Gerald Castle Jr., 32, of Massena; Jessica McMahon, 39, of Massena; Rachel Durgan, 29, of Ogdensburg; and James Pribble, 32, of Ogdensburg.
"As much as we've done today, there's still more work to be done," St. Lawrence County Sheriff Brooks J. Bigwarfe said.
Searches were executed at 21 Depot St., Potsdam; 16 Debra Drive, Potsdam; 29 Elm St., Massena; 14 Church St., Massena; 43 Wall St., Gouverneur; 800 New York Ave., Ogdensburg; 205 Elizabeth St., Ogdensburg; and 1138 Boyd St., Watertown.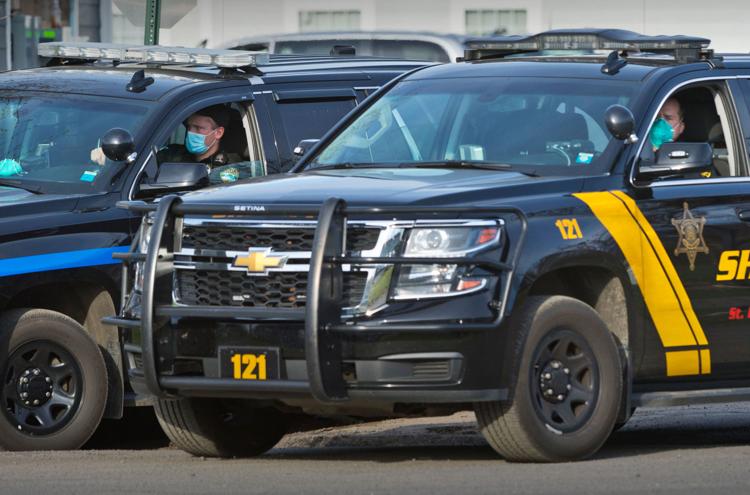 Law enforcement personnel, several donning masks to mitigate the spread of COVID-19, were on scene around 6 a.m. at the Lawrence Avenue Apartments, Debra Drive, Potsdam, leaving shortly before 8 a.m.
Officers, about a dozen law enforcement vehicles and a helicopter were also reported around 4:30 a.m. on Depot Street in Potsdam.
Mr. Bigwarfe said the searches recovered a total of six pounds, 12 ounces of cocaine, with an estimated street value of over $300,000; 279 grams of fentanyl, valued at about $55,000; 1,657 bags of heroin and 1,080 bags of fentanyl, all pre-packaged for distribution and valued at about $41,000; and $78,000 in U.S. currency.
"We're seeing too many deaths from fentanyl, we're seeing too many crimes from drugs," Mr. Bigwarfe said. "People and the citizens of St. Lawrence County are fed up with it, they truly are fed up."
A June 2019 report compiled by the St. Lawrence County Partners 4 Substance Use Prevention and the Fort Drum Regional Health Planning Organization outlines opioid hospitalization and overdose data, which has been collected for St. Lawrence County since 2001.
Based on what the report calls "Key Informant Interviews," informants asked interviewers for clarification about questions related to how local residents obtain opioids — Heroin or prescription drugs? Illegal or legal drugs?
To "obtain opioids" was then clarified to mean any acquisition, legal or illegal, of all drugs classified as opioids, including heroin, codeine, methadone, oxycodone, fentanyl and buprenorphine.
About 20 percent of the responses indicated that local users travel to metropolitan areas, like New York City and New Jersey, to bring opioids sourced from health care providers or "off the streets" back to St. Lawrence County. About 33 percent of responses indicated that heroin, illegal synthetics and prescription drugs are brought from metropolitan areas into St. Lawrence County communities by dealers from those metropolitan areas.
"It's not just a Massena problem or an Ogdensburg problem," Mr. Bigwarfe said. "It's a St. Lawrence County problem."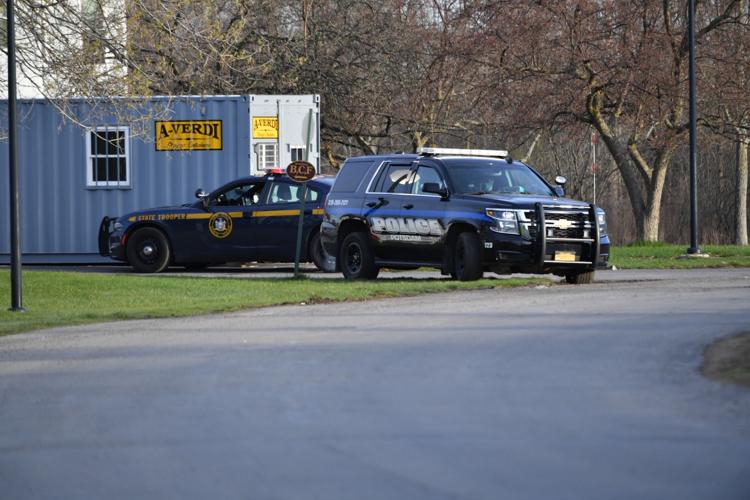 The movement of illicit drugs across more than 300 miles from New Jersey to the north country is a major ongoing issue, according to Mr. Bigwarfe and St. Lawrence County District Attorney Gary M. Pasqua, who said one entity alone does not have the "man power" to facilitate a large-scale investigation like Operation Drop.
"Local police departments, especially, are essential in investigations and operations like this," Mr. Pasqua said. "They are the ones on the ground, they are the ones in their community, they are the ones that know what's going on."
Though inter-agency cooperation was key, the other major player leading to Operation Drop's relative success was timing, Mr. Pasqua said.
If investigators were only able to charge the New Jersey traffickers with lesser offenses and unable to charge them with the major trafficking class A felony, the state's bail statute would prompt their release.
"These types of individuals are the ones we need to keep incarcerated, that aren't from the area and are only here to deal drugs," Mr. Pasqua said.
The nine Jersey City defendants, as well as Ms. Weegar, were scheduled for arraignments before Ogdensburg City Court Judge Gary R. Alford at 5 p.m. Wednesday. Shortly before 8 p.m., arraignments had been completed, according to the district attorney's office, with the seven defendants charged with major trafficking remanded to county jail without bail. 
Ms. Wilson was released under probation supervision, and Ms. Weegar was released on her own recognizance, each to face drug charges at a later date.
"We will continue our investigative efforts to dismantle the conspiracy of bad actors outside the state of New York as well," Mr. Kelly said. "I also want to assure the public that those who exploit and victimize people during this unique time of crisis will be held accountable for their actions and be brought to justice no matter what the crime."
When the COVID-19 pandemic gained traction in the north country and the first cases of the respiratory disease were reported in St. Lawrence County in March, law enforcement remained "behind the scenes," as ST8 Drop affiliates "didn't stop, they escalated actually," Mr. Bigwarfe said.
Undersheriff Sean P. O'Brien added that the alleged major traffickers "preyed on limited (roadway) traffic." 
"They took advantage of the situation thinking that law enforcement wouldn't really be doing a whole lot out there, which is the farthest from the truth," Mr. Bigwarfe said. "We ramped up our investigation as they ramped up."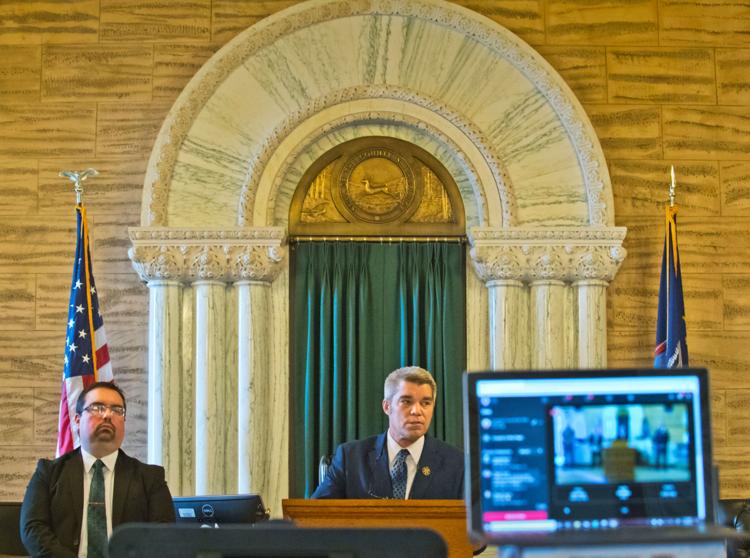 Mr. Bigwarfe noted that the "best" time to conduct multiple drug arrests is admittedly not during a public health crisis when social distancing measures are in place to protect communities.
But because of how ST8 Drop operations had "escalated" in recent weeks, he said, investigators determined now was the time to act to decrease potential public safety risks associated with the recovered drugs and supplies.
Investigators anticipate additional arrests in the coming days and weeks as the investigation is ongoing.
"This is not an end to this story," Mr. Pasqua said.