POTSDAM — After nearly five years offline, the East Dam Hydro Station has gotten a makeover and is expected to be up, running and producing power by April.
"We explained that we were on a very tight schedule for the renovation work to be done," said Fred J. Hanss, Potsdam's planning and development director. "Ideally we would have liked to have had all that work done in March. Both of the bidders that came back and responded said, 'we could have it done in April.'"
Mr. Hanss said that was the deadline the village set for itself to have the renovation work complete and have the hydro plant back in service.
"So when I say 'back in service,' what that means is that they will wet commission the turbines, they will reinstall the turbines, they will test all of the things that they could test dry, they'll test dry, and then they will rewater the plant, spin those turbines up, and if there is a problem they can address that problem, debug it, and then put it back in service," he said.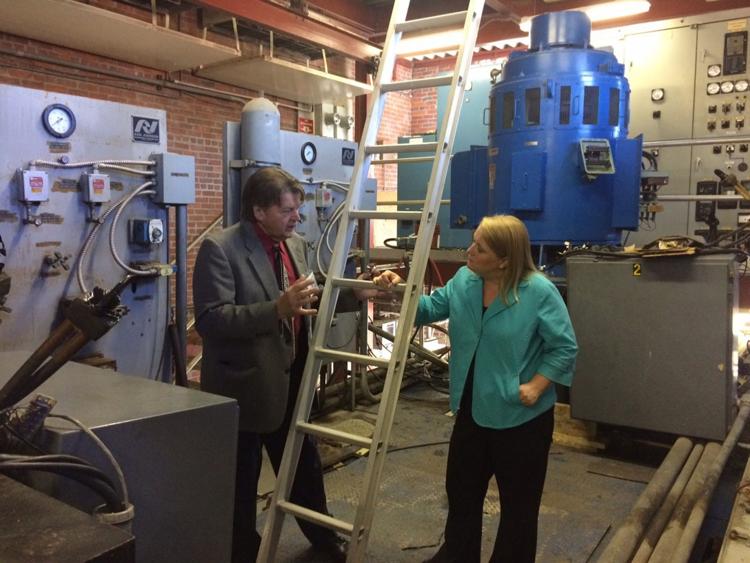 It was those two turbines that run that station that caused a "catastrophic failure," meaning that the plant had to cease operation back in 2015, likely due to the fact that the station had been running nonstop for about 40 years, Mr. Hanss said.
"It was one of those situations where we had infrastructure that just wore out," he said. "So we sent the gear boxes off to a local machine shop for repair, they were reinstalled, they ran for about a week and then they failed again."
Since that time, the New York Power Authority became involved through the Energy Efficiency Program, then-Assemblywoman Addie A.E. Jenne secured the village a $250,000 grant through the State and Municipal Facilities Program, and the village connected with an engineering office down in White Plains.
"What they have helped us do is identify an engineering firm that is qualified to undertake the project, do the design work and help us assess the needs of the plant and then assess bids as those bids come in," Mr. Hanss said.
That firm, Hatch Associates, worked through the winter and into early summer reviewing the on-site conditions, looked at the physical condition of the gear boxes and analyzed what they could see.
One of those things was the control systems from the plant were mid to late 1970s technology, Mr. Hanss said.
"So we have a rotary dial phone, we have a computer monitor that you could probably still play Pong on, it was just very primitive equipment, but it worked and it worked right up through 2017, just fine," he said. "We decided we would take a look at doing an overall, overarching renovation of the plant itself and that was going to be the first dollar in."
The village also received a $750,000 grant from the Office of Community Renewal through the Community Development Block Grant program at that time.
Mr. Hanss said NYPA had the ability to provide the village both with construction financing and then permanent financing. At an approximate 4 percent interest rate, the village is looking at financing the renovation project for 20 years through NYPA.
Bids for the project went out in November.
"The cost, we thought, for that, was going to be about 1.8 million bucks and we got a million dollars in grant funding, so things were looking pretty good," he said.
Two bids came back for the project on Sept. 27 and Mr. Hanss said there were some questions that needed answering by both of those firms before they had ample information to accept or reject the bids.
The big deal in getting the plant running after having it offline for so long is that it is a money maker for the village and a generator of power. That power that is created is sold to National Grid on the grid through a remote net metering agreement.
Mr. Hanss said the village is still analyzing the service the dam provides and what it would mean both financially and power-wise for the village.
"What I can tell you is, historically, it offset the operating costs for street lighting, for operation of the water plant, for operation of the sewer plant, and the Pine Street Arena," he said. "The question then is, at what point, because it is going to be a 20-year loan from NYPA, what's the net revenue going to be after we've paid for that debt service, operations and maintenance, and reserve."
He said the village is still waiting on an economics report from Hatch Associates to make some of those determinations.
"So it may be a little bit of time before we see significant cash flows, but we'll see, at some point, some significant cash flows," he said.