POTSDAM — What's his name? George Floyd. What did he say? I can't breathe.
For nearly three hours Monday evening in the village of Potsdam, about 800 people convened, chanting in protest of George Floyd's May 25 killing and national police violence, all in support of the Black Lives Matter movement.
Chauvin, who was fired from the Minneapolis Police Department, was arrested Friday and charged with third-degree murder, carrying a maximum sentence of 25 years, and second-degree manslaughter, carrying a maximum sentence of 10 years and a $20,000 fine. Three other officers who stood by — Thomas Lane, J.A. Kueng and Tou Thao — have been fired.
HAPPENING NOW: Hundreds of people marching down Market Street, Potsdam, in support of the Black Lives Matter movement. pic.twitter.com/5rDvVeZ7nG

— NNY360 & Watertown Daily Times (@wdtnews) June 1, 2020
Village protesters marched from the Potsdam Post Office, 21 Elm St., west toward Market Street, north through the commercial district, then east to Leroy street and back to Elm.
The march was ushered by a Potsdam Village Police patrol car at the front, and a Potsdam Volunteer Rescue van at the rear. Organizer Jennifer Baxtron said she reached out to village police officers last week, asking them to participate in the peaceful rally. About five officers were present, escorting the marchers and helping direct traffic.
"This is the most beautiful thing I've seen since I've lived in Potsdam," Ms. Baxtron told the crowd gathered in front of the post office after returning from the 2-mile march.
Ms. Baxtron, a black Potsdam resident who has lived in the village for the last seven or eight years, reminded community members on Facebook about an hour before the 6 p.m. march started: "Come in peace or don't come at all." She has organized racial justice rallies in Potsdam before, including one in August 2019, in the wake of the El Paso, Texas, shooting.
Monday's turnout, which surprised several marchers the Times spoke with, followed a similar rally held in front of the post office that drew about 100 people Sunday afternoon. Sunday's event was organized by Potsdam Central High School student Olivia Ingram, who plans to rally in front of the post office again at noon this Sunday.
"And I'll be right there with her," Ms. Baxtron said as she marched toward Leroy Street.
Local black students spoke to the crowd after the march had concluded, including 12-year-old Adrianna Dupre, a seventh-grader at Ogdensburg Free Academy, who rallied in Potsdam with her uncle and other family members.
Miss Dupre, a victim of racist bullying all her life, said classmates mock her natural black hair and her black skin, calling her the n-word, "over and over and over again."
"Do you hear her?" Mal Brewster, a local black student, asked the crowd. "Do you all see how sad it is that there's a 12-year-old girl up here telling us stories about how she experiences racism?"
Ms. Brewster and several other speakers implored white Potsdam protesters to continue to show up — every day and in every way — in support of black people and the centuries-long fight for racial justice.
A north country resident for the last 16 years, John Youngblood, a SUNY Potsdam associate professor of English and communications, spoke, too.
"I've seen people dealing with all types of racism and hatred and disrespect and inequality and inequity," Mr. Youngblood said. "And never have I ever imagined there would be a crowd like this to turn out. What you are demonstrating right now is something that is almost hard to believe in anymore, and that is the ability to touch people, to empathize with people, to relate with people to try and change a system that needs to change."
In 2019, the U.S. Census Bureau estimated 85 percent of the village of Potsdam's population of about 9,000 to be white, with 6.4 percent black and 1.9 percent mixed-race.
At around 8:30 p.m., Ms. Baxtron asked white protesters to separate from black protesters, directing remarks to the white people facing a few dozen black people beside her, urging white community members to support and protect black people in the north country. She then asked the white protesters to turn away from their fellow black citizens to face Elm Street, demonstrating a solidarity, a line of protection for the black community.
"Now you're protecting us," Ms. Baxtron said.
Addressing the few police officers standing by, speakers asked them to talk to their colleagues about racial injustice and about showing up: "We cannot lose any more lives to a broken system," a protester cried.
"Remember," Ms. Brewster said. "The blue lives? The badge is a choice. But my skin? That's not a choice."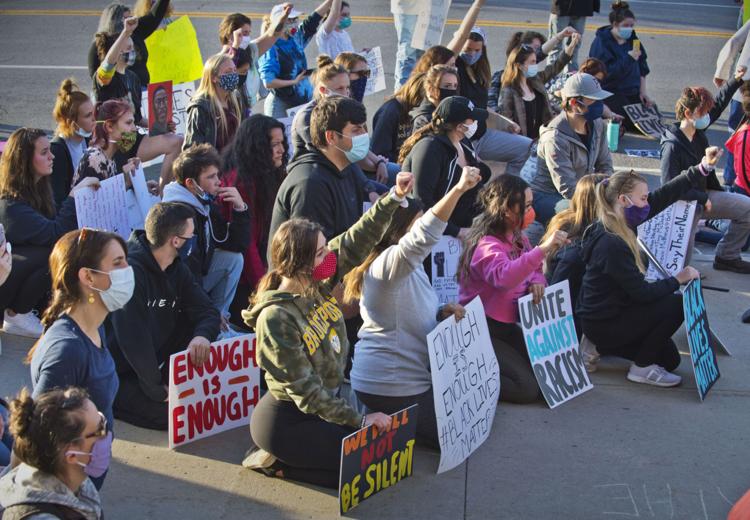 On Sunday morning, the SUNY Potsdam University Police Facebook page reposted a Blue Lives Matter meme that read: "If you are anti-police, I'm blue family, unfriend me."
By noon Sunday, the post had been deleted from the University Police Facebook page.
"The University Police department would like to apologize for a post that was mistakenly made this morning," a post made at 12:10 p.m. reads. "It does not reflect the view of the department or the College. Please know that we have restricted posting abilities to prevent any future mistakes."
"The tragic death of George Floyd is not acceptable and reminds us as a police department that we must work to continue to earn your trust," the post reads. "We took an oath to serve and protect all of our community members regardless of race, religion, or background."
Mr. Ashley added that the "situation will be thoroughly investigated," with assistance from SUNY Potsdam's Office of Diversity, Equity, and Inclusion and Human Resources.
Potsdam Mayor Ron Tischler joined protesters in front of the post office Monday, describing the death of Mr. Floyd as a "huge injustice."
"Those officers hopefully will be prosecuted," Mr. Tischler said of the four Minneapolis officers involved in George Floyd's death, adding that he has seen "nothing like" the turnout at Monday's rally in the village over his two decades in public office in the area. "It's just tremendous."
For Potsdam resident Rivka Rocchio, a SUNY Potsdam assistant professor of theater and dance, marching for the Black Lives Matter movement is about continued activation in and mobilization of efforts to address indoctrinated racism.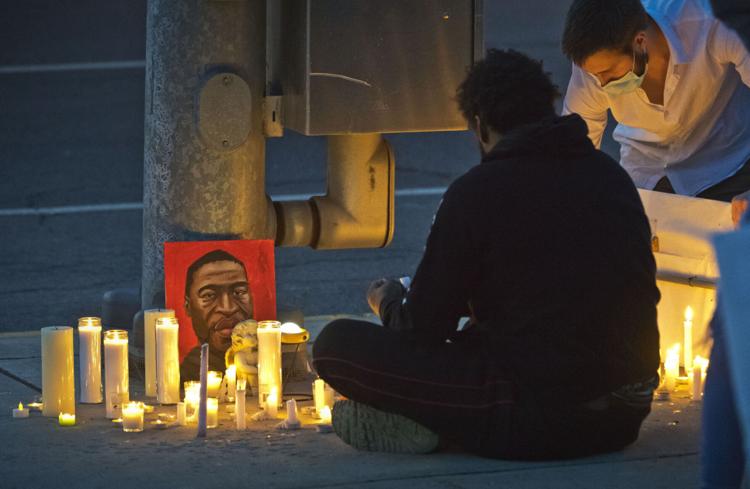 "This is just the beginning," she said.
Just before participating in Monday's march, her 4-year-old black son asked: "So everyone's going to be nice to me, right? Even though I'm black?"
"I've been talking to him since he was born, talking about how he lives in a different world than his white friends," she said. "I hope, in the future, he can live in a world where he can step outside and not expect a death sentence."