OGDENSBURG — From the steps of City Hall late Friday afternoon, three city councilors who tend to find themselves in the minority more often than not announced their intent to run for re-election this November.
Surrounded by about 50 supporters at the corner of Ford and Caroline streets, councilors Nichole L. Kennedy, Michael B. Powers and Daniel E. Skamperle announced they will stay the course and run for re-election to City Council.
"Personally, I wasn't sure I wanted to do this again," Mrs. Kennedy said of running for council. "But like everybody else who's fighting for our city, I think that we should continue to do that too.
"Here we are. If you guys wanna have us, we wanna run for election again," she added.
Mrs. Kennedy's words were met with cheers from the crowd gathered in front of City Hall.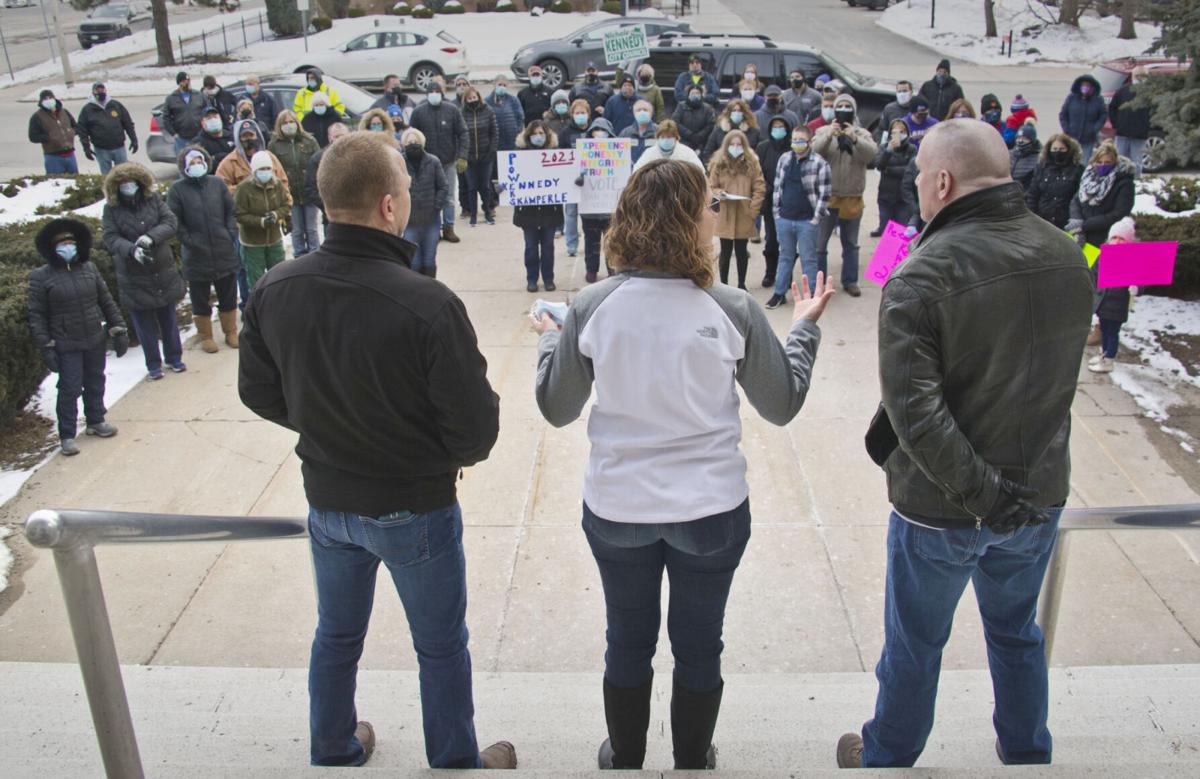 "Our biggest objectives, of course, are supporting city services," Mr. Skamperle said. "Every department deserves respect and every person that works for the city deserves respect, and we want to bring that integrity back to City Hall along with the democratic principles in our charter.
"We're gonna keep up the fight, folks," he added.
Following the 2019 election of Mayor Jeffrey M. Skelly and councilor John A. Rishe, both write-in candidates, as well as councilors Steven M. Fisher and William B. Dillabough, the three councilors up for re-election this year have routinely found themselves voting as a bloc — often times in the minority. Most City Council votes since 2020 have resulted in a contrasting 4-3 vote, with Mrs. Kennedy, Mr. Powers and Mr. Skamperle voting together.
Mayor Skelly received the most write-in votes in 2019 — 1,457 votes — ousting then-incumbent Mayor Wayne L. Ashley, who received only 470 votes that year. Mr. Fisher, Mr. Dillabough and Mr. Rishe also easily outdistanced their challengers in 2019. These four councilors have also regularly voted as a bloc, resulting in frequent majority votes in their favor.
"Really at the end of the day it boils down to leadership," Mr. Powers said. "In my opinion, we don't have much of a leader here in our mayor. ... I'm proud to stand with Dan and Nichole and I'm proud to stand with all of you, and thank you for all the support.
"We all recognize the financial constraints of this city, and tearing down good agencies, good people, hard working family people with living-wage jobs over spite needs to come to an end, and I'm proud to stand with these two and continue that push," he added.
Mr. Skamperle, 51, a resident of Mansion Avenue, is seeking his fourth term on City Council. He first ran for council in 2009 alongside Republican R. Storm Cilley and then-incumbent Michael D. Morley. Mr. Skamperle, who ran on the Democratic and Conservative lines, received the most votes that year — 1,590.
Mr. Skamperle and Mr. Cilley were elected to fill seats vacated by Republican Matthew J. Flynn and Democrat Thomas A. Hannan, who decided not to run for re-election that year.
Mr. Skamperle sought his second term on council in 2013. That year, he was the second-highest vote-getter with 967 votes behind Republican Brian R. Mitchell, who received 1,004 votes. Then-incumbent Michael D. Morley, a Republican, was also re-elected to council that year with 861 votes.
In 2017, Mr. Skamperle ran for council a third time. He was again the highest vote-getter that year with 1,284 votes.
Political newcomers Shawn R. Shaver and current councilor Mrs. Kennedy were also elected to council that year with 1,087 and 937 votes, respectively. Mrs. Kennedy, 34, a Democrat and Rensselaer Avenue resident, will be seeking her second term on council this year.
Mr. Powers, who is seeking his second consecutive term on council, was appointed in 2019 to fill the seat left vacant by Mr. Shaver.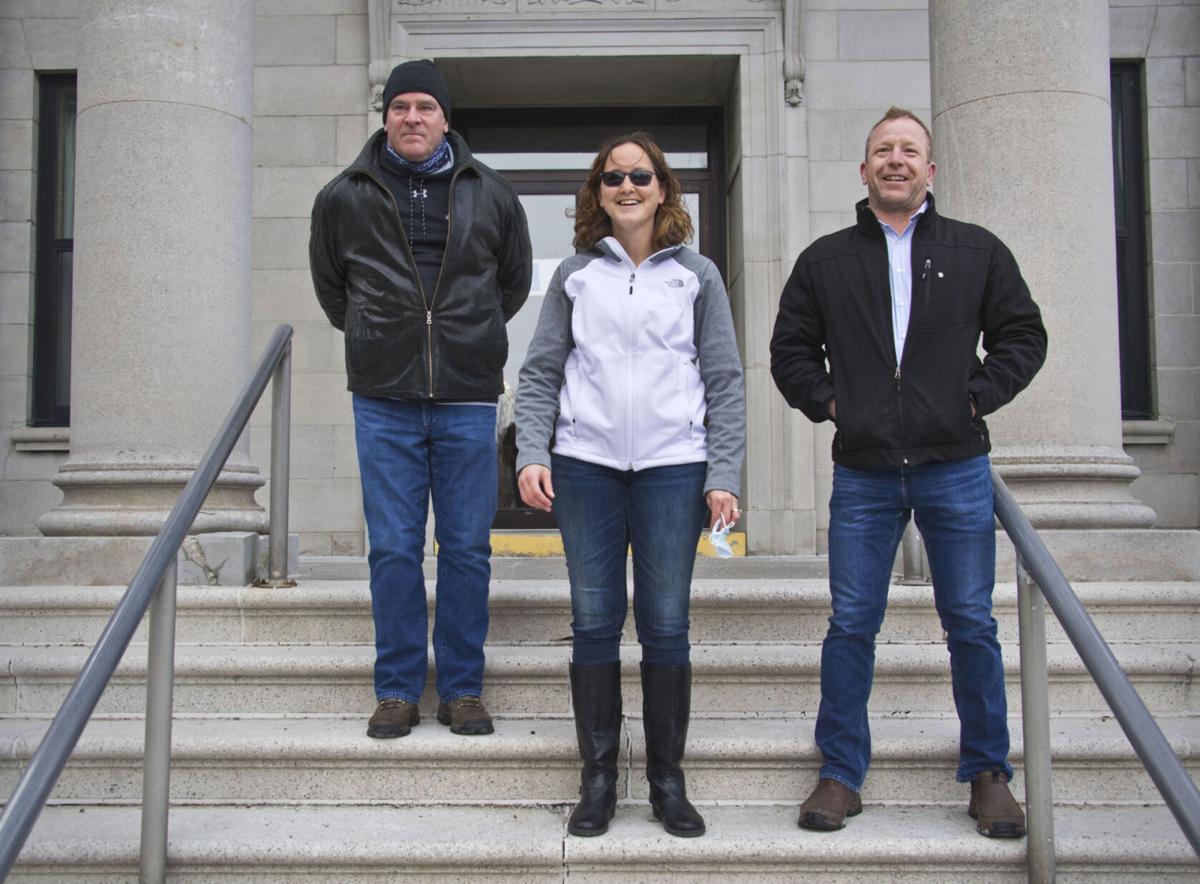 Mr. Shaver resigned from his elected position in March 2019 after some council members questioned his residency status following word that he had sold his home in the city and purchased a property in the town of Lisbon. He maintained he was living with a relative in the city, but he eventually stepped down, creating a vacancy on the seven-member panel. Mr. Powers was appointed to fill the vacant position by a 5-1 vote.
Current councilor Mr. Fisher, a resident of Franklin Street, was also a candidate to fill Mr. Shaver's vacant seat in March 2019. Mr. Fisher ran for election on the Republican Party line that November and won.
Mr. Powers, 55, a Republican, Ogdensburg native and current Elizabeth Street resident, ran that November to fill the vacant seat he was appointed to fill for the remaining two years of Mr. Shaver's council term. He ran unopposed and won.
Mr. Powers is also the president of the 30,000-member New York State Correctional Officers & Police Benevolent Association.
He's no stranger to local politics, having served on City Council for four years from 2008 to 2012. In addition to his role as a state union leader, he's also a veteran corrections officer who works as a sergeant and front line supervisor.
The three councilors seeking re-election have until March 26 to gather the appropriate number of signatures to be eligible for a June primary election, if needed, or for the general election in November.
No candidates have yet come forward to challenge any of the incumbents seeking re-election.