OGDENSBURG — Three women protested outside Ogdensburg City Hall on Sunday morning, saying they want to "unmask New York State."
At 10 a.m., Amber L. Williams, of Heulveton, and Nikki Rickett, of Ogdensburg, gathered outside City Hall with signs that read, "My body my choice," "Masks have no place in our schools" and "What if I told you to not wear a mask?," all in protest of the state's mask mandate to combat the spread of COVID-19.
"Freedom of choice. I believe that we have a freedom to choose, and we've done research," said Ms. Williams. "People should have the right to choose if they should wear a mask or not."
Since April 17, New Yorkers have been required to wear masks when in public, and businesses have been required to enforce that rule. Those that do not require patrons to wear masks can be subjected to steep fines, and complaints have flooded in since the mandate began.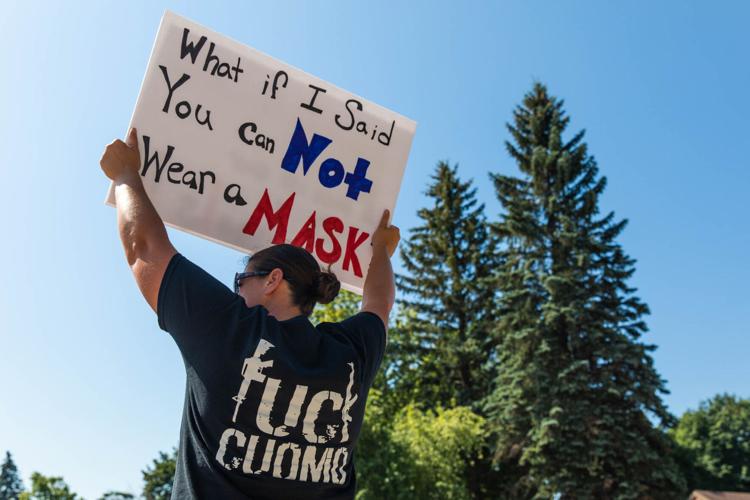 Ms. Rickett said that mask mandate and the "harassment," she said, she has seen from business owners asking people to wear masks violate the Health Insurance Privacy and Portability Act (HIPPA) and the Fourth Amendment.
HIPPA only applies to healthcare providers and insurance companies, not business owners or average citizens, and the Fourth Amendment protects American's from unreasonable search and seizure by government agents.
The protesters called the state's complaint system a "snitch line," and criticized the effects it's had on small businesses and the region.
"We're the poorest county in New York State, and the things that Cuomo are (sic) doing, along with the masks, are hindering our business and making us more poor," Ms. Williams said.
According to 2019 data from the U.S. Census Bureau, Chautauqua County located in Western New York has the highest rate of persons in poverty of the state's 62 counties with 18.3 percent. St. Lawrence County ranks 13th in the state, with 15.1 percent persons in poverty.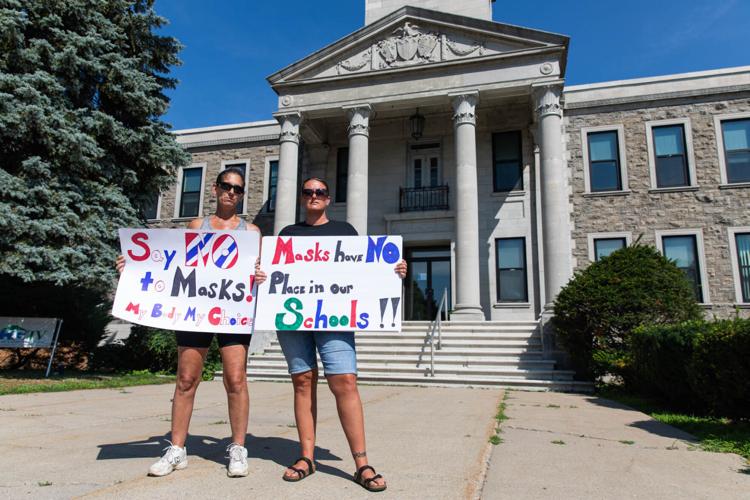 Both women believe that masks do little, if anything, to stop the spread of the virus, and that the virus itself is not a major concern. They both said they do not wear masks in public.
"I don't like to fully compare it to the flu, but that's the closest thing we have to a comparison," said Ms. Rickett. "People get the flu, they go home, they get sick, they come back."
They said that even if they began feeling sick, they would not get tested for the virus, and instead would simply wait the illness out at home.
"I would definitely not go to the hospital because I would be put on what I call the 'hit list,' where you are tracked, you are traced, kind of like other communist countries," said Ms. Rickett.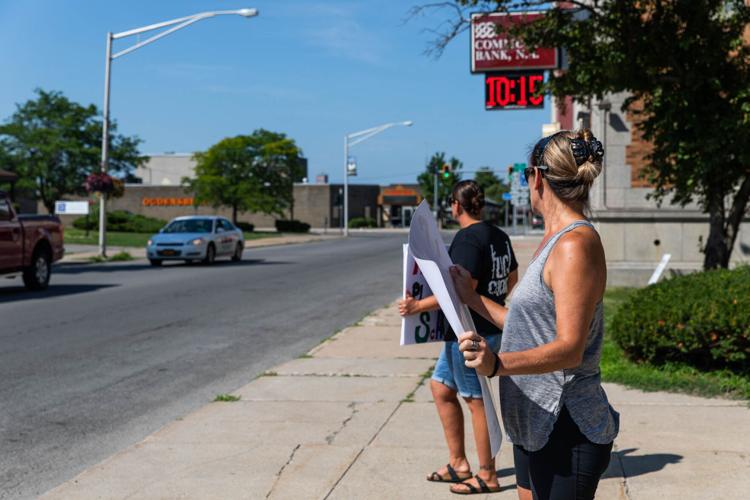 About 15 minutes into the protest, Ms. Williams and Ms. Rickett were joined by a third protester, Tammy Jock, of Lisbon. She said she has a rare, genetic heart condition that reduces her oxygen intake and prevents her from wearing a mask in public, on orders of her "team of doctors."
"There's my f**king mask, an O2 mask," Ms. Jock said.
She animatedly walked around the sidewalk in front of City Hall, shouting out criticism against Walmart for what she termed harassment. According to Ms. Jock, she was harassed one time by an assistant manager of a local Walmart for not wearing a mask in their building, and was asked to put on a mask seven times.
She says she filed a formal complaint about the incident, but it's unclear with whom she filed the complaint.
Ms. Jock said that she is a "double-edged sword," as she is simultaneously at higher risk of having severe symptoms of COVID-19 and also does not wear a face mask.
"I'm the epitome of what we want to portray," she said.
All three women repeatedly questioned why masks are required, yet surfaces that many people touch are not routinely sanitized to prevent the spread of the virus.
According to the World Health Organization and the Centers for Disease Control and Prevention, surface transmission is not the main way coronavirus can be spread. Respiratory spread from person to person remains the primary concern.
Ultimately, Ms. Williams said that as New York's number of positive COVID-19 cases continues to drop, she believes that these mandates and social distancing rules should disappear. Both she and Ms. Rickett fear that the government mandate for face masks may turn into something more insidious.
"I really don't wanna end up like Iran where we have to cover our face because the government says so," Ms. Rickett said.