CLAYTON — Bassmaster may have more fans by the end of this week's Elite Series tournament on the St. Lawrence River.
Not only has the fishing been phenomenal — both Chris Johnston and Paul Mueller have topped 50 pounds after the first two days, possibly flirting with 100 pounds by the end of the weekend — but a large chunk of it could be watched on ESPN2.
And with more mainstream sports not fully back from a coronavirus-forced hiatus, the professional anglers feel like Bassmaster is taking advantage of its opportunity to shine on a national stage.
"It's awesome for us, it's awesome for the sport, for the fishery and for the town," Clark Wendlandt, who currently sits in third place, said. "It gets a lot of attention, the same thing happened at (Lake) Eufala (Ala.), I had people who never watch bass fishing say 'Hey, I sat down, had ESPN 2 on and saw y'all.' And I mean I had that over and over and over again. It's a great thing for us, we want to represent BASS, professional angling, the state of New York and Clayton the best as we can."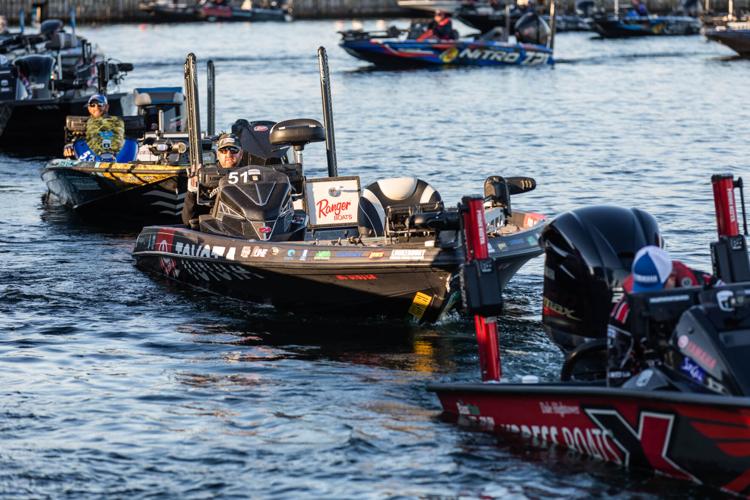 Wendlandt finished the day with a 21-pound, 10-ounce bag, bringing his two-day total to 47-13.
Paul Mueller topped the list again with a day-two bag, weighing 25-1, bringing his two-day total to a field-best 52-2.
Mueller, a Connecticut native who comes off as gregarious on the broadcast from his boat, tries to not think of the amount of attention Bassmaster is getting while he's fishing.
"I guess it really hasn't set in for me because we're here, we're fishing the tournament, I'm used to having cameras on the boat," Mueller said. "And the thing is, as a competitor, you can't think about all of that because it can have the tendency to spin you out, with how many people are watching."
"I was talking about it with my camera guy today, about how well the production has been," Mueller added. "And how so many people who don't really get bass fishing or are just starting to get into it, it's something that they cling to because it's something that's fun to watch."
Mueller had more success on Friday as the day went on.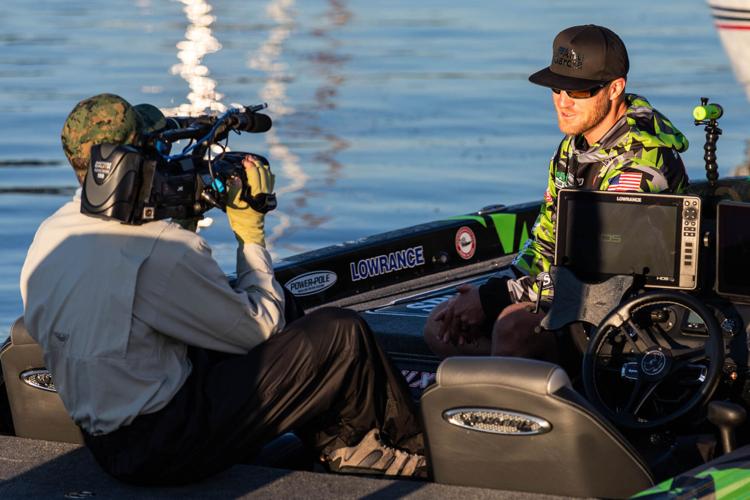 "Yeah the biggest thing today is that they didn't bite as good and I stayed off the fish," Mueller said. "I made the mistake in the morning where I was getting too close to them, with the electronics you see everything going on and you try to force the issue. I had some fish in the morning where I would drop the weight right on them and spook them, or they'd nip at it like a goby, they weren't biting good."
As the weekend begins, the field shrinks to the 40, making for a more competitive final two days of the tournament. Though the weather on Sunday doesn't look as promising as it has been these past few days, Chris Johnston, an Ontario, Canada, native who sits in second place with a total of 51-12, isn't feeling any extra pressure entering today.
"I want to look at the weights and the leaderboard, and I think the big thing is going to be strategy and knowing when to quit, that's gonna be the killer," Johnston said. "And you have to catch them too. But, if I have a lead and I can get 23 or 24 (pounds) tomorrow, I'll be thrilled and then going into that windy day, if I just need like 17 or 18 I would be ecstatic."
Much of pro bass fishing is scouting for the days ahead. Johnston makes note of spots in the river and lake, as he's fishing so he can return to them on later days. With Sunday perhaps less fruitful day for fishing, Johnston has a spot in mind that could hopefully yield some difference-making bass.
"There's one that I don't think anyone has found and I don't know if they put it on Live today, but I kind of showed it on the graph what I was looking at," Johnston said. "I don't think anyone found it so I'm trying to save that one."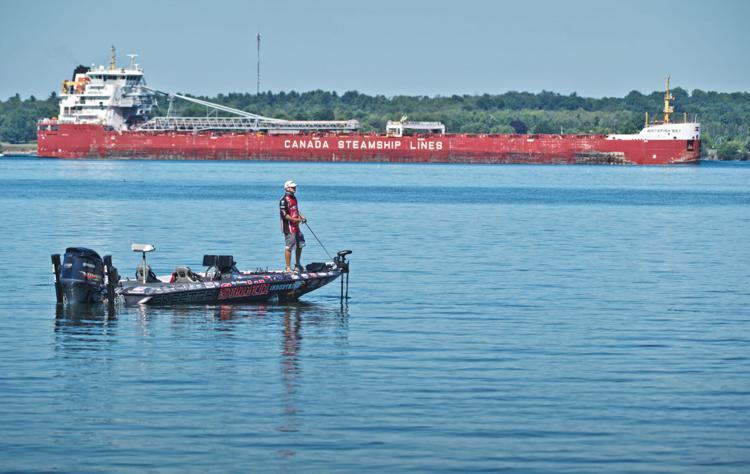 While Johnston seems like a lock to make it to Sunday, he needs to survive the final cut. Only the top 10 anglers after today will move on to the final day and compete for the $100,000 first-place prize.
Johnston was close to that title at last year's St. Lawrence event in Waddington, but was upset on the final day by Micah Frazier, who began the day at No. 10.
Johnston remains as the field's best chance to be the first Canadian to win a Bassmaster Elite tournament.