CLAYTON — Chris Johnston made Bassmaster history. With 97 pounds, 8 ounces of total bass caught this week, he becomes the first Canadian to win a Bassmaster Elite Series tournament at the St. Lawrence River.
Do you think student athletes will be able to play school sports this fall?
After his 22-12 pound bag was weighed in, Johnston patiently waited on the stage for Paul Mueller's number to be reported. Mueller, who led all three days leading into Sunday needed 20 pounds to top Johnston, but came up short by bringing in only 18-15.
For Johnston, the victory avenges last year's defeat at the St. Lawrence River in Waddington, where, after leading for three days, he was defeated by Micah Frazier on the final day.
"It made it all that much sweeter this year," Johnston said.
A Canadian has finally won a Bassmaster Elite tournament. Chris Johnston takes it after a 22-7 pound Sunday, bringing his total to 97-8. pic.twitter.com/eCo7jHSSu2

— Phil Sanzo (@Philip_Sanzo) July 26, 2020
Last year, thousands of Canadians came out to watch Johnston make history. This year, due to COVID-19 travel restrictions, that same crowd couldn't watch Johnston in person, but he still felt their support.
"It's incredible, I feel like I have a whole nation cheering me on," Johnston said. "My phone has been blowing up, my social media also, it's been crazy. If the boarder wasn't closed than I guarantee you there would be thousands of people here."
The 31-year-old Peterborough, Ontario, native consistently hauled in 20-plus pound bags for the first three days, but was overshadowed each day by Mueller, who never held more than a 2 1/2-pound lead over him.
Both anglers stuck to Lake Ontario, even as it progressively got rougher and rougher throughout the weekend.
As the boat rocked up and down and waves poured onto the deck, Johnston kept his focus.
"I kind of tune that out, I forget about it going up and down," Johnston said. "I'm looking at my Garmin, sonar and panoptics the whole time, just looking where I need to go on my way points."
Johnston said that he saw about 90 percent of his fish on either his sonar or his LiveScope. Despite the waters being so rough with 10-to-20 mile-per-hour winds whipping across it, Johnston said he fish bit better.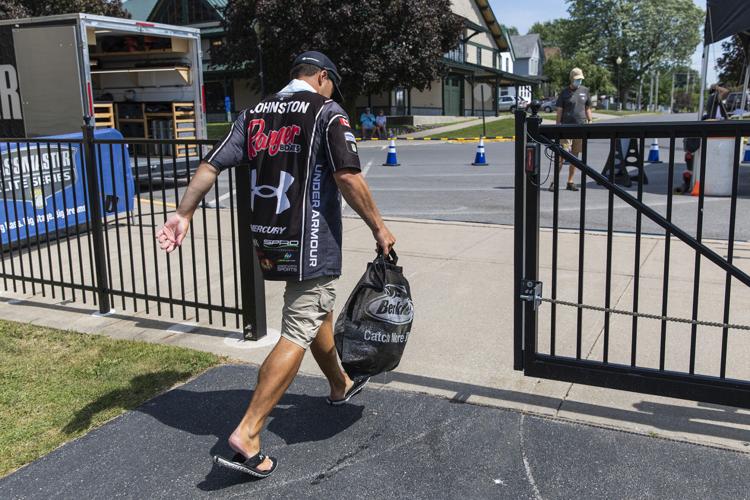 "I went to one spot where I haven't been able to get them to bite for three days," Johnston said. "I thought with the winds rolling over them and it's 45 feet, even though at 45 feet it wouldn't affect them, but there's current and on my first drop I caught on and they weren't biting all week. It just makes them bite better, it's harder to fish them, but if you find them, they will bite."
Johnston said he used a Berkley Flatworm and a Ned Rig.
"Believe it or not, but I was dropping down on them with that," Johnston said. "So some of them hadn't seen too many dropshots I think. And on day two or three, I probably caught as many on that bait as the dropshot, so I think it's kind of cool that if they wouldn't eat that, than I got some to bite it."
Part of the strategy of bass fishing, is the angler calculating how much time he'll need to return back to the dock for weigh-in. A late arrival would result in a penalty that deducts pounds from the total.
Mueller called his day early in order to give himself enough time to return to Clayton, but he said that was his fatal flaw.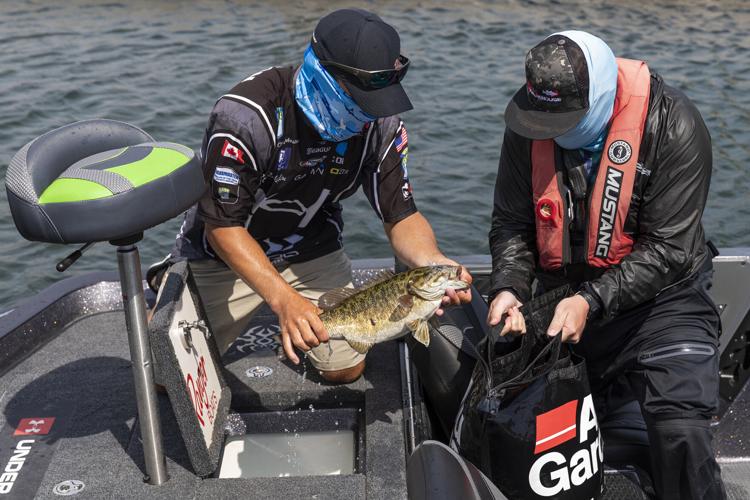 "The only error I made today was leaving too early, but that's a judgment call that you need to make based off of the waves, and the wind and stuff like that," Mueller said. "I was right there, one more good bite and potentially I have enough. You gotta make decisions and the worst case scenario is that you stay out there too long and don't get back there in time."
Mueller finished the tournament at 95-14.
The Bassmaster Elite moves upstate to Plattsburgh this coming weekend where the anglers will compete at Lake Champlain.