CLAYTON — The top two leaders of the Bassmaster Elite Tournament at the St. Lawrence River ended day one separated by only one ounce.
Chris Johnston's 27-pound limit shot him into first, but that only lasted until Paul Mueller's 27-pound, 1-ounce limit came in a minute later.
Both Johnston and Mueller reeled in multiple massive bass on Lake Ontario, which was available to be fished this year since the event was moved to Clayton from Waddington.
Mueller cashed in big, bringing in the largest fish of the day: a 7-13 smallmouth bass. While not a New York state record (8 pounds, 4 ounces), Mueller called it the catch of a lifetime.
"I'll tell you what, I don't care how the rest of this shapes out, that fish was a fish of a lifetime," Mueller said. "I don't know if I'll ever catch another fish like that again and, honestly, I don't really care how the rest of the week goes. I'm being completely honest; I'm just thinking about that fish."
Mueller said the fish came in at 22 and a quarter inches long with a girth of 17 and a quarter. He said he caught the fish in about 21 feet of water with a Berkley MaxScent and Flat Worm.
Mueller didn't haul a ton of fish in, but the ones he did counted in a big way.
"That lake just has giant bass, if you catch a small one, it's 3 1/2 pounds," Mueller said. "Your average is four and larger if you hook into one. I haven't caught too many small ones, the thing is, there isn't really a group of them, you're really just moving around.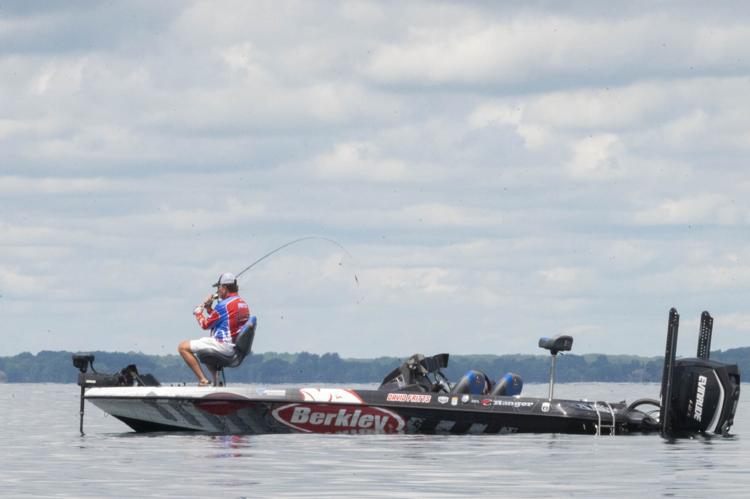 "You're fishing for five bites, that's my mentality," Mueller said. "I may have caught nine of 10 fish today and I didn't go to spots, because my average, I felt like why am I going to go to an area that has four pounders when my smallest fish is a four pounder."
The lake, being abnormally calm, was fairly under fished by the anglers Thursday.
"I'll take it," Mueller joked.
Mueller said that Lake Ontario was yielding the best of results during the days of practice that led up to day one of the event, which could be a reason for why it was under fished.
Of those that did join Mueller on Lake Ontario was Chris and Cory Johnston. The Johnston brothers being from Canada were happy to be as close to their home turf as they could get.
"I didn't grow up here, but this is as close to home as BASS will ever come and I've fished here the past seven or eight years," Chris Johnston said. "Usually one or two tournaments on the Canadian side. I was kind of disappointed when Canadian waters were closed, but made due with it and I'm happy with how it's going so far."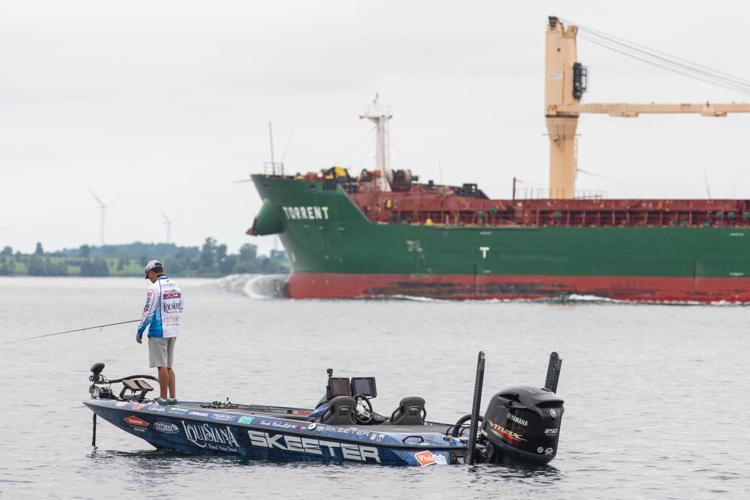 Like many of the anglers, Chris Johnston was surprised to see how good the fishing was on day one.
"I didn't expect them to be biting that good, if I got 22 or 23 (pounds) I'd be happy," he said. "Things went my way, I couldn't do anything wrong ... everywhere I went there were fish."
Due to travel restrictions put in place, the anglers were not allowed to fish in Canadians waters, which makes up about half of the St. Lawrence River and Lake Ontario. While limiting, Johnston found success on the U.S. side.
"I was definitely excited when I heard the lake was open, even from day one when I heard that, I knew I was going out to the lake, I don't care how well the river is fishing, I know the lake a lot better," Johnston said. "I thought it was fishing tougher than normal to be honest, but when you did find them they were grouped up so I'm happy with it and hopefully I can get out there the next three days."
Johnston's knowledge of the lake is extensive due to the amount of experience he's had fishing on it. Had the entire lake been open to fish, Johnston said he would have spent time in Canadian waters.
Over the past two or three years, Johnston said he's spent almost 100 percent of his time on the Canadian side when he fished Lake Ontario. However, before that he fished predominantly on the U.S. side.
More anglers could possibly make their way to Lake Ontario for day two.
"If it's calm, yea probably," Chris Johnston said. "I liked how I didn't have anybody around me today, that was kind of nice."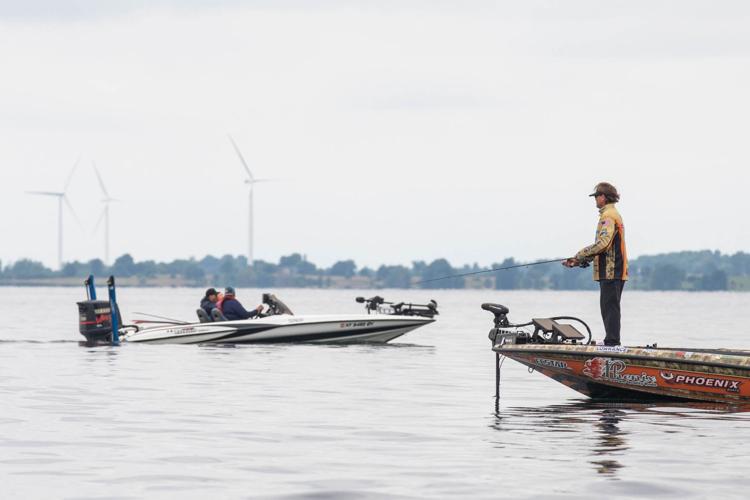 Mueller was still hyped from his day as he spoke to reporters after his first-place weigh-in. He had high praise for the St. Lawrence River.
"If it's not the best smallmouth fishery in the world, it's in the top five," Mueller said. "It's hard to say what the best smallmouth fishery in the world is, but you can easily say this is a top-five smallmouth fishery in the world. Hands down."
All 86 anglers will compete again in day two with take-off at 6:45 a.m. and weigh-in at 3 p.m. The field will then be cut to the top 40 on Saturday and then the top 10 on Sunday will compete for the $100,000 first- place prize.