CLAYTON — The wind whipped through Lake Ontario and the St. Lawrence River on Saturday, giving Bassmaster Elite anglers a taste of what Sunday's final can bring.
While the lake's conditions weren't as favorable as they've been the past few days, day three saw 11 anglers bring in bags weighing more than 20 pounds. Three of those anglers didn't make the cut to compete in Sunday's competition, which is cut down to the top 10 participants.
Despite a rougher lake, Paul Mueller led the pack for the third day in a row, bringing in a bag that weighed 24 pounds, 13 ounces to bring his total up to 76-15.
Chris Johnston, who has been toe-to-toe with Mueller all tournament, brought in a bag that weighed 23-0, bringing his three-day total to 74-12.
Mueller and Johnston have solid grips on their spots atop the leaderboard. The eight other anglers competing against them today are Chad Morgenthaler (69-15), Clark Wendlandt (66-10), Brock Mosley (64-3), Cory Johnston (64-2), Taku Ito (63-8), defending champion Micah Frazier (62-4), Brad Whatley (60-9) and Brandon Palaniuk (59-12).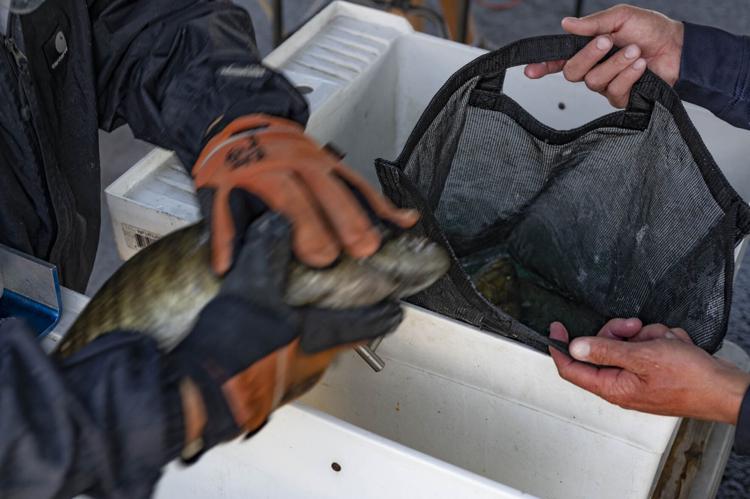 Last season's Bassmaster Elite St. Lawrence tournament out of Waddington saw a final field of 10 separated by less than five pounds going into the final day — the maximum weight (Chris Johnston) being 66-5 and the 10th-place weight (Frazier) being 61-11.
But in the case of 2020, where Lake Ontario has opened up a vault of monstrous bass, the separation between Mueller's first-place weight and Palanuik's 10th- place weight is 17 pounds, 3 ounces.
Plenty of anglers stayed on the lake despite the wind.
"It helped them bite better this afternoon when the wind picked up," Chris Johnston said. "I think it's going to be a lot worse (today) from what I hear, I know what to expect, that's not going to change. The big thing is that I hope the wind comes off a shore so that when you're going down the river, at least once you get in the river you can run. If it blows straight down the river it's a nightmare."
Johnston, who hails from Peterborough, Ontario, is trying to become the first Canadian to win a Bassmaster Elite tournament. He was viewed as one of the favorites coming into the tournament and has planned for today all week.
"I saw something that I liked at the end of the day, some fish, I was marking a bunch and left them biting, I'm looking forward to going back there (today)," Johnston said. "I think I can catch them there. They're not the five and six pounders though, I'm not going to bust 25 or 26 I don't think, but they're four to fives."
With the wind expecting to blow 10-to-15 miles per hour in Clayton — inevitably more so on the lake — it could be a gamble for anglers trying to dip their line back into Lake Ontario's waters.
Morgenthaler has not made a final decision yet but is leaning toward spending his day in the St. Lawrence River.
"I didn't realize how big it was where I was at until I started coming in," Morgenthaler said. "And if it gets to gassing harder (today), and if it rolls all night long like this, I'm probably not going to go back. I'll make that decision in the morning, once I see how hard and in what direction it's blowing."
While Morgenthaler is in the hunt for the $100,000 first-place prize, he'll be hard-pressed to pass either Chris Johnston or Mueller who enter the final day with a four- and six-pound lead, respectively.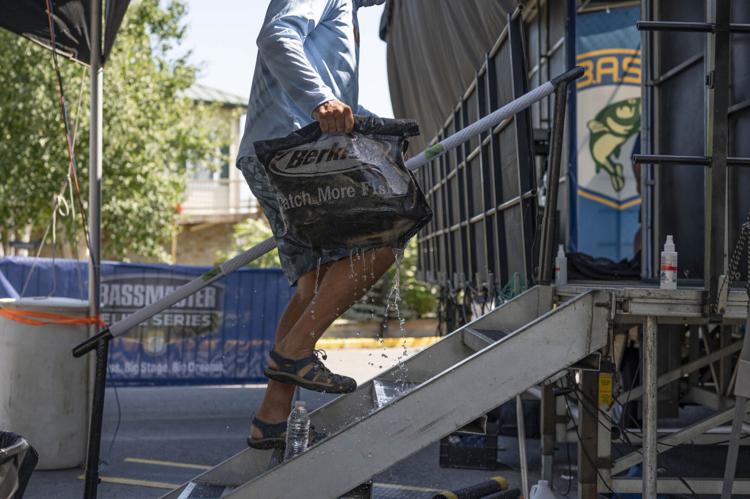 For Chris Johnston and Mueller, the pressure going into today is enormous. Not only is there a chance at winning six figures, each angler has a real chance of joining the century club — catching 100 pounds of fish overall in a tournament.
"The win is the most important thing. One hundred would be really special and really cool, but for that to happen, there are a lot of things that are going to have to go right," Mueller said. "It's possible though, it's definitely possible, I had a little bit under 25 today, it obviously took me all day though. But, I also didn't run around, I wish maybe that I did. I'm happy with how it turned out, I did what I had to do today."
Mueller said this is the closest he's come to reaching 100 going into a tourney's fourth day. He's also looking to win his second tournament of the season, he placed first in the AFTCO Bassmaster Elite St. John's River tournament in Florida.