WATERTOWN — The Super Bowl brings fans of all kinds out of the woodwork, but north country Tampa Bay Buccaneers and Kansas City Chiefs fans have displayed loyalty to their teams for years ahead of Super Bowl LV.
Both sets of fans are hoping their respective teams can add another Vince Lombardi Trophy at the end of Sunday's big game. The Buccaneers and Chiefs are the NFL's last survivors, but the two clubs and their fans have endured a history of tough times. Tampa Bay, which lost its first 26 games before finally winning its first game in 1977, hadn't made the playoffs in 12 seasons until this year's run.
"I've been a Bucs fan since their 2003 season, when I first really started to get into the sport," said Heather Halliday of West Monroe. "Once I moved to the area 10 years later, the level of fandom grew and I stuck by them through the good and the bad."
For the second year in a row, the Super Bowl will be played in Florida. Last year's game was played in Miami, and this year's will be played in Tampa.
For the first time ever, the host team will be playing in it. Super Bowl LV will start at 6:30 p.m.
Tom Wojcikowski of Carthage became a fan of the Buccaneers after his former team, the Houston Oilers, moved to Nashville to become the Tennessee Oilers in 1997 and then took on the Titans nickname in 1999.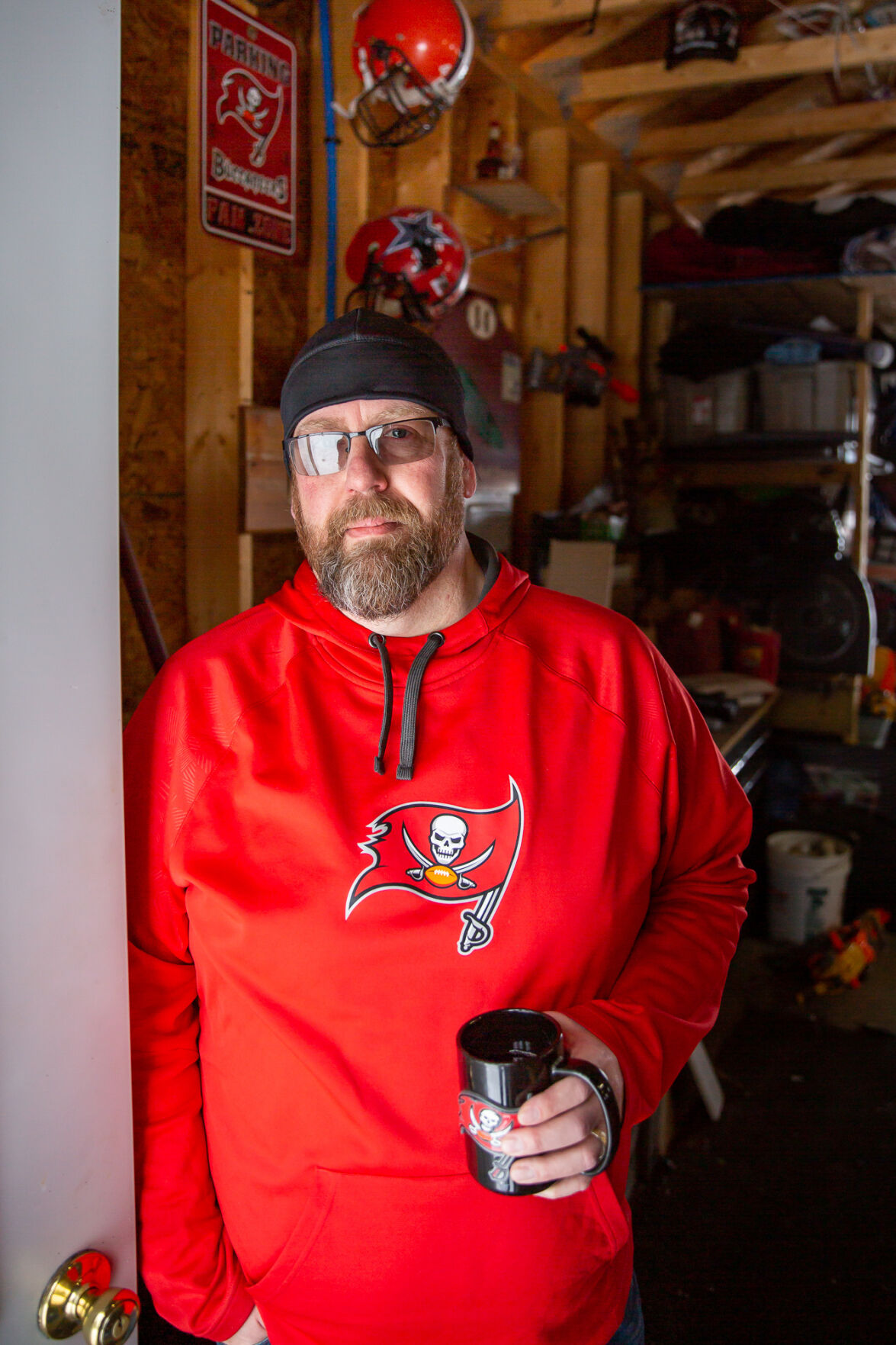 "When they folded up, I just picked the Buccaneers because I figured, pick a team that not everyone is rooting for," said Wojcikowski, whose favorite current Tampa player is receiver Mike Evans and all-time favorite is former fullback Mike Alstott.
The Chiefs and their fans have endured similar rough years, such as 2008 and 2012 when they went 2-14 each year. But those down years have made fans like Josh Rogers, of Chaumont, and Antonio Rashad Clayborne, of Black River, grateful for the team's recent success, which includes a Super Bowl title last year.
"I've seen the 2-14 seasons and countless playoff letdowns," Rogers said.
Rogers became a fan in 1994 when he saw Hall of Fame quarterback Joe Montana play for the team. He cites Derrick Thomas, Priest Holmes and Neil Smith as some of his favorite players, and linebacker Anthony Hitchens is his current favorite.
"I watched Joe Montana lead the team down the field and win the game and I've been a fan since," Rogers said.
Clayborne became a fan in eighth grade and stuck with the team. The Chiefs were unbeaten when he first became attached, but he also stood by them when they struggled.
"I'm just enjoying it and loving every second and walking around with extreme pride for the Kansas City Chiefs," said Clayborne, who said former running back Jamaal Charles is his favorite Kansas City player.
Both teams are based far from the north country, requiring trips to Buffalo or New Jersey for these fans to catch their teams in person. But COVID-19 canceled those annual journeys.
Wojcikowski was set to go to East Rutherford, N.J., to see the Buccaneers play the New York Giants on Nov. 2 of last year, but couldn't because fans were barred from the stadium. The Chiefs also played Oct. 19 at Bills Stadium at Orchard Park, but no fans were allowed for that game according to state coronavirus regulations.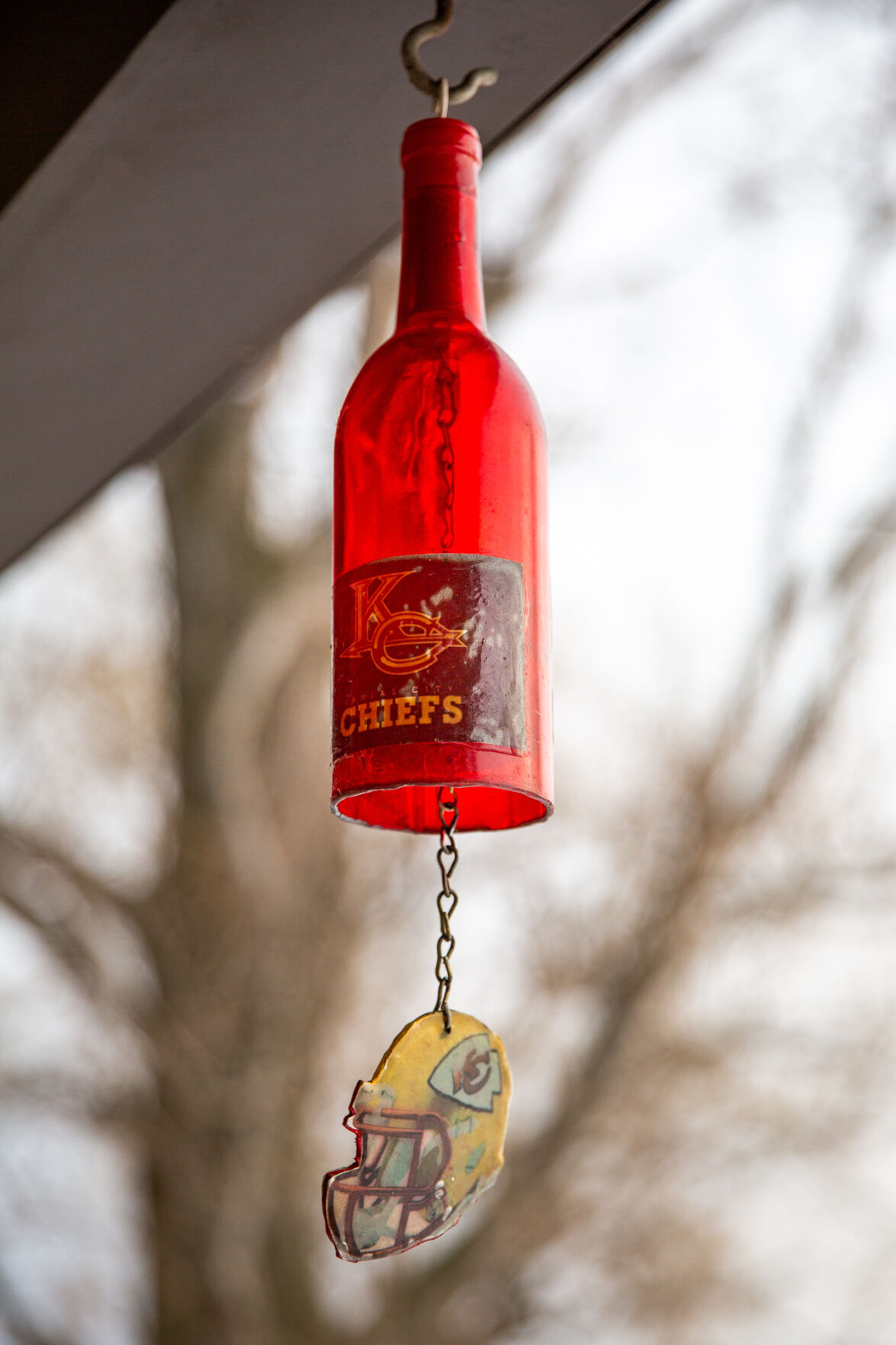 But the pandemic's limits on crowds really stings for Halliday, who lived in Tampa for a few years. Tampa Bay will be the first team to play a Super Bowl at its own stadium, but the crowd is limited to about 20,000, making a trip back to her old home to see them impossible.
"They're making history just by making it to the biggest game of the year on their own home field," said Halliday, whose all-time favorite Buc is former receiver Keyshawn Johnson. "It was meant to be."
Tampa Bay's recent success and the addition of superstar quarterback Tom Brady has meant more games on television. In the past, the Bucs would show up on local TV only when playing New York teams like the Buffalo Bills, New York Giants or New York Jets.
Brady's addition has caused some north country fans to hope that Kansas City wins Sunday considering his repeated trips to the Super Bowl and his former team, the New England Patriots, having a natural rivalry with the Bills, Giants and Jets.
But Wojcikowski doesn't mind. He laughs off anyone thinking he's a bandwagon fan.
"I have gotten a lot of people say to me, 'Oh, Tampa fan, jumping on the Brady bandwagon,'" Wojcikowski said. "I always respond with, 'Nope, been one for 25 years.'"
NFL experts and fans generally project the game to be close and area fans of both teams have their hopes set on a victory. The Chiefs finished with the best record in football at 16-2, but Clayborne knows the Buccaneers will be tough to beat.
"I've learned long time ago not to get too high or too low, but I'm confident in the Chiefs that they can get the job done in Tampa," Clayborne said.
Bucs fan Halliday is wary of Kansas City quarterback Patrick Mahomes, but is also optimistic.
"Mahomes and crew won't be easy to get through, but I think my boys see the eye of the tiger by now," Halliday said.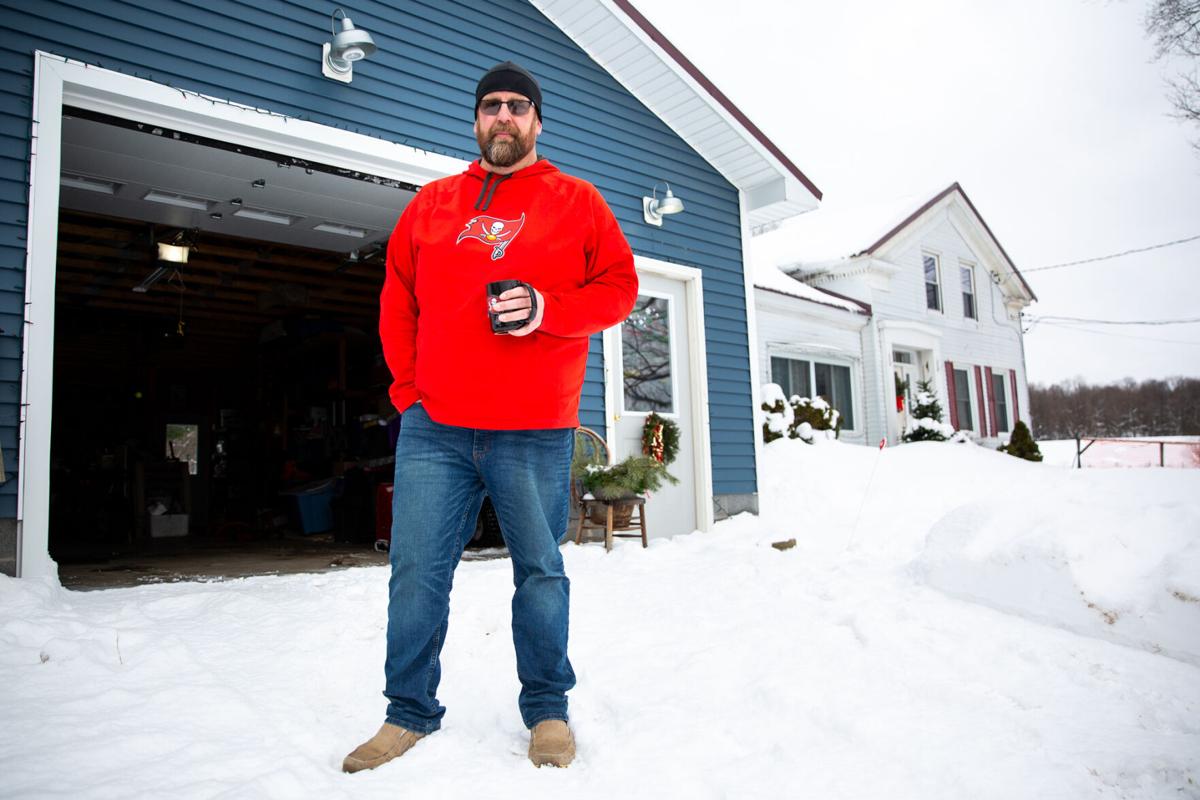 Dream matchup
Pro football analysts have ranked the quarterback matchup in Sunday's Super Bowl as one of the greatest in 55 years of playing the game.
Although Kansas City's Mahomes and Tampa Bay's Brady won't meet face-to-face in a game situation Sunday night, that hasn't prevented area football followers from turning to the event with great interest.
"I love what Tom Brady has accomplished. We are literally watching greatness," said Carthage football coach Jason Coffman. "Patrick Mahomes is going to end up being one of the greatest of all time, most likely, and he's already proved that he's great, winning a Super Bowl in his first three years. Having a league MVP and going for his second championship in three years, that's incredible."
Gouverneur football coach Sean Devlin said he normally watches the Super Bowl with a large group of friends, but this year he'll take in the festivities with his wife and two daughters, all of whom are big football fans, he added.
Phoenix football coach David Johnson started at quarterback for NCAA Division III St. John Fisher and is a veteran of semi-pro football for two upstate New York teams.
"You got to appreciate what Patrick Mahomes has done so early in his career and on the other side, you know what Brady has done with his proven track record over the years, it's just something where it's going to be a great battle between the two of those guys," Johnson said. "You've got two reigning Super Bowl MVPs, Super Bowl winners, so many things. Patrick is kind of following in his footsteps and probably going to end up breaking some of Brady's records."
Each quarterback has enjoyed success on the grandest stage and can be dominant during individual drives, which makes it difficult to pick a winner, even for a veteran football coach.
"Well, my mind tells me that you can't bet against Kansas City, but at the same time we are witnessing not only the best football player of all time, but one of the greatest athletes of all time," Coffman said. "Watching Tom Brady and what he did last weekend (against Green Bay), I would never bet against that guy, I would never bet against him no matter what."
Brady, at age 43, is entering his record 10th Super Bowl while Mahomes is in his second at age 25. Brady's training routine and ability to compete with players half his age impresses local veteran coaches.
"Being just a year or so older than him, I know the daily aches and pains a normal person in their 40s goes through, especially when waking up in the morning," Gouverneur's Devlin said. "I can't imagine being hit and putting the physical demands on your body at that age, or even younger, and continue to stay healthy and perform at a high level. Then again, he trains his body probably much more than the average person, so it can withstand more physical demands as well."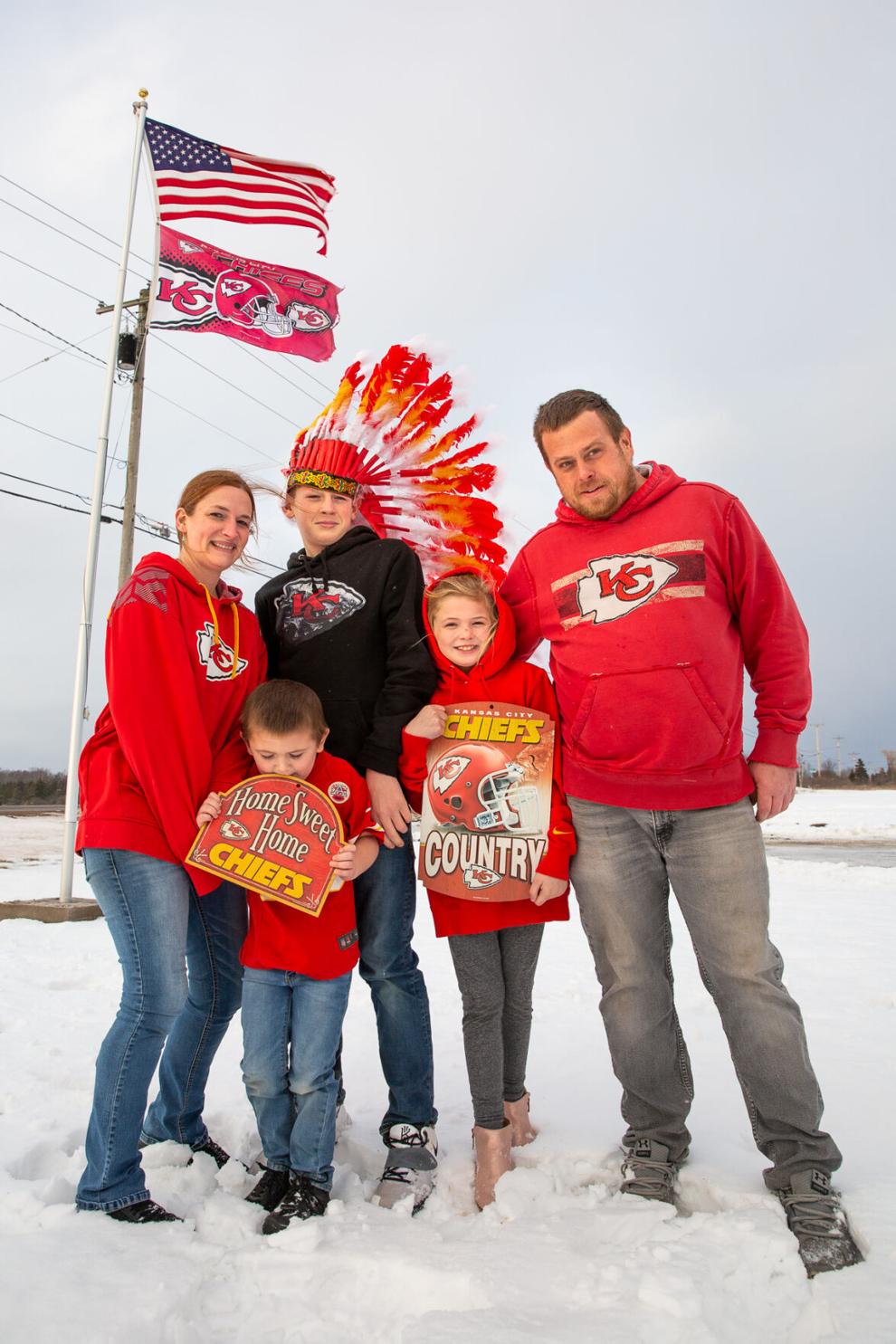 "It's unreal," Malone football coach Cory West said of Brady. "I remember when he played for (the University of) Michigan, I'm kind of a Michigan fan, and I remember when he was there and Drew Henson was going to be the next greatest thing Michigan ever saw, and basically Tom Brady beat him out his senior year.
"Then he's been able to continue to play kind of that chip on his shoulder all the way through his career and you hear a lot about his nutrition and his training thing," he added. "It does show a lot. ... To be able to go to 43 — I think he just mentioned (last) week even considering going beyond 45 — is just amazing."
The Chiefs must place pressure on Brady in order to win, Johnson said, adding Brady lacks mobility and has never been a running quarterback.
"They're going to have to get some pressure and when you can get pressure on Brady, he's only about 42 percent effective coming out of the pocket," Johnson said. "I think if they can get pressure on the outside and get push up the middle and get some guys pushed back into Brady, that's when you see him start to falter a little and starts to throw interceptions and get a little rattled, but outside of that, if they give him time in the pocket, he's going to do some damage."
Tampa Bay's defense, meanwhile, has exhibited its ability to rush the quarterback, showing what it could do in the NFC Championship game when it sacked Green Bay quarterback Aaron Rodgers five times. Kansas City's Mahomes exhibits much more quickness, though, and is able to improvise unlike any other NFL quarterback.
"The Buccaneers defense is definitely going to have to play really well," West said. "Their two edge guys are really good, so I think if those guys can put pressure on Mahomes and make him not be comfortable in the pocket, I think they have a good shot.
"But if they can protect Mahomes, I just think that offense is so dynamic, and I think their defense is good enough to hold — I mean, you never know with Tom Brady, he can always pull it," he added. "He's been in this situation so many times, but I think it's going to be on how if Tampa Bay can slow down Kansas City's offense. I think that's going to be the big key."
Johnson said he expects the game to be close and come down to the fourth quarter, which if it happens, he said, Brady will pull out a victory.
"It's going to be a chess match all the way down," Johnson said. "I don't have a favorite team, I'm just watching it like all the other coaches, with a pencil and pad in hand, taking down new plays and new ideas and schemes and all that stuff. I see it as a close game, and I see it as, I would not want to be the Chiefs if Brady gets the last possession needing a score to win."
Devlin added he believes the Buccaneers, a No. 5 seed in the NFC playoffs, will pull off the upset against the No. 1-seeded and defending champion Chiefs.
"I think Tampa Bay will win. Why? Because I think their defense has really stepped up in the postseason," Devlin said. "If their defense can continue to play well and limit KC's big plays, Tom Brady should score enough to win the game. I don't believe it will be a runaway, and most of the excitement will probably be in the second half, once the two teams get a feel for each other. That's just my thought."
Sportwriters Cap Carey, Phil Sanzo and Josh St. Croix, as well as Malone Telegram Sports Editor Evan Wheaton, contributed to this report.