DEXTER — After some back-and-forth spelling against his final competitor, Micah R. Sterling, 9, took to the microphone at the 33rd Scripps Regional Spelling Bee for students in Jefferson, Lewis and St. Lawrence counties and was given "ingot" as his final word.
Upon spelling it correctly, the General Brown fourth grader reacted with a mix of shock and joy when he realized that he had won, ensuring a ticket to the Scripps National Spelling Bee later this year. He said he was surprised and proud that he won the first spelling bee he's ever entered, cheered on by his parents, and is excited for the chance to compete at the national level.
After being canceled last year, the regional bee was back in full force Thursday night in the General Brown Junior-Senior High School's auditorium, sponsored by Jreck Subs, the Watertown Daily Times and area Boards of Cooperative Educational Services. General Brown Superintendent Barbara J. Case and high school Principal David A. Ramie hosted the event in cooperation with the district superintendents of Jefferson-Lewis BOCES and St. Lawrence-Lewis BOCES.
The bee had 19 students in grades four through eight competing for the title. The competition featured modern words like "selfie," and others such as "hydra," "scrapple," "kaboodle," "yardang" and "pendragon."
Merriam-Webster defines the winning word, "ingot," as "a mass of metal cast into a convenient shape for storage or transportation to be later processed."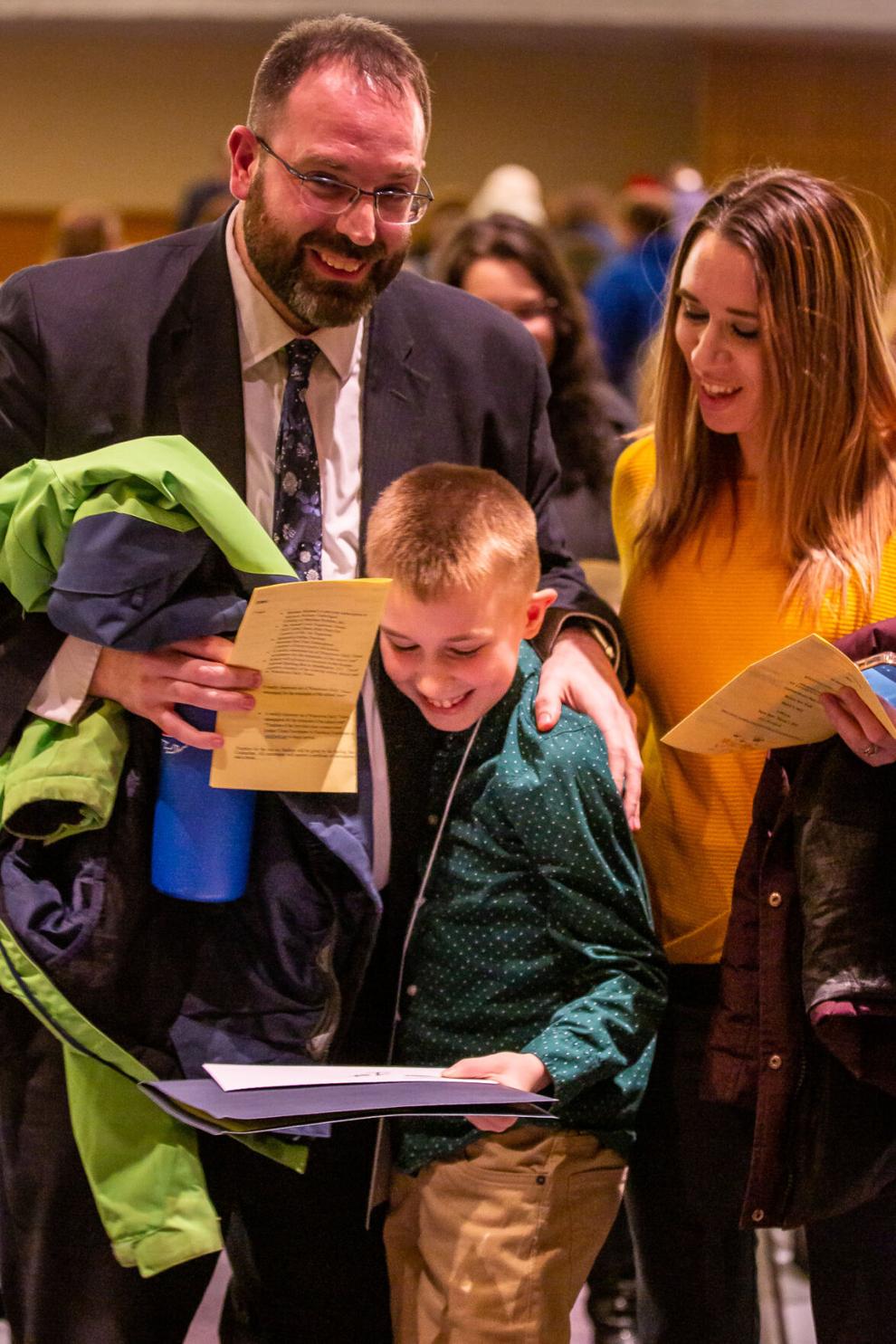 Micah qualified for the regional bee as the runner-up from Brownville-Glen Park Elementary School's bee in January.
With such talented regional spellers, few were knocked out of the first rounds of competition — until one by one they were eliminated, leaving just Micah and second-place finisher Isaiah R. Welch, 13, Augustinian Academy, to go head to head.
After a close battle, Micah emerged victorious and, along with bragging rights, received Merriam-Webster's 2022 Unabridged Online Certificate courtesy of Merriam-Webster; the Samuel Louis Sugarman Award, a 2022 United States Mint Proof Set courtesy of Jay Sugarman; a Britannica Online Premium one-year subscription courtesy of Merriam-Webster; and a classroom set of Watertown Daily Times newspapers for the remainder of the school year.
In second and third place, respectively, Isaiah and Brayden Gillette, 13, Lowville, received a weekly classroom set of Watertown Daily Times newspapers for the rest of the school year.
Teachers of the top three spellers must contact the Times newspaper in education coordinator at nie@wdt.net to begin service. Trophies for the top six finalists were given by the Spelling Bee Committee, and all contestants received a certificate of participation and a book.
As the first place winner, Micah will advance to compete in Washington, D.C., with travel expenses covered by the winning school district and the Watertown Daily Times. The annual Scripps National Spelling Bee will be held at the Gaylord National Resort and Convention Center in National Harbor, Md., returning after a hiatus in 2020 and being held in Orlando last year.
Thursday's judges were Scott Storey, K-12 principal for Belleville Henderson Central School; Marie Western, curriculum coordinator for Lowville Academy and Central School; and Jaycee Welsh, elementary principal for LaFargeville Central School.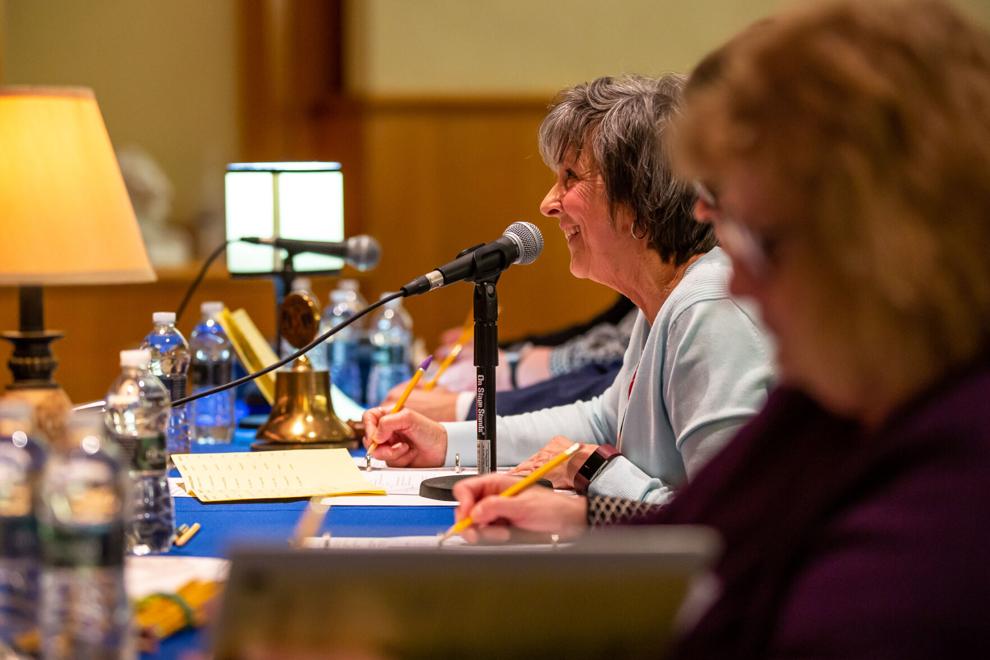 The top six competitors at the 33rd Scripps Jefferson-Lewis-St. Lawrence Regional Spelling Bee:
1. Micah R. Sterling, 9, fourth grade, General Brown
2. Isaiah Welch, 13, eighth grade, Augustinian Academy
3. Brayden Gillette, 13, eighth grade, Lowville
4. Kendall Witcher, 14, eighth grade, Carthage
5. Carson Wyant, 11, sixth grade, Carthage
6. Peter Jank, 12, sixth grade, Thousand Islands
The docket originally featured 20 contestants from 14 districts across the region, though one did not end up competing with the others, leaving a total of 19 students.
The remaining finalists, in no particular order:
Paul Denner, 11, sixth grade, LaFargeville
Gerald Martinez, 11, sixth grade, South Jefferson
Asher O'Brien, 10, fifth grade, Belleville Henderson
Trent-Jaxon Keopuhiwa, 13, seventh grade, Indian River
Tavion McCrae, 11, sixth grade, Watertown
Theron McCauley, 13, eighth grade, Alexandria
Kelvin Bice III, 13, eighth grade, Gouverneur
Jasmin Le, 11, fifth grade, General Brown
Madison Abbot, 12, seventh grade, Beaver River
Catherine Ketcham, 14, eighth grade, Sackets Harbor
Jacob Jones, 10, fifth grade, Indian River
Alex Tucker, 13, eighth grade, South Jefferson
Audrey Ormasen, 13, seventh grade, Gouverneur
The event was also live streamed and can be viewed at wdt.me/SpellingBee.