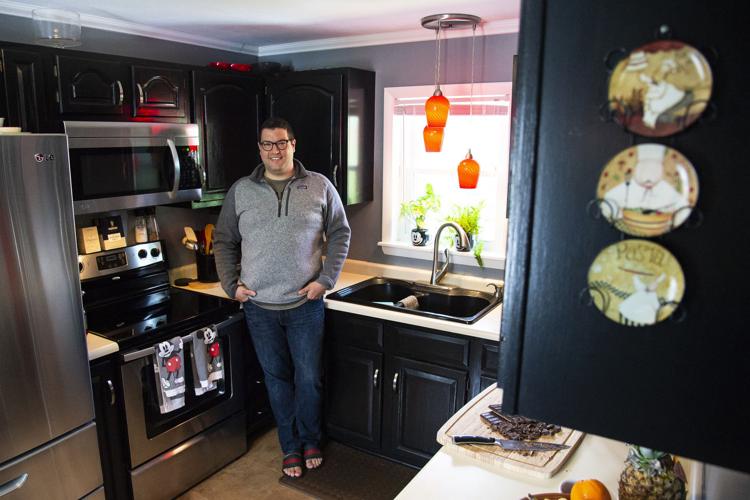 During normal times, if restaurateur Kyle C. Hayes had told someone he made an apple pie without apples, he would likely have been dismissed as loony to the core.
But these are not normal times as we live with the COVID-19 pandemic along with its associated stay-at-home and social distancing orders. People are finding they have time on their hands at home and are taking up projects they would not have otherwise.
In addition to Mr. Hayes's enterprising pie, the following is a sampling of other projects and activities north country people have taken up as they face this brave new world of time management: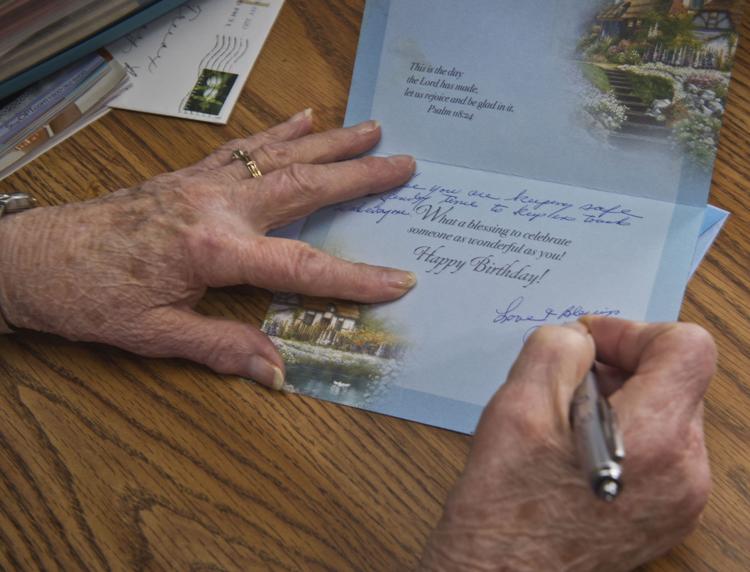 — In Massena, scores of area residents have been surprised to receive written notes, lovingly stamped and placed in the mail, the result of an 85-year-old woman's hands that had been uncharacteristically idle in the community.
— In Dexter, a photographer without any public to photograph is giving gardening another shot with a constructed raised bed and inside his home, he has taken up bread-making and craft projects.
— In Carthage, an adjunct professor of music and band/ensemble director at Jefferson Community College has found a new instrument of creativity with a sewing machine, keeping the tempo with his wife with her own sewing machine, as they both make and give away face masks.
— In Clayton, a veteran, well-known restaurant owner, faced with downtime from a closed eatery, is serving up recipes with videos shot in his kitchen by his wife.
— In Turin, a specialty papermaking consultant has opened a virtual time capsule consisting of images on photographic slides that are decades old and in turn, reconnecting with a past that had faded and preserving it for future generations.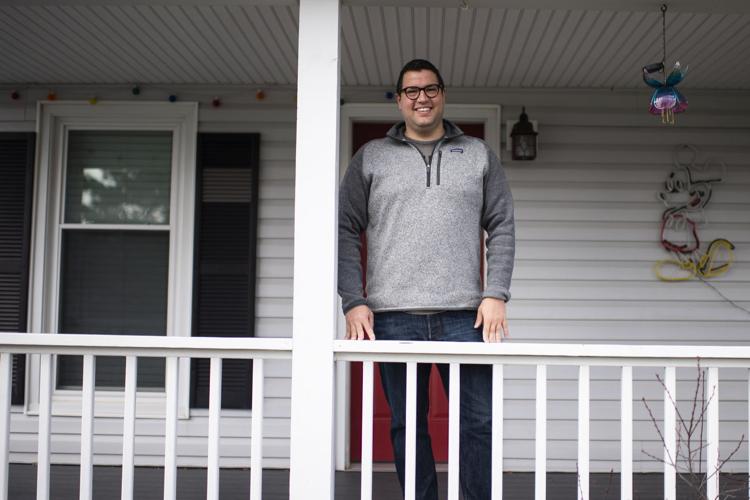 Mr. Hayes, who co-owns Gram's Diner in Adams, said his biggest project during the quarantine was to become a better home cook.
"I learned to cook in restaurants, which is shockingly different from cooking at home with run-of-the-mill equipment, uneven heating from electric stoves and limited ingredients," he said. "Plus the much-hated chore of washing your own dishes."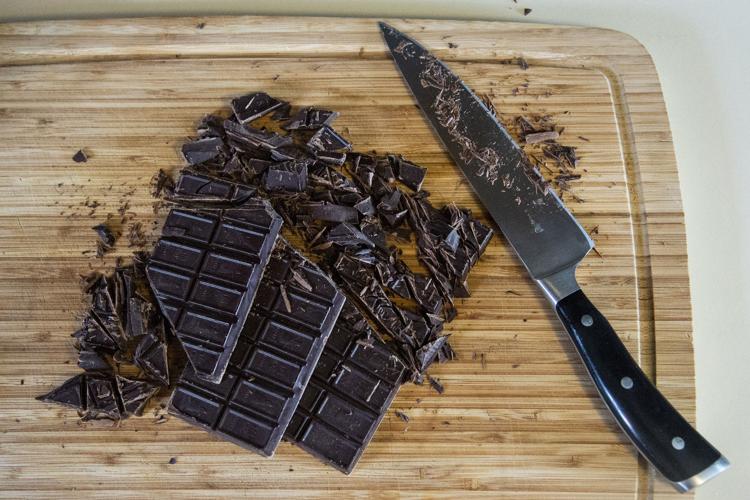 In search of new recipes to try, Mr. Hayes found one for Ritz Cracker Mock Apple Pie.
"It's a Depression-era recipe, when fresh apples were hard to come by, and it required little prep time and it just sounded strange," Mr. Hayes said.
It became his first "project" bake. (The recipe will be featured in Tuesday's Currents section).
"It was so simple, really delicious and was just weird enough to garner attention from everyone in my home, and on social media, to want to try it, too."
And in addition to being delicious, the mock apple pie provided another benefit: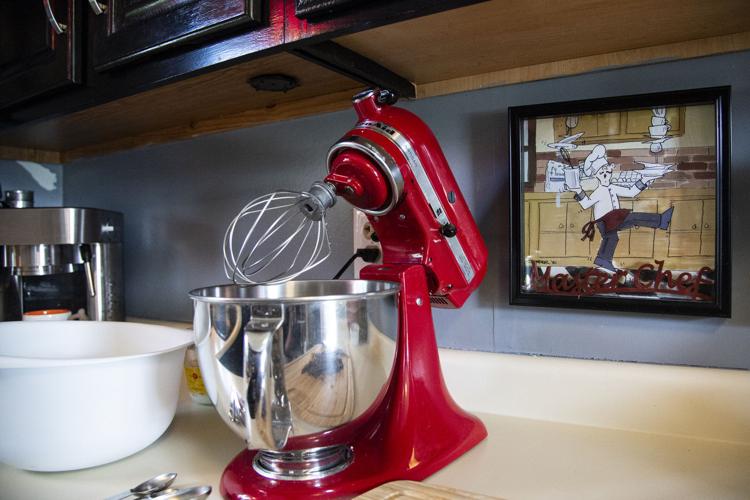 "Warm spices and the smell of a pie baking is enough to ease any stay-at-home anxiety," Mr. Hayes said.
Ruth B. Truax, 85, of Trippany Road, Massena, is used to volunteering in the community at such places as the Nicandri Nature Center. She's also active in her church, Grace United Methodist on State Route 37C. The pandemic-related stay-at-home orders were making her restless.
"I'm on the go a lot, and I guess I was just looking for something to do, something to occupy my mind," Mrs. Truax said.
She noticed that she had a supply of blank cards, which gave her inspiration.
"I was thinking about our church, and not being able to go to church," she said. "Something just told me to send some notes. So I got out our membership list and sent the cards out with little notes and a Bible verse."
One of her favorite verses, which she included in some notes, is the first verse of Psalm 27. It begins: "The Lord is my light and salvation. Whom shall I fear?"
In these days of instant messaging and email, receiving a hand-written letter or note in the mail is, well, quite notable.
"I've had quite a few people call me and thank me for them," Mrs. Truax said.
Mrs. Truax has four children, ranging in age from 51 to 62. A son lives down the road from her. "They keep their eye on me," she said. "They don't want me going out. I'm stuck."
But she still found a way to connect with others and to provide doses of cheer. She sent out nearly 40 cards that included her hand-written notes.
"Because it was something I could do," she said.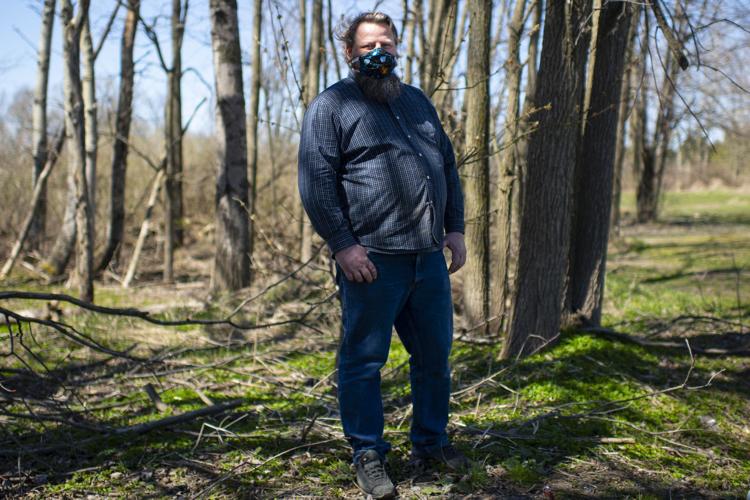 Aaron S. Hall, Dexter, who runs a photography business that focuses on producing tin types, ambrotypes and portraits, began receiving calls of cancellations in March. His business depends on such events as weddings, school-related gatherings and a photo booth.
"All that's done," he said. "It looks like I might not have work for the rest of the year."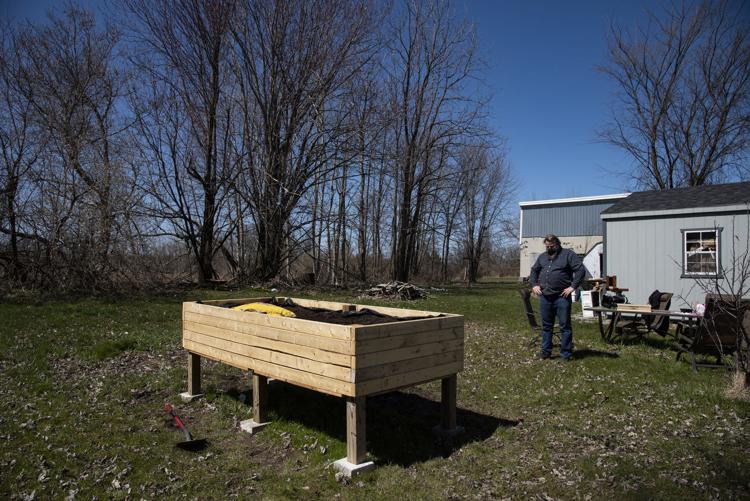 He's never had much luck with gardening because of how wet his ground gets, but now he has time to give it another shot.
"I built something new — a raised garden bed," Mr. Hall said.
The dimensions of the garden box are 8-feet-by-4-feet and created from wood he had leftover from a previous project.
"So I just built that into a box and filled it with dirt," he said.
"I never made bread before," Mr. Hall said. "I bake it from scratch. I have a bread machine and I've never had any luck getting that thing to work right. With everything going on, I said, 'Let's see if I can bake some bread, just in case.'"
He also crafted a wood sewing box as a birthday present for his son, Hunter, a student at Jefferson Community College who designs clothing.
"That's something I wouldn't normally do," Mr. Hall said. "I'd go out and buy a gift for him. Now I have the time."
He's sewed masks himself and is improving his photography skills by experimenting with macro photographs and he's been taking park walks with his son and daughter during this downturn.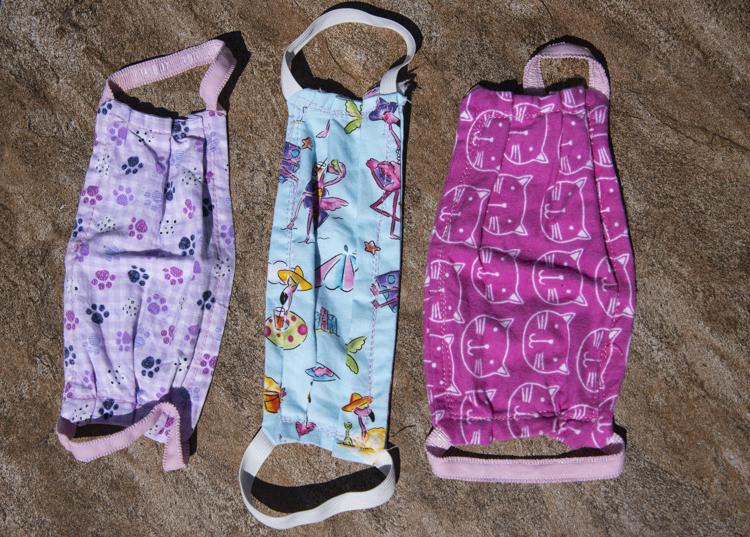 "I kind of enjoy taking a step back sort of thing, like learning how to bake and garden," Mr. Hall said. "Those are the sort of things my grandparents would have done automatically. We take advantage of having all this stuff at the store and this and that. Now I have all the extra time to spend with the family and do things. It's slowing down a little bit.''
Sandra L. Mosher, Carthage, is a talented quilt maker and when she heard that people in the community needed face masks, she and her husband, Daniel L. Mosher, took up sewing them.
"We got online and looked up some patterns," Mrs. Mosher said. "My husband actually made some out of vacuum cleaner bags. We made a ton of those for our friends and elderly that we know are in danger."
"We had an old vacuum cleaner that broke but still had the bags so I just used those," said Mr. Mosher, JCC band director who served as band director at Carthage High School until his retirement in 1994. "It was good use for something that would have been thrown out otherwise."
The vacuum bags masks, Mr. Mosher said, "filter things down to less than 0.3 microns," which is comparable to coveted N95 masks/respirators.
When they ran out of bags, the couple focused on creating cloth masks with bias tape, a narrow strip of fabric used as strings when sewn to mask material.
"He irons it, and I sew it, so the masks can be tied on," Mrs. Mosher said.
The couple has made nearly 200 masks.
"He has his sewing machine on one table, and I'm on the other," Mrs. Mosher said. "We've been team-working it. It makes it go better, because after a while, it becomes monotonous."
"I do know how to sew, but haven't done it in a while," Mr. Mosher said. "I got my old machine out, oiled it up and started working with it again."
Mrs. Mosher said she receives calls every day asking if masks are available.
"So I say, 'Come on down,'" she said.
She leaves the masks on her porch at 34638 Schwendy Drive, Carthage, on Pleasant Lake in the town of Champion.
If in need of a mask, the Moshers can be reached at 315-493-1521.
"It just gave me something to do and if people need them, they're available," Mr. Mosher said. "We're not charging anybody for anything."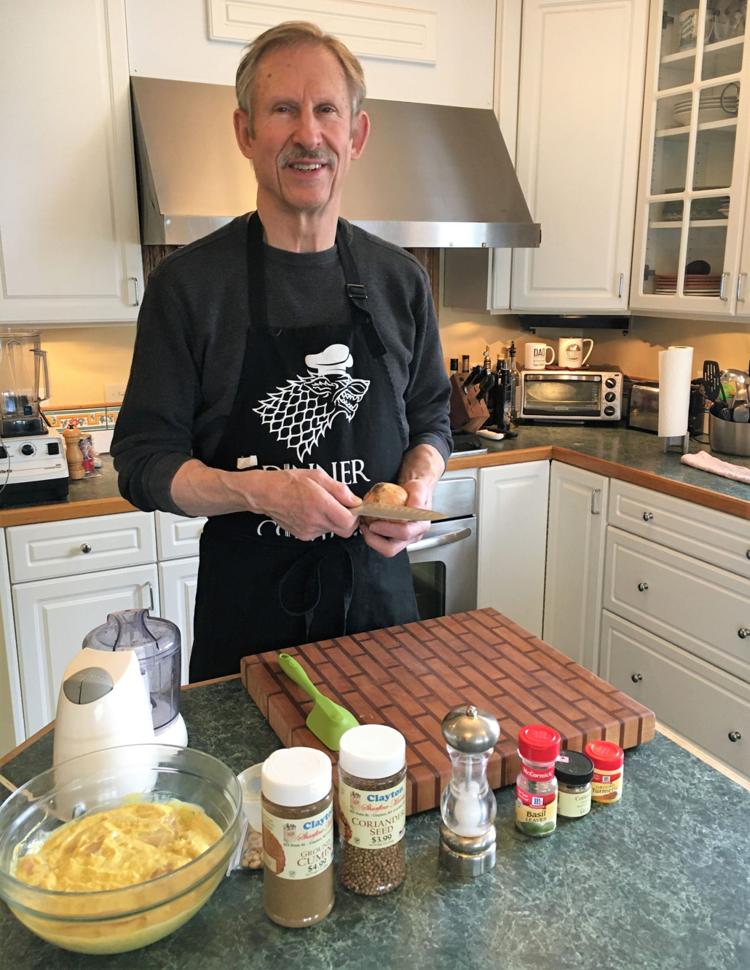 In mid-March, Michael Simpson, owner of The Clipper Inn, Clayton, was meeting with staff, planning his 45th year of operation, when they received word of New York state's PAUSE order.
"We stopped any plans on opening because our operations are pretty big and to try to fire it up with the huge menu that we have, for takeout, didn't make much sense," Mr. Simpson said. "Plus, there's all those other restaurants in the area that have all that food already and kind of need to sell it. Letting them sell their food seemed like the more sensible move for us than trying to compete with people who were up and running."
Days later, Mr. Simpson said he received a call from the director of a local library who asked him if he would be interested in filming cooking videos and for the videos to be shared by the library. When he tried calling the library back to say he would be, there was no answer, another victim of the PAUSE order.
"We decided to just to go ahead and do the videos and put them on Facebook," Mr. Simpson said.
The first video, for chicken enchiladas, was posted April 17. It soon racked up 25,000 views.
"That was crazy," Mr. Simpson said.
A second video, an Italian cauliflower pasta recipe, was posted April 19 and became equally popular. A third video, for chicken marsala, was filmed Friday.
The videos are shot by Mr. Simpson's wife, Lisa. The cauliflower recipe features a guest appearance by Mr. Simpson's "biggest fan," his elderly pug, 14½-year-old Max, who waits patiently for floor droppings.
"It's been a lot of fun," Mr. Simpson said. "I'm like the opposite of Rachel Ray. She does a recipe with 10 ingredients and I'll do one with 25. The recipes interest me. That's how I pick them."
Mr. Simpson favors the Italian cauliflower pasta recipe because he's not a big meat eater. The first time he made the recipe was when he shot the video.
"I had pulled that recipe out maybe six or eight months ago — a Sicilian cauliflower thing and I thought it looked really interesting. And I found another cauliflower dish in a cooking magazine and sort of put a little of the two of them together and changed the way of cooking the cauliflower to make it more interesting."
The recipes featured in the videos won't make it to the menu of The Clipper Inn, except for the chicken marsala, which has been a special.
"It's one of those dishes that at my house, it's a huge hit," Mr. Simpson said. "My kids are big fans and we all like it."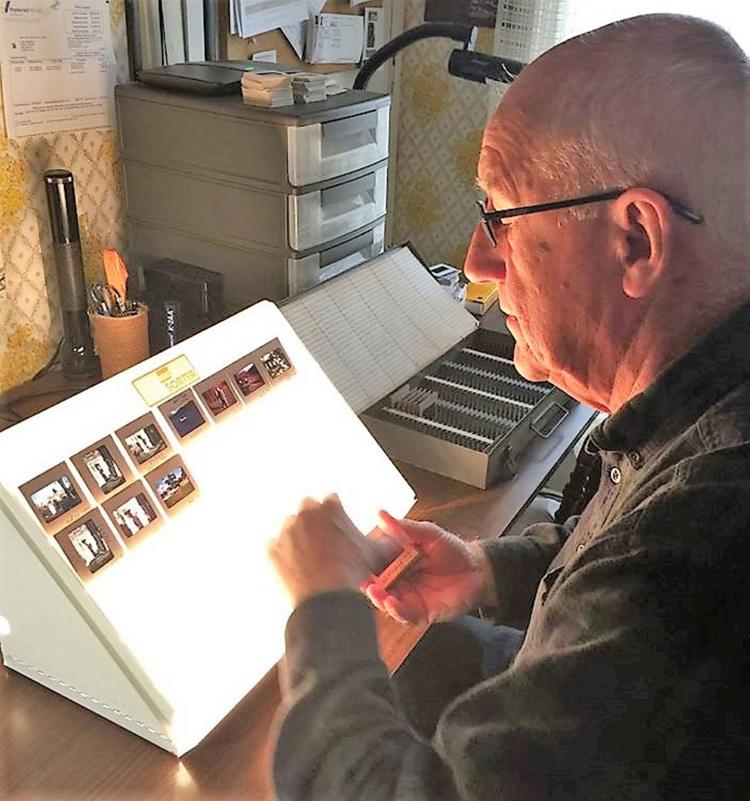 Neil A. Newman, Turin, a camera buff, has shot scores of photos with 35mm slide film since the 1970s before eventually switching over to digital photography.
"Of course, back in the 1970s, you never realized everything was going to go digital," Mr. Newman said. "But I had some pretty good photographs that I've always been desirous of getting them converted digitally."
In addition to his slides, he found a big box of them once owned by the father of his wife, freelance writer Aline Alexander Newman. One shot featured Aline, as a baby, in an antique cradle.
"Did my parents borrow that? If not, whatever happened to it?," Mrs. Newman posted on Facebook. "Coupled with the slides of us and our kids, it's proving quite an emotional undertaking," she said of her husband's project.
As of Thursday, Mr. Newman said he's scanned between 750 and 1,000 slides. He estimates he's halfway through his project. Through the images, he's revisiting treasured moments ranging from when his children were learning to ride bicycles to their birthday parties.
"I started on the loose ones" he said. "I had carousels for many of them that I could project on a screen but I also had probably a thousand of them that were just in boxes. So I scanned them first."
"That comes with a software program where you can make adjustments to the image before doing the final scan," Mr. Newman said.
"I'm taking a break now because it's pretty tedious," Mr. Newman said on Thursday. "You can only do four slides at a time on the slide scanner that I have.''
He saves the images to a hard disk.
"I figured I should do this because I don't think either one of my sons or our grandchildren will have a slide projector," Mr. Newman said. "They're pretty rare. I know you can still buy them, but the one I have, I tried to search for a bulb and haven't found one yet. It's still working, but I figured to get them digitally and it'll preserve them much better."
The slide photos were mainly shot in Kodachrome film, Mr. Newman said, which has resulted in stunning reproductions on his LED computer screen.
"They all had really good preservation properties," he said. "They didn't fade at all. There's nothing better than slide film."
The images are now tucked on away on a hard disk, and as Paul Simon sang, those Kodachrome images, making "us think all the world's a sunny day," are able to lift spirits in uncertain times.
"Maybe they won't even look at them," Mr. Newman said of his children and grandchildren. "But at least I preserved them. We'll have to wait and see."